Checking Out Allan's Falafel at the Crystal Run Galleria Mall
Casual-upscale Israeli food in the Middletown New York area
I became spoiled when I lived in New Paltz. There were so many places to eat and drink that I never had to worry about finding something of high quality. When I moved back to Goshen, it was sadly much more difficult to find. There were a few locations with really great food and drink, but they declined over time, and I've been looking for something new. Luckily, Allan's Falafel opened a new location at the Crystal Run Galleria mall and I couldn't be happier.
I wasn't originally planning on writing an article on this place, at least not just yet. I don't food blog full time, and most of the time when I go out to eat somewhere, or try some place new, I'm just interested in the food and drink. I also tend to focus more on "food theory" and my own personal work than restaurant reviews. I have absolutely no desire to become a food critic!
That being said, a funny conversation between myself and the bartender made me reconsider. Plus, I wanted to share my positive experience with my readers. So here are some thoughts on this new local gem.
The Food
Allan's serves classic and modern takes on Israeli foods, including—as the name suggests—falafel. However, they serve a lot more than just falafel. They have kufta and shawarma, mixed salads, baba ghanoush, and all sorts of other delicious foods. I just stopped by to see what the new location was like and grab a snack. I had the falafel appetizer which came out really fast and was really good. I also had an order of "Israeli cigars."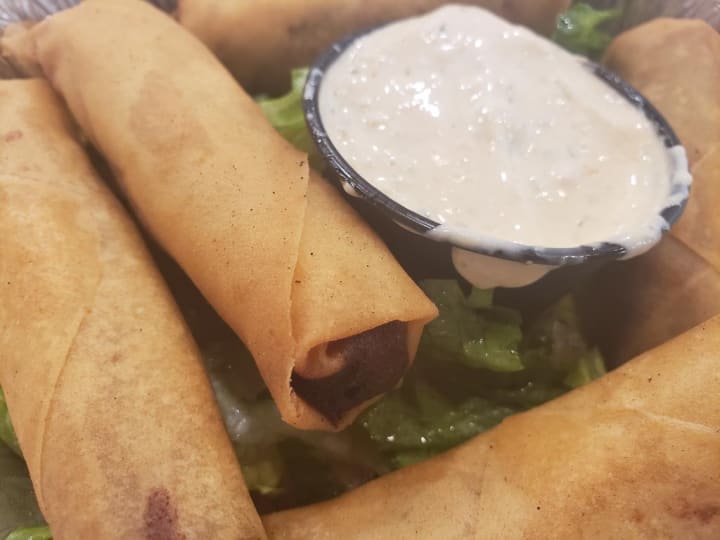 Their Israeli cigars are made with ground lamb and beef, onion, Jerusalem mixed seasoning, and it's made with pastry dough and deep fried. It very much reminds me of lumpia which are basically Filipino spring rolls. This appetizer will probably be my go to snack.
Cocktails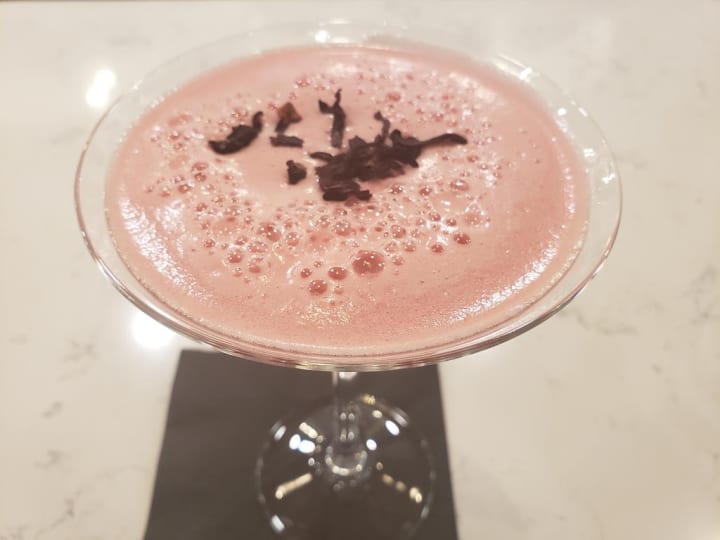 I'm so happy that I stopped in to check out the new location, because their cocktails are great. I've been craving a good craft cocktail for a while, and there are a few decent ones around, but it's rare to find something that isn't overly sweet and well balanced.
The hibiscus wild cherry, as well as the grapefruit & za'atar that I had were great. They were bright and had plenty of depth. They weren't overly sweet. And the grapefruit & za'atar had a nice funky quality to it. Sadly, a lot of bartenders are afraid to go this route but that bold quality is exactly what I was looking for.
Location & Service
Allan's has two locations. Really two and a half. The first location is in Chester NY. They also have a food truck. And their second physical location is at the Crystal Run Galleria Mall in Middletown. I've gone to the original location a few times, but I think I'll go to this one more often.
There's plenty of space and it's beautifully designed. It's also convenient since it's right in the mall. The outside area and entrance is still under construction as of now, but they appear to be done soon. For now, you would just enter through the mall entrance.
I can't say too much about the service because I sat at the bar and didn't stay all that long, but I didn't have any issues. The food came out quickly and was well prepared. The bartender was friendly and informative. I felt welcome. I have no complaints at all about the service.
Overall Experience
Like I said, I'm not a critic. I don't even review that many businesses on sites like Yelp. I just wanted to check this place out because I was looking for something unique. I found it.
And I'm happy that I did. The food was good and the service was good. The atmosphere was comfortable, not pretentious but elegant. It's beautiful and relaxing, but I still wouldn't feel uncomfortable heading into the restaurant for a snack, after wandering the mall with friends.
I hope that Allan's continues to provide quality service for years to come. If you happen to be in the area, I'd definitely check them out, either at the mall, their Chester location, or their food truck.

Daniel Goldman
Visit my homepage. I am a polymath and a rōnin scholar with interests in many areas, including political science, economics, history, and philosophy. I've been writing about all of these topics, and others, for the past two decades.
See all posts by Daniel Goldman →