Buttery Chocolate Chip Cookie Bars
Buttery but macro-friendly of course!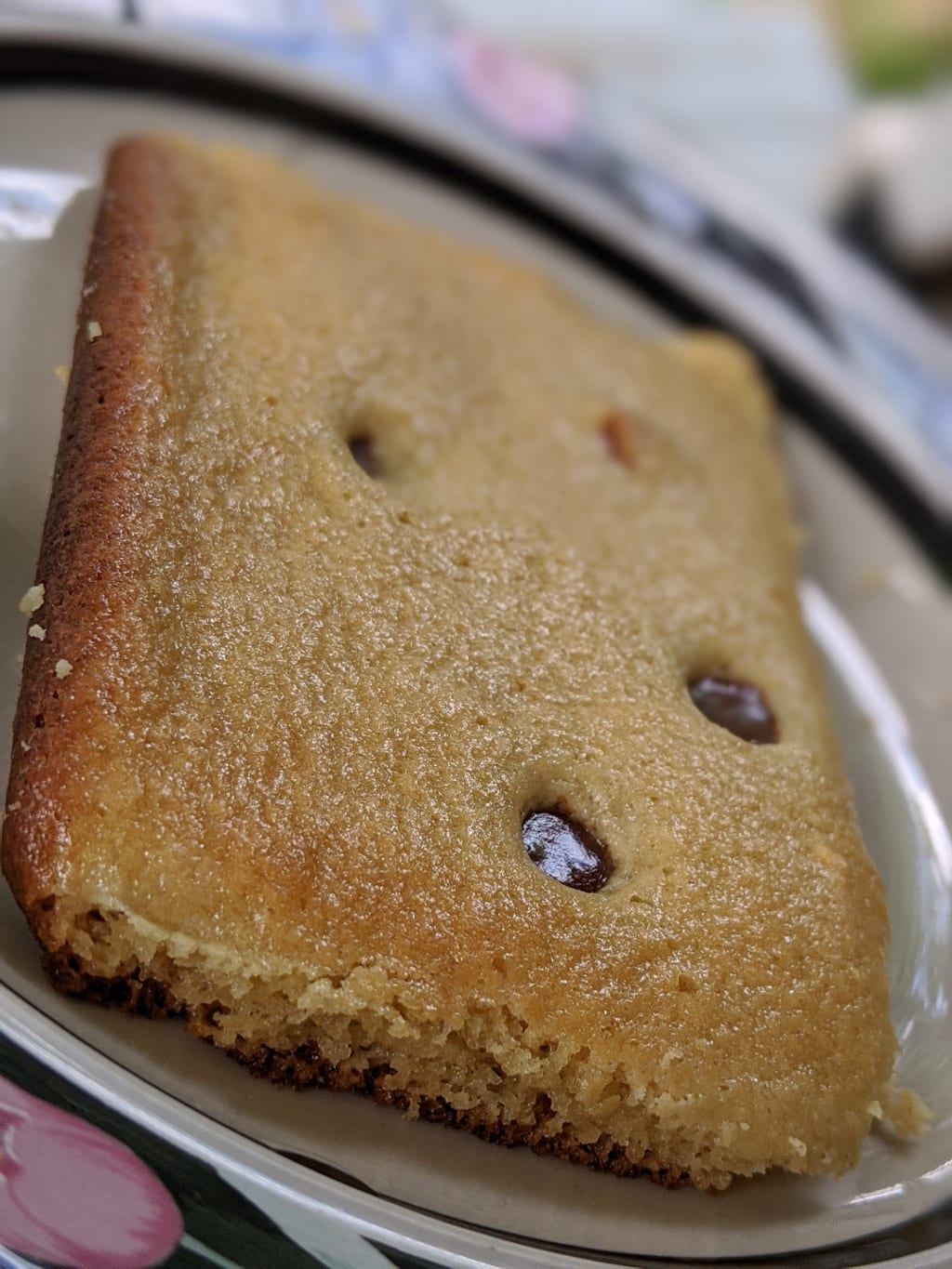 If this is your first visit to my recipes, welcome! If you are a returner, thank you!
If there are any recipes you'd like me to make "macro friendly" please message me on my Instagram (@boho_nutrition), I'd be more than happy to come up with one!
This recipe was an accident...boom, I said it. I was going for chocolate chip cookies...and they spread so much they turned into bars! I was very pleasantly surprised by their light, cakey, golden texture. I also did not intend to use coconut flour at first, I don't have much experience baking with it, but my original concoction was far too runny and I had to thicken it with something! I weighed how it would affect the macros with regular flour vs coconut flour and ultimately chose the coconut. Now, you may notice this recipe has more fat than many of the others I have made, that's because a chocolate chip cookie (or bar) is just not right without a buttery base. I tried to reduce fat using light butter and was pleasantly surprised that the product was still fantastic! I always force my family to try all of my trials and they gave this one two thumbs up! Feel free to pair these with a little protein ice cream for a delightful, filling treat!
I'm excited to continue to bring to you macro friendly recipes that work for a variety of people. I mean, I'm all about moderation in all things, but when it comes to certain groups of people such as bariatrics, you have to really limit all added sugar to prevent things like dumping syndrome, but I say even in these cases, LET THEM EAT CAKE! (Which is what inspires me to keep on creating foods that won't cause GI issues!) My other inspiration is, when I eat a slice of regular carrot cake and it comes out to be 840 kcal of my daily calories, I always think "there's just got to be a better way". Why displace so many calories that could have been used for much more nutrient dense foods? Maybe it's the foodie, the scientist, the dietitian in me....But it's just how my mind works. Anyway, I hope you enjoy my macro friendly chocolate chips cookie bars!
I would also love to hear your personal spin on any of my recipes! Have fun and please enjoy!
This recipe is suitable for bariatric patients, lacto-ovo vegetarians, body builders, anyone who is practicing moderation or just someone looking for that chocolate chip cookie taste!
For more macro-friendly recipes, lifestyle posts and bodybuilding posts feel free to follow my Instagram @boho_nutrition!
Servings
Makes 18 Medium Bars
Cookware required
Brownie pan
Prep Time
Approx. 10 min
Cooking Time
Approx. 10 min
Total Time
Approx. 20 min
Difficulty Level
Easy
Ingredients
-(35g) liquid egg whites
-1/2 C (112g) Land O lakes light butter
-2 large eggs
-2 (30g) vanilla or cake pop protein powder (I used Pescience but any will work)
-1/4 tsp baking soda
-1.5 teaspoons baking powder
-1C No calorie sweetener of choice (I used golden Monk fruit)
-¼ tsp salt
-1/4C (30g) stevia milk chocolate chips (I used Lilly's brand)
Nutrition Facts
One cookie bar
Calories 60
Fat 4g
Carb 2g
Protein 4g
Directions
Preheat oven to 350 degrees F
Spray brownie pan with olive oil spray or line with parchment paper (I love cooking with parchment paper, easy clean up and less risk of burning)
Soften light butter
Mix all ingredients except chips in a blender and beat until smooth.
Drop spoonfuls of batter into the pan and tap pan to smooth
Evenly distribute chips between the cookie bars (I always press chips into the bars/cookies to keep the nutrition facts consistent, ~4 chips per cookie)
Bake for 7-12 minutes
Put on wire rack to cool
They cool super quick and come out with a nicely golden brown exterior!
Feel free to tell your friends all about my recipes, I'd appreciate it!
Tag me in any recipes you try!! @boho_nutrition
(I would love to hear your honest reviews positive or negative!)
Just a reminder: for more macro-friendly recipes, lifestyle posts and bodybuilding posts feel free to follow my Instagram @boho_nutrition!
Rhianon Condello RDN, BSN, RN