Brussels: A Restaurant Guide
There's a lot more to Brussels than just beer and moules frites.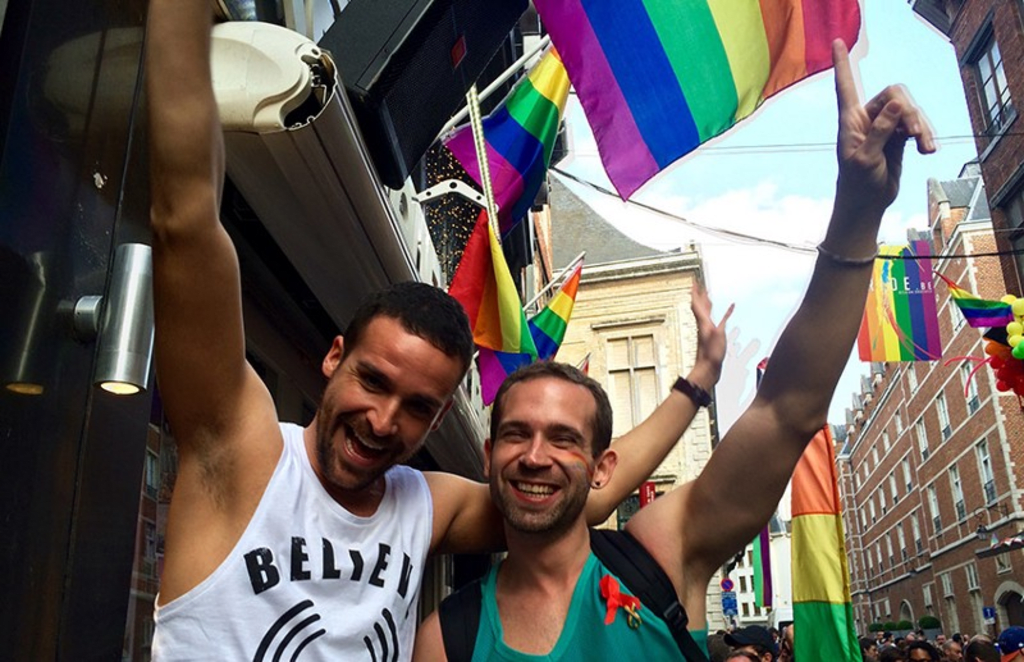 In my mind, Belgium is always associated with a lot of delicious foods — chocolate, pomme frites (French fries), beer, moules frites (mussels with fries), and waffles (or gaufres as they're referred to locally).
Waffles
Unfortunately many of the more touristy places around the centre of town only sell bastardised versions of the waffle — drizzled with chocolate, smothered in whipped cream from a can.
Track down a proper waffle from Vitalgaufre bakery — a simple disc of fried sugary batter, hot off the griddle. Unbeatable.
Cafes and Bars
Here's some of the cafes and bars that I've visited recently:
Claire Fontaine: A small take-away store on the Place du Grand Sablon in central Brussels. A great selection of freshly made stuff.
Gens Qui Aiment: This translates as 'people who love'. A good spot to enjoy the local cherry beer (known as kriek).
La Boule Rouge: In the heart of the gay village in Brussels you'll find La Boule Rouge on Rue des Pierres. This is a large bar that hosts regular cabaret shows that attract a loyal following.
Le Falstaff Cafe: Located on Rue Henri Maus, this is an old-world cafe.
Le Belgica: The vibrant gay village in Brussels is centred around Rue du Marché au Charbon. Right in the heart of the action is Le Belgica. A small, traditional-style bar, this is one of the favourites for locals. Definitely a great place to kick-start your night out.
Prego Bourse: Tucked behind the old stock exchange building in the heart of downtown Brussels, Prego Bourse is the perfect option for a coffee or a quick bite to eat. The pizza and pasta on offer are good, and this is clearly a favourite of the locals.
Sol Ar: A small bar on Rue du Page which sometimes has live music and attracts a diverse crowd of locals.
Restaurants
It can take a while to get under the skin of life in Brussels, but this is a city with an incredibly vibrant restaurant scene worth exploring. Here's some that I've tried recently:
Bia Mara: Essentially a posh fish and chip joint in the downtown precinct.
CO2: Located on rue du Page — a busy, vibrant place with good food.
Gramm: This is a small, stylish restaurant. The menu changes weekly and everyone at the restaurant eats the same dishes. Fresh, modern cooking that uses top quality ingredients. Highly recommended.
La Brasserie de Bruxelles: A classic brasserie style restaurant located on Place Vieille Halle aux Blés in downtown Brussels, this is the ideal place to entertain clients or to impress someone with some classic French cooking. Famous for their croquettes, which are great, this is also a restaurant that is serious about their steaks. Predictably their bearnaise sauce was a winner. Masculine, professional, and efficient service, combined with very good food. It's hard to ask for more than that from a restaurant.
Les Crepes Sarrasins: Located on rue des Pierres (in the heart of the main gay neighbourhood in Brussels), this is a warm and cosy place.
l'Orangerie du Parc d'Egmont: If you are looking for a weekend brunch option in Brussels, then l'Orangerie du Parc d'Egmont in the uptown district is a popular choice with the locals. Serve yourself from the enormous buffet and then sit outside beneath the leafy trees. The food is good and the pace is unhurried. The omelettes are worth waiting for.
MamMam: Located on rue du Marché au Charbon. Another example that Pad Thai is a dish that is delicious whatever city you're in.
Selecto: Located on rue de Flandre. I really liked this place — there is a main dining room but we had a small table in the kitchen, so it felt like we were part of the staff, trading jokes with the chef. This is modern French cooking and there were plenty of options. I had a tuna tartare to begin, grilled prawns with white asparagus for main, and a rhubarb and strawberry compote for dessert. Very, very good food. The sommelier suggested a bottle of red from the Loire valley (Cote Coeur 2011, Coteaux de Loire): 'You have to enjoy this wine…' he said solemnly, '…the winemaker is dead now.' It was very good wine.
The Avenue: Part of the Hotel Barsey on Avenue Louise, The Avenue is modern cooking with a relatively upmarket atmosphere. The service was at times a little confusing, but this is a quality option.
Brussels may not have the timeless romance of Paris, or the rock-star grunge of Berlin, or the beach-side vibes of Barcelona, but this is a city worth persevering with. Elegant neighbourhoods, a spectacular nightlife, and diversity of people make Brussels one of the stand-out cities of Europe.
restaurants
travel