Bohana—Think Popcorn, But Better
These popped water lily seeds are about to become your new go-to snack.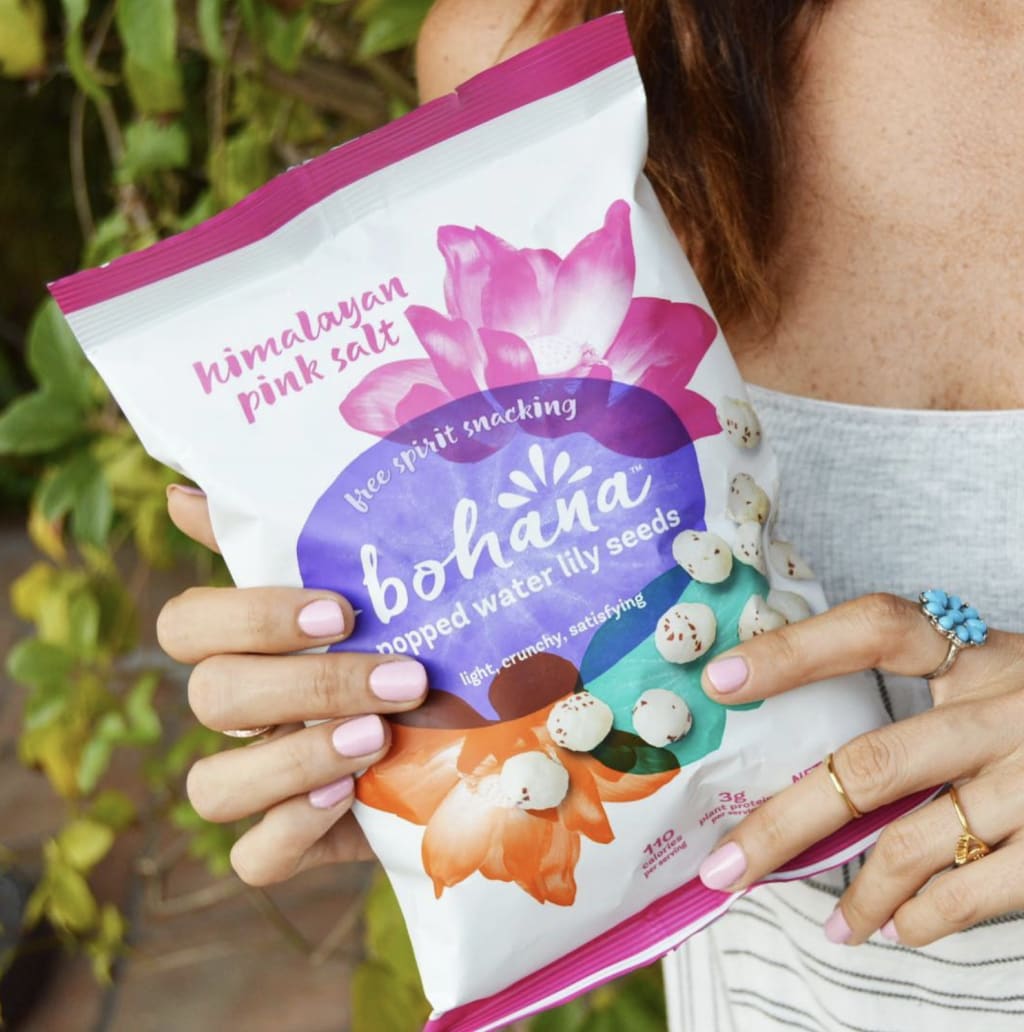 Via @bohanalife
A few weeks ago, I brought a few bags of Bohana into the office to share with coworkers. Needless to say, everyone was intrigued by these funny-looking, little, round, puff balls.
Popped water lily seeds? Who knew those were actually edible!
For context, there's recently been lots of debate in our office about what types of snacks we should have. I know, I know. It seems like an arbitrary thing; but trust me, we tried everything fromveggie straws to power bars to pineapple and mango mixed nuts. So it's safe to say that we were all pretty excited when these colorful bags landed in front of us. "Try them," I said. "They're really good." And just like that, all three bags were gone in an instant.
So, what are popped lily seeds?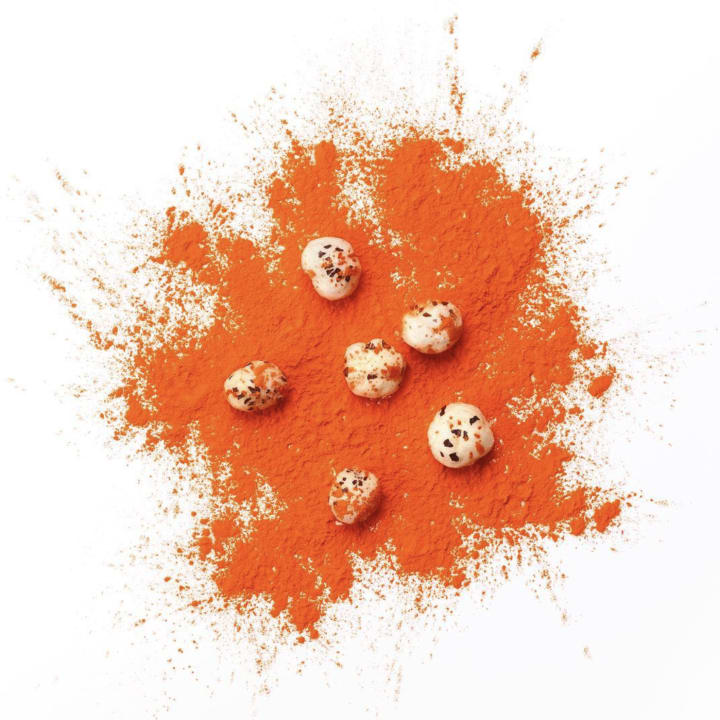 Most of us are pretty astute researchers and the rest of us are just naturally curious, so we quickly turned to the internet to figure out how popped seeds could be so tasty. Well, apparently, people have been eating these in India for thousands of years. Also known as Makhana, these popped water silly seeds are probably among the healthiest foods I've ever eaten. They are absolutely power-packed with all nine essential amino acids and antioxidants, and two of three of their flavors are non-GMO, vegan, kosher, gluten-free, grain-free, corn-free, are free from eight different types of allergens, and are paleo-friendly (the wild white cheddar popped seeds are not vegan). And all in a bite-size snack? Sign me up!
Let me introduce you to Priyal Bhartia and Nadine Habayeb, two spiritual warriors on a mission, committed to giving people readily available free spirit snacking. Their business model focuses around being mindful and doing things with their whole heart, and it translates all the way through to how they source their product. From a farm in Bihar, India, they have made a commitment to fair wages, ethical and sustainable harvesting, and a fully collaborative supply chain that allows for everyone to live well. You can read a little bit more about that here.
The Flavors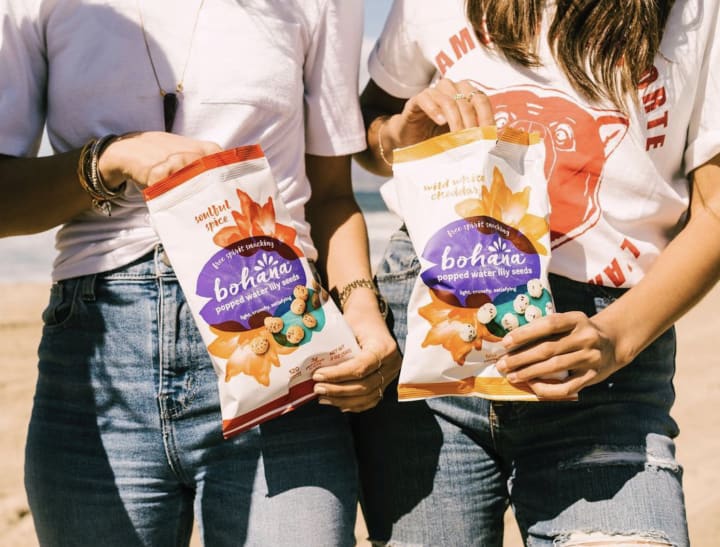 So, now you might be wondering, "Okay, these are packed full of the highest quality ingredients, so they probably taste like everything else that claims to be nutritional." And that is where you'd be wrong! In fact, they taste exactly like your dream snack—full of flavor! There's one for all of you spicy lovers, one for those who are obsessed with all things cheese, and finally, a classic, salted version that's guaranteed to be a crowd pleaser.
Bohana's Himalayan Pink Salt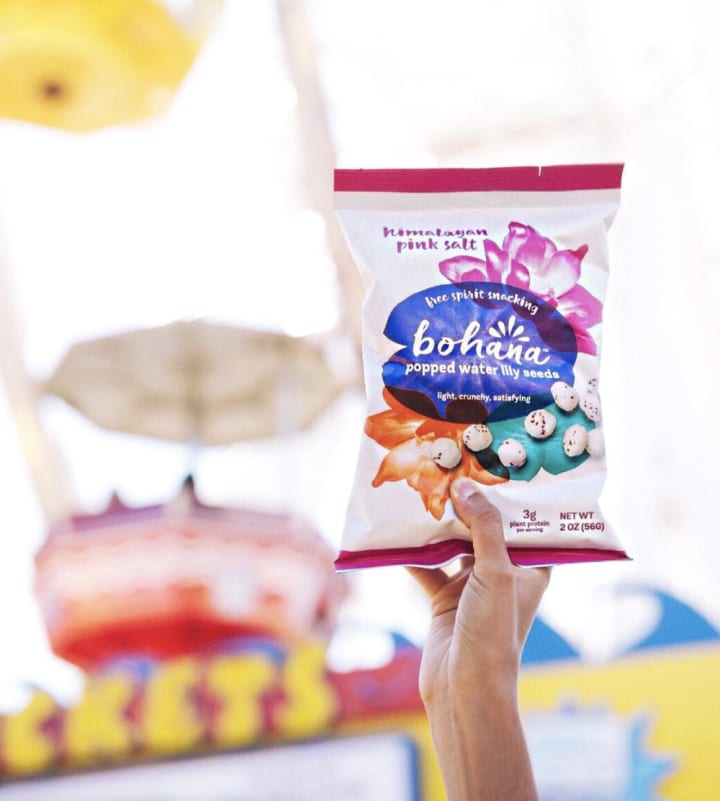 This was my personal favorite. I promise, once you try these, you'll want to replace every other salty snack in your pantry with a bag of Bohana. The whole bag contains 67% less fat, 20% fewer calories and 50% more protein than popcorn! It's the delicious and protein-packed snack you'll be obsessing over all summer long.
Bohana's Wild White Cheddar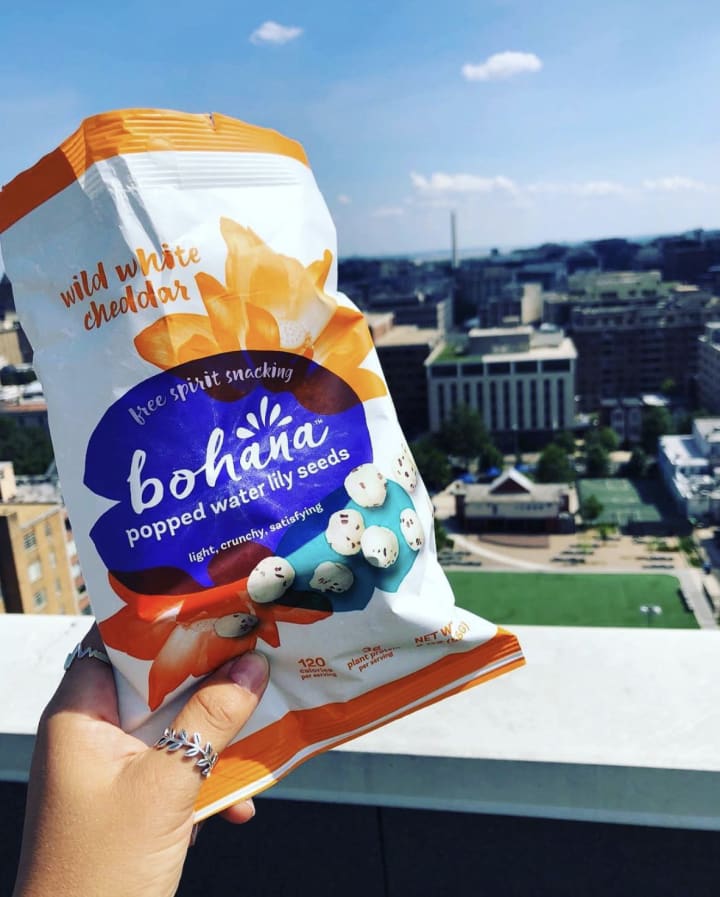 Okay so, I'm very passionate about cheese. I mean, nothing beats a block of sharp cheddar or some soft brie. I'm a fan of all things cheese, so I knew I'd love these right away. To my surprise, these were also the office's favorite—everyone seemed to love them! They taste crunchy, with a white-cheddar popcorn kind of taste, and an aftertaste that kept us all coming back for more.
Bohana's Soulful Spice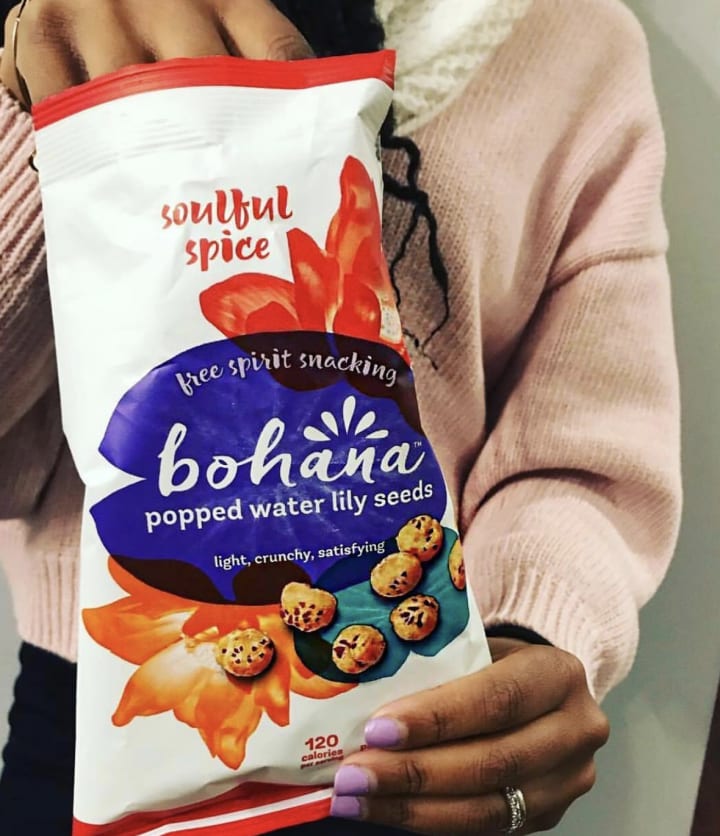 Finally, I was tempted to test the waters and try a couple of Soulful Spice lily seeds. Naturally, these were also incredibly good—not too spicy, but with a nice kick that was full of a unique flavor. This one was unlike any other snack I've tried before, yet I somehow found myself going through an entire bag.
It's been a few weeks since we brought in Bohana into our office, and I haven't been able to take them off my mind ever since. Whenever the office needs more snacks, Bohana is right up there on the top of the list. I even ordered some to my apartment and now my roommates can't stop asking about them. I cannot tell you how many times I've found the remnants of lily seed crumbs all over our kitchen counter. Healthy snacks are always tricky—they often make us feel healthy, when in reality, they just aren't all that great. But with Bohana, I've finally found the perfect balance of delicious and legitimately healthy. Listening to your body has never been this easy—give them a try, and trust me, you'll be just as obsessed.
You can follow Bohana's Instagram for more updates, announcements of upcoming pop-ups, where to find them near you, and more!