Blueberry Cake
A Wonderful Blueberry Dessert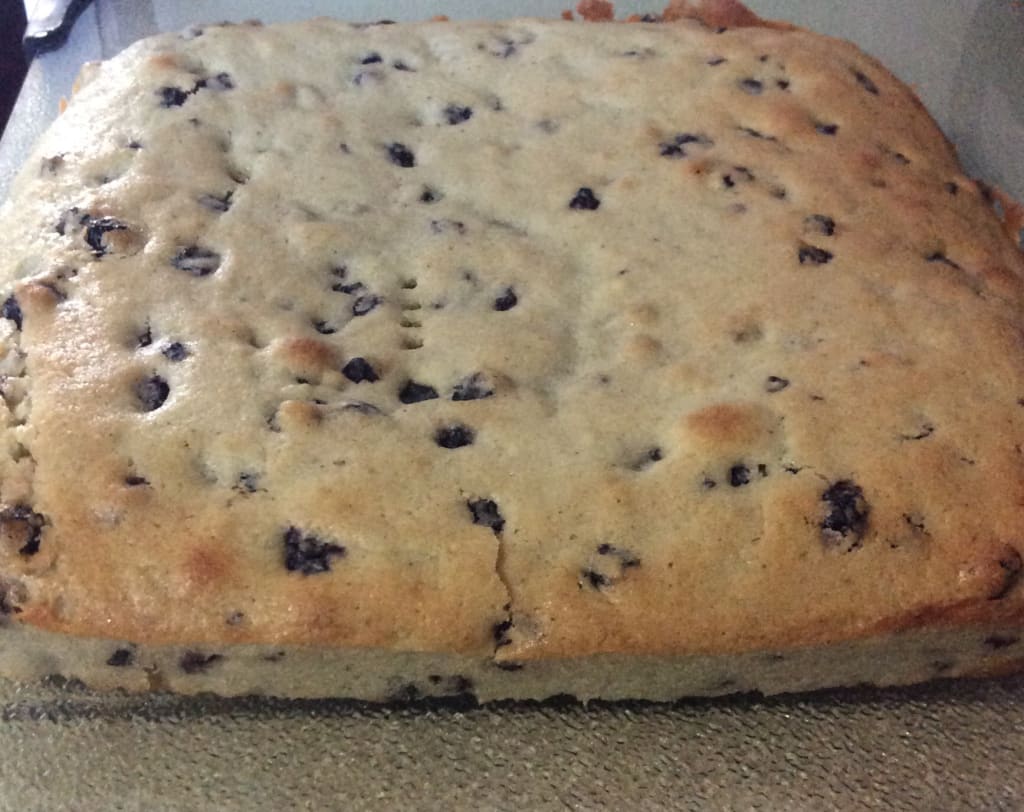 I happen to live in a town that has the best blueberry picking. People come from all over the place just to get a chance to pick these delicious blueberries. It makes blueberry desserts an instant go to in the summertime. Now I don't know about where you live, but where I live here in Canada, we are on our fifth winter of this year and I am over it. But since the snow isn't going anywhere for a little while, I thought the next best thing would be to make some of my favorite summertime desserts in anticipation of the warmer weather.
Since blueberries can be found in such an abundance here in the summertime, whenever I think of blueberries I instantly think of summertime hikes to go blueberry picking. So what better recipe to remind me of the summer than a delicious blueberry cake? All that is left to bring the summer time magic would be a daiquiri and a nice, warm patio to enjoy our treats. But I'm getting a bit ahead of myself. It's not summer time yet, it's cake time!
This is a very easy recipe to follow, and very versatile. The blueberries can be fresh, frozen, or even dried, and this cake will still taste amazing. It's a good thing, too, since the cold weather is still going strong. I will be using dried blueberries in my cake but please use whichever form you prefer.
Though I did make this cake without any icing, a great addition to it would be my delicious Cinnamon Honey Icing. If you wanted to try your hand at making this to go with the blueberry cake, please check it out.
This icing recipe is very easy to make and very delicious. It's quite surprising at how big the punch of taste is from just a little bit of cinnamon and a little bit of honey.
Always remember to keep an eye on your oven while baking, and do not leave it unattended. This cake does take 50 minutes to bake, which is a long time. Please don't get distracted and forget about the cake. Setting timers can always be helpful. Usually when I'm baking I do not set a timer but keep a very close eye on my oven. I do this because some recipes can vary with temperatures as well as heat levels. Also, keeping an eye on my oven ensures that the food is baked to my own personal preference. Hopefully this recipe will become something of your own preference as I do find it delicious and would take great pleasure in sharing it with you. So without further delay, here is the recipe. Please enjoy. I hope you like this recipe as much as I do.
Ingredients:
3/4 cup of white sugar
1/2 cup of butter/margarine
1/8 teaspoon of salt
2 teaspoon vanilla extract
1 1/2 cups of flour
2 eggs
1 teaspoon of baking powder
1/3 cup of milk
1 1/2 cups of blueberries (fresh, dried or frozen all work great)
Directions
Preheat oven to 350 degrees
Place margarine/butter in a large mixing bowl
Combine with sugar until light and fluffy
Stir salt into mixture
Add eggs and stir until creamy
Pour flour into mixture
Add baking powder into mixture
Pour milk into mixture
Add blueberries into mixture
Stir well until berries are fully coated with mixture
Pour into a nine by nine pan
Bake for 50 minutes
Let cool
Enjoy