Black Bean & Shiitake Quesadillas With Easy Guacamole
Recipe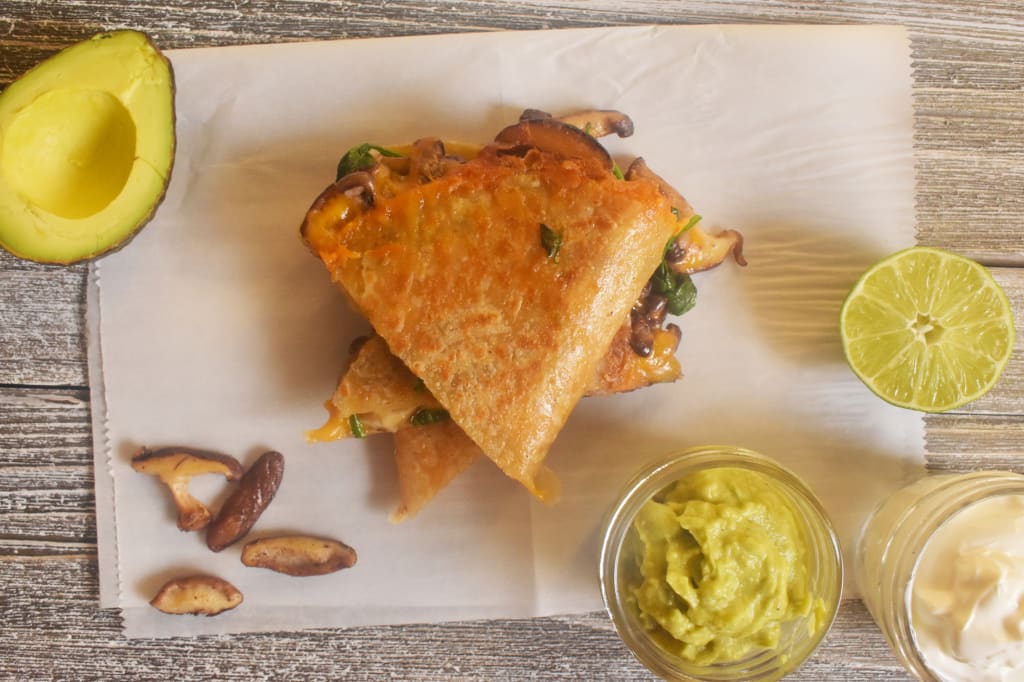 Quesadillas were one of my favorite childhood meals. Even now when I eat one, it brings me back to summers spent at my grandmother's house, where my little sister and I would beg for the little cheesy triangles for lunch nearly every day. Of course, back then they consisted simply of a plain cheese quesadilla microwaved until melty and consumed with the scent of chlorine in our hair by the pool, but they still hold a special place in my heart. These days, I'm typically not wearing a bathing suit when I eat quesadillas, and they usually have a few more nutritious fillings inside. My favorite way to eat them lately is stuffed with black beans, shiitake mushrooms, and spinach, and served with creamy guacamole and tangy sour cream for dipping. They make a perfect Meatless Monday dinner because the meaty-textured Shiitake mushrooms are a great vegetarian substitute, and the black beans are packed with protein. Spinach elevates the meal by giving a pop of freshness and vibrance amid all that gooey cheese.
The best part about these quesadillas is that they can be made gluten-free simply by using rice flour tortillas instead of wheat, and the result is even better, in my opinion. I've tried a lot of gluten free tortillas in my day, and I've had the best luck with Food For Life Brown Rice Tortillas. Not only are they durable enough to stay together in the pan while cooking and flipping a loaded quesadilla, but they provide just the right amount of crunch and chewiness when cooked without being too tough. It's the best of both worlds. You can find them in the freezer or refrigerated section at many grocery stores including Whole Foods, and they are also available online here if you can't find them in your location. Please note that these tortillas must be refrigerated or frozen to stay fresh for any extended period of time. I find that they last about a week in the refrigerator before I need to move them to the freezer. To thaw, simply place on a plate and microwave for about ten seconds before using. So if you're pining for a super easy, meatless, nostalgic meal this week, then look no further than this quesadilla recipe.
P.S: this is a great way to get picky kids to eat (and even enjoy) vegetables. My mom always knew she could get my sister and I to eat just about anything by smothering it in cheese via a quesadilla or quiche.
Quesadilla Ingredients:
Serves four.
Cook Time: 25 minutes.
4 gluten free rice flour tortillas (available online)
1 and 1/3 cup cooked black beans
4 cups sliced shiitake mushrooms, raw
8 cups fresh baby spinach
4 cups shredded cheddar cheese
olive oil, for sautéing
salt & pepper
sour cream, for dipping (optional)
Guacamole Ingredients:
2 ripe avocados
juice of ½ a lime
1/4 tsp salt
1/4 tsp pepper
1/4 tsp garlic powder
For the Quesadillas:
1. Heat about 1 tsp olive oil in a large pan over low heat. Add the fresh spinach and sauté for 30 seconds to one minute, stirring frequently. The spinach should just be wilted when you remove the pan from the heat—cooking it any longer will make it mushy and greatly reduce its nutrient content. Remove the spinach from the pan and set aside.
2. Add 1-2 tablespoons of olive oil to the same pan and return it to the stove over medium-low heat. Add the shiitake mushrooms to the pan, season to taste with salt and pepper, and stir frequently for 3-5 minutes, or until golden brown and glistening. Remove the mushrooms from the pan and set aside.
3. Return the pan to medium heat and add about 1 tsp olive oil. Gently swirl the oil around in the bottom of the pan with a spatula for even coating. Place one tortilla into the pan and sprinkle about 1 cup shredded cheddar cheese onto half of the tortilla, being sure not to leave any gaps. Next, load up the cheesy half of the tortilla with about ¼ of your black beans, sautéed spinach, and mushrooms. Sprinkle with additional salt and pepper if desired, before using a spatula to gently fold the empty half of the tortilla over the loaded half, closing the quesadilla.
4. Press down lightly on the surface of the quesadilla with the spatula to ensure that the cheese "glues" it shut. Cook for about 1 minute before flipping the quesadilla. Cook on the other side for about 2 minutes, or until the tortilla is golden brown and the cheese is melty and delicious. If the tortilla appears to be burning at any point, reduce the heat to medium-low.
5. Remove the quesadilla from the pan and repeat steps 3-4 with the remaining three tortillas.
6. Slice each quesadilla into triangles and serve with sour cream and guacamole (recipe below).
For the Guacamole:
1. Slice each avocado in half lengthwise and twist to separate the two halves. Carefully remove and discard the pit. Use a spoon to scoop the flesh of each avocado half out of its shell, and transfer to a medium-sized bowl.
2. Use a fork to mash the avocado in the bowl, leaving some chunks if a more rustic consistency is desired.
3. To the bowl, add the lime juice, salt, pepper, and garlic powder. Mix well, taste, and add more of each seasoning if a bolder flavor is desired.