Fettuccine Alfredo
Recipe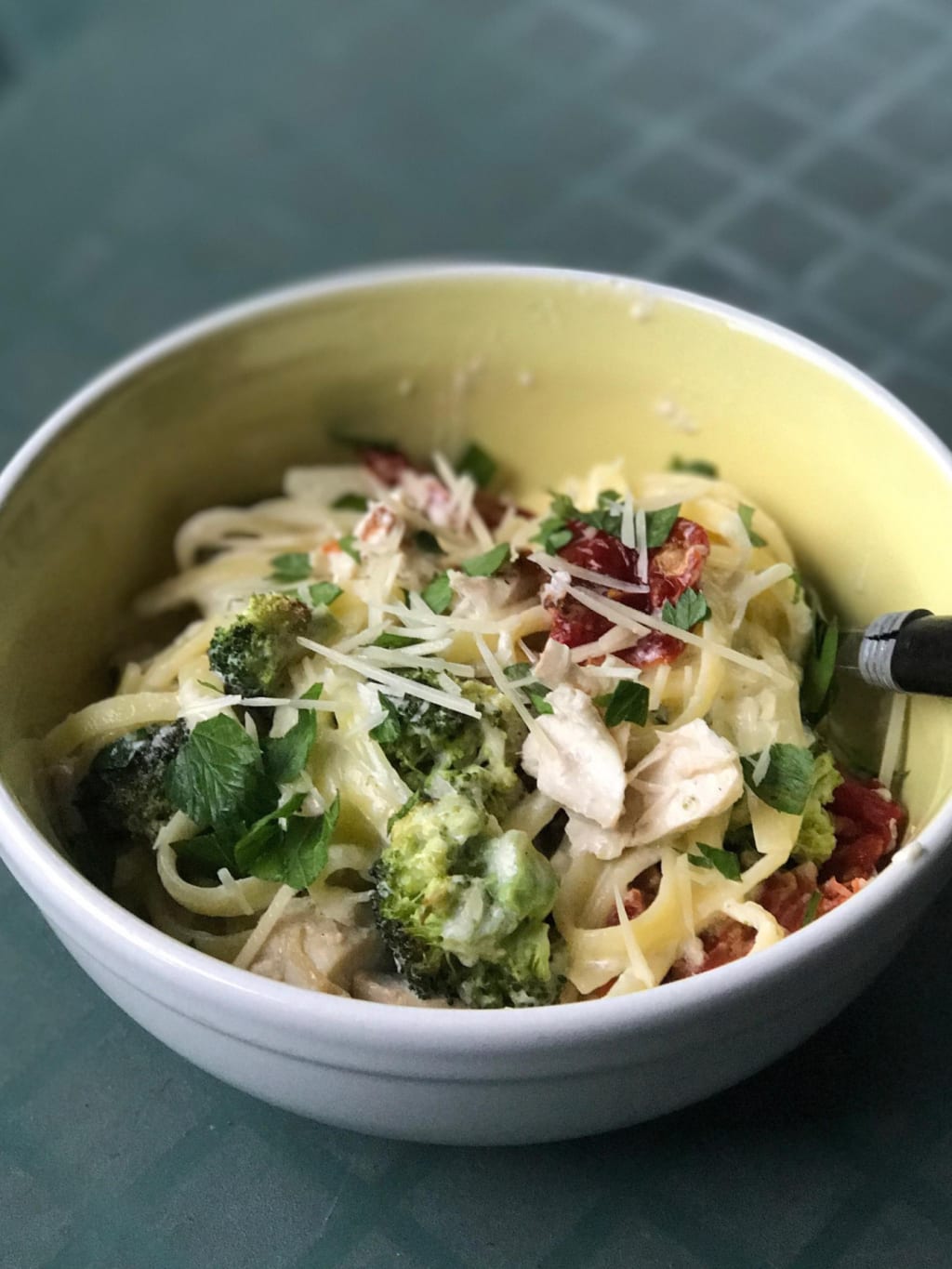 I like to think of fettuccine Alfredo as the broke-girl's boujee Italian dish. The sauce is based solely on heavy cream and parmesan, and the add-ins are very affordable (especially if you keep it vegetarian). Your cardiologist might experience heart flutters at the sight of the fat content in heavy cream, but I keep things a little lower in fat by cutting the recipe with half & half. The end result is a creamy sauce that still coats the noodles without sacrificing any flavor.
Roasted broccoli and parsley are classic accoutrements to our Americanized fettuccine Alfredo, and sundried tomatoes add the acidic kick necessary to bring brightness to this heavy and rich dish. Pair it with a crisp white wine, and after a few glasses you'll almost be able to imagine your Ikea-furnished studio apartment transforming into a sunkissed Tuscan villa.
Of course, fettuccine Alfredo is not inherently gluten free, but it does give me the opportunity to share a couple of my favorite gluten free alternatives. The first one will seem simple: gluten free pasta. You don't need to go to a health store to find a good pasta that won't fall apart on you. In fact, I prefer to use Mueller's gluten free fettuccine because I can find it on the regular pasta aisle in my grocery store, and it has a texture comparable to that of wheat pasta. It also retains its shape and resists breakage, especially if cooked only to al dente. The second alternative, spaghetti squash, is more involved but adds the advantage of being low in carbohydrates (for anyone who may be trying to lose weight). It doesn't have the texture or taste of pasta, but it does serve as a great noodle-shaped vessel for the sauce (which is what we care most about in this dish, let's be honest).
Serves 4
Ingredients:
1 cup heavy cream
1 cup half & half
1 cup parmesan cheese, shaved*
3 tbsp salted butter
1 head broccoli
1 cup sundried tomatoes, julienned
1 pound gluten free fettuccine
Parsley, dried or fresh, to taste
Garlic powder
Salt & Pepper
Olive oil
*Any parmesan cheese can be used, but I find that shaved parmesan melts into the sauce much more readily and distributes the "cheesiness" evenly.
Directions:
Begin by preheating the oven to 400ºF while you chop the broccoli florets into bite sized pieces. Line a baking sheet with aluminum foil and spread the broccoli in an even layer across the sheet. Drizzle liberally with olive oil, and season to taste with salt, pepper, and garlic powder. Cook for 15-20 minutes or until the edges begin to brown slightly. Meanwhile, prepare the pasta and the Alfredo sauce.
Heat a large pot full of water on high heat until boiling. Season the water generously with salt and a drizzle of olive oil before adding the pasta and cooking for about 8-10 minutes, or al dente. Meanwhile, prepare the sauce.
Heat a large skillet over medium heat and add the butter. Once melted, add the heavy cream and half & half, and stir to mix. Raise the heat to medium-high. Season the sauce with salt, pepper, and garlic powder to taste. Continue to stir the sauce for a few minutes, or until it begins to bubble. Stir in the parmesan cheese and continue to stir for 1-2 minutes, or until incorporated.
Once the pasta is done, remove from the pot with tongs (without straining) and drop straight into the skillet with the alfredo sauce. Toss with the tongs to combine. Add the roasted broccoli and sundried tomatoes to the pan and toss once more to combine.
Plate the fettuccine Alfredo to serve, and garnish with parsley and additional parmesan cheese if desired.
*If spaghetti squash is desired instead of pasta, follow the same directions but replace the pasta in step 4 with cooked spaghetti squash that has been removed from the peel and shredded.
recipe