Best Vegetarian Cookbooks for Beginners
Ready to go meat-free? Vegetarian cookbooks for beginners will certainly help you get on your way.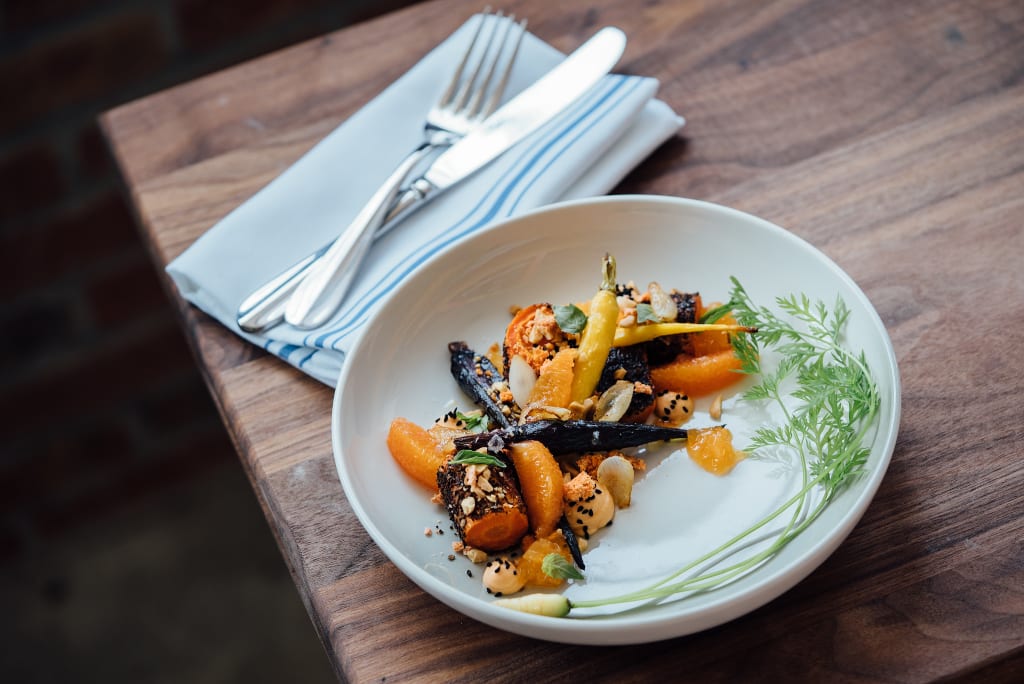 Vegetarians are people who should be getting a lot more praise than they typically get. It takes a special type of person to choose to stop eating meat—and not just for Meatless Mondays, either.
A dedication to vegetarianism is a dedication that helps lower the number of animals killed for food, reduces your carbon footprint, and also improves your overall health. It's a great thing for all parties involved.
If you're ready to go vegetarian for the first time in your life, congrats. You are making a wonderful choice for the world, and are about to open up your horizons to a slew of brand new dishes that you will adore.
The problem with going vegetarian, of course, is missing meat. These vegetarian cookbooks for beginners can help by offering up easy and tasty meat dishes that will have you wondering why you didn't go vegetarian earlier.
Maya Perry has a strong following online thanks to her easy, breezy attitude on all things culinary—and for being awesome at being vegetarian. Unlike many other vegetarian cookbook writers out there, she actually makes recipes that are easy, low-mess, and healthy for you.
Everything from dips, sauces, salads, quiches, and full-blown dinners can be found in her cookbook. Better still, each recipe is designed to be healthy for you, too. Vegetarian food never looked so effortless.
If you're like me, you have one or two food allergies that make it hard to enjoy typical fare found in vegetarian cookbooks for beginners. This is doubly true if you're a budding vegetarian who is allergic to milk or eggs.
One of the easiest ways to go vegetarian without worrying about ingredients, making your recipes impossible to enjoy, is to stock up on vegan cookbooks. It really works!
The Vegan Cookbook for Beginners is one of the best plant-based cookbooks on the market, and does the Herculean task of showing newbies easy vegan recipes—no crazy ingredients required.
Headed by everyone's favorite homemaker, Martha Stewart Living has become one of the biggest companies for recipe creation and homemaking tips (it makes sense, too, considering it's responsible for one of the best healthy cookbooks of 2018). It's, therefore, not surprising that it's also become a great source of veggie recipes over the years.
When Martha Stewart's company decided to make vegetarian cookbooks for beginners, they really decided to go all out. Meatless took the company's 200 most-adored vegetarian recipes and put them together in an easy-to-read book.
Even if you're not on a vegetarian diet, you'll find this book to be very appealing. No matter who you are, Meatless will have at least one recipe you'll adore.
If you were the kid who refused to eat veggies growing up, becoming a vegetarian is going to be a bit more difficult. However, there are still vegetarian cookbooks for beginners that are hesitant to eat the green stuff.
I Hate Vegetables is one of those books, and like the name suggests, is written with veggie-haters in mind. The recipes inside are the type that you'll want to eat when you're sick of eating salads and just want to have something that has a meaty flair.
The ingredients that you'll be searching for are going to be a bit hard to find at times, but that doesn't mean you shouldn't grab this book. Trust me, it's worth it.
If you're just going vegetarian, chances are that you are going to end up having to cook veggie-friendly meals for your family as well. Good thing there are so many benefits of going vegetarian. Tabakova's Everyday Vegetarian Family Cookbook is a great option for vegetarians that will need to convince other people of these benefits, and who will be cooking for others to prove it.
This book contains 100 different recipes that can be eaten any day of the week. Breakfast, lunch, and dinner are all represented, too. Every recipe contains easy-to-find ingredients that won't make your family members bemoan "rabbit food."
Did you believe that meat-free, vegetarian food had to be a "solo only" thing? Yeah, you won't think that anymore once you get your paws on this book.
America's Test Kitchen is one of the most popular companies for recipe creation, and regularly helps major food companies create the recipes that feed the nation. Their goal is to make delicious, nutritious meals that are easy enough for culinary novices to do.
This isn't just one of the best vegetarian cookbooks for beginners; it's one of the largest, too. Over 700 different recipes are inside this book, each one healthier and easier than the next. If you are looking for a "vegetarian for life" cookbook, this is it.
Parents who are going vegetarian along with kids would be wise to help ease kids into the transition of living a veggie-based life. This colorful recipe book has 60 different goodies that you can try out with your kids—all while teaching them the importance of a healthy diet.
This book is a great choice for parents who want to teach their kids the basics of cooking, as well as adults who are capable of burning cereal on a typical day.
The Forest Feast has become one of the most popular vegetarian cookbooks of all time, and much of it is thanks to the elegantly whimsical illustrations chosen by Gleason as she cooks out by her cabin in the woods.
Delicious fruit pies, crisp drinks, foccacia, and all sorts of fully satisfying meals can be had here. The recipes are easy, but that's not all that you'll love about this book. The photos are breathtaking, and will have you feel like you're getting cooking lessons from a faerie.
All these vegetarian recipes will whet your appetite, and convince the meat eaters you know to join the veggie train.
If you really think about it, the truth about how animals end up on our plates is pretty violent, don't you think? You have to kill an animal in order to get a meal, and in most cases, that means people will have to wield a knife in order to end that life.
The Forks Over Knives Cookbook is one of the only vegetarian cookbooks for beginners to really give you a serious pat on the back for helping keep animals from getting hurt. Heck, they even reward you for it by offering up delicious recipes.
When was the last time you heard the word "simple" and "vegetarian" in the same sentence? Chances are, it's been a minute, right? Well, it's understandable. Veggie-based diets tend to be very complex when it comes to recipes, just because it involves a lot of work to turn greens meaty.
The Simply Vegetarian Cookbook is different. It's no fuss, no muss. Just good ol' greens for a healthy and delicious meal.
About the Creator
Riley Reese is comic book fanatic who loves anything that has to do with science-fiction, anime, action movies, and Monster Energy drink.
Reader insights
Be the first to share your insights about this piece.
Add your insights