Best Burger Joints In America
While the phrase likely conjures up images of diners, drive-ins, and dives, the best burger joints in America also include refined burgers found in gastropubs and restaurants.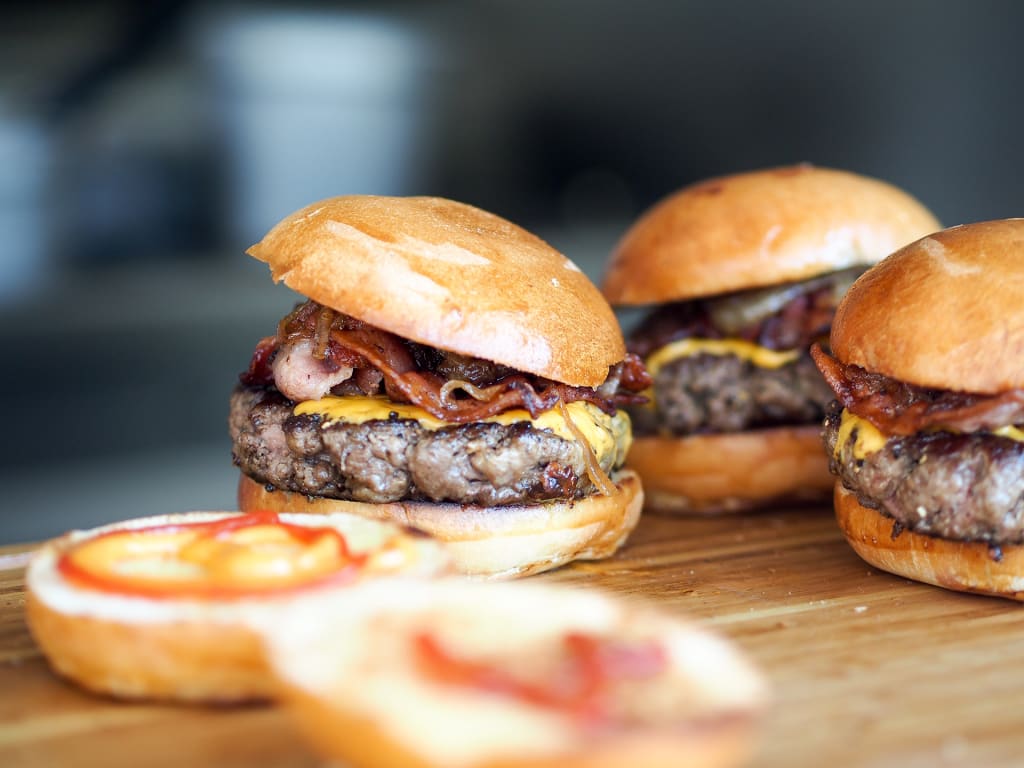 Photo by Niklas Rhöse
Be warned, the following list of burger joints in the United States uses the expression "joints" fairly liberally. While the word likely conjures up images of (Guy Fieri's?) diners, drive-ins, and dives (and a number of these will be included along with greasy spoons and shacks), this list will also include refined burgers found in gastropubs and restaurants throughout the country. At the end of the day, who is to say what a burger joint really is, beyond a physical location that sells a great burger? And each and every spot listed here does theirs with aplomb. Each of these burger joints turns up the volume and the heat and delivers something special… so let's get started.
Oscar's Bar and Grill – Milwaukee, WI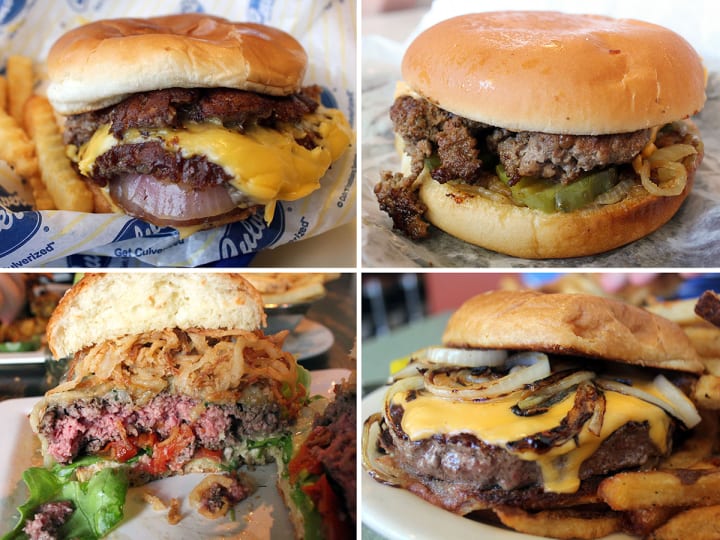 It should come as little surprise that the Midwestern jewel that is Wisconsin appears on this list and will return as the author (who may have born in in said state) rolls through this list of the best burger joints in America. Oscar's qualifies as one of the best and while they offer other items on the menu, it's unlikely you'll see anyone whose eating enjoying anything but a burger. Wisconsin has lovely corn-fed beef and Oscar's specialty, the Big "O," doesn't disappoint with a half-pound of Black Angus topped with jalapeños, fried onions, chipotle jack and smoked gouda cheeses, bacon and chorizo, and a side of guacamole augmenting the bun from local bakery Wild Flour holding it all together. Served with a heaping mound of fries, Oscar's makes this list with good reason.
The Breslin Bar and Grill – NY, NY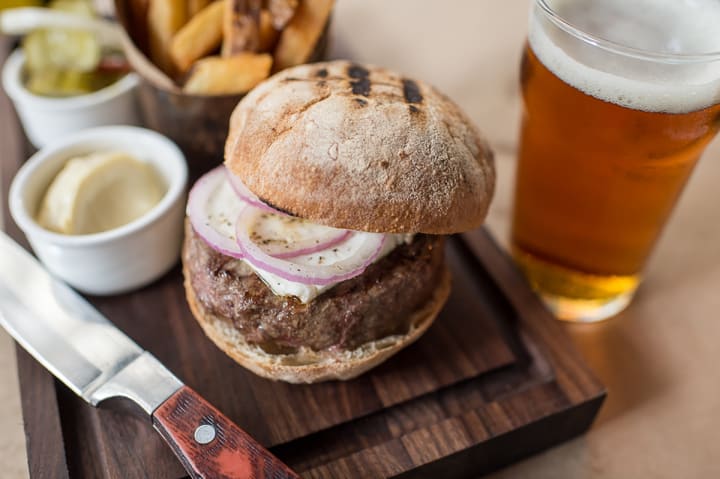 The Breslin is a gastropub located inside the Ace Hotel in New York City and the product of the spectacular British chef April Bloomfield. This is by no means a traditional burger joint. That said, the Breslin's Lamb Burger is legendary given the fact that they sell nearly 1,500 each week and you're allowed no substitutions. The 8oz. American lamb patty is perfectly seasoned and cooked their way, topped with a slice of French feta, cumin mayo, and razor thin red onions and is accompanied by chips (fries) cooked three times in duck fat and worth its price tag.
Burger and Barrel – NY, NY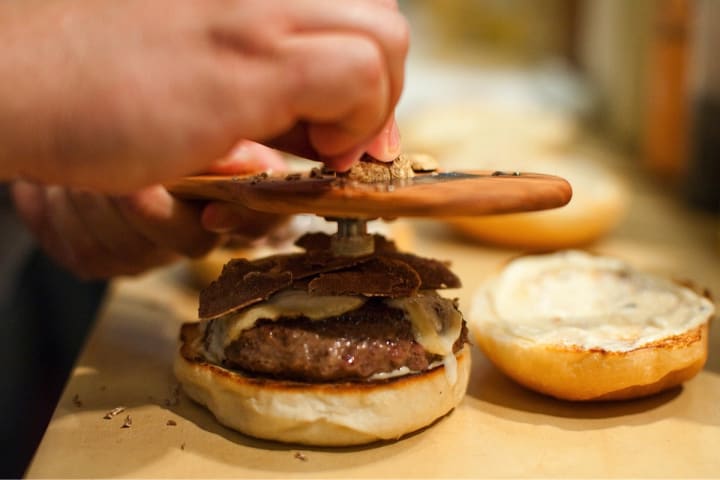 Restaurateur John McDonald and Chef Josh Capon have worked together to create Burger and Barrel. A Soho lunch, dinner, and weekend brunch destination for locals and tourists alike, B&B's menus are market driven. They therefore feature daily specials, but perhaps the most important dish is their award-winning burger, which is a six time winner of Burger Bash at NYWFF.
The Old Fashioned – Madison, WI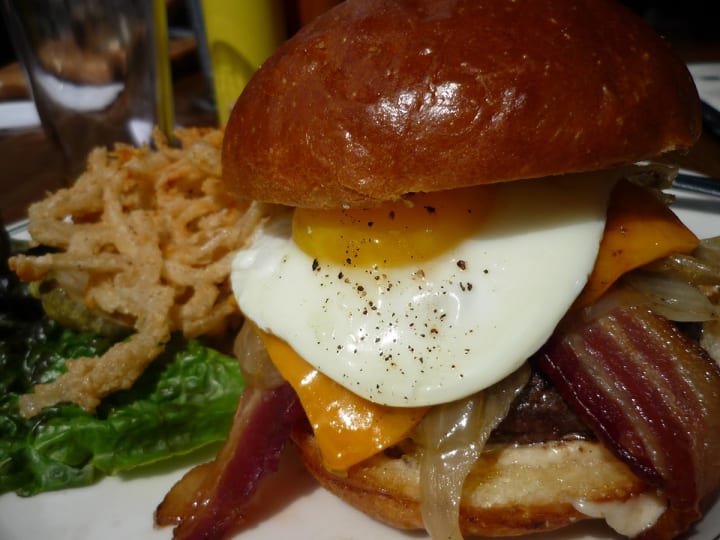 As promised it's time to return to Wisconsin for an epic entry with the The Old Fashioned House Burger which is cooked over a live fire and lavished with fried onions, aged Cheddar, Bavaria's hickory-smoked bacon, a soft-cooked egg, and garlic sauce on a buttered and perfectly toasted roll. There are other burger offerings including the Wisconsin Burger (thick slice of raw onion) and the Spicy Burger but this place's namesake burger makes it a proper burger joint and since you're in Wisconsin, and in the Old Fashioned, you'll be starting at the state's capital building make sure to swap your fries for house-made fresh Wisconsin beer-battered cheese curds.
Stanich's – Portland, OR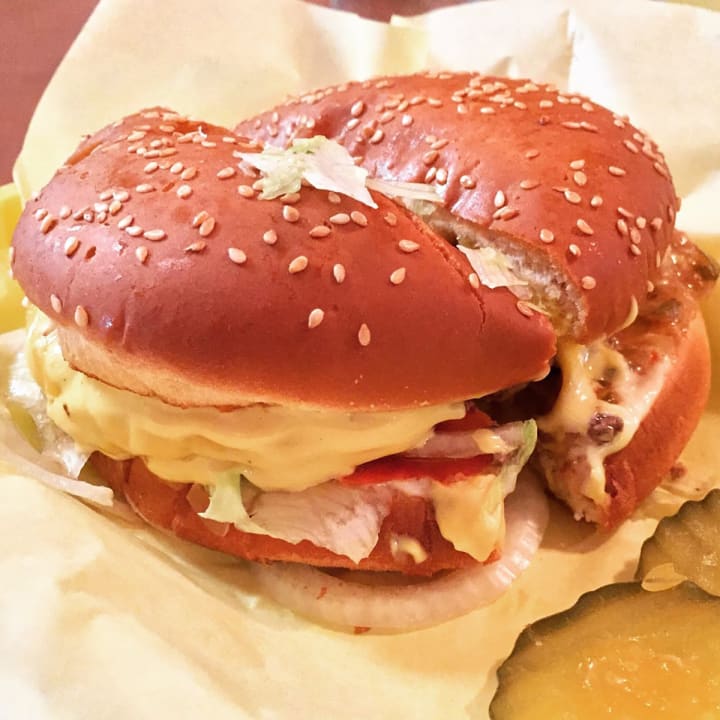 Before you start groaning with thoughts of Portlandia and Pacific Northwest hipsters, Stanich's has been around a lot longer than any Millennial, having opened its doors in 1949. This is a classic sports bar, with pennants and sports talk peppering the walls and conversation. But you're here for the burgers and "Nick's" classic cheeseburger is the best of the bunch. It's seasoned and grilled perfectly with the American cheese melting into a bun that holds up to this delightfully messy offering of mustard/mayo on the top and red relish on the bottom, but it's the marinated grilled onions that finish what is easily the best burger to be found up the north coast.
Casino El Camino – Austin, TX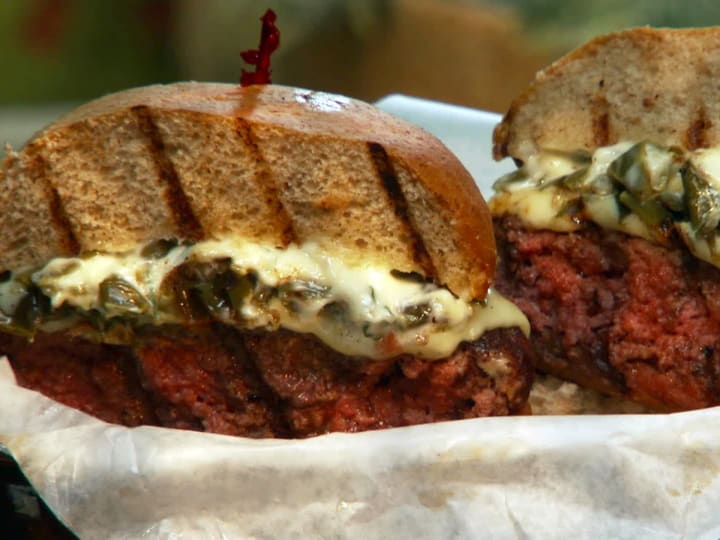 Austin, TX certainly needed representation and while HopDaddy may well make the best burgers in town, it's not a burger joint and its growth as a chain and expansion out of the Lone Star state disqualifies it from this list. That said, the burgers at Casino El Camino on famed drinking 6th Street are fantastic in their own right. It feels like a proper burger joint, which may have the best jukebox in the world for enjoying one of their may offerings a Lone Star beer and conversation with the locals while licking your fingers after devouring The Amarillo Burger topped with roasted Serrano chilies, jalapeno jack cheese, and cilantro mayonnaise.
Pono Burger – Santa Monica, CA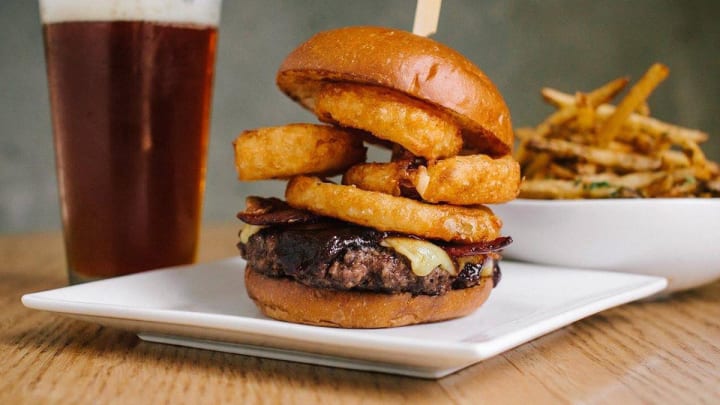 Some would certainly argue that LA couldn't possibly have a proper burger joint amongst its trendy food offerings, but they would be wrong. Pono Burger gets this distinction if for no other reason than the fact that it's located in a World War II era corrugated metal shack giving it a raw and "you're not in LA" anymore feel to it. Running contrary to this feeling is a delightful gourmet offering of burgers which all include never frozen, organic, grass fed beef, and delightful house made brioche buns.
Matt's Bar – Minneapolis, MN
This was a close one between Matt's and the 5-8 Club, which both claim to have invented Minneapolis' gift to the world in the form of the Juicy Lucy, first served sometime in the 1950s. If unaware, this burger is unique in that the cheese is cooked inside the patty providing for a molten core of American cheese at the center of a near charred burger. Let's be clear, Matt's bar serves the Jucy Lucy, because as they will tell you, "if it's spelled correctly, you're at the wrong place." Matt's gets the nod over the 5-8 Club simply because it's a bit cheaper, they don't know how to spell and the story sounds believable, and they sell really cheap beer to cool your burnt mouth after the first bite into this unique burger.
The Cozy Inn – Salina, KS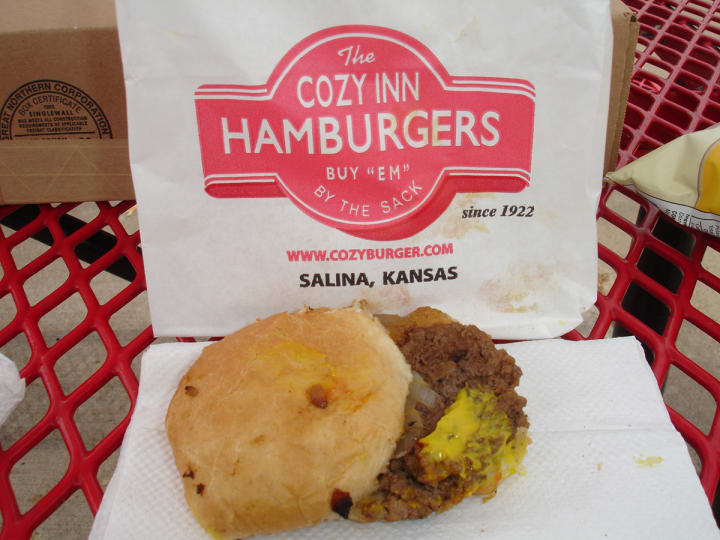 There was no way that the Cozy Inn was getting left off this list. This is a burger joint in the truest sense and dates back to 1922. And there are rules, there are no fries, there is no cheese, just sliders slathered in onions.
Johnson's Drive-In – Siler City, NC
No list would be complete without this addition, which has seen the North Carolina House of Representatives deem it the best burger in the state. The thing about Johnson's is this…you're going to need to wake up thinking about burgers with your morning coffee. Johnson's is only open 10:00 AM-2:00 PM five days a week and the line starts forming well before 10:00 AM. Additionally, they never make it until 2:00 PM. They sell burgers until they are gone and that is a daily affair. There is only one thing on the menu worth mentioning, the famed Velveeta Burger. The patties are ground daily, grilled, and made invisible by the melted Velveeta. They're served simply with lettuce and tomato.
Neon Pig Café – Tupelo, MS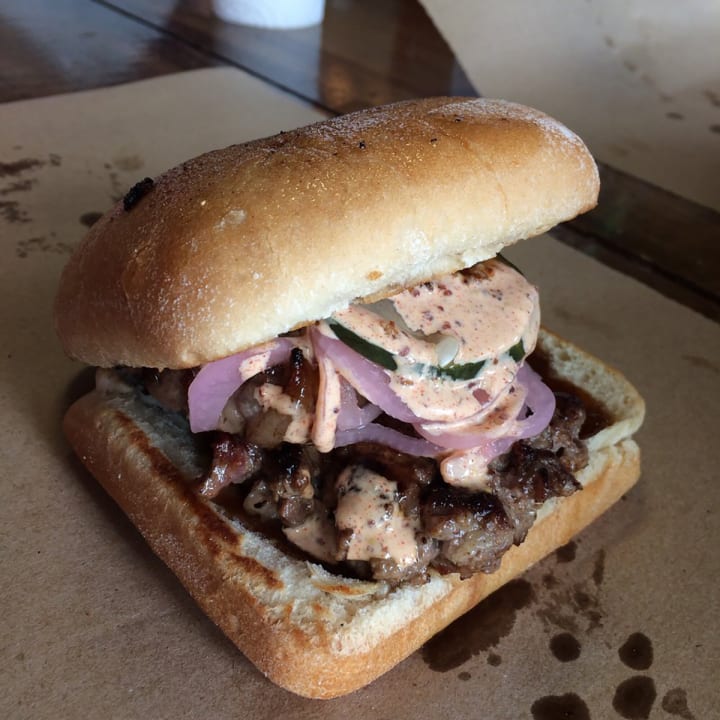 There is no shortage of burger joints that grind their meat in house across the United States. But the Neon Pig, which is also a butcher shop, takes this a step further with their burgers and its famed "Smash Burger." With the "Smash Burger" on the menu, you needn't look any farther; simply choose the beer you wish to enjoy it with. This rough grind is made from a combination of aged filet mignon, sirloin, New York strip, rib eye, and Benton's bacon. It's served on a sturdy ciabatta bun with cheddar cheese, pickled onions, quick pickles, more of that smoky Benton's bacon, and served with hoisin and comeback sauces. Job done.
About the Creator
Sous chef in San Francisco. Will convert you from a carnivore to a seitan worshipper, one tofu lentil salad at a time.
Reader insights
Be the first to share your insights about this piece.
Add your insights