Baking from scratch 2.0
After semi-winning my first go around I figured I'd try again, mix things up and get my bake on.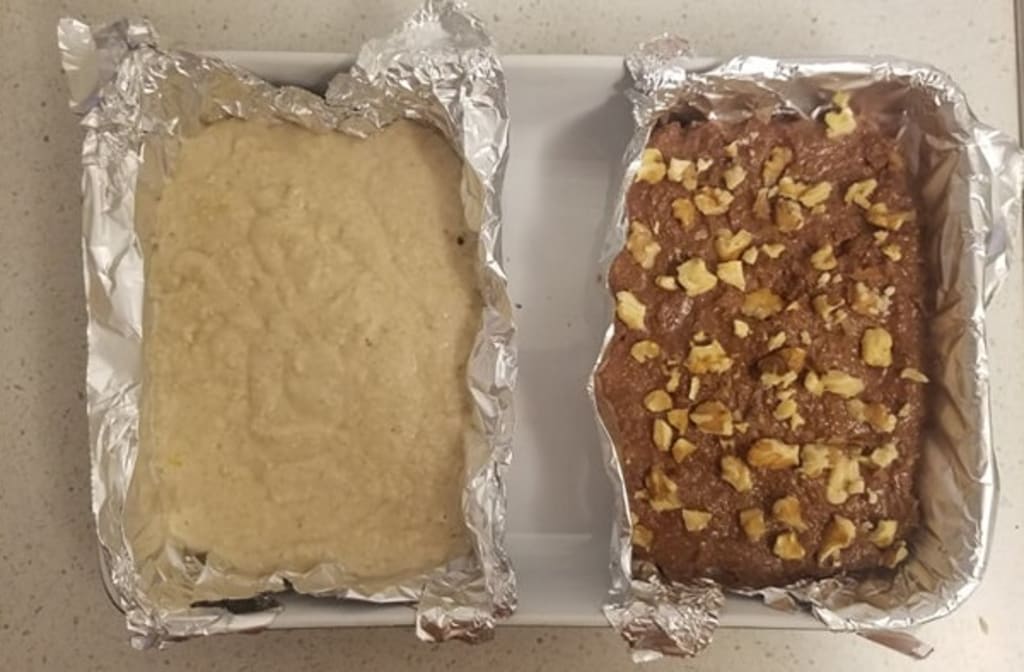 Pre-oven banana bread and brownie.
My first attempt at baking without recipe an going just off of feeling went so-so, half winning. I consider it a win still, as we did eat both the brownie and banana bread and were quite happy, even if it was not the tastiest of the tasty or mushiest of the mushy. I would have loved to see some more movement in the brownie and less density in the banana bread, but live and learn. I had some sort of basic feeling for what needs to go in them, and especially considering I had some very specific requirements to make it work, all in all I was pretty pleased with myself. But, as they say in Sweden, skam den som ger sig! Roughly translated to; shame on the person who gives up.
I decided to give it a go 2.0, and with more ripe bananas to work with, I launched myself in to banana bread and brownie baking night based solely on feeling, no recipes allowed (I didn't need anyone else's life story tonight either), and the result was better! Again, rules are; 1. No recipes,this is self explanatory as it would be down right cheating to have recipes when I did not the first time. 2. No sugar, as we try to not have sugar, and this was the reason I could not find a recipe to follow to begin with. 3. Plant based, as we are a plant based household, this one feels quite self explanatory as well. Questions on that, comment below and I'll give some answers.
So, this time I decided to try something I have never used before, just thinking it might help with texture in different ways. The egg replacer. I don't know if any of you have tried it, and if you have, please let me know your experience with it, because I'm not completely sure I'm sold on the idea. I think this is partly because I have never used it before, partly because I am not sure it did the dough any good, and partly because I felt it's just chia seeds anyway, so why would I not just mix some chia in there? I guess the last one is more of a question for myself than you as a reader, but if you can help me sort my own mind out I am never opposed to some teamwork.
When the things were done, and I had jumped up and down in excitement enough, the bread came out better than it's predecessor, whereas the brownie was pretty much the same. I had hoped for some sort of difference in fluffiness from the egg replacer with the brownie, but no such luck. The search for fluff and mush continues. We enjoyed eating them again, and they were gone by lunch time the next day (after having a chat the night before about how you're not supposed to eat all of it straight after baking for whatever reason). I have also decided that bananas work really well for getting some sweetness in there, especially if they are ripe to the point of being completely brown. The first try I had bananas that were basically straight off the tree, this time I had waited them out a bit and let them goo up some before using them. Definitely the better choice.
In conclusion; I am not done yet, there will be a 3.0, or maybe 2.1, I don't know. I will find out when you do. I hope that the next one is yet another improvement, even though I doubt it will be perfection, not just yet. I am still working on getting the feel for all the bakes, and thoroughly enjoying myself. Who wouldn't when you get to eat yummy stuff, entertain yourself for a night and write about it? Until next time, if you have questions, let me know. If you have ideas, let me know. I just ask that you don't give me the key to the kingdom straight up please, the quest and search is the fun part as we all learned from Legend of Zelda and the Final Fantasy series as kiddos, right?