Avocado Toast 3 Ways
Great recipes for a quick meal.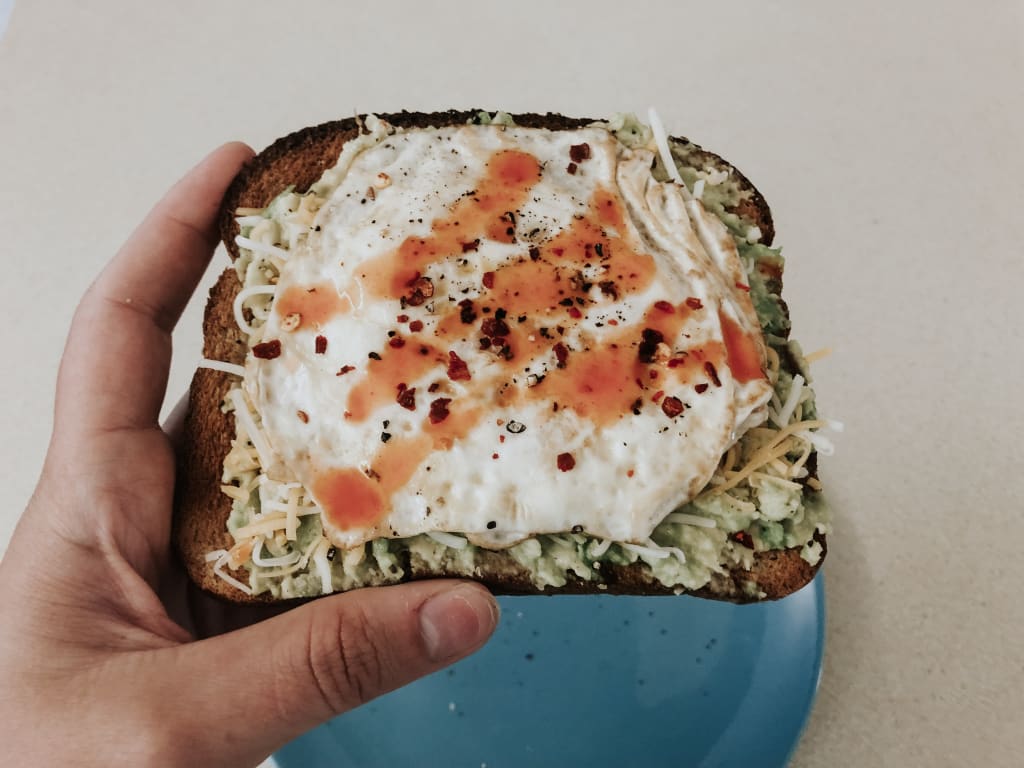 Avocado toast, the millennials' token meal. For some reason, this particular generation has received a lot of backlash for... liking good food? But in all seriousness, this actually is really, really good food. Avocado toast has been my go-to breakfast for a while now, and since I eat it so frequently, I've discovered some of my favorite versions of this versatile meal. You can make avocado toast for breakfast, lunch, a light dinner, or a nice snack. It's easy and quick to make, a great on-the-go snack, and all around really tasty! Here are some of my favorite recipes that I hope you try out.
1. Spicy Egg Avocado Toast
This one has been my frequent breakfast of choice for a very long time now. I make it most mornings because it's super easy, quick, and filling! You can easily take it with you on your morning drive, or enjoy it sitting outside on a nice morning (my preferred way of eating). All you'll need are these ingredients:
honey wheat bread (any type works)
1/2 avocado
1 egg
shredded cheese
salt and pepper
red pepper flakes
garlic habanero sauce (or any hot sauce)
If you're like me and you enjoy burning your mouth on spicy foods, this one gets the job done and tastes great. If you want to cool it down a bit, you can leave out the hot sauce and red pepper flakes! All you have to do is toast the bread until it's dark brown and firm, and fry an egg in the meantime. I always break my yolks a bit so it isn't super runny when I try to bite into the toast. Once your toast is ready, mash the avocado directly on top of the toast. If the avocado is still a bit firm, I like to mash it in a bowl so I don't ruin the toast. Then sprinkle a little bit of salt and pepper over the mashed avocado and add some shredded cheese. After that, just pop the egg on top, and then finish it off with your red pepper flakes and hot sauce! Just like that, it's super easy and tastes great.
2. BLT Avocado Toast
This recipe is my own take on an incredible BLAT sandwich that I used to eat everyday at work. I'm not kidding, it was every single day. My coworkers used to make fun of me for ordering the exact same thing every lunch break and barely ever trying anything new. It was that good! I don't always have all of these ingredients in my house, but when I do, this is a super common meal for me. I like to eat it for lunch, or for an afternoon snack rather than for breakfast. For this recipe, it's pretty much a normal BLAT, but without another piece of toast on top. You could easily make it into a sandwich, though, by adding more fillings and another piece of toast. For this recipe, I use these ingredients:
honey wheat toast (any type works)
1/2 avocado
sliced tomato
cooked bacon
lettuce
salt and pepper
Prepare the toast and avocado the same way that's explained in the first example, and then place your tomato, bacon, and lettuce on top. If I'm feeling really fancy (and I have the right dressings) I like to add a drizzle of a chipotle mayo on top, too. That gives the toast a really nice kick of flavor.
3. Pico de Gallo Avocado Toast
I think this one might be my favorite out of all three. I've only gotten to make it a few times, but each time I do it gets better and better. I keep trying to think of new ingredients to add to this recipe, but I think the simplicity of the flavors are good enough to not need anything extra added to it. The pico de Gallo is both sweet and salty, and the bacon bits give it a very savory flavor. It's super easy and super satisfying—here's what I use to make it:
honey wheat toast (any type works)
1/2 avocado
pico de Gallo
bacon bits
salt and pepper
Just prepare the toast and avocado the same way as the previous examples, and then put some pico de Gallo on top, along with some bacon bits and salt and pepper. You can't go wrong!
recipe
About the author
photographer with a knack for writing, passion for food, and a craving for adventure.
Reader insights
Be the first to share your insights about this piece.
Add your insights