AUTHENTIC CARNITAS TACOS
Crispy pork. Spicy salsa. Charred Tortillas - What's not to love?!
One of my favorite staff meals at the restaurant is always these tacos. Anytime I see a cook walk in the door with 3 bags of corn tortillas hangin' from their hand, I know what day it is, and I do my little happy dance.
With the crispy succulent pork, spicy tomatillo salsa, sharp white onion and fresh cilantro all wrapped up in a charred corn tortilla, it's a total "umami" treat that just hits every mark.
After picking my chef's brains, I just had to learn how to make them for myself, and such is the birth of this recipe. Before you know it, Taco Tuesday is going to be a regular fiesta in your house, thanks to these bad boys!
AUTHENTIC CARNITAS TACOS
(Serves 4)
FOR THE PORK:
2lb-3lbs pork shoulder chunks
1 can evaporated milk
3 dried bay leaves
1 cinnamon stick
The peel of 1 mandarin orange
1 tbsp kosher salt
1 tbsp dried Rosemary
1 tbsp dried oregano
1/4 tsp ground black pepper
1/8 tsp ground cloves
3 large garlic cloves
FOR THE CHARRED TOMATILLO-AVOCADO SALSA:
3 garlic cloves
3 medium tomatillos
1 medium jalapeño
1 small white onion
1 ripe avocado
1 cup fresh cilantro, roughly torn
The juice of 2 limes
Salt to taste
FOR THE GARNISH:
12 soft corn tortillas
1 small white onion, minced and tossed with 1 tbsp chopped fresh cilantro and a pinch of salt
Shredded lettuce
FOR THE PORK:
1) preheat the oven to 375°. Place the pork chunks into a 13x9 metal pan in a single layer. Add the evaporated milk and all the remaining ingredients/spices. Add enough water to cover the meat and toss everything to combine.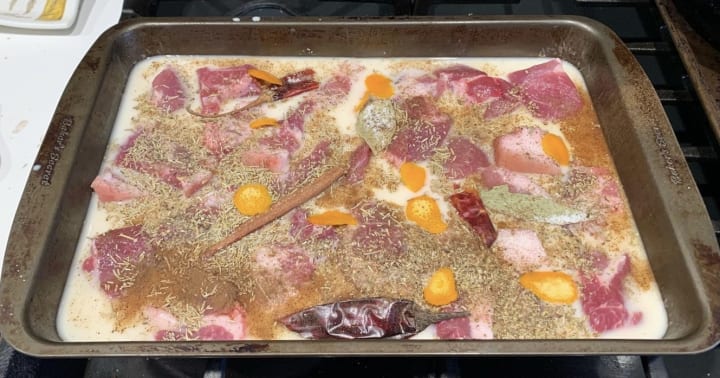 2) cover the pan with tinfoil and let the meat braise in the oven for 2 hours or until the meat is just pull-apart tender.
FOR THE SALSA:
1) while the pork is cooking, place the 3 garlic cloves for the salsa in a small tinfoil pouch with a splash of water and seal the foil. Place the pouch in the hot oven directly on the rack for 30 mins until tender.
2) meanwhile, place the tomatillos, jalapeño and white onion in a medium pot and cover with water. Bring to a boil, then reduce to a simmer until the veggies are just beginning to tenderize (about 5-10 minutes).
3) remove the veggies from the water and set aside. Preheat a cast iron grill pan over high heat. Once hot, spray with cooking spray and place the tender tomatillos, jalapeño and onion on the grill just until they get grill marks on all sides. Remove from the heat (if you do not have a grill or grill pan, you can skip the boiling step and just roast the veggies in the oven).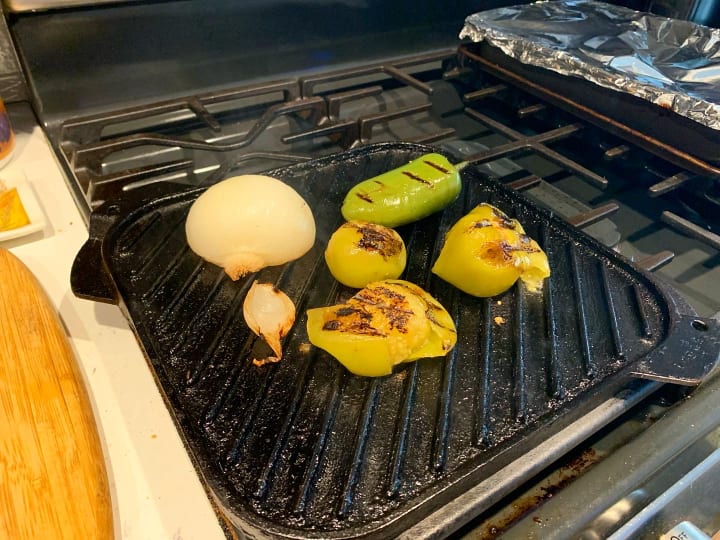 4) place the charred veggies (I removed the seeds from my jalapeño and the salsa was still quite spicy), roasted garlic, cilantro, avocado, lime juice and a healthy pinch of salt to a blender or food processor and blend till smooth. Add a splash of water until desired consistency (I like it halfway between a guacamole and a pourable sauce).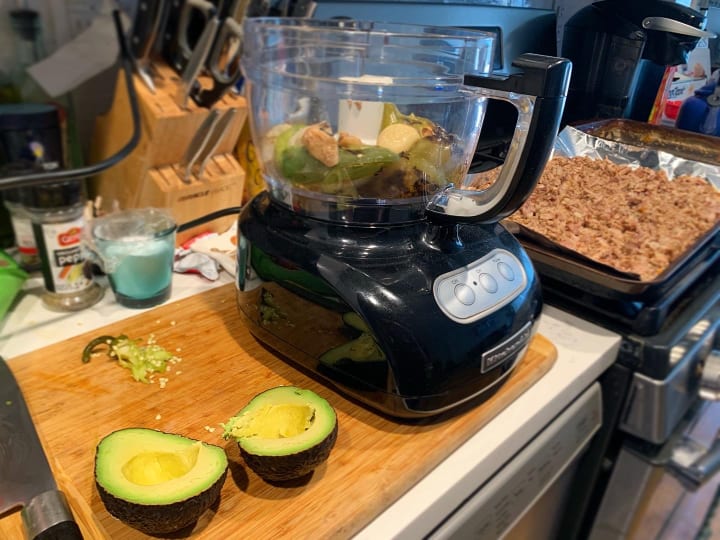 5) keep the sauce chilled till ready to serve.
TO FINISH:
1) once the meat is tender, remove the meat from the braising liquid and chop it. Place the chopped meat on a large sheet tray that has been lined with tinfoil and sprayed with cooking spray and place back into a 450° oven for 10-15 mins, checking regularly, until golden and crisp.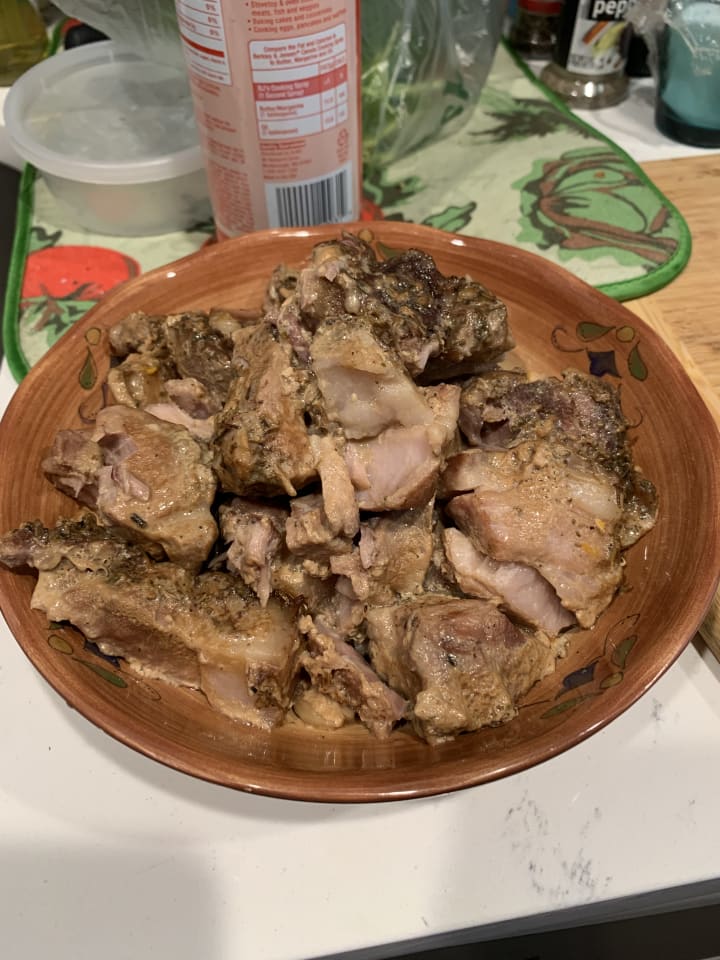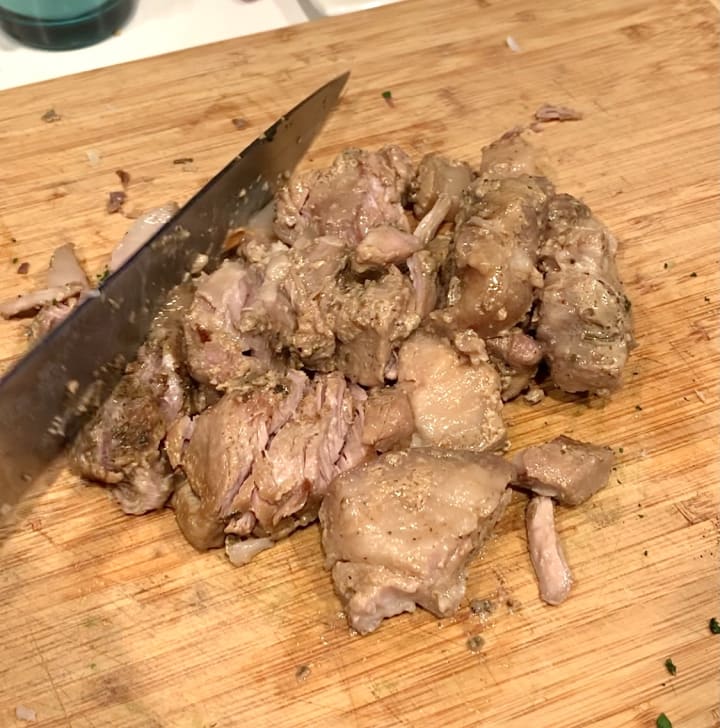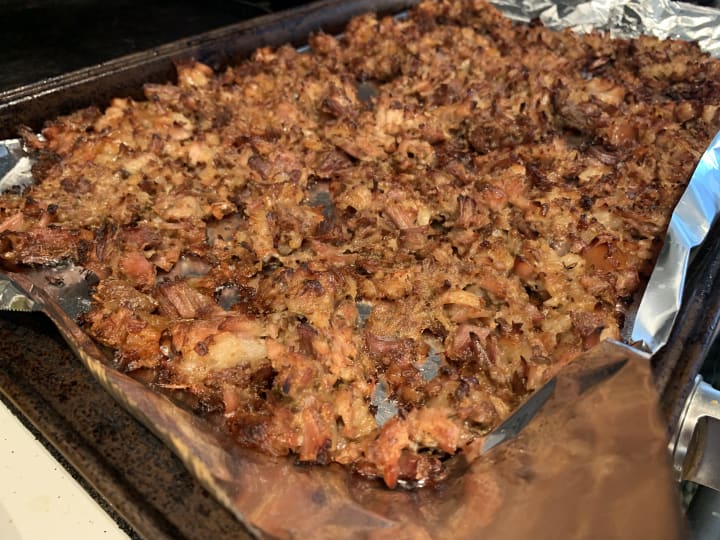 2) serve the carnitas on the corn tortillas that have been warmed on a griddle or over an open flame on the stove top, heating for just 10-30 seconds per side, and garnish with chopped white onion, fresh cilantro, lime wedges and shredded lettuce.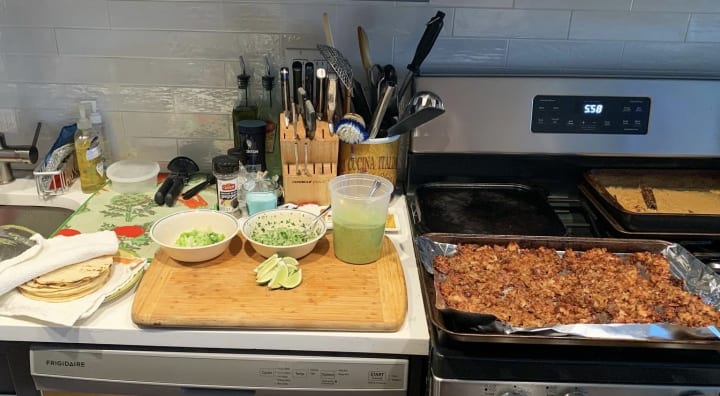 IF YOU ENJOYED THIS RECIPE, PLEASE CHECK OUT MY OTHER RECIPES FOR THE BEST MAC & CHEESE, ULTIMATE FUDGE BROWNIES, MILLIONAIRE'S SHORTBREAD, CRISPY OVEN-FRIED CHICKEN, HOLIDAY SQUASH CASSEROLE, CLASSIC CREAMY QUICHE, PALEO QUICHE, PERFECT APPLE PIE, and CRISPY PARMESAN CAULIFLOWER

Ellen S
Former opera singer turned executive pastry chef in NYC. Always happy to talk all-things baking, cooking, music and ghost stories 🙃 If you like what you see, a 💜 or a tip would be greatly appreciated!
See all posts by Ellen S →