At Home Roast Beef PoBoy
Its Gravy Baby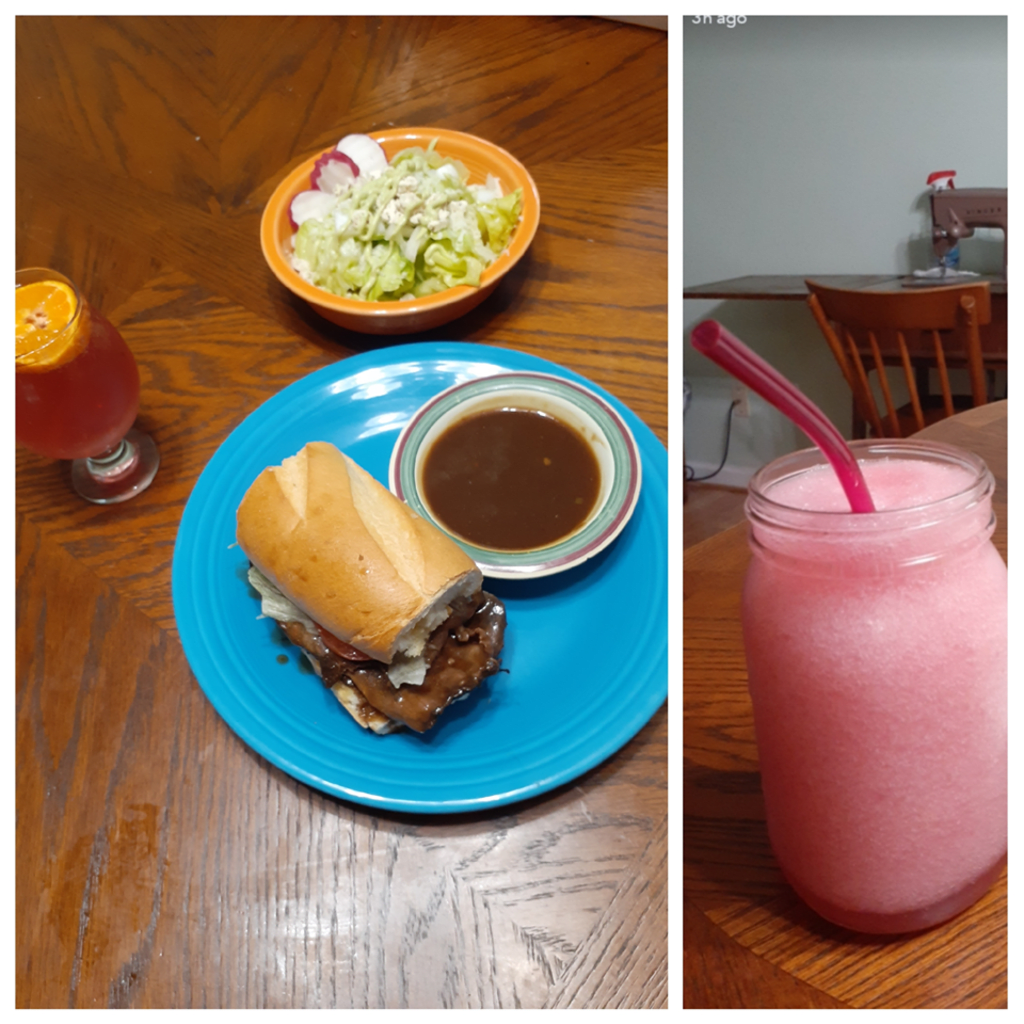 Made with a side of Avocado Ranch Dressed Salad and a Cocktail. This is a pure favorite to me. I love gravy in any meal and on a sandwich were I can dip it in is a meal goal. New Orleans has helped guide my taste bud to surprisingly simply meals to make and eat. A Roast Beef PoBoy is at the top of my list. It is a great pregame meal or a good meal to have while staying in for a family meal. I went to my local grocery story ( Thank you Food Lion) and got Roasted beef on a 2 setting, the lowest setting. A lot of us are looking for a lighter option than greasy delicious fries so I made a side of salad with a simply Avocado and Ranch "green" dressing that is flavorful with hints of lime. Drinking a bubbly STRONG cocktail always goes well if a hearty sandwich. Four Loko ,the classic, mixed with juice is like the drunk cousin of a mimosa.
INGREDIENTS Drink Pairing Ingredient's
French Bread Loaf Four Loko Hard Seltzer
McCormick Simply Better Beef Gravy x2 Cranberry Pineapple
McCormick Packet Brown Gravy x2 Whole Grapefruit
Cups of water x4 Hose Cuervo Tequila
Teaspoon of Lawrys Season Salt
Pinch of Salt and Pepper
Cap of liquid Steak Seasoning x2
Teaspoon of Minced Garlic
A halved thinly sliced Yellow Onion
Stocks of Green Onion x3 chopped
Tablespoon of Sour Cream
Tablespoon of Bacon Grease
Teaspoon of Honey if too salty
-My dad has high blood pressure so this can be a meal that he eats once in a blue moon so I try to make it with the least amount of salt as possible-
Starting with the gravy base to be able to marinate the meat in at the end
Mid temper oven heat in Large Saucepan
Pour Beef Gravy in a large saucepan, sprinkle the Brown Gravy packets over gravy then add 4 cups of water
Mix with fork, or whisk, while adding sour cream until at a boil
Add season salt, steak seasoning, salt, pepper, garlic, and bacon grease once at boil
Leave at rolling boil for 7 minutes
Then add chopped green onion and sliced yellow onion
Bring the Temperate down to a medium low to simmer for 15 minutes with lid
Simmer until onions have been cooked down
Layer Roast Beef in deep browned gravy
Let cook for 30 minutes
While meat cooks Prep and make salad dressing and greens salad how you please
INGREDIENTS
Avocado x2
Few cilantro sprigs minced
Half of a Lime chopped
A third of Olive Oil
A half cup of Ranch
A half a cup of water
Put all the ingredients in a blender, I used our magic bullet, and blend until creamy
The Roast Beef will be ready soon so dress your French bread how you like. I sliced the loaf into third and used Dukes Mayonnaise, American cheese, pickles, lettuce, and tomatoes to dress it. I divide the French bread piece into halves and toast the inside on a cast iron pan with butter. Having a crispy inside and a soft outside, of the French bread, is a fantastic way to keep the gravy contained in the breading. Also it helps the cheese melt in the heat of the meat and toasted bread.
Using tongs, place the Roast Beef on the inside of the dressed French bread. Having the gravy dip of the meat is helpful because I usually make a dipping saucer for my gravy, separately. Plate your choice of greens salad (kale, lettuce, or spinach) and drizzle Green Dressing over salad. More goes a long way with me! For your Cocktail, pour the Four Loko in a chilled glass. Add grapefruit, a shot of tequila, and juice to the cup and watch the seltzer dance begin. I added an orange slice for decoration. Also taking this cocktail and throwing it in a blended is an option. Daiquiri's are the bets! I lived in New Orleans a long time and since I have moved to a more Northern state I like to bring back the meals and drinks that take me back good memories. The taste of the city is in this meal for me so please enjoy.