Angel's Pulse
"I don't know if every drink I make is going to be somehow linked to a song or album, but for now that's the train we're on."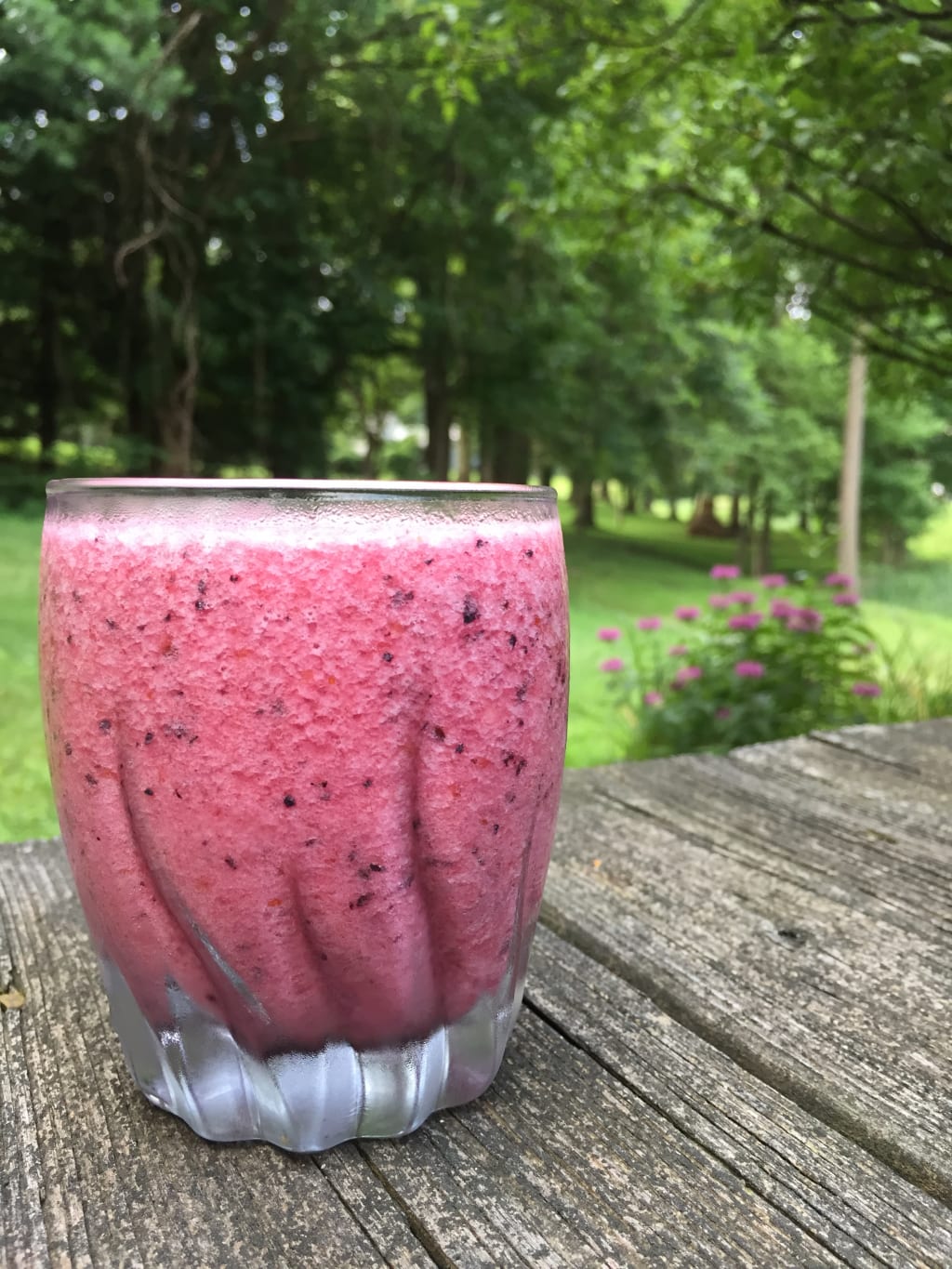 good for you
I don't know if every drink I make is going to be somehow linked to a song or album, but for now that's the train we're on. I created this drink listening to Blood Orange's newest, Angel's Pulse. (full disclosure that before this, I listened to The Webber Sisters' cover of "The First Cut is the Deepest," which is absolute fire. I've listened to The Webber Sisters before, but I never knew they covered that song. I had NO IDEA there were so many different covers of that song??? Did y'all know that???)
I said this previously, but I'm constantly trying to think of alternatives to putting water and just plain ice into my smoothies and drinks. I have a lot of alternatives, which will be shown here in due time, but one of my more recent favorites is using kombucha as a liquid option. Kombucha is available in so many different varieties and you can really make a drink fun just by the addition of one to an otherwise simple smoothie if you're stuck for inspiration or craving something different that doesn't require a lot of time or extra effort. I also think this would be a good way for someone who isn't super fond of or familiar with kombucha to try it out. Although I love the taste of kombucha, I know it's not an easy flavor to get used to, and I think this is a good way to start off enjoying it and inch into drinking it by itself, if that's the goal. I like a lot of different brands of kombucha, but GT's is by far my favorite based on flavor strength and digestive benefits. In this specific recipe, I did use plain ice, and was able to do so without the flavor level being diminished. I chose to use golden kiwis instead of regular ones, because it has more of a complex flavor profile and went well with the guava. Both flavors are distinct and mingle together perfectly. If you'd like to skip the small amount of plain ice cubes, keep in mind that you can easily create the icy consistency by chopping up this fruit and freezing it ahead of time. I already had frozen blueberries on hand. Something I like doing for beverage making purposes is rinsing, chopping and freezing half of the produce I buy that is intended for making drinks. It's a time saver when it comes to putting a drink together, and it also ensures that I'm not rushing to finish refrigerated fruit before it goes bad.
For this recipe you will need:
8 oz GT's guava kombucha
12-14 rainier cherries, pits removed
2 golden kiwis
Handful of frozen blueberries
4-5 small cubes of ice
A blender
This makes two, eight ounce servings.
My first step was cleaning the fruit. Afterward, I removed the pits from the rainier cherries. I chose rainier because they have a lighter flavor to them, and I didn't want the cherries to be the focus of this drink or overpower the other elements. Thinking about the balance of the drink is important. Yes, you could just go into the kitchen and go wild, but sometimes you can add a bunch of stuff to a drink and end up only tasting one ingredient... which is disrespectful to the ingredients and your wallet. Anyway, back to the cherries. I removed the stems and pits, put into the blender. Next, I cut the little ends off the kiwis. I did not remove the skin from the kiwis. Kiwi skin is good for you and edible. No reason to remove it. I don't know if this is a controversial stance. I cut the kiwis into slices so it blended easier and put them into the blender. I took a handful of frozen blueberries and tossed them in. I didn't count out how many blueberries. Just grab some, it's ok. I poured in eight ounces of GT's guava kombucha and blended all of this together. Then, after these ingredients were at a smooth consistency, I added the cubes of ice. I know it's a blender, but in my experience, adding the ice last, after the mixture is at a smooth consistency, makes a huge difference. Blend in the ice until it's little crystals of ice and not big chunks or shards. Pour into glasses.
recipe
beautiful woman doing beverage reviews and recipes