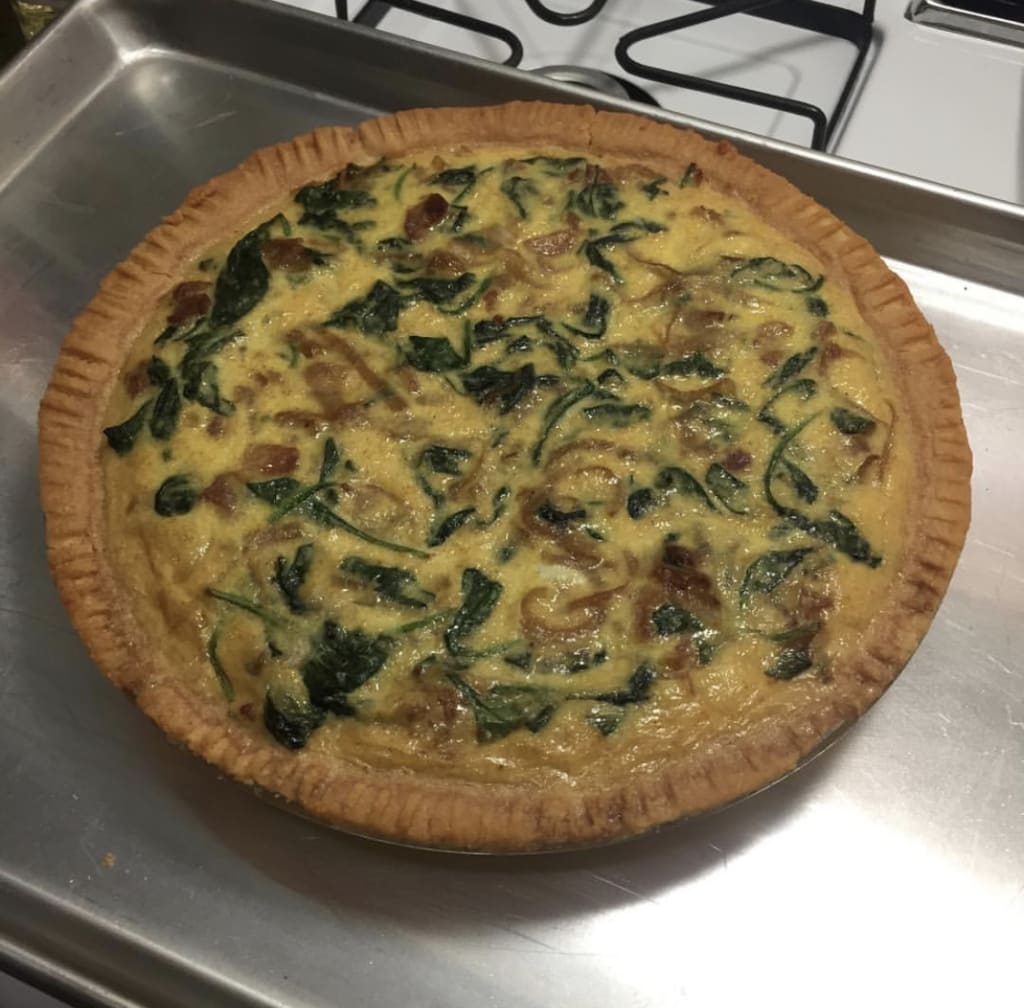 While the recipe for a classic quiche is full of cream, butter and cheese, this amazing paleo version is gluten-free, dairy-free and refined sugar free but equally amazing in flavor and texture! In fact, you wouldn't even know it was healthy if I didn't tell you ;) don't believe me? You'll just have to try this recipe out for yourself to find out!
Quiche is one of those comfort foods that has a way of always "hitting the spot".
Whether it's over Sunday brunch with the girls or a weeknight family dinner - hell, I'll even eat a slice for breakfast! - there's really no wrong time to get your quiche on!
To an untrained eye, quiche may appear intimidating or quite tricky to make, but in actuality it can be broken down into fairly simple steps that even a beginner cook can master in no time!
With a crisp, flaky crust and an impressively silky, savory custard center, quiche has just got that "it factor," that always looks impressive on any table scape.
While this recipe includes bacon, Swiss chard, garlic and leeks, quiche is wonderfully versatile when it comes to creating your own signature fillings.
The Italians even have a version called "pizza rustica" that's often made for holidays such as Easter that utilizes salami or other cured meats and mozzarella - let your imagination run wild and sauté some spinach or mushrooms instead, or follow this recipe to the T. Either way, it's going to be delicious, I can guarantee you that!
If you've recently made some dietary changes, you'll be pleased to know that thanks to this recipe, you won't have to give up one of your favorite comfort foods!
AMAZING PALEO QUICHE
CRUST
- 1/2 C (48g) almond flour
- 1/2 C (48g) coconut flour
- 1/2 C (64g) arrowroot starch
- 1/4 tsp salt
- 1/2 C (103g) palm shortening
- 1 egg white
- 1/4 C water
FILLING
- 4 strips, bacon
- 1 bunch, rainbow chard
- 2 stalks, leeks, rinsed well
- 5 large garlic cloves
- 6 eggs
- 1 (13.5 fl oz) can, full-fat coconut milk
- 1/2 tsp sweet paprika
- salt & pepper, to taste
FOR THE CRUST
1) on low speed, paddle together the dry ingredients till well mixed. Add shortening until crumbly.
2) whisk together the egg white and water and drizzle into the mixer until a ball of dough forms and water is well incorporated.
3) gently press dough into glass pie plate evenly across the sides and up to the rim. Crimp edges with a fork and chill for minimum of 30 mins.
4) pre-heat oven to 350.
5) poke several holes in bottom and sides of the dough with a fork to help release air.
7) par-bake in the pre-heated oven for 15-20 mins or until the dough is setting and has just a hint of golden color.
Meanwhile..
FOR THE FILLING
1) while the crust is par-baking, dice the bacon and add to a large sauté pan. Over low heat, render out the bacon, stirring regularly.
2) while bacon is cooking, thinly slice the chard, leeks and rough chop the garlic. Combine together in large bowl.
3) once bacon is about halfway cooked, stir in the veggies, reserving the bowl. Sauté until chard and leeks are wilted to about half their original size. Add salt and pepper, to taste. Turn off the heat.
4) When crust is done par-baking, remove from the oven and set aside, and turn oven down to 325. Meanwhile in the reserved bowl, whisk together your eggs, coconut milk, paprika and more salt and pepper.
5) spread veggie mixture evenly in prepared pie shell.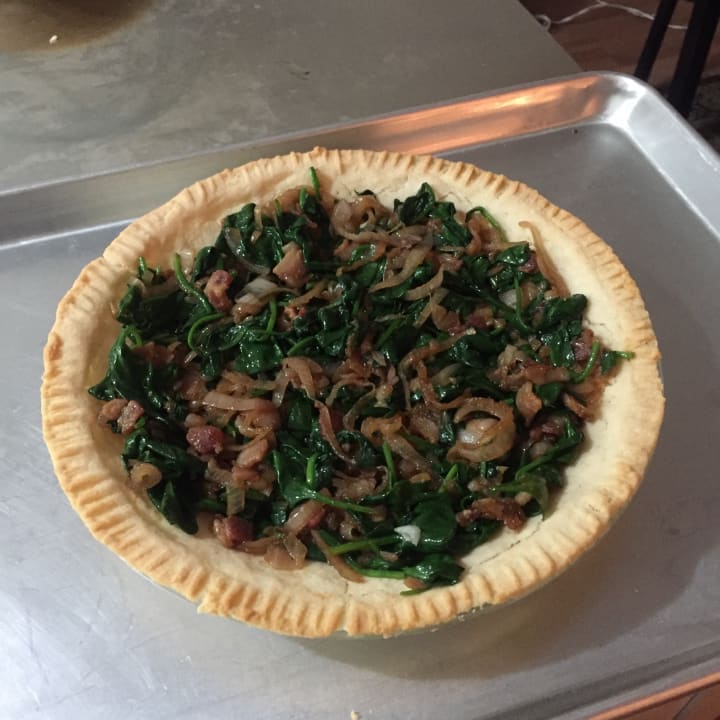 Slowly pour custard over the veggies.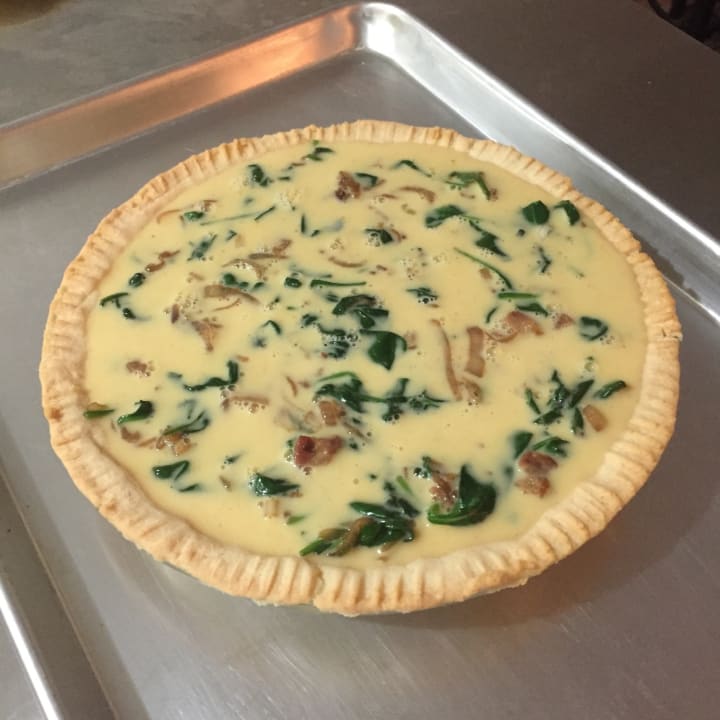 6) Bake quiche for about 45 minutes, rotating occasionally, until custard is no longer loose or runny and appears set. Let stand a minimum of 5-10 minutes before attempting to slice.
Enjoy your guilt-free quiche!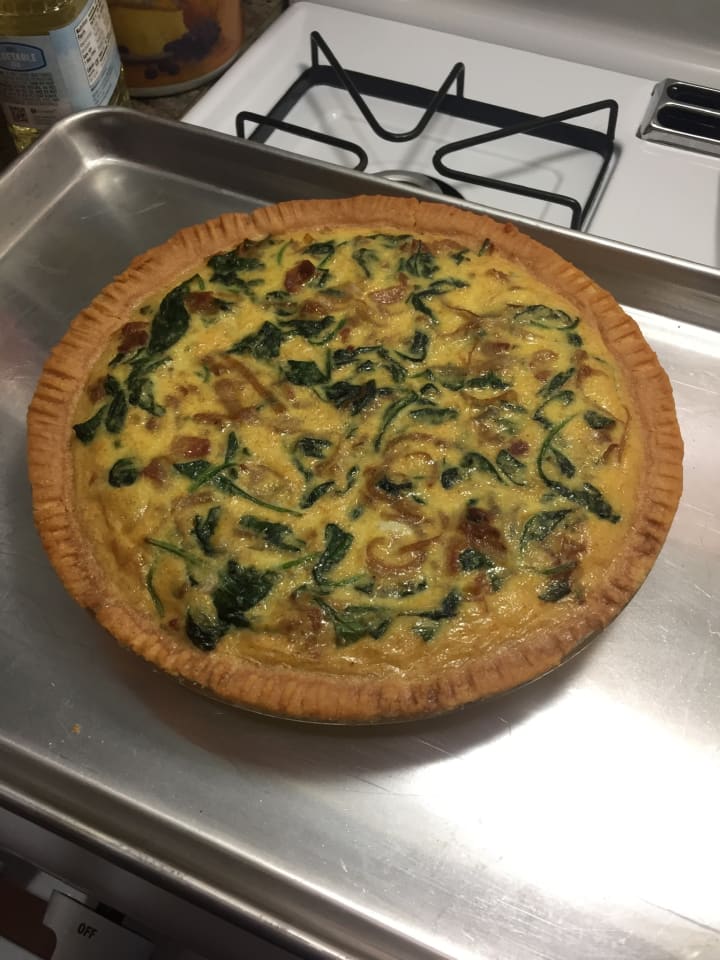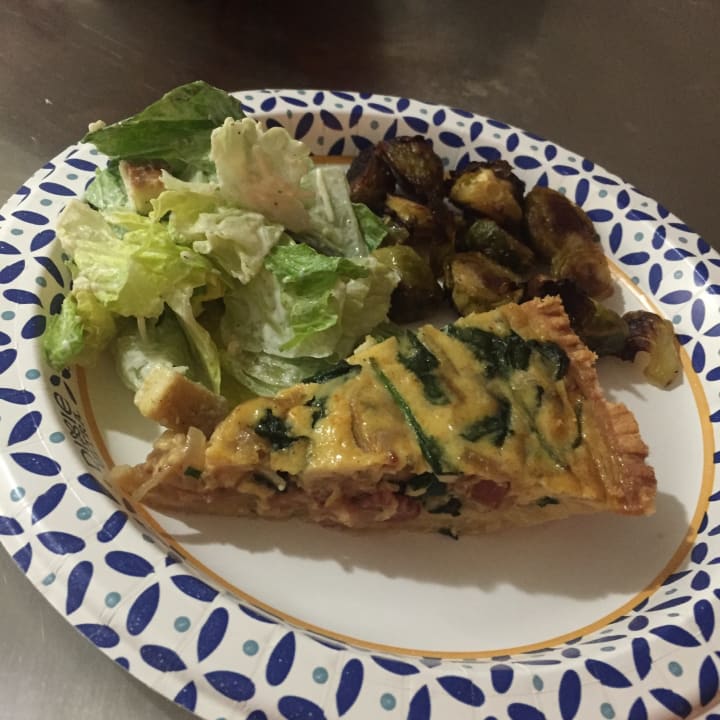 IF YOU ENJOYED THIS RECIPE, PLEASE ALSO SEE MY RECIPES FOR COPYCAT CHIPOTLE BURRITO BOWLS, ULTIMATE FUDGE BROWNIES, THE BEST MAC N CHEESE, BAKING MILLIONAIRE'S SHORTBREAD, CRISPY PARMESAN PORKCHOPS, RESTAURANT-QUALITY BBQ RIBS AT HOME, and CREAMY CLASSIC QUICHE! 🥰