A Super Quick and Easy Canned Tuna Recipe for One
For Those Times When You Need a Healthy Meal in a Pinch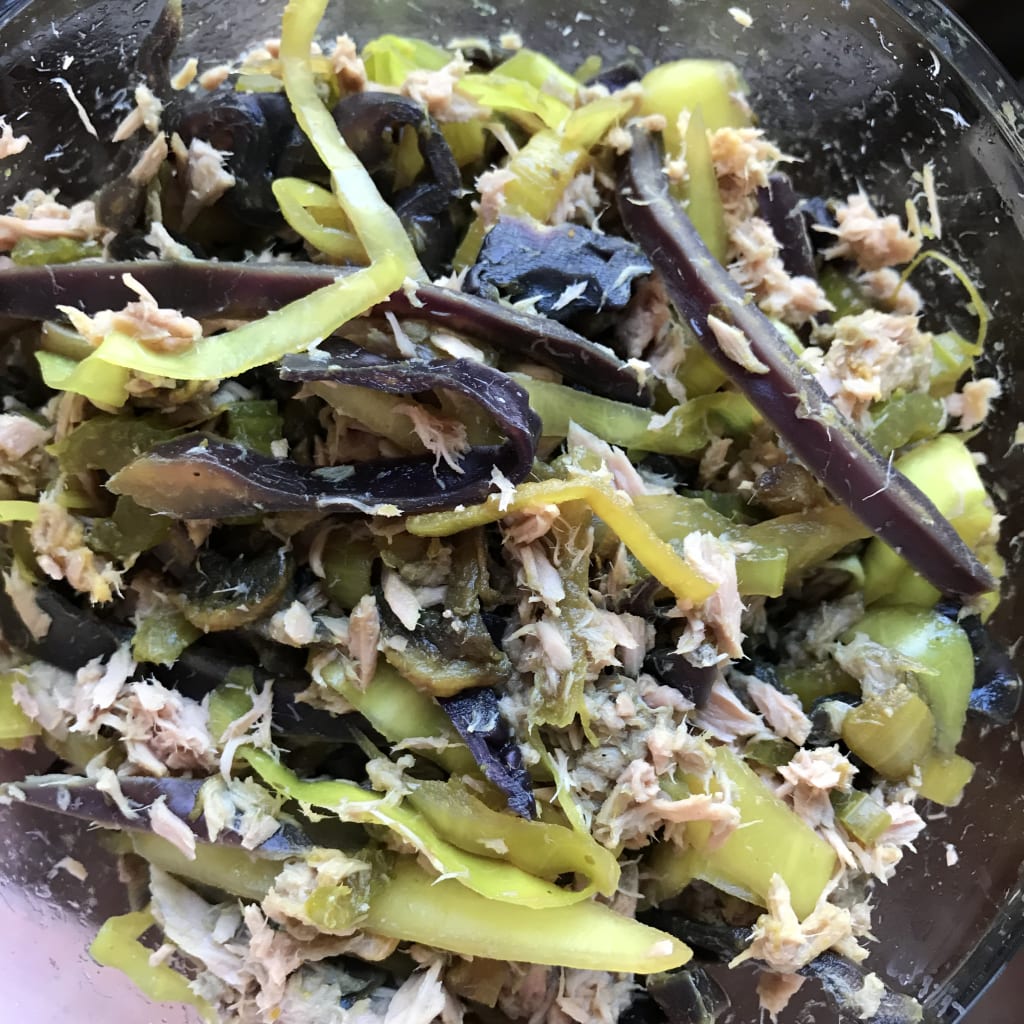 Writing this, I can't believe that it's March already. January and February practically flew by! It felt like, in the blink of an eye, they were gone. In those two months, a lot changed.
As some of you may know, on January 16th, I made the switch from vegan to vegetarian (mainly just adding in eggs, whey protein, and milk protein). If you'd like to know why I switched back, I have an entire blogpost dedicated to the topic, which you can most definitely check out. Since making that change, I've made another, arguably bigger one. On March 2nd, I decided to take on the title "pescatarian." In other words, I am still eating a highly plant-based diet—with the addition of eggs, whey protein, and milk protein—only now, I'm also allowing myself to eat fish and seafood.
I didn't make this change without any rhyme or reason. In fact, I have been researching the pros and cons of eating fish and seafood since I starting looking into eggs (which was in early January). For me, the good greatly outweighed the bad. In particular, I was attracted to the fact that fish is a great source of both vitamin D and omega-3 fatty acids. True, you can easily supplement both of these nutrients. That said, I would much rather eat a whole meal, rather than sucking back pills day after day.
Besides the nutritional benefits of vitamin D and omega-3s, fish has been proven to do a lot of good for our health. It lowers the risk of heart disease, protects the brain from age-related deterioration, prevents depression, and much more. If you want a basic understanding of fish's many benefits, I recommend checking out this article.
That all said, let's get into the point of this blogpost. Like I said, I deemed myself pescatarian on the 2nd. Today being the 4th, it's been three days of my new diet (more like a lifestyle, but you know what I mean). And what have I been eating for supper the past three days? The exact same thing, night after night: Canned tuna and veggies. I know. I know. Tuna gets a bad rep as being "old person food" or "cat food," but hear me out. This recipe is so delicious—not to mention quick, easy, and budget-friendly! Each day, I have been able to make a fresh, single-serving batch for myself; however, it can easily be doubled and tossed into the fridge.
To make this canned tuna and veggies recipe, you'll need:
One can of flaked light tuna (I used Clover Leaf brand, if you're curious),
1/4 of a medium-large onion,
1/2 clove of garlic,
1 large stalk of celery,
4 or 5 white mushrooms,
about 2 cups of chopped or shredded purple cabbage, and
about 1/2 cup of chopped or shredded green cabbage.
Note: the cabbage ratios can easily be adjusted either way; I just personally prefer a greater amount of purple than green.
As far as seasonings go, you'll need:
ground turmeric,
ground ginger,
prepared yellow mustard,
black pepper, and
pink Himalayan salt.
First, heat the onion, garlic, celery, and mushrooms with a bit of water over low-medium heat in a pot or pan. Cook until the onion and celery become translucent. Add a splash of water as needed, while cooking. Second, add the spices and mustard, and stir the mixture with a wooden spoon. Third, add the cabbage, turn the heat up to medium-high, and cover with a lid. Stir often, making sure that the vegetables don't run out of water or burn. Once the cabbage is soft and tender, remove the pot/pan from the heat. Fourth and lastly, add the can of drained tuna to the mixture, and mix it in evenly. And then, the dish is ready to be served!
Though this dish is very high in protein (more than 30g), it definitely doesn't constitute a full meal, for me. I like to begin with a large salad of baby spinach, chopped apple, chopped walnuts, and yellow mustard. And then, I pair the actual tuna vegetable mixture with romaine lettuce cups (which I highly recommend trying out). This dish could also easily be paired with a grain like rice, quinoa, or couscous, if that's something that you include in your diet. Nuts and seeds (think pepitas, walnuts, pecans, hemp hearts, etc.) can also be sprinkled over the top, as this dish does only provide about three or four grams of fat.
Other than that, I don't have much else to say.
If you try out this recipe, I really hope that you enjoy it!