A Recap of Vegan Panel: Network and Chill
"It's our culture. It's our roots. It's our past. We have every right to be vegan."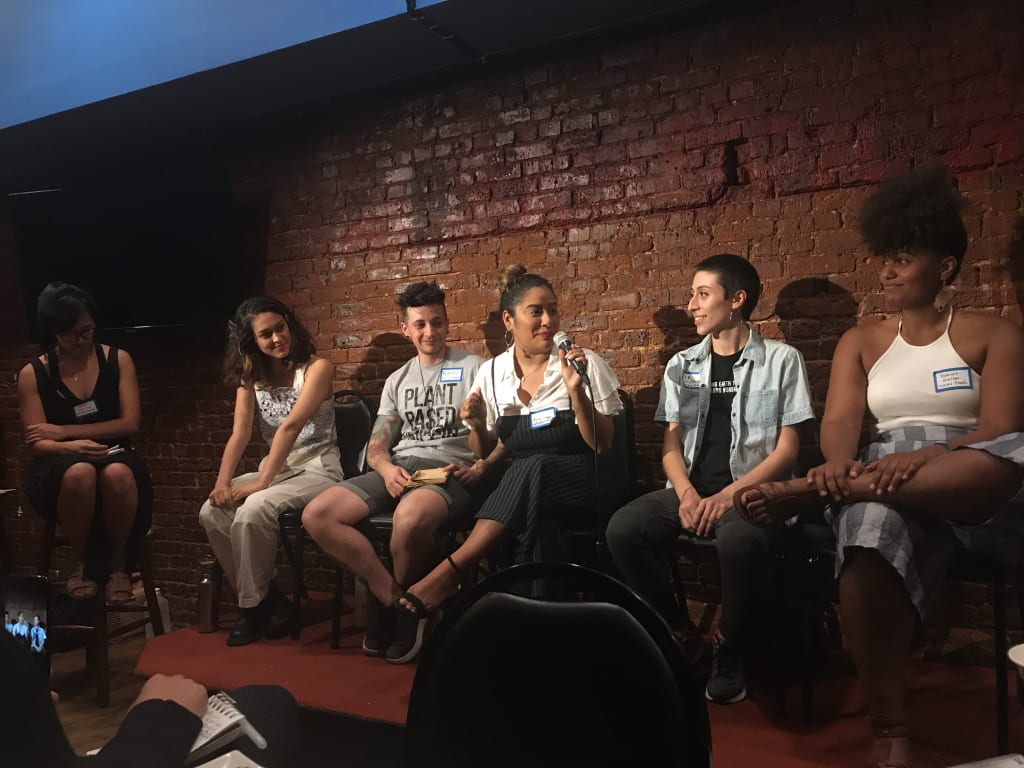 Moderator and Panelists from left to right: Vivian, Andrea from Cilantropia, Raffi from Collectively Free, Amy from Veggie Mijas, KR from La Raza for Liberation, and Ysanet from Woke Foods 
On a beautiful day in NYC, six vegan leaders came together in the back room of VSpot Organic, located on the buzzing street of St. Mark's Place. Each representing a different organization with different goals, what brought these leaders and the crowd to this Latin vegan restaurant was a commonality of plant-based and/or vegan practices and navigating this culture as people of color. It was an opportunity for everyone involved in these vegan communities to come together once again to uplift, inspire, and find new ways to support.
Organized by La Raza for Liberation and Veggie Mijas, the panel featured leaders from both organizations as well as from Cilantropia, Collectively Free, Woke Foods, and Food Empowerment Project. The event was structured by first having the moderator, Vivian, ask some introductory questions and then opening up to the audience.
The preliminary questions asked each organizer to tell their story, why they started their projects, what led them to veganism, etc.
Andrea from Cilantropia started the conversation by discussing how veganism came into her life when her father was diagnosed with diabetes. She firmly believed in the healing powers of changing to a plant-based diet, alluding to her own experience with an eating disorder and how changing to veganism helped her.
Raffi from Collectively Free described their project as a "wild card" of the group, focusing more on activism and community and less on food. Collectively Free serves as a way to connect people, not only focusing on veganism but activism related to social justice and reformation.
Amy from Veggie Mijas described starting a women-of-color collective with her roommate Mariah in college as a way to navigate their veganism in a public space. They wanted to share their resources as a way to help others. Eventually, they decided to open up their platform to others, creating a community of women of color who are navigating this culture together.
Lauren from Food Empowerment Project, who joined the panel via video chat, described her journey being a vegan activist in the late 1980s to now. As a Chicana, she was very aware of the way veganism can be perceived in brown and black communities versus how white veganism is portrayed and actively works to create a world where animal liberation and veganism are shared and learned in POC spaces.
KR from La Raza for Liberation aims to connect, support, and empower people of Indigenous, Latinx, and AfroLatinx descent and build bridges across human and environmental social justice movements. Their mission is to create collaborative spaces and projects using a decolonized, intersectional, and anti-speciesist framework.
Ysanet from Woke Foods began her journey towards a plant-based diet when dealing with parasites and other illness. Just like many, she explored vegan foods only to become disappointed by how expensive it can be and how sparse flavoring can be. She created Woke Foods, a women-of-color-owned cooperative focused on plant-based Dominican food and food justice in NYC.
The conversation shifted to how being a person of color impacts their veganism.
Amy explained how present veganism was already in our cultures when she found out her dad was eating mostly plant-based while growing up in Peru. "We've been doing this before anyone told me what veganism was!" She also pointed out how toxic white veganism can be for our communities and how we need to change that perspective to allow others within our communities to feel they belong in these spaces.
Andrea added to that point, mentioning how if we look back in the history of our cultures, you can find that our ancestors were relying on certain vegetables and fruits as main parts of their diets. She noted "It's our culture. It's our roots. It's our past. We have every right to be vegan."
KR brought up an interesting point about how hypocritical it is to condemn indigenous hunting practices: "There are a lot of people who attack indigenous cultures for their hunting practices which are so different from factory farms. Our environments are collapsing because of factory farms."
Ysanet explained that her practice was specifically focused on plant-based foods and not veganism. Her reason for this was that she didn't know much about veganism beyond others trying to push their own interpretation of it while excluding how difficult it could be to take it up. She pointed out the reality of veganism, using the premise of cruelty-free products as an example, and how, beyond animals, people involved in food production can be exploited and that is often overlooked.
The panel was then asked to give some pieces of advice for the audience to bring back home with them.
Ysanet urged the audience to support farmers of color. She explained how 70% of farms are owned by white people while the majority of produce is grown by people of color. Ysanet listed a number of farms for people to support including Soul Fire Farm, Rise and Root Farm, and more. She also urged the audience to make sure to take advantage of the public resources available to them.
KR told the audience "to be compassionate. It helps to explain that it's normal to oppress animals because we've been colonized and learned it's OK to oppress them." They noted how the normalization of speciesism and colonialism play a big part when trying to explain veganism to those who may not understand it.
Andrea encouraged the audience to "eat your greens! We live in such a toxic and polluted environment, greens will cleanse you from the inside out."
Raffi explained the importance of sharing your story. "There's no easy way to get to veganism. Sharing your story and how you got to veganism may be really inspiring to others." They also alluded to the importance of community. "If you don't find community, you can fall off really quick."
Amy touched on the perceived limitations of veganism, alluding to how others may think that it might restrict what they eat, when in fact it can "open up a whole new world."
Lauren touched on injustice with access to food and how people think it's easy to make the switch to veganism when it's not. "It's about who these people are and what their circumstances are."
The panel then took questions from the audience. The first question asked the panel how vegans can convince others that they care about more than one issue.
Ysanet explained that "we deserve to have all issues ingrained our communities to be better. Not just singular issues like deportation, police brutality, etc. We can care about a lot of it in our own ways."
KR compared this issue to the process of fixing a machine. "It's like only fixing one part of the machine. It's a lot of knowledge we need to share with each other. It's like we need to prove that all these parts matter."
Amy said, "I think there are many cases where people don't realize their impact. Just by expanding people's minds, you can convince them that they can do a lot of change." She also alluded to everyone playing different parts in veganism by saying, "some people can do it all, and some can just focus on one or two things. We all have different roles in the revolution."
The next question asked how vegans of color can effectively approach other vegans of color who incorporate elitism and classism in their veganism.
Lauren mentioned that "we need to acknowledge that there are some vegans of color that have been representing white veganism and that this very problematic. Just by serving vegan foods doesn't mean you're helping the cause." She also explained how we sometimes approach veganism as one big happy family, but sometimes that's not always the case, and we essentially need to check each other.
KR said, "It's really hard to tell other people of color when they're being oppressive. People don't want to hear they've been colonized. You just have to take baby steps because you're asking people to realize a lot about themselves."
The last question was an expression of feeling veganism from within and how it's hard to get other people to understand that interpretation of veganism.
The panelists all expressed their understanding of that feeling and how it could be disheartening to not have others understand, but to continue to exist with that feeling and to try and let others know how they feel when necessary.
The event ended with all involved feeling inspired and motivated by the wisdom of the panelists. A special thank you to all involved for taking the time to speak about their work.
For more information on each of the organizations involved and how you can support them, please follow the hyperlinks contained within this article.