A Holliday Feast For The ages
Christmas Dinner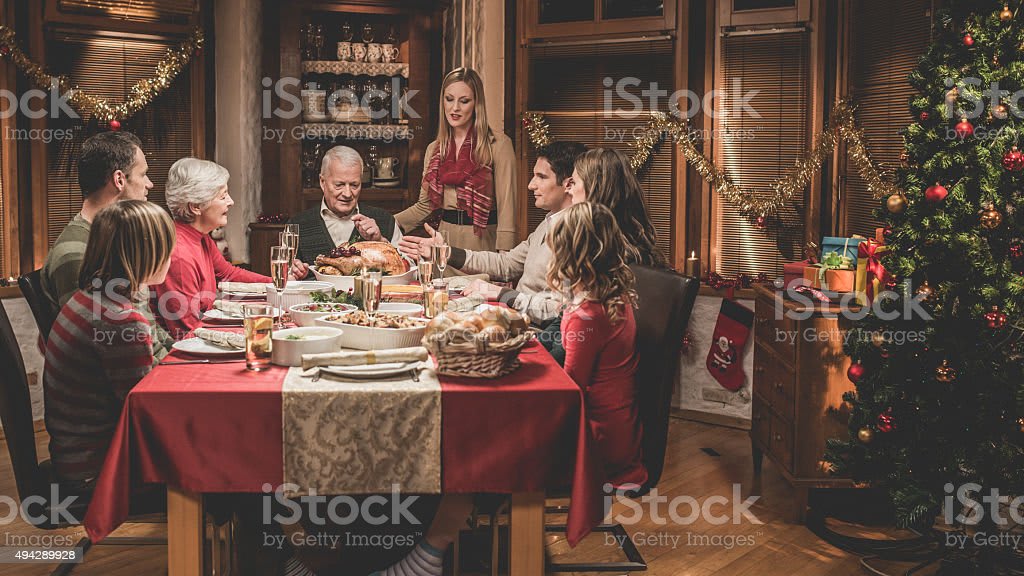 Every holiday comes with its own distinct memories of one's favorite food. Now, with this coming holiday season fast approaching once again planning that Christmas dinner is a time-honored tradition. A most favorable time of the year where one is fined tuned to the aroma of fanciful food penetrating through every room in the house. Ah yes, the sweet smell of pastries, cookies, and hot chocolate that garnish practically every table in view is forever embellished in my mind. When it comes time for that all-time favorite Christmas dinner the first thought comes is a Brandy Marinade Christmas Goose with Orange Raisin Stuffing followed by heavenly made Cajun Macaroni and Cheese along with creamed Spinach and another preverbal favorite Collard Greens so exquisitely made that each mouthful just seems to melt right down your throat leaving a sense of ecstasy. But before one sits down to partake of the refined display of culinary delights is the period of preparing and cooking this remarkable feast. So now comes the list, a description of what is needed, and how all this sumptuous meal comes to be a reality.
The time to order that Christmas Goose is when one picks up their Thanksgiving Turkey. A week before the "Big Day" gives one plenty of time to hit the grocery store. This is the one place where we pick up all the ingredients that will transform an ordinary dinner into a holiday tradition. Can't forget the spices which are Garlic, Sage. Oregano, Peppercorn that when needed is freshly ground, and of course Mrs Dash Garlic Seasoning. Now that we have the spices needed, we turn our attention to the side dishes. Two packets of fresh Leaf Spinach, two bunches of fresh Collard Greens, two Red Onions, two blocks of Cabot Extra Sharp Cheddar Cheese, one small block of Danish Blue Cheese, one block of Cabot Pepper Jack cheese, one can of Italian Bread Crumbs, one can of Cream of Mushroom Soup, one box of Elbows Macaroni, one can of Parmesan- Romano grated cheese, one box of Raisins, two whole fresh Oranges, one loaf of White Bread, a half-gallon of whole Milk, don't forget the Goose and if you want an extra holiday touch a quart of Eggnog will add a festive holiday delight. For dessert, a Black Forest Cake to be picked up the day before the "Big Day"
We're not done yet. The next stop is at the neighborhood package store for some livelily libations that truly will accent and of course delight every adult in enhancing a most to be memorable festive occasion. Not only will the libations mark the festivities, but they also contribute immensely to the culinary experience that is so rewarding to one's palate. On the list today are: one fifth of Martini& Rossi Dry Vermouth, a 12 pack of Beck's Dark Beer, two bottles of Yellow Tail Australian Cabernet Sauvignon wine to be served with dinner, a fifth of Christian Brothers Brandy, a bottle of Jameson Irish Whiskey and of course a bottle of Cooks Champagne to highlight the evening.
Now that we have the libations to accent and augment this most memorable holiday feast starts with the preparation on Christmas Eve. The eve before is the perfect time to start cooking the Collard Greens. To enhance and fully absorb all the seasonings is to slowly cook the greens for over 18 hours. In a large like lobster pot place and cook two strips of Bacon and brown until somewhat crisp. adding half a stick of butter until fully melted. Next cut the greens to fit adding again half of them into the pot.When greens are simmering on low heat pour a bottle of Beck's Beer right over the greens along with 3 cut garlic cloves, one table spoon of Red Peppers, a tea spoon of sage, a tea spoon of oregano, and a table spoon of Mrs Cash Seasoning. Stir and cover letting the greens cook down before adding the remaining cut Collard Greens. After the reaming greens are placed in the pot add another bottle of Beck's Beer stir and cover resting on low heat to simmer all night. The aroma alone is heavenly.
Waking up on Christmas morning to the aroma coming out of the Kitchen is like being transported to Italy where all the spices and smells salivate our awakening palates. It's Christmas, so it is also the time for some Blue Mountain Coffee to be peculated. Once brewing this also adds to the fragrant mouthwatering aroma finding it's way into every room. There is nothing like a freshly brewed cup of Blue Mountain Coffee to start a holiday tradition.
Timing is not that crucial but to put this festive dinner together starts right after that first cup of coffee. Take out the two packets of Cabot extra sharp cheese, Cabot pepper jack cheese, and the one packet of blue cheese. In a another large pot add one quart of whole milk. Cut the cheese into small squares adding them right into the pot of milk. Next cut one whole red onion, six garlic cloves into very small pieces and add into the pot placed on low heat. In another pot place on medium heat to boil enough water to cover one box of Elbow Macaroni. Next, in the pot that is melting the cheese add one tablespoon of Mrs Dash Seasoning, two tea spoons of Oregano, a teaspoon of Sage, one cup of grated Parmesan-Romano Cheese, one cup Dry Vermouth, all the while stirring till all the cheese is melted. Once the Macaroni is soft drain the water and pour the Macaroni into a baking dish. Now after the cheese mix is all melted pour the cheese mixture over the Macaroni then add Italian Bread Crumbs over the top. Cover generously so that the whole casserole is covered with Italian Bread Crumbs. Now that is done, pace the cheese casserole into the oven and bake for one hour at 350 degrees. Again, the aroma coming from the baking cheese dish "is to die for." While the Collard Greens are simmering, the Macaroni and Cheese is baking, rinse the Spinach and place in pot to boil down. After Spinach is cooked drain and place in another baking dish cover over with one can of Cream of Mushroom Soup sprinkle over with Italian Bread Crumbs and place in oven along side the Macaroni and Cheese. Bake for one hour.
The main course: the Christmas Goose! The best way and the least effort for cleanup is to use the Weber Cooker. A domed smoker using either charcoal or hard wood. for cooking. It is the set up that anyone can do even on the day before Christmas. Place coal or wood into a pile on top of bottom grate. Use a pie pan as a drip pan for roasting. Now before lighting is to get the Goose ready for roasting. The Stuffing: Crumble half a loaf of dried toasted bread crumbs into mixing bowl. Grind oranges into same bowl. Add one half cup of dried Raisins with one half cup of Brandy. Mix well. Rinse cavity of Goose pat dry and then stuff with the mixed stuffing. Tie legs and wings together using poultry ties. For the best results in roasting is to puncture the skin all around the Goose to allow for fat drainage during cooking. This is why the drip pan is so useful. Not only because it allows the fat to be drained in it, the goose comes out much more healthier and tastier because of the way it is cooked. After lighting the coals or wood wait till the coals are almost white or the all the wood is burning. Using a fireproof utensil spread the coals or wood into a circle where the drip pan can be placed in the middle. Once the pan is in the middle place cooking grate over coals and wait just a few minutes before placing the Goose on the grate. Once Goose is securely paced cover with lid open all the vents to allow air circulation for more effective cooking and just like that saying for some of the fancier cook ware "Set it and forget it" But not really. Depending on the size of the Goose, a Goose weighing roughly 12 to 14 lbs should take a little under two hours cooking time.
As we gather around the dinner table so elegantly decorated with all the best china the aroma of all that is cooked has cascaded into every room. When everything is being placed on the buffet table one can not help appreciate the good fortune of having such a wondrous feast not only for the senses but for the palate as well. Bon-Appetite everyone.
Reader insights
Be the first to share your insights about this piece.
Add your insights