6 Of Chicago's Most Famous Foods
By: Ryan O'Sullivan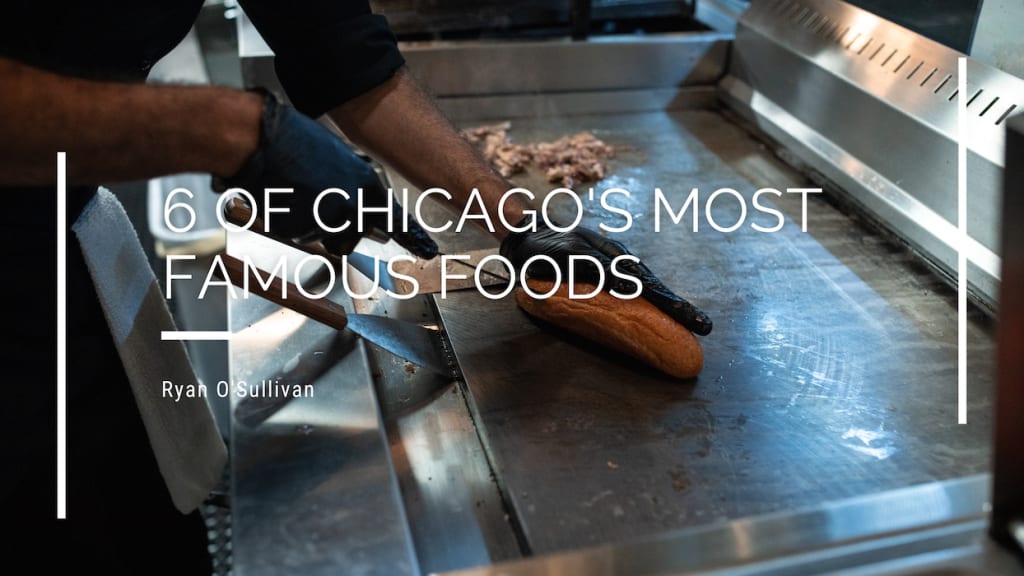 There is something for everyone in Chicago. Whether you are a local or an out-of-towner looking for the best food in the city, there is something for everyone. While there are tons of great restaurants in the area, 6 of the city's most iconic food items should be on every diner's must-try list.
1. Deep-Dish Pizza
As one of the city's most iconic food items, deep-dish pizza is also a must-try in Chicago. While thin-crust pizza has its place in other cities, deep-dish pizza has become synonymous with Chicago.
To make deep-dish pizza in Chicago, the chefs press the dough against the sides and bottom of a round, adding a layer of cheese. The next layer is topped with various other ingredients, such as additional cheese, meat, and other toppings. The cook repeats these layers until the pie is topped with a thin, tomato-based sauce. This type of pizza requires a fork, a knife, and plenty of time to enjoy.
Some historians claim that Ike Sewell and the late Ric Riccardo created the recipe for deep-dish pizza. Others say that the recipe grew popular during the 1940s.
Pizza pot pie at Chicago Pizza & Oven Grinder Co. is also a unique take on the Chicago-style deep dish!
2. Chicago Barbeque
Despite the lesser-known aspects of the barbecue scene in other cities, such as Kansas City and the Carolinas, Chicago barbecue is still incredibly complex and delicious. A variety of styles can be found in the city, such as smokeless roast and "boilbecue." Rib tips are also an iconic item in Chicago. Rib tips are typically served with a strip of cartilage-heavy pork that other pitmasters often ignore. The chefs who make this dish usually use various sauces and white bread.
The most iconic aspect of Chicago barbecue is the way it is made, as pitmasters in the city utilize aquarium pits. Unlike other styles, which use large steel smokers, Chicago barbecue uses the method of smokeless roasting.
To comply with the city's fire codes, South Side pitmasters built an aquarium pit, which is made of bricks and topped with a steel mesh. The term "aquarium pit" was coined due to its resemblance to a fish tank. The cooking area is enclosed by a box of bricks and a lid that carries smoke out of the kitchen. The ground-level doors are also equipped with water and logs to control the smoke and oxygen levels.
3. Jibarito Sandwich
The sandwich, known as the Jibarito, is a Chicago-based item that is inspired by the various traditions of Puerto Rico.The Jibarito features a protein usually found in beef, such as a strip of rib tips, garlicky mayonnaise, lettuce, tomatoes, cheese, and onions. Instead of white bread, two fried plantain slices are placed inside the sandwich.
In Puerto Rico, using plantains in place of bread is a traditional practice. Pete's Restaurant owner Juan "Pete" Figueroa introduced the dish to Chicago customers in 1996. Since then, the sandwich has become a popular item in the city.
4. Steak
Some of the country's most prominent food critics have named Chicago's best steakhouses some of the country's best. Due to the city's history of stockyards, it's no surprise that some of its most prominent establishments are regarded for their high-quality meats. The Chicago steakhouse scene culminates in the city's past and present.
5. Rainbow Cone
The Original Rainbow Cone was established in 1926 by Joseph and his wife, Katherine. This famous Chicago treat features a stack of various fruits and ice creams, such as strawberry, chocolate, and Palmer House.
6. Pizza Puffs
A pizza puff is unlike the other types of pizza you might find in a restaurant. Unlike different types of pizza, this dish is made with deep-fried dough and is topped with cheese and other ingredients. Due to their popularity, pizza puff can be found in various places, such as restaurants, hot dog stands, and even in the frozen food aisle of a grocery store.
About the Creator
Ryan O'Sullivan received his Bachelor of Science from Georgetown University, majoring in Global Studies while minoring in Mandarin Chinese. He is currently at Northwestern University as a Juris Doctorate candidate. Ryan also loves cooking.
Reader insights
Be the first to share your insights about this piece.
Add your insights