5 Atlanta Area Restaurants to Try When You Visit Atlanta
Some well known, some not very well known, but all equally great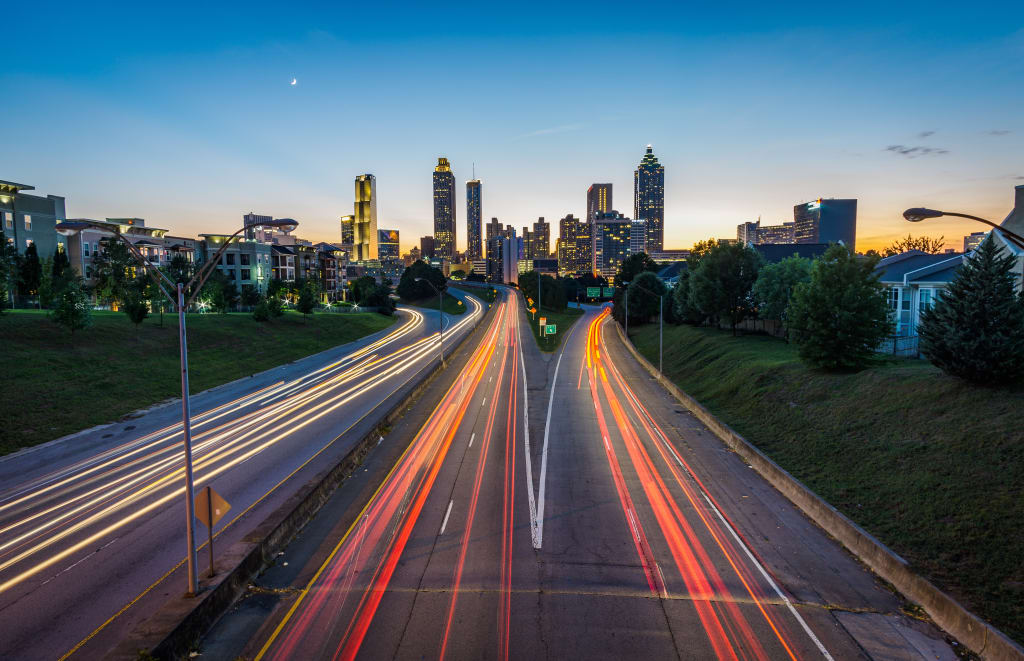 Jackson Street Bridge, Atlanta, United States by Joey Kyber
In and around Atlanta, Georgia, there are hundreds of fantastic restaurants that one should try whether they live in Georgia or are just visiting. Now I'm no food critic, but I am extremely particular about food; some call it picky, I call it knowing what's good and bad, so I think I can be good at determining what's better than the rest.
Anyways, here is a list of restaurants that I've created while I've lived and visited just outside of Atlanta over the past 10 years.
McCray's Tavern is one of the first places I ate at when I started visiting Georgia thanks to my dad. They have a lot of general American type pub food. They do special events different days of the week such as Trivia Night and Karaoke Night. Check their website to see what the location you choose is doing that day.
Their atmosphere is very chill and comfortable. They have outdoor, indoor, and bar seating.
Parking at the Smyrna location can be difficult, but there are 2 one-level garages on both sides of the lot that you can access for free.
Their pricing is what you would expect from a pub, it's definitely not expensive. It is easy on the wallet depending on what you get.
My personal favorites are their pretzel beer cheese dip and their chicken tenders. Whatever batter they fry them in is one of the best things I have ever put in my mouth.
Blue Moon Smyrna is right across from McCray's Tavern Smyrna. They have pizza, obviously. You can build your own pizza or select from their list of specialty pies. They have a pretty good range of starters as well as salads.
The atmosphere is pretty chill, but it tends to be pretty hot inside during the summer at the Smyrna location. The Smyrna location has patio, indoor, and bar seating. The staff is always friendly and you can see the food being put in the oven.
They have a rewards app where you can order pick up and rack up points towards pizzas.
Their pricing is what I would consider fair. It's not expensive and everything is definitely worth the money.
My personal favorite is their garlic rolls and cheese pizza with roasted garlic on top.
The Bone Garden is the perfect place for a grown-up's night out. They have a wide arrange of Mexican food as well as different drinks.
When I first ate here I was immediately amazed by the decor. The inside is covered wall to wall in neon, beautiful Mexican style art, lights, and different types of skeletons. The decor was easily my favorite part of my visit.
You have to keep an eye out for the place while trying to get to it. You can easily drive by it since its located in an office building plaza. Right outside of the entrance to the parking lot there is a huge metal skeleton standing on the lawn next to the sign for the plaza.
They have a very unique atmosphere where everything is very straight to the point yet laid back. The staff is always fun to interact with. They're nice and funny while also being quick and attentive.
Six Feet Under was the first seafood restaurant I tried in Georgia. Being from New England I was super skeptical about seafood here in landlocked Atlanta, but I was very pleasantly surprised. They specialize in a wide arrange of seafood.
They have a large bar as well as upstairs and downstairs seating. The atmosphere is very comfortable and homey. They have interesting decor that keeps you entertained while waiting for your food.
The pricing is fair overall. I've never spent too much there, its what one would expect from a seafood place in the South.
Parking is a little difficult, but at one of the locations there is a parking lot that is a 30 second walk down the street where you can park for free if you can find a spot. They always have valet parking at the restaurant.
They have a lot of different types of seafood platters on their menu and you can also customize yourself. I always go for their shrimp and calamari.
5. Antico The Battery & Atlanta
Antico is one of the best pizza places in the entirety of Atlanta. They have a first come first serve basis, so come as early as you can. All of their pizzas are made fresh daily. You order at the counter and then find seating yourself while they cook and bring you your food.
They don't have a super large menu, but every single thing on their menu is delicious.
The bill can get pricey depending on what you get, but I personally think its fair for specialty-made pizza like this. It is a very unique experience with very unique pizza that I could eat forever.
They also have a couple of different restaurants in their 'Little Italia' where you can get gelato and many different types of Italian food. It is the closest you will get to authentic Italian food outside of Italy.
Everything I have ever had in their Little Italia has been amazing. Parking at the main Atlanta location is definitely difficult, but they do have a parking lot behind the store. The Battery location is in the long building right near the entrance to the actual baseball park. You have to park in the parking garage to get there. They also have gelato at that location.
That complete my list of what I personally consider some of the best restaurants in the Atlanta area that one should try while there. Now comes the hard part, picking which one to go to.