14 Film/TV Restaurants We Wish Were Real
I could really go for a 'Pepper Don't Preach' burger.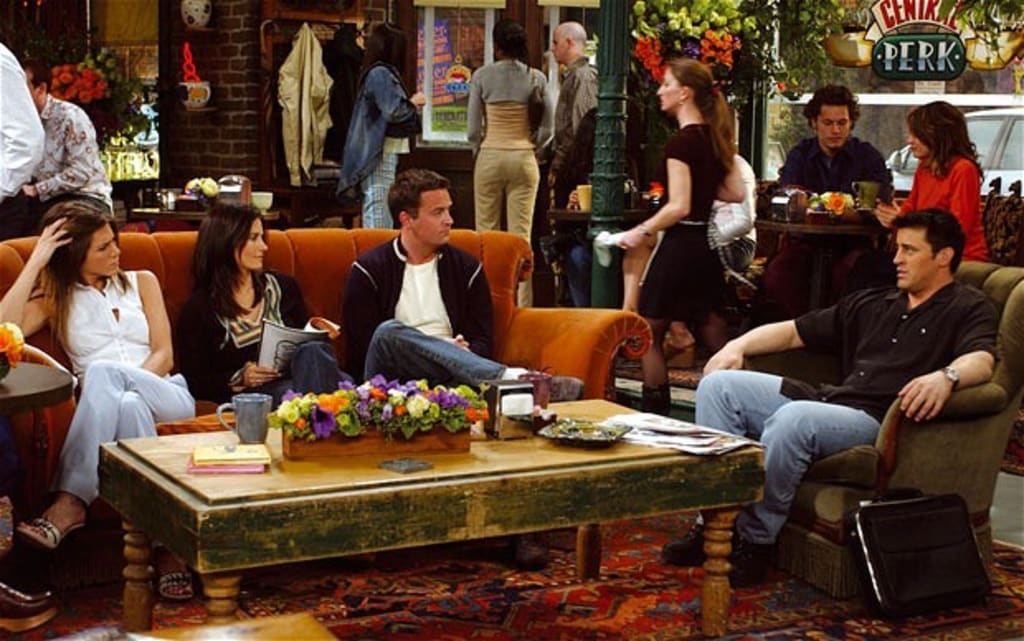 Central Perk of 'Friends' - NBC
Man, I could really go for a "Pepper Don't Preach" burger. Unfortunately, not every fictional restaurant has become a reality. We have all gotten excited over the fictitious restaurants that have come true, but there are still plenty of potentially great establishments that continue to exist only in the realm of fantasy.
With this list, we will talk about the restaurants that exist within film and television that would make great real-life spots. Whether it's just a comfortable place to sit and do work, meet with friends, or grab some delicious food, there is something we could all enjoy about them. This list is in no particular order and it doesn't exempt any form of fantasy, live-action or animated. Also bear in mind that if you don't see a well known establishment, like Krusty Burger or Three Broomsticks, be aware that some fictional restaurants have actually become a reality.
14. Bob's Burgers
Source Material: Bob's Burgers - Fox Television
In addition to trying a signature burger, I'm sure it would be fun to hang out with Tina and discuss whatever she manages to come up with.
13. Jack Rabbit Slim's
Source Material: Pulp Fiction - Miramax Films
Similar to the the real-life version of this 50's diner, Gunther Tooty's, Jack Rabbit Slim's featured one of the most iconic dance sequences in movie history. Unfortunately for Gunther Tooty's, it wasn't nearly as fun without a dance contest or a bloody steak.
12. Paddy's Irish Pub
Source Material: It's Always Sunny in Philadelphia - FX Networks
As long as you don't forget something there, it's the best place to experience just about anything. Who is down to go see Electric Dream Machine tomorrow?
11. The Frosty Palace
Source Material: Grease - Paramount Pictures
Anyone up for a double Polar Burger before catching a movie at the drive-in? They have some great shakes, too. That is unless they wind up on your date.
10. Merlotte's Bar & Grill
Source Material: True Blood - HBO
Something exciting always seems to happen at Merlotte's. Whether it's being influenced by a Maenad to destroy the town or finding a dead woman in the freezer. Despite the madness, the food and bar service always seemed like it was poppin'.
9. The Krusty Krab
Source Material: Spongebob Squarepants - Nickelodeon
Aside from the curiosity of finding out just what a Krabby Patty tastes like, we can all relate to Squidward's attitude towards just about anyone who walks through the doors.
8. Tiana's Palace
Source Material: The Princess and the Frog - Disney
As if New Orleans cuisine wasn't good enough already, Tiana made it look even more delicious once her dream restaurant finally came true.
7. Cake Baby
Source Material: Bridesmaids - Universal Pictures
Annie only bakes twice in the movie, but it makes you wonder how good her bakery really was. It's a bummer the economy that shut her down and is preventing a real Cake Baby from opening.
6. Dorsia
Source Material: American Psycho - Lionsgate Films
We just have to try that sea urchin ceviche. Well, that is if we can snag a reservation at this impossible to get in restaurant.
5. The Green Dragon
Source Material: The 'Lord of the Rings' franchise - New Line Cinema
For any other second breakfast lovers, The Green Dragon would be the best place to grab a giant beer with your pals and snack on an abundance of bread and cheese. Plus, you're always welcome to start dancing.
4. The Double R Diner
Source Material: Twin Peaks - Showtime
Something bizarre always seems to happen, but if the Double R ever became a reality we would know it's the best cherry pie we'll ever eat. Plus, we have to see if that "damn fine" cup of coffee beats out Starbucks.
3. Central Perk
Source Material: Friends - NBC
We all can look back at this "home away from home" for the characters of Friends with great nostalgia and wishful thinking. Were coffee shops really this much fun back in the 90s?
2. Monk's Cafe
Source Material: Seinfeld - NBC
Although the real-life inspiration, Tom's Restaurant, does actually exist in New York City, Monk's remains to exist in the realm of fiction. Where else could we enjoy a big salad, unlimited coffee refills, and a booth that is always available. Not to mention the best apple pie in the city.
1. Los Pollos Hermanos
Source Material: 'Breaking Bad' - AMC
Money laundering and drug enterprise aside, this New Mexico food chain seems like the friendliest fried chicken joint of all time. Plus, those fried birds always looked so close to perfection.