10 ways to use a whole chicken in different ways
If you want to save money get a whole chicken and you can get for the whole week off that meat
The greatest thing that you can do to save money is to find ways to use your leftovers in different ways. That way you are not throwing out any food and you don't just have to eat the same thing over and over again. Chicken is a great meat for you. Maybe you just have left over chicken from making something else. Or you can get a whole chicken and make many different recipes. If you are a costco member then you can get a whole cooked chicken for less than $10 depending on where you live. Here are 10 different ways that you can use your chicken.
1. BBQ Chicken Sliders
A simply thing to do is to mix your chicken meat with bbq sauce. And heat it up. It is great put on slider buns.
2. BBQ Chicken Fries
On a plate put cooked fries, either from frozen or homemade. Then put some chicken mixed with BBQ sauce. Top it with cheese. Make sure the plate is oven safe. And put it under the broiler for a few minutes to let cheese melt. You can top it with whatever you would like such as, sliced green onion, chopped tomatoes or avocado if you would like.
3. Chicken Salad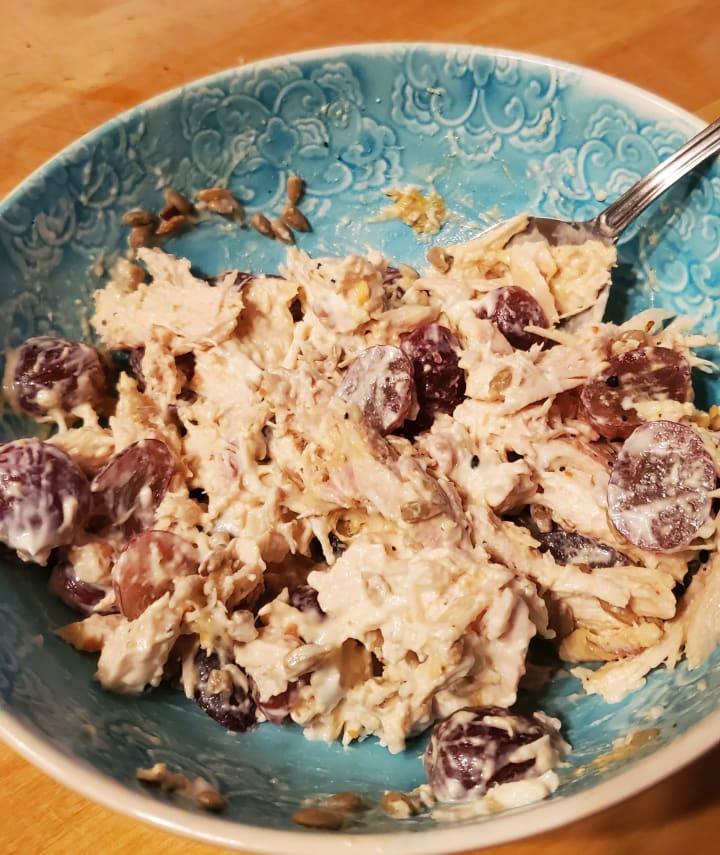 Chicken salad is a great and healthy thing to eat. Especially if you are keto or trying to eat low carb. I love to make mine with grapes. It really brings a nice sweetness to the dish. I like to do 2 cups chicken to 1 cup grapes. For some crunch add 1/2 cup either celery or bell pepper. Add 1/4 cup sliced green onion, 2-4 tbsp of mayo and 1 tbsp of mustard. Mix well. I like to add a few tbsp of mayo at a time little by little until you get the consistency that you want.
4. Chicken Soup
Especially in winter soup is comforting for a lot of people. There are many ways that you can make soup using your chicken meat. You can make chicken chili. In a pot cook diced onion and a diced carrot until soft. Add large can of tomatoes, 2 cans of beans drained, some chicken meat and 2 cups of chicken stock or water, 2 tbsp chili powder, 2 tbsp of paprika and 1 tbsp cayenne pepper, mix well. The good thing about chili is that you can cook it for hours. You can also make regular chicken soup. In a pot cook onion, celery and carrot until soft. Add some herbs, chicken meat and 4 cups of chicken stock and cook. Again the longer you can cook it the better the flavor. 20-30 minutes before serving mix in some egg noodles and cook them until soft.
5. Chicken Quesadillas
Quesadillas can be extremely easy to make. In a large frying pan put a tortilla. Then just top with some cheese and chicken. I like to add either some salsa or bbq sauce. Then top with another tortilla. Heat until it is brown then flip it and cook on the other side until the cheese is melted. Great to dip in salsa with.
6. Nachos
I don't know a person that doesn't love nachos. Put chicken on it to make it a great well rounded meal.
7. Chicken Stir-Fry
Stir-Fry is the easiest and quickest thing that you can make. You really can do it with any left over meat that you have in your fridge. Either chop up any vegetables that you have that you are trying to use up or use a frozen vegetable mix. I love to keep a frozen mix in the freezer at all time. Either make it with a bottle of any stir-fry sauce that you like or make your own if you would like.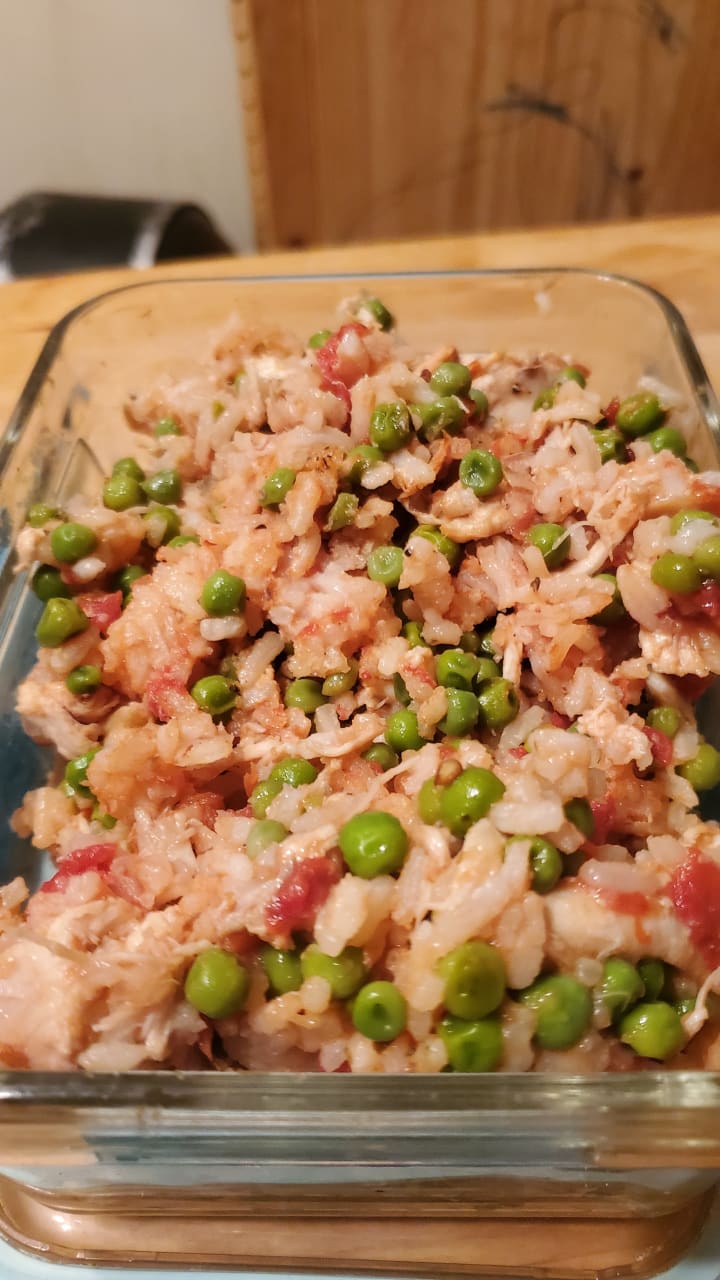 Originally the recipe I was making was called Curry Chicken and Rice. However I don't really like curry and so I didn't have any. So instead I made something I call Chicken and Rice. In a large pan cook 1 chopped onion until soft. Then add 2 cups chicken meat, 1 cup of frozen peas and a 14 oz can of diced tomatoes. Cook for a few minutes then add 1 cup of cooked rice and add 1 tbsp of cajun spice.
9. Chicken Pot Pie
Chicken Pot pie is a great thing to eat in the winter, colder months. Make either a large one or make smaller ones, which are great if you have a smaller family. You can make a few smaller ones and freeze the ones that you don't eat.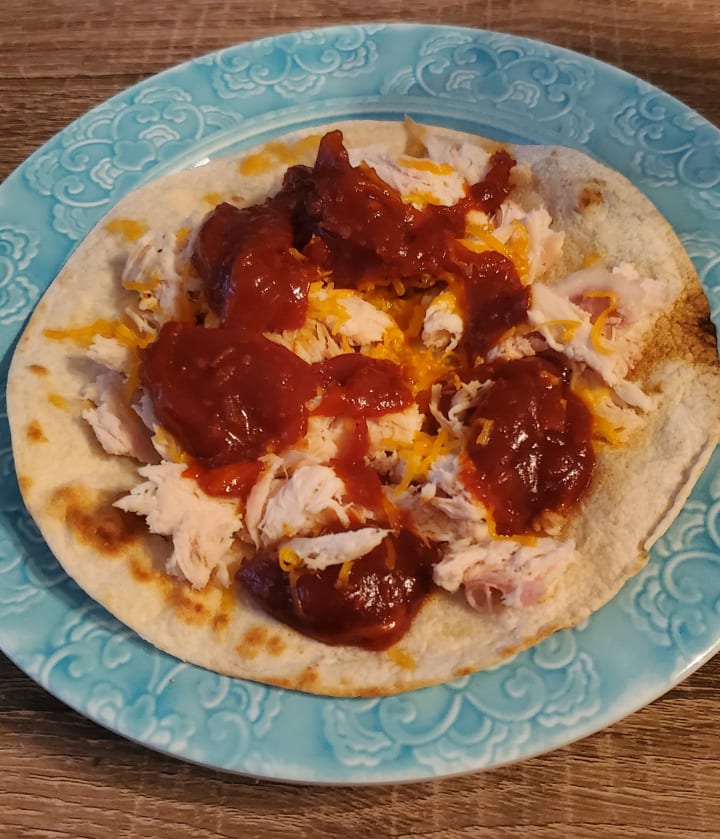 Making a personal size pizza isn't as hard as some may think. I like to do mine on a large tortilla. Fry the tortilla in a frying pan until brown. When one side is done flip it. I like it put a little oil on it and sprinkle some Italian seasoning on top. It really makes it taste more like pizza. Then just spread some pizza sauce on top. Top with chicken meat and some shredded cheese. Cook until the cheese melts. It's a bit of healthier version and you still get that pizza flavor.
If you want to save money, the best thing that you can do is to make sure that you find ways to use your leftovers in new ways. I hope that this has helped you and given you some great ideas to use your left overs.
Thank you so much for taking the time to read it. If you no one told you today, you are enough and you are appreciated for just who you are.