10 Surprisingly Healthy Microwave Snacks (That Aren't Popcorn)
Forget those bags of Pop Secret. These healthy microwave snacks are easy to make, and way easier on your body.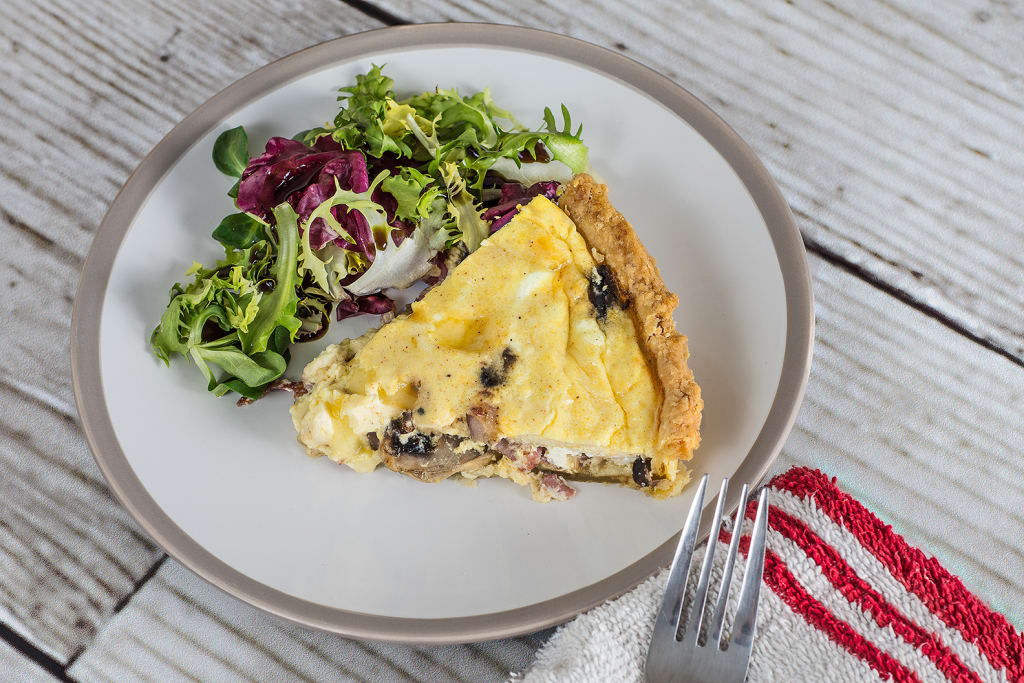 Shortly after my husband moved in, I realized that I had a problem.
Well, not really a problem, but rather, a conundrum. My husband is the type of guy who adores microwaved meals—often to the point that it could be mistaken for an addiction.
He loves his microwaved ramen, Pop Secret popcorn, and microwavable nachos. I realized that he was not doing his health a favor, and I wanted to make sure he'd be in better health when we lived together.
So, I decided to start looking up healthy microwave snacks that we could make together. As luck would have it, I found out that there are plenty of different recipes out there that take only minutes to create, and offer up a serious punch of nutrition. Check out my picks below!
Baked potatoes are a classic microwave item, and there's good reason for it. Trying to bake a potato the old fashioned way could take as much as 40 minutes to make. No one has time for that!
Potatoes are low on the glycemic index, which means that they will keep you fuller longer. They also offer up a good source of healthy micronutrients, especially if you top them with butter. This video shows you how to microwave a potato the right way.
Eggs are filled to the brim with life-giving nutrients, and that's why I purposefully searched for healthy microwave snacks that featured them as a main ingredient. This awesome omelette in a mug allows you to get the same taste and consistency of a regular pan-fried omelette without having to grease a pan.
This is actually a pretty quick, easy, and healthy breakfast idea if you're on the go. However, it also works well for a savory snack during that midday crunch time.
Vegetable quiche? In under 15 minutes? With the work that you'd have to do traditionally, that's really not possible. With the wonderful little modern miracle that is the microwave, you can have a delicious quiche in around 10 minutes.
This simple recipe shows you how to make a veggie-packed quiche in the microwave, complete with a cauliflower-based crust. Cheesy, quiche-y goodness has never been this easy. Bon appetite!
Okay, maybe muffins aren't the healthiest option on this list, but they are still relatively healthy microwave snacks that you can make in a pinch. Many companies, including Betty Crocker, are now selling microwave cupcakes and single-serve microwave cakes you can enjoy.
This quick and easy blueberry muffin recipe adds a little bit of healthy fruitiness to your snack, while also providing enough fiber to keep you regular. What's not to love?
What can be more nutritious, more natural than a handful of freshly toasted nuts? Nuts provide a huge amount of minerals, proteins, and healthy fats. They are the perfect snack for vegetarians that are feeling a little bit anemic.
Making toasted nuts in the microwave is easier than you'd ever believe. This tutorial shows you how!
Corn on the cob is a great side dish, and also happens to be an amazing snack if you add the right spices to it. However, making it in the traditional sense isn't really that quick.
The microwave makes it possible to get all that delicious, corny goodness in absolutely no time at all.
Vegan recipes are not always easy to find, especially when it comes to microwavable meals and snacks. Surprise! Your microwave is an excellent tool when it comes to making quick and easy vegan snacks.
These awesome microwaveable veggie bowls can be small snacks, or a full meal. It's all about the portions you choose!
Potato soup is rich in fiber, protein, and healthy fat. Soup is a seriously underrated snack, especially when you take into account how filling it can be between meals.
This tutorial shows you how to make rich, cheesy potato soup in a microwave. While this might not be one of the most healthy microwave snacks on this list, it's still way better for you than potato chips.
Love fried rice, but hate the calorie count? Not a problem. You can actually turn your love of rice into a number of healthy microwave snacks that will fill you up, sneak veggies into your diet, and even add a little protein to your daily intake.
This recipe from Yummly doesn't actually require you to fry rice, making it a way healthier snack option than the stuff you could get delivered from your local Chinese restaurant.
Is there any snack that's healthier than kale chips? Well, if they're deep fried, maybe. Making kale chips used to involve a lot of baking, as well as potentially frying the kale up. That's not really a healthy snack, even if they are typically a source of vitamins.
Thankfully, one smart blogger created a kale recipe for people who hate kale, and people who don't have the time to make a kale salad for the week. This tutorial shows you how to DIY your own kale chips in minutes. Yum!
About the Creator
Riley Reese is comic book fanatic who loves anything that has to do with science-fiction, anime, action movies, and Monster Energy drink.
Reader insights
Be the first to share your insights about this piece.
Add your insights