10 Gift-Worthy Kitchen Accessories for Your Favorite Chef
What kitchen accessories do your favorite chefs need this holiday season?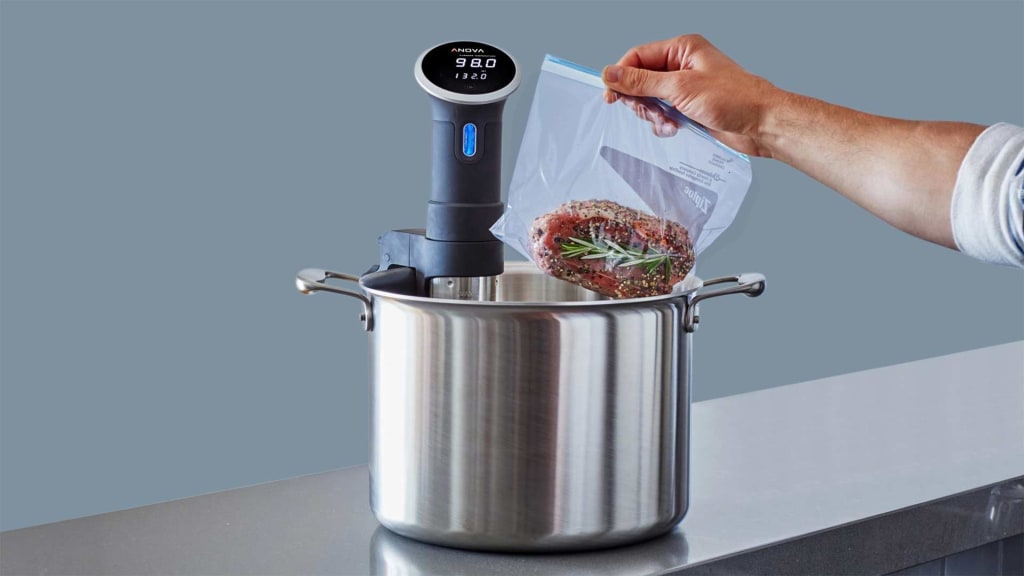 When you cook for a living, it's particularly important that you have the best kitchen accessories. There are certain tools that every professional has that aren't 100 percent necessary, but just make the job that much easier and enjoyable. These are the types of things that make perfect gifts. Whether you're a cook and are looking to treat yourself, you're in search for the perfect gift for a friend or family member, or you just really like to cook at home, there are some kitchen accessories that the chef in your life would love to receive.
Do you have knives in your home that aren't stored away in the proper places? Do you know anyone who cooks and has knives in places that could be dangerous? If so, this high quality knife roll bag is one of the best kitchen essentials for cooking up feasts this holiday season. This professional-grade knife bag can hold up to 10 knives and accessories, such as paring and carving knives, ceramic, scissors, and other chef utensils or tools. It can hold knives up to 18 inches long, and forms a tight roll when the bag is buckled. The EVERPIRDE chef knife roll bag also comes with an easy-carry handle and a shoulder strap, allowing you and your loved ones to transport your knives safely from place to place, which is especially important this time of year with all the traveling going on.
This accessory is great for you or a loved one this holiday season if roasting garlic is your specialty. This cast iron garlic roaster and squeezer set draws out all the best flavors of nature's antibiotic. Its garlic bulb shape can hold one large or two medium bulbs of garlic, and it includes a handy silicone garlic squeezer, making removing roasted garlic from the bulb very manageable. The roaster is made of pre-seasoned cast iron, and includes a stainless steel ring for easy handling, making it a super durable and long lasting kitchen accessory.
If you or anyone you know makes a mean guacamole and is planning on making some for family and friends for the holidays, this is the gift for them. This adorably small wool sock is made specifically to ripen avocados very quickly. The Shetland wool material helps speed up the ripening process due to its natural lanolin and the cozy atmosphere it creates for the fruit. It is also scaled to create a snug fit on an avocado, which gently and evenly encourages ripening in about 48 hours. This makes for a super cute addition to the kitchen counter or fruit bowl. It also comes in a variety of styles, and is one of the more unique gifts you can give out for the holidays.
This is a great Christmas stocking stuffer for someone who is an avid chef and likes to spend a lot of time cooking in the kitchen. This Rub-a-Way stainless steel bar removes the odor from your hands when you rub it on them. You would use like a regular bar of soap, and you can use it with or without soap. When you are cooking with smelly foods such as onions, garlic, and fish frequently, a product like this easily becomes one of your newest kitchen essentials. The best part about this beautifully desgined kitchen accessory on Amazon is that is dishwasher safe, helping make for quick and easy cleanup with the rest of the many dishes to come over the holidays.
If you feel like you're going to be cleaning off a lot of a lot of grease and grit stuck to the pots and pans you'll be using during your holiday cooking, then this is a must-have kitchen gadget. The Ringer is made in North America, and is constructed of premium-grade, never-rusting stainless steel. It is actually the same material that was originally intended on being used to prevent police officers from stab wounds. With The Ringer, you don't even need to wash out your pots and pans with soap anymore, or worry about ruining your cast iron products with different kitchen hacks for beginners. All you need is warm or hot water, and The Ringer will do the rest, keeping the flavors of the food within the cast iron while the rest of it is squeaky clean. It also works on many other kitchen essentials, such as stainless steel, plates, baking sheets, and waffle makers, to name a few, and is completely dishwasher safe so it can be used again and again without wear and tear.
This is the gift to get for your or your loved ones' kitchen if your cutting boards need cleaning and maintaining; and with all of the cooking that needs to done, I'm assuming that they do. This cutting board care kit by CLARKS comes with everything you'll need to clean and maintain your cutting boards, including orange- and lemon-scented cutting board oil, soap, finishing wax, applicator, scrub brush, and finishing pad. The oil works its way deeply into the grain of butcher blocks and cutting boards to clean and restore, while the wax adds a layer of protection to prevent unwanted liquids from seeping into the wood. These unique gifts also work great on all wooden products that need cleaning and maintaining. They are at 20 percent off right now on Amazon, so this is another great stocking stuffer for the cook in your family.
Do you or anyone you know struggle with cooking your food correctly? Does your food come out either undercooked or burned? Well, now with the Anova Culinary Sous Vide Precision Cooker, that won't be an issue. This awesome device will perfectly cook your food from anywhere with Wi-Fi. To use it, you just fill up a pot with water, set the temperature where you want it at, put your food in a sealed Ziploc bag, press the play button, and let the device do the rest. It has an adjustable clamp that can fit on to any pot, and serve up to 12 people. The Anova Precision Cooker allows anyone to cook a restaurant-quality meal at home, regardless of cooking expertise or other kitchen essentials. The Sous Vide Circulator is the perfect kitchen gadget for hands-off cooking of vegetables, meat, and much more with consistent control and precision. They are also dishwasher safe, and come with a two-year warranty if you aren't satisfied with the product.
If you or a loved one needs unique gifts to sharpen their knives before and after they do their cooking, this is a must-have gift for the holidays. This double-sided stone is great for sharpening any knife in your kitchen, and especially for Zwilling J.A. Henckels knives. The stone has a 250/1,000 grit level, making it easy to do both rough and medium-fine sharpening, and you don't have to pre-soak the stone before sharpening your knives on it. The tray on the bottom of the sharpening stone has rubber feet, which allows for steady and safe knife sharpening.
If you are trying to keep your produce fresh over time, this herb saver is one of the best and most unique gifts for you this holiday season. It has a refillable reservoir that can triple the lifespan of your herbs and vegetables compared to leaving them out in the refrigerator. The herb saver is also 100 percent BPA free, dishwasher safe, and it fits in all standard refrigerator doors. If it can fit in your refrigerator door, then that means it should also slide in nicely to a Christmas stocking.
This is one of the more unique kitchen accessories that you need to get this holiday season for someone who loves to cook. This dishwasher-safe razor and herb stripping tool is great in the kitchen for stripping herbs quickly and easily. It has a sharp, stainless steel blade, and six different sized holes so it can strip anything from collard greens, kale, mustard, green leaves, rosemary, and thyme. It is made in the USA and has a lifetime guarantee. If you're still looking for a stocking stuffers, then this kitchen accessory is a great gift for you or your loved ones.