Slaying Virtual School
Finding balance with multiple learners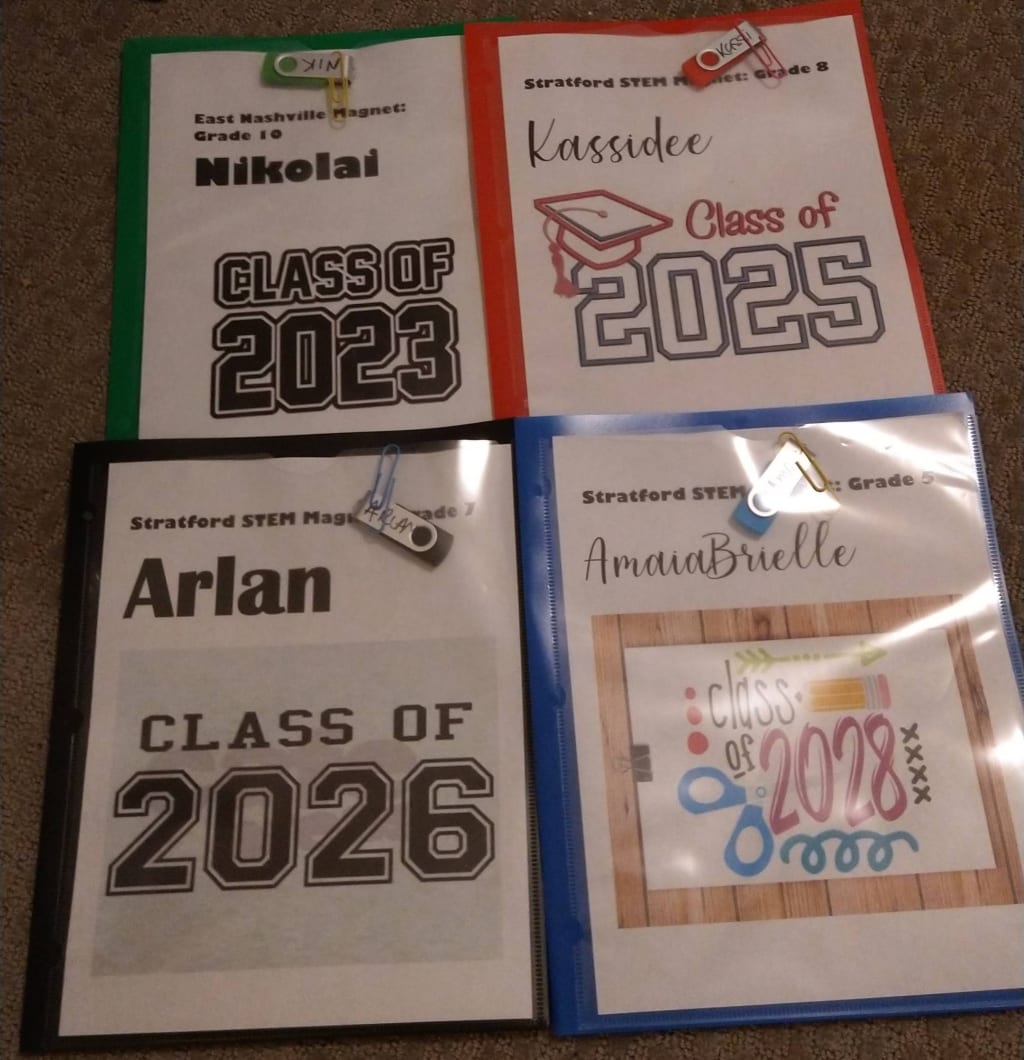 Organization with a personal flair.
Like many parents, when COVID-19 made its initial appearance, I was cautiously optimistic that we were looking at a Swine-flu kind of situation that would pass fairly quickly and not alter our lives so drastically. The week before Spring Break in March, I pulled all 4 of my children from public school after instinctively feeling that the outbreak was going to get out of control. The "hush hush" of the school district and the clear lack of direction from government entities, local and federal, guaranteed that my kids would not be back in classrooms for a while.
Here we are, nearly six months later and, if anything, life has gotten more complicated and uncertain. So what can we count on? The constants; the things that must occur regardless of how backward the world may be. The bills, birthdays, laundry. My constant is education. The more you know, the more you can overcome. I am a survivor, of a great many things, that taught me. I am also a nerd, currently on the President's List in college. Period. I am a force because of acquired knowledge and a thirst for more of it while raising six beautiful, very different children. They range in age from 1 year to 15 years old and all of them are taught, from birth, that their intelligence is their superpower.
Parenting styles are like underwear; lots of different ones and no one likes to be honest about the kind they prefer. I am raising my brood to be ready for whatever life may throw at them. The fact is that Mom and Dad will not always be here to resolve their crises. My sticklers are: smarts, honesty, effort, discipline and kindness. I pull zero punches and am generally more concerned about who they are as people than how they dress (although my oldest's love for skinny pants will forever be a source of family entertainment). With so many children, you could throw a penny across my living room and hit today's liar, sloth or meanie. The same challenges that I have in getting these lovelies to treat each other kindly and clean up behind themselves, are the same kinds of challenges the I anticipated after our district announced a couple of weeks ago that it would be starting the school year virtually today.
Panic ensues...
I'm kidding. Well, partly. For many moms in my low-income (currently being gentrified into a "mixed income") neighborhood the stress of not having enough money and other resources to sustain having kids at home all day for the past few months, home schooling sounded like a potential nightmare. I'll admit, that despite the district giving out as many laptops and hotspot devices as it could, a good number of parents flooded my timelines irate about having to deal with the process at all. Thankfully, I am pretty technically sound, so my biggest worry was not being able to create a successful learning environment with kids in four different grades. How is everyone going to get their questions answered? How am I going to coordinate those schedules with the amount of time I already spend taking care of the potty-training toddler and the baby? Allow me to tell you how, but first, let me find my cape...
Organization is the key to life and managing virtual learning for multiple students is no different. My first thought was that I had to have a way to keep everyone on schedule from babes to teens. I created a schedule for the toddler (including potty breaks) that coordinates busy work activities with the older kids' live class times and visual entertainment things (tablets, Sesame Street, Cocomelon) for the older kids' lab times. Everyone was up at the same time this morning, had eaten breakfast in the allotted 30 minutes and were sitting at their designated workstations 15 minutes before class time. In my house, workstations are the 3 media stands from the bedrooms that I am using as desks during the week. Posting the schedules and printable homework charts for each student on the wall, takes care of knowing what's due and when while making sure that the little ones are busy when Mom's attention needs to be on the others. The folders posted above only cost $1 and hold the attached flash drives perfectly. Being able to back up their work will help me make sure they are meeting benchmarks and being given the appropriate credit. The drive will be especially important for my 10th grader who is taking Honors classes this year.
Making rounds every 15 minutes, answering questions, helping with logins and sharpening pencils has never been more rewarding. On our first day of virtual school, the 5 of us made it to the end of the day, having attended every class on time, completed checkpoints, stayed on task and got it done. I couldn't be more proud of us. We smashed it! Here's hoping that by the time you got to this part, you know that you're not alone. There are other moms out there doing the best that they can under the circumstances just like you are. Success looks different to each of us, so celebrate your own! Maybe something you read today will help you get through tomorrow a little more smoothly. Wouldn't that be awesome?
children
There's just so much swirling around in here.
Nearing official middle age, I am respectful of the lessons I have learned and confident that someone can learn something from every one of my stories.
No nonsense personal truth in every word.