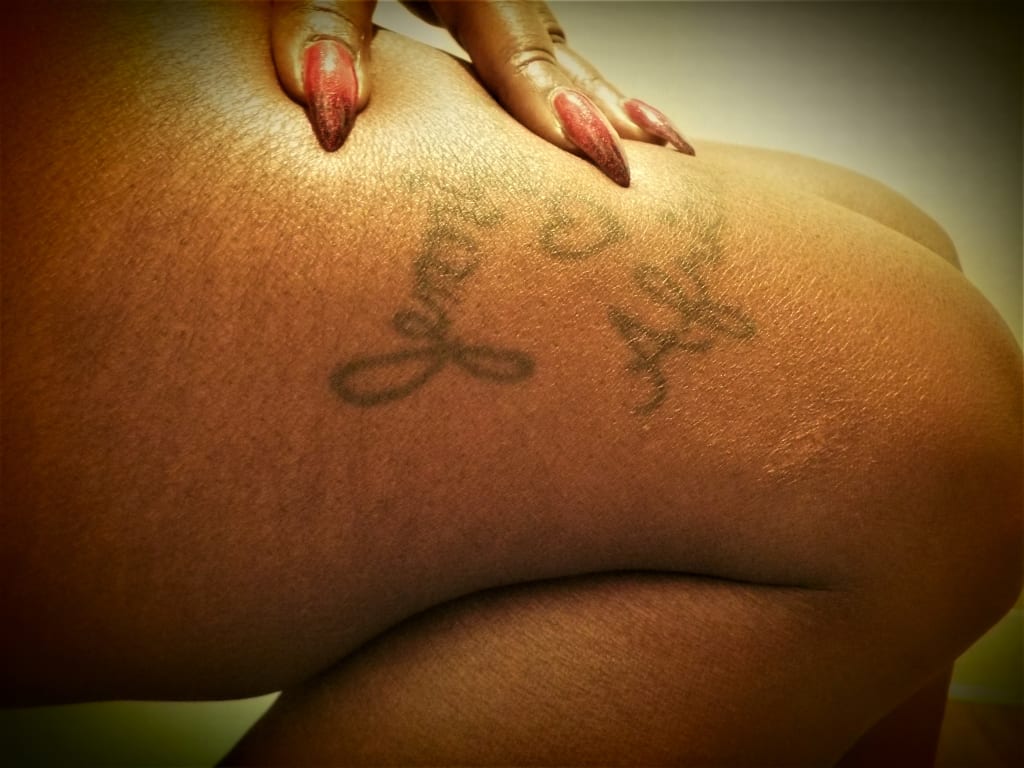 Can a story about a simple tattoo win a writing contest? Based on the fact that I'm a writer and I love to challenge myself, I'm about to find out! As I always say, walk with me!
Like most things in my life that I like now, I never thought I would like a tattoo much less to get one. For the most part, when I thought about tattoos I considered them to be painful, unnecessary and they added a level of 'snitch material' because at any point in your life, they can be used to identify you, criminal or otherwise. When I was a teen, I had a boyfriend with full body tattoos and there were a couple of times where he tried to talk me into getting a tattoo but I declined every time plus my mother would have killed me if I did do it. Even if I wanted a tattoo at that time, I recognized that I would have to wait till I was an adult to get one and not get any backlash.
Let's move this story forward to me being a grown woman who just had her first daughter. At that time, I was doing a temp assignment at Macy's Herald Square store in New York during the Christmas season. At that time, Macy's hired a bunch of temps to help them deal with the crowd but what they realize is that they had so many temps and the store was so crowded that they couldn't keep track of everyone. People were taking long lunch breaks, doing nothing and leaving early yet still getting paid like they were working all day. I was working for the most part but when I saw the lack of eyes on me I started to slack off and within that slack off time, I decided to take a long lunch break to get my first tattoo.
The tattoo shop was seven blocks away from Macy's and I figured if I rode the train one stop, I would get there within five minutes and the tattoo I wanted was simple in nature so I felt it wouldn't take long to get done. All I wanted was a tattoo of my name and my daughter's name: Jenniffer & Africa. I told myself it would take maybe twenty minutes and I would still have time to get lunch.
I did get to the tattoo shop quickly and thank goodness for me that there were no clients in the shop so I didn't have to wait. I was nervous and sweaty because I was worried about the pain but as soon as the tattoo artist got started, my worries were put to rest. She was gentle with me, I felt almost no pain and she did finish it within a half hour so I was happy as shit! As I headed back to Macy's, I kept asking myself 'is that all it is to a tattoo? That shit didn't even hurt and she did a great job! I WANT ANOTHER ONE!' Yes indeed, right then and there I decided I wanted another one just because the experience was so pleasant.
Twenty two years later after that first revelation, I now have about...fifteen, maybe seventeen tattoos! You're probably thinking that's not a lot, especially since twenty two years is a long time (it's damn near a jail sentence) but due to the fact that I don't want my whole body covered with them and I've had other things to spend my money on, I've had to chill on getting tattoos. I do want one more though...maybe two more...either way it goes I love the ones I got so far, would never laser them off and anyone thinking of getting one should! Tattoos are art and they are an expression of your true self so ink it up people, I recommend it!
Kai Storm: Author of seven novels, Blogger, Co-Host of MotherhoodSexMarijuana the Podcast & brand ambassador for Sugarfoot Shoetique!

Kai Storm
Awesome author of 7 novels, mom of 3 daughters, brand ambassador of Sugarfoot Shoetique, Co-Host of Motherhood Sex Marijuana the new podcast coming to YouTube on Mother's Day 2020! nattiekai.com nattiekai.wixsite.com/kaih!
See all posts by Kai Storm →
Staying at home each & every day to be there with your children as they learn and grow sounds absolutely amazing in hindsight, right? Absolutely! Who wouldn't think that it's just living the dream?! But what the world fails to disclose is the truth behind being a stay at home mom..

11/18/2020 So, grandma (81 this year) has been up my ass about keeping a journal of everything that is going on right now so here goes. Amelia is 9 and in 4th grade, Raynen is 5 and is in kindergarten and Rj is 3 and is home with me. We live in fort lee right now and my husband, Bobby (30 this year) has just had his 3rd spine surgery and now awaiting the promotion board (he is in the army) and finding out when we will be moving. I am 26 credits away from my BA in history. The coronavirus pandemic has been a pain in the ass and the 2020 presidential election was a complete dumpster fire. Yay 2020 and the best part was carol baskin and the memes from that world.

It was early October, and it was finally time for my long-awaited moose hunt. I had waited ever since I was a little girl for this opportunity, and it was finally here. So, my father, the one that looks after me, and I packed up our stuff and left our city in Alaska. We were heading to a place called Bethel, AK. After a six-hour long drive, we made it to our hunting unit. It did not feel like home to us but it was warm and cozy, like my bed at home.

As your parents age, you're probably spending more and more time caring for them. Even if they're still in good health, you may need to help them live a healthy lifestyle. Your parents may need help with everything from their health insurance to their diet. To avoid caregiver stress, taking care of yourself is also essential.

Staying home, reducing stress, and taking care of ourselves, both mind and body are more important than ever. That's why from beauty and personal care to everyday essentials and home cleaning – we've got you covered. "Avon"

Growing up, I loved the Wizard of Oz. There was something magical and timeless about the Yellow Brick Road and the passion of Dorothy to find her way home, Scarecrow to find his brain, Tin Man to find his heart, and the Lion to find his courage. All to find out that the man behind the curtain was just a man, whose hope and wisdom fulfilled all desires by encouraging everyone by exploring their own virtues.