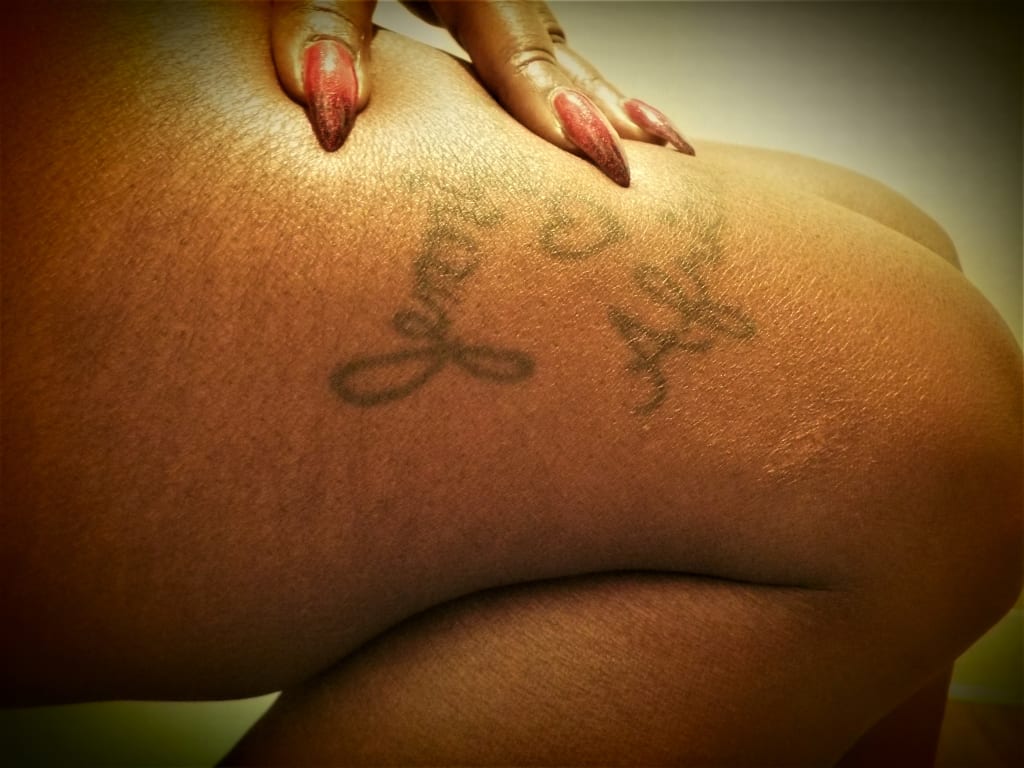 Can a story about a simple tattoo win a writing contest? Based on the fact that I'm a writer and I love to challenge myself, I'm about to find out! As I always say, walk with me!
Like most things in my life that I like now, I never thought I would like a tattoo much less to get one. For the most part, when I thought about tattoos I considered them to be painful, unnecessary and they added a level of 'snitch material' because at any point in your life, they can be used to identify you, criminal or otherwise. When I was a teen, I had a boyfriend with full body tattoos and there were a couple of times where he tried to talk me into getting a tattoo but I declined every time plus my mother would have killed me if I did do it. Even if I wanted a tattoo at that time, I recognized that I would have to wait till I was an adult to get one and not get any backlash.
Let's move this story forward to me being a grown woman who just had her first daughter. At that time, I was doing a temp assignment at Macy's Herald Square store in New York during the Christmas season. At that time, Macy's hired a bunch of temps to help them deal with the crowd but what they realize is that they had so many temps and the store was so crowded that they couldn't keep track of everyone. People were taking long lunch breaks, doing nothing and leaving early yet still getting paid like they were working all day. I was working for the most part but when I saw the lack of eyes on me I started to slack off and within that slack off time, I decided to take a long lunch break to get my first tattoo.
The tattoo shop was seven blocks away from Macy's and I figured if I rode the train one stop, I would get there within five minutes and the tattoo I wanted was simple in nature so I felt it wouldn't take long to get done. All I wanted was a tattoo of my name and my daughter's name: Jenniffer & Africa. I told myself it would take maybe twenty minutes and I would still have time to get lunch.
I did get to the tattoo shop quickly and thank goodness for me that there were no clients in the shop so I didn't have to wait. I was nervous and sweaty because I was worried about the pain but as soon as the tattoo artist got started, my worries were put to rest. She was gentle with me, I felt almost no pain and she did finish it within a half hour so I was happy as shit! As I headed back to Macy's, I kept asking myself 'is that all it is to a tattoo? That shit didn't even hurt and she did a great job! I WANT ANOTHER ONE!' Yes indeed, right then and there I decided I wanted another one just because the experience was so pleasant.
Twenty two years later after that first revelation, I now have about...fifteen, maybe seventeen tattoos! You're probably thinking that's not a lot, especially since twenty two years is a long time (it's damn near a jail sentence) but due to the fact that I don't want my whole body covered with them and I've had other things to spend my money on, I've had to chill on getting tattoos. I do want one more though...maybe two more...either way it goes I love the ones I got so far, would never laser them off and anyone thinking of getting one should! Tattoos are art and they are an expression of your true self so ink it up people, I recommend it!
Kai Storm: Author of seven novels, Blogger, Co-Host of MotherhoodSexMarijuana the Podcast & brand ambassador for Sugarfoot Shoetique!