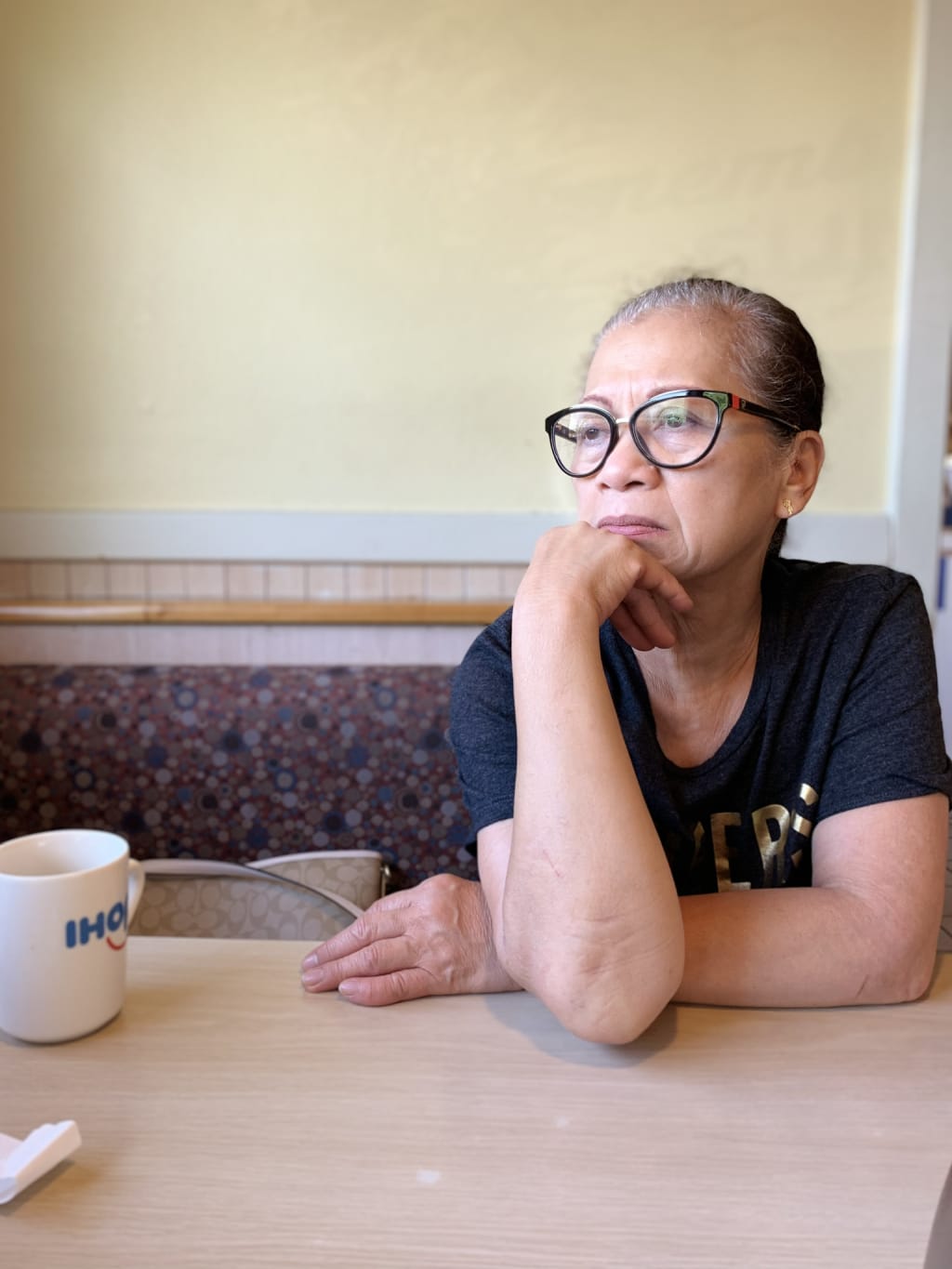 The photo I pick is of my mother. We are at Ihop for breakfast and while waiting for our food, she had gazed outside the window for several minutes and was daydreaming about something or maybe someone. At that moment, I had to discreetly take a picture of her in that moment of wonder, like a time capsule of her. I love this picture because it was a natural juncture of my mother in deep thought, which I rarely get to see because I live across the country and when I do see her and spend time with her, she is mostly moving around doing something or cooking most of the time and spending time with her grandchildren. At that instant, she was taking the time to herself and to think about something was it life; her past, present or future or even her loved ones. In the photo, is she happy, sad or just content with life? When looking at my mother, at the instance it reminds me of how valuable our loved ones are to us and every minute we have with them is a blessing to have with them since we don't know when our last day will be with them. So every day I say or text, "I love you" to her. To my husband and kids, I give them a kiss and say "I love you", at night before going to bed I give them hugs, kisses and say "I love you."
My mother has been through so much, she grew up in an okay area in the Philippines. When I was around four or five years old, with little English, my mom flew to the United States by herself to find my father because I had been asking for him, found him but no luck. So she decided to stay, got a job at McDonald's saved up to get a place and she flew back to the Philippines to get me. And in the apartment, we only had our clothes and two blankets. Over the years of my life, she tried her best to give me what I need and want. She would work 12-hour shifts and weekends to make sure we have a roof over our heads and food to eat. Even now as I am an adult with two kids she is still there to help even if she barely has it. Before I had went on deployment, she quit her job and flew across the country to help take care of my kids. She would wake up very early to make sure my husband and I had breakfast before we go to work and will help with the kids when my husband and I are at work. My mother even sends packages of food, snacks, and clothes to our family in the Philippines.
In today's world, social media has taken over many people's lives in a good and bad way. Good, so we can show our family, friends and future client's what we have done in our daily lives. Bad, there are people who criticize harshly and like to bully others for their entertainment. Also, many people take pictures of themselves or others and add filters to them which takes away from the reality of life occasionally. By looking at the photos and videos of what people post on social media are they original, generic and why did they post it that way? Some people say there are times in our lives when we are with family and friends and we should just live the moment and not post it on social media or not even take a snapshot of it and keep it in our memory bank. But why not share our moments with others who we care about too. But how do we know if we should share it with social media or not?