Callum Border Collie and his Autistic Human say hello.
A Blog about living alone with autism.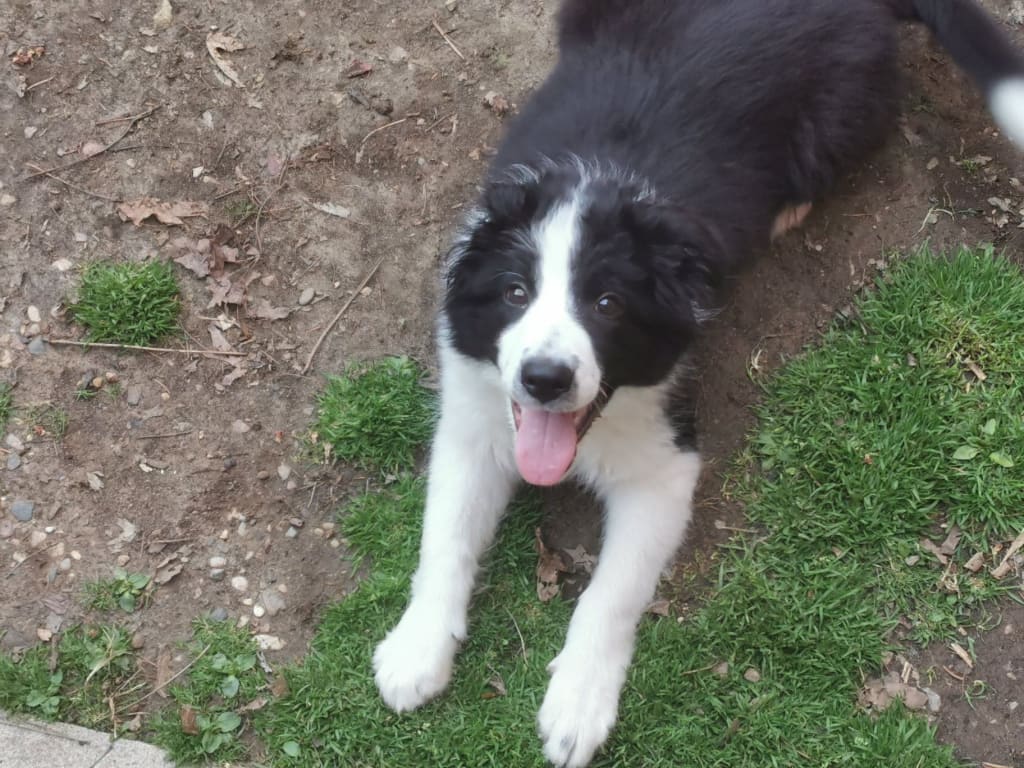 Hi, I'm Callum a 10 month old border collie puppy.
I am writing this blog to help out my human who loves me very much.
My human is autistic and boy these last few years have been ruff on her.
​ In 2018 my human, her mom and their senior doggy Beauregard lost their home. Some mean land developers bought the townhouse complex where they lived and demolished it.
That broke my human's heart because she loved that home and finds change horrible and terrifying. They all moved into a new townhouse, not too too far away and everything seemed fine until Beauregard became very sick and went to the Rainbow Bridge in Dec. 2019. My human was devastated at the loss of her special boy. Things did not get better.
In January 2020 my human's mom was diagnosed with cancer.
It was too much for my human to bear, but then at last there was a bit of good news. Me!
I came into the picture in February, all full of fuzziness and energy. I was so happy to be with my new human, and I knew that there was something special about her and that she needed me. Even if I I was just a pup and didn't yet know about things like 'autism'
In the blink of an eye September came and cancer took my human's mom. My human was devastated.
Now she is left on her own with just me after spending her whole life living with her mom. Being autistic makes life hard for my mom. I can see how worried she is because we don't have enough money for rent and bills and food. Now that my grandma is gone there is a lot less money coming into the house. My human can't face losing another home, she's had so much loss in her life already.
I am writing this blog for her, so that maybe people will support us by buying me a pup treat and so people can know how tough it can be living alone and being autistic.
A Poem About Living With Autism
Hi it's me Callum the adorable Border Collie puppy, back with a new blog about my Autistic human
I was just reminiscing with my human about the time that her brother's friend came to the old house, before the mean developers tore it down.
Her brother and his friend were out in the yard having a great time tossing a ball around. My human's mom even joined in.
My human said that she just stood in the window and watched. She wanted so badly to join in on the fun.
It brought a tear to my doggy eye.
My mom told me she felt like she was watching the world from the outside, a world where she felt like she didn't belong.
My human's story made me realize that what may seem easy for some is not easy for others. You never know what challenges other people or doggies face. That incident inspired my human to write a poem which I will share below (with her permission of course.)I hope you all enjoy it as much as I did.
The Fence Gets Higher
You paved a path of which I'm to follow, but I am not able
I see what you do
I know what I'm suppose to do
but I can't
I see you laughing and talking
may I join in?
No.
The fence gets higher
I just stand back and watch
I see you having fun
I want to have fun
May I join in?
No,
The fence gets higher
I just stand back and watch
You seem to do these things with such ease
I see no signs of the difficulties I feel
I walk away
then I look again
this time I see
the hate, the hurt and the wars
and I wonder to myself
whose world is really better
mine or yours
the fence gets higher
​​​
grief
About the author
I am a 10 month old Border Collie and not only am I a talented blogger, I am also very handsome.
I am a very good boy.
​I am writing for my mom who is an autistic human.
https://www.callumbordercollie.com/
Reader insights
Be the first to share your insights about this piece.
Add your insights