Why the future of restaurants runs through the grocery store
From Momofuku to Noma, top restaurants are pushing into frozen foods and pantry staples. The economics of their business leaves them little choice.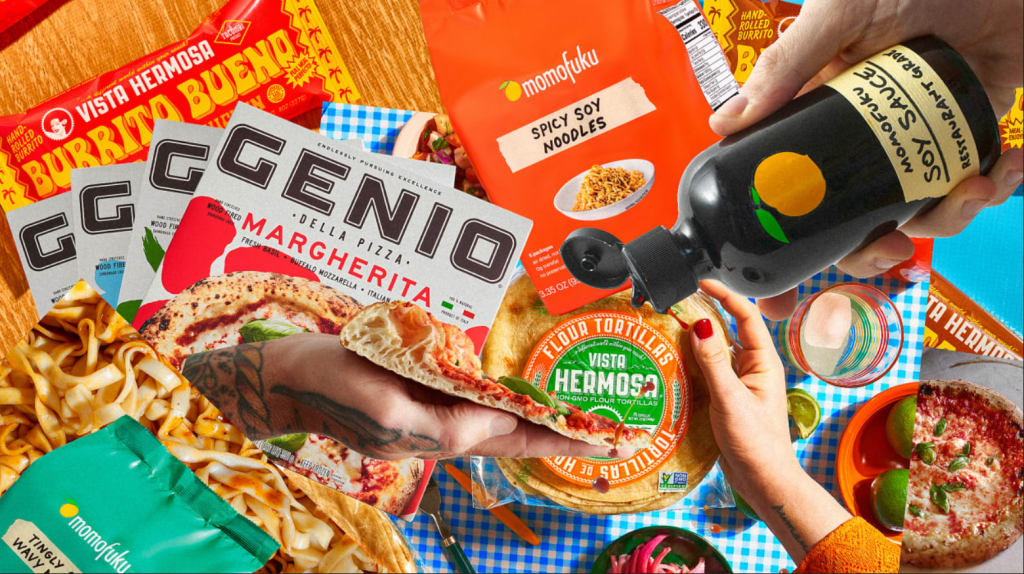 It's Friday night and, judging from the dejected slump of a quartet of would-be diners outside of the legendary Una Pizza Napoletana on the Lower East Side, there are no tables to be had. Around the corner, a similar scene plays out at Nom Wah, the century-old dim sum restaurant on the bend of a crooked street in Chinatown. A few blocks north, at the Momofuku Noodle Bar, the hungry gaze at the eating through a plate glass window. Everything everywhere is booked all at once.
After the enforced austerity of the pandemic, dining out has returned with a vengeance. This is clear to anyone who has tried to score a table as a walk-in or scoured Resy for ever-elusive windows. Eating dinner out has become the 13th labor of Heracles. So why are an increasing number of chefs obsessed not with their restaurants but with the grocery-store aisles?
Last month, for instance, Momofuku announced a $17.5 million fundraise from Siddhi Capital to help grow its packaged food business, known as Momofuku Goods and carried by Target, Whole Foods, and other grocers. Soon supermarket shelves will be stocked not just with Momofuku Chili Crunch, soy sauce, and air-dried noodles. Meanwhile Anthony Mangieri, the fanatical pizzaiolo of Una Pizza Napoletana, just launched Genio della Pizza, a line of freezer-aisle-ready pizza pies
They're part of an ever-growing portfolio of restaurants that are producing frozen foods and pantry staples. In New York City alone, the group includes Nom Wah, which sells its frozen dumplings nationwide via the gourmet food marketplace Goldbelly; Tacombi, a popular Mexican chain that just introduced a line of burritos called Vista Hermosa; Carbone, the red-hot red sauce joint that now sells red sauce; and even Eleven Madison Park, the highly rated restaurant that now sells soup starter kits and bags of granola through its online store, Eleven Madison Home.
All are flocking to the promised land of consumer packaged goods (CPG). Outside of New York, even Copenhagen's legendary food-pilgrimage site, Noma, is planning to shutter its doors and put more energy into its Noma Projects packaged goods arm, which sells bottles of smoked mushroom garum for $24.
One obvious push factor for this headlong rush into the grocery store is that the business model of a restaurant is fundamentally, and perhaps fatally, flawed. Margins have always been slim, between 3% and 5%. But as the costs of labor, real estate, and food have continued their skyward jag, even the most successful restaurateurs have struggled to stay solvent. Many of lesser luminosity have packed it in.
"Restaurants have always needed to find new means of making ends meet," says Marguerite Zabar Mariscal, who was recently named CEO of Momofuku Goods, adding to her remit as CEO of Momofuku. "Think about a restaurant that sells [just] food compared to a restaurant that also sells alcohol. Look at delivery, catering, or private dining."
Restaurants have always had to hustle. But one reason packaged goods—as opposed to services—are ascendant is that the means and model of success has shifted. Any midtown luncher who is long of tooth remembers the fast-casual craze of the mid-to-late aughts that culminated in the $2 billion IPO of Shake Shack in 2015. For restaurateurs, this often took a diffusion model wherein a flagship restaurant or a few flagships would provide name recognition and cachet while an umbrella of diffusion brands would spread around the country, providing almost infinitely scalable profits. Think Tom Colicchio's Craft and his fast casual 'Wichcraft or David Chang's Momofuku Ssam Bar and his fast-casual fried chicken sando shop, Fuku.
But this model has foundered of late. One simple reason is because, fast casual or not, the restaurant business model is essentially unchanged, saddled with untenable overhead costs. A bunch of razor-thin margins doesn't make a fortune so much as a bed of razors.
Reader insights
Be the first to share your insights about this piece.
Add your insights