How To Be More Productive And Feel Better
I have put together carefully curated challenges for you that will push you beyond your limits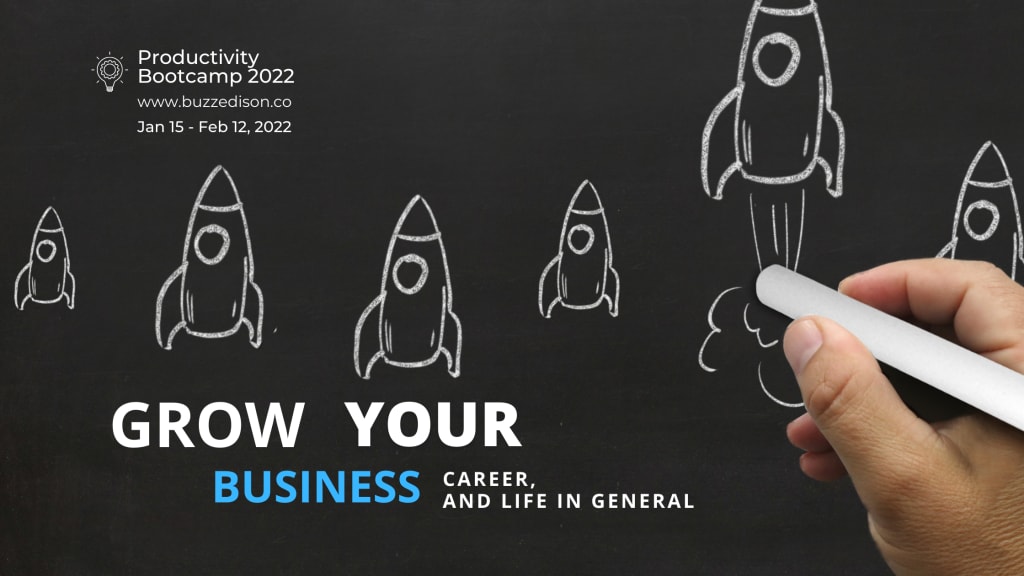 Do you ever sit back at the end of a busy day and ask yourself "what have I done today?"? Do you start your day with so much enthusiasm and so much on your to-do list, but at the end of the day, you just can't seem to find what exactly you have accomplished?
You're not alone. Getting things done is really easier said than done, because it is a matter of discipline, not talk.
But 2022 will be different for you. You will crush your goals. You will operate at 10x your current capacity. People won't be able to recognise you, because you will be different, you will be exceptional, you will add value to every project or task you do and you will be happier in life.**
I have put together carefully curated challenges for you that will push you beyond your limits, beyond your comfort zone and fulfil your wildest dreams.
Productivity Bootcamp was made for people like you who want to achieve more in less time and get significant things done each and every day; whether it is getting more sales for your business, writing on your blog, raising money for your startup or just finishing that book you've been planning to read since 2015. With just a re-tuning of the mind, discipline and tools and systems set in place, you can become productive and achieve whatever targets you've set for yourself in this year and beyond.
Over the next couple of weeks, I will be delving into topics like having the right mindset, defining what deep and shallow work is, philosophy of personal responsibility, confidence-building, making the right decisions, how to move from strategy to action, and actually getting things done. I would also take you through how to use my favourite productivity tool, Notion, to track your progress ( and that of your team) along the way.
The format is quite interesting. 30 days of easily consumed videos, 30-day productivity challenge for you to go through. It is very action-oriented. Take this course if you are ready to do the work , and ready to transform your life entirely.
At the end of this action-oriented course:
You will have a renewed mindset and can get anything done in less time and with so much confidence.
Plan effectively to achieve your personal and professional goals
Understand the difference between deep and shallow work and gear towards doing more deep work
Enhance your personal productivity skills
Set results-oriented objectives and goals
Become more confident and take bold decisions that lead to productive outcomes and tangible results
Develop discipline and get things done the right way
Follow through with the 30-day productivity challenge and implement the process in your daily life
Be Happier and feel more accomplished
Tools Required
An open mind and the willingness to learn, unlearn, adapt and change certain mindsets, attitudes and skills. You need to be a sponge, soaking up every drop of information in this course.
You also need to have access to a writing tool, notepad or book (I really recommend using Notion) where you can keep track of your progress, submit projects, and make relevant notes that you can refer to in the future. Here's a quick guide on how to use Notion for progress tracking and note-taking.
PS: I recommend getting a hang of Notion from the very start of this course as I would be using it for the majority of this course. If you have another productivity tool you are more comfortable with, you can use that as well. Check out my article on Notion here
Discipline to get through every stage of this course and complete it. (Really, this is the first step to becoming productive: finishing what you start.)
Fee: It is completely free.
You can give a tip or pledge to receive a monthly dose of inspiration, business insight and all you need to win in business in 2022.
Sign up for the free Productivity Bootcamp here:
About the Creator
I Write about Startup Growth. Helping visionary founders scale with proven systems & strategies. Author of books on hypergrowth, AI + the future.
I do a lot of Spoken Word/Poetry, Love Reviewing Movies.
Reader insights
Be the first to share your insights about this piece.
Add your insights