'Wentworth': The 5 Most Important Moments In 9x03, 'The Ties That Bind'
The new Top Dog is decided.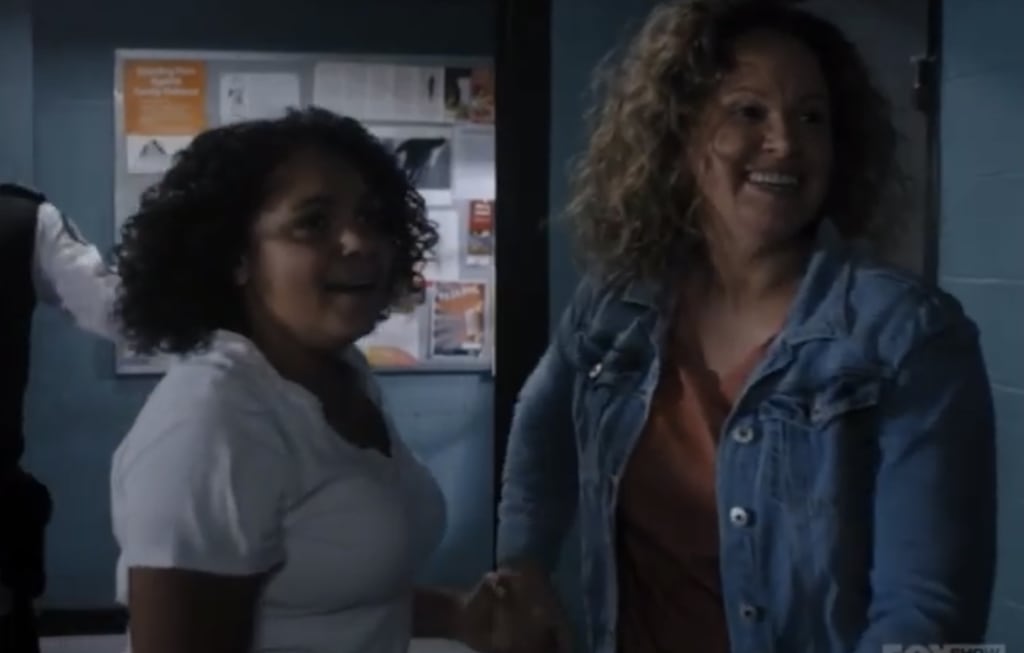 Credit: Foxtel.
Wentworth continues to pick up steam as the show's final season continues. While episode 9x02, 'Requiem', ends with Lou Kelly declaring herself Top Dog, 9x03 opens with some prisoners resisting Lou's rule, leaving the matter of Top Dog undecided. Elsewhere in the ep, we have a big character return, and Joan Ferguson continuing her psychiatric treatment.
Here are the five most important moments in Wentworth episode 9x07, 'The Ties That Bind'.
1. Rita is back in Wentworth
After being arrested in 'Requiem', Rita Connors is returned to prison in 'The Ties That Bind'. Unfortunately, things aren't looking great for Rita. Unable to prove her allegations against the corrupt Detectives she was working for back in seasons six and seven, and unwilling to let Ruby get involved by testifying to her kidnapping at the detective's hands back in ep 8x06, Rita now faces significant jail time. Seeming to have given up on uncovering the truth, Rita simply devotes herself to the task of guiding Ruby safely to the end of her jail term, and even, briefly, gives up her leather jacket in favour of the Wentworth teal.
Rita is soon caught up in Prison politics, namely the upcoming Top Dog challenge between Boomer and Lou Kelly. First, she stops Ruby from attacking Lou to spare Boomer from the fight, and later, thanks to a tip off from Marie, Lou engineers a urine sample switch that ends with Rita chained to one of the prison's new restraint stations, so Rita is out of the way when the fight happens. By episode's end, after being freed from her chains, Rita is inspired to fight for her freedom once more.
2. Joan begins to develop empathy.. but still fights psychopathic urges
In the previous episode, Joan Ferguson seemed to be making progress in her sessions with Dr. Miller, after expressing a wish that she could have helped her neighbouring inmates as they grieved Reb's death. The progress seems to continue in this episode, with Joan expressing guilt and regret for harming Vera Bennet in the past. Dr. Miller is pleased, as these feelings suggest that Joan is developing true empathy. However, Joan is concerned, as her new emotions remain at war with her psychopathic urges.
As she leaves Miller's office, Joan overhears the end of an argument between Jake and Vera, in which Jake threatens to take Vera to court to obtain shared custody of their baby daughter, Grace. As Jake departs, Joan fixes him with a rather menacing glare. Could her increasing affection for Vera spell trouble for Jake? And could Joan's drug test reveal the psuldrycin, exposing her returned memory to the prison?
3. Allie agrees to help Judy
Last episode, we saw Judy Bryant hatch a plot to stay her extradition on compassionate grounds, as she needs to be there for her 'partner', Allie, after her injury. She reveals her plan to Allie, and Allie, viewing Judy as a close friend, agrees to the ruse. Through much of the episode, the pair are together constantly, with Judy pushing Allie's wheelchair, and sitting with her in the background of scenes. Later, Allie puts on a rather touching performance to convince Judy's lawyer of their relationship, so he will apply for the stay of extradition.
The problem? As viewers well know, Judy is the one responsible for Allie's injuries, after stabbing her at the end of episode 8x10 to keep her from telling Lou that she was the one who had stolen the money for Reb's surgery. This is Wentworth, so the truth is sure to come out in the end. The question is, how will it Allie react to the reveal that a close friend, who she is now going above and beyond to help, is the reason she will never walk again?
4. Boomer vs Lou
As mentioned earlier, episode 9x02 ended with Lou Kelly declaring herself as Wentworth's new Top Dog. However, during a vote held while Lou is in the Slot for Sheila's murder, Boomer is officially voted in as Top Dog. Lou, unwilling to accept the result, challenges Boomer to a fight for the position, and Boomer reluctantly agrees. Throughout the episode, Boomer expresses nervousness about the fight, but believes she must go through with it to avenge Allie's injuries, which everyone still believes came at Lou's hands.
As the fight grows closer, Lou chips away at Boomer's support network, ensuring Rita is out of commission, and bringing the fight time forward so that Judy and Allie are away with Judy's lawyer and cannot attend. This leaves Boomer with only Ruby as support. At first, it appears Boomer may be a no-show, but she arrives just in time. Boomer puts up a surprisingly good fight, but in a moment that had many Wentworth fans screaming, suffers multiple stab wounds and eventually goes down, conceding the fight to Lou.
Thankfully, it is later revealed that Boomer only suffered flesh wounds, and will be returned to the Prison soon. But how will the core group fare under Lou as Top Dog?
5. Marie's choice
Elsewhere in the episode, Ann Reynolds has returned to Wentworth after a few weeks away. Following a tip off from Miles, Ann hatches a plot to oust Will Jackson as Governor of Wentworth by exposing his affair with Marie Winter back in season seven. Meeting with Marie, Ann promises that if she reveals her past relationship with Will to the Board Member sent to investigate, she will secure her a transfer out of Wentworth, to a low security prison interstate. Marie, who has been desperate to escape her guilt over her part in Reb's death, and the monster she inadvertently created in the form of the grief stricken Lou, is clearly tempted by the offer. However, when the time comes for the meeting, Marie insists that nothing ever happened between her and Will.
Later, chatting with 'Kath', Marie decides to give up her quest for a transfer, staying at Wentworth to face her demons. Kath/Joan rather unsettlingly tells Marie that she does not believe she really had a choice.
"Sometimes, you have to kill the monsters you've created."
While Joan says this in reference to Jake, from Marie's perspective it could easily refer to Lou. Going to comfort Lou in the episode's last scene, Marie is troubled by the new Top Dog's plan to continue killing in retribution for Reb's death, and bring the whole prison down.
For the past two seasons, Marie has shown an increased desire to do the right thing, and still cares quite deeply for Allie, who would likely be in the line of fire if Lou's plans come to fruition. Could Marie take Joan's advice, and kill the monster she created?
Things are definitely heating up.
tv review
Passionate About all things Entertainment!
Receive stories by Kristy Anderson in

your feed