Wentworth 9x04: The 5 Most Important Moments In 'Judas Kiss'
The truth is revealed.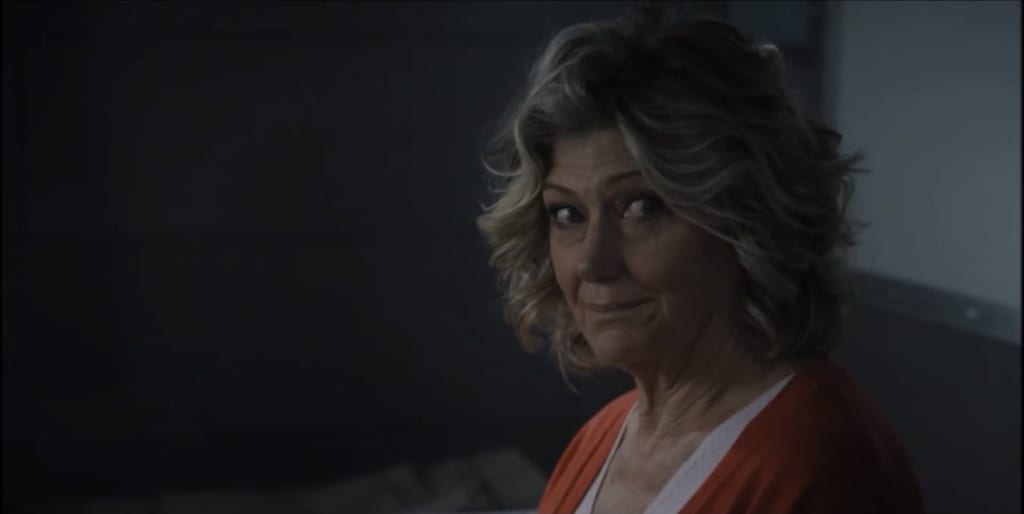 Credit: Foxtel
There's a lot going on in 'Judas Kiss', the fourth episode of Wentworth's final season. A new inmate arrives, Joan struggles with her dark side, and Rita and Ruby begin a crusade for justice. Then, in the episode's final scenes, one of the biggest truth-bombs of the season is dropped.
Here are the five most important moments in Wentworth 9x04, 'Judas Kiss'.
1. New inmate Eve has a past with Joan
In the opening scenes of 'Judas Kiss', Eve Wilder, aka internet childcare advice columnist 'Nanna' Wilder, arrives at Wentworth, charged with a hit-and-run that she swears is an accident. As it turns out, Eve, who previously spent time in Blackmoor Prison for 'assault' charges, recognises Joan Ferguson as a former guard. As Eve spills horror stories from Joan's past to Marie, Joan struggles to keep her dark impulses from re-emerging.
When Eve later tries to attack Joan in her cell in revenge for her past mistreatment at Blackmoor, Joan retaliates and attempts to strangle her, but eventually releases her. After, Joan and Eve develop an odd friendship, as neither one needs to hide from the other who they truly are. With Eve, Joan can drop the mask of Kath, while Eve has no reason to hide her crimes from Joan.
2. Rita and Ruby struggle to uncover the truth
After a brief crisis of confidence in 9x03, Rita has now returned to her mission to prove that Jones, the Detective she worked undercover for, is corrupt. She hopes that testimony from her sister, Ruby, regarding her kidnapping last season will help prove her case. Unfortunately, Jones is persuasive, having convinced the Detectives sent to interview Rita and Ruby that Rita was not an undercover cop, but a disgruntled informant. As a result, they are eager to poke holes in the sisters' story.
The pair think they may have caught a break when Ruby convinces her friend Eddie to testify on their behalf about the day Ruby was kidnapped. Unfortunately, Eddie later shows up dead from an apparent drug overdose. With no-one to support their story, Ruby may be up for serious charges that could threaten her upcoming parole.
3. Vera finds out about Joan's medication
After Miles lets slip about Ferguson's unusual drug test results in the previous episode, Vera does some digging. While Joan does not test positive for a specific drug, Vera notices an anomaly in that her Amino acid levels are higher than normal. Recognising this anomaly, Vera measures Ferguson's results against Liz Birdsworth's medical records, and realises that she is on Psuldrycin, the same drug Liz had been trialling in the early days of her Dementia diagnosis. As long time fans will remember, the drug was banned after causing Liz to experience seizures and violent outbursts.
When Vera confronts Dr. Miller with what she knows, he claims he is giving Joan the drug in order to bring back her memory, which is exactly what Vera wants. Unaware that Ferguson's memory has already returned, Vera lets the matter drop, for now. But could the same side-effects that troubled Liz cause Psuldrycin to eventually have an adverse affect on Joan as well?
4. Joan takes notice of Jake and Eve
Soon after Eve Wilder's arrival at Wentworth, Officer Jake Stewart reveals himself as a fan of her online identity 'Nanna' Wilder, gushing over her website to an unimpressed Vera. When a sleep deprived Vera finally allows Jake the opportunity to care for their baby daughter, Grace, overnight, he seeks Wilder's advice on how to deal with Grace's persistent colic. After her advice works, Jake returns the next day to thank her. Both exchanges are watched closely by Joan Ferguson.
While a rather small moment compared to events going on elsewhere in the episode, it could have big implications moving forward in this final season. Joan, in her growing desire to connect with Vera, is coming to view Jake as a problem in Vera's life.
5. Allie finds out who really stabbed her
Meanwhile, throughout 'Judas Kiss', former Top Dog Allie Novak plots revenge on the new Top Dog, Lou Kelly, still believing Lou to be responsible for the stabbing that resulted in her paralysis. Inspired by a trip to the prison dentist, Allie steals a tank of nitrous oxide, and breaks into Lou's cell, where she knocks her out briefly before beginning to gas her. Allie does not intend to kill Lou, instead planning to expose her to the gas just long enough to cause permanent brain damage, in exchange for Allie's own permanent injuries.
However, while high on the gas, Lou reveals the truth: She had intended to kill Allie, but she had already been stabbed when Lou reached the bathroom. Lou supposes the culprit must have been Judy, who bumped into Lou on her way out of the shower block. Allie is at first reluctant to believe this, until she remembers her confrontation with Judy over Lou and Reb's money on the day of the stabbing.
Abandoning what she now knows is a misplaced vendetta against Lou, Allie returns to her cell block. Soon after, Judy arrives, with the news that her extradition has been stayed pending an investigation of her status as Allie's partner and primary caregiver. Judy then kisses Allie on the cheek: the Judas Kiss of the episode's title.
Will Allie reveal Judy's betrayal to the rest of their friends? And will Allie face punishment for her attack on the Top Dog?
We can't wait for the next episode.