Serial Killer Deep Dive: John Wayne Gacy
He's the reason why people are afraid of clowns.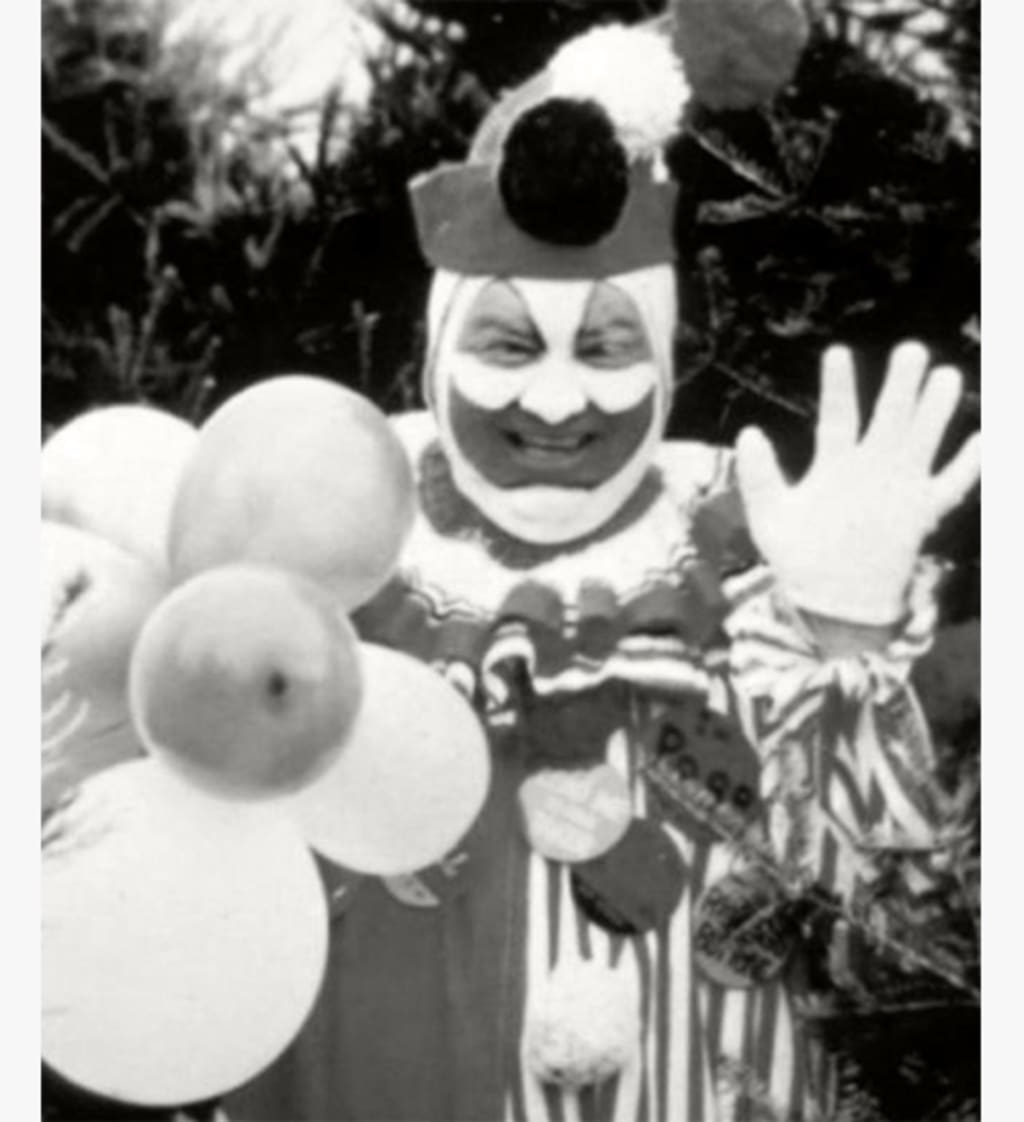 John Wayne Gacy as "Pogo the Clown." He stated that acting as a clown allowed him to "regress into childhood."
Clowns. To some they're joyous characters who entertain children, to others they're terrifying monsters. With horror films such as Clown and the 2017 remake of IT, it's no wonder why some people might find clowns scary.
But is there a logical reason to this fear?
Many people are afraid of clowns because of the unknown and the unpredictable personalities they possess. While their appearances alone give off an uncomfortable vibe, clowns are also known for their zany personalities which might be frightening for some people.
Or perhaps is there a more irrational reason behind why people hate clowns? For example, what about a killer clown? One who gains the trust of others, only to betray it and become a psychotic murderer while still hiding behind this facade of a happy and friendly character.
Meet John Wayne Gacy.
John Wayne Gacy was born in Chicago, Illinois on March 17th 1942. He had a tough childhood as he was overweight and not very athletic. On top of the bullying he endured at school, he also had a difficult relationship with his father. He was close to his mother and sisters but his father, John Stanley Gacy, was an alcoholic and physically abusive towards his wife and children. Despite the abuse, John tried so hard to make his father proud of him. He craved his approval but never received any. Instead, his father would beat him with a leather belt or hit him over the head with a broomstick while belittling him and calling him "dumb and stupid." John was raised in a heavily Catholic household and he would be negatively accused of being a "sissy" and a "mama's boy who would probably grow up to be queer." According to one of John's sisters, Karen, the siblings had to learn to toughen up against the beatings and try not to cry.
In 1949, John's father was informed that his son and another boy had been caught sexually fondling a young girl. As a punishment, John's father whipped him with a razor strap. During the same year, John was also allegedly molested by a family friend but he never told his father about the incident fearing that he would be blamed for it.
When John was eleven-years-old, he was playing on a swing set when he got hit in the back of the head by one of the swings. The accident caused a blood clot in his brain which wasn't discovered until he was sixteen. He suffered from random blackouts and seizures that were caused by the clot and eventually got treated with medication. When he was seventeen, he was diagnosed with a heart ailment that resulted in him being hospitalized several times throughout his life. He complained about the pain for years but doctors could never find a cause for the pain he claimed to be suffering. Because of his condition, he was ordered to avoid all sports at school. This is what lead to him gaining weight and becoming a target for bullies. While his mother, sisters, and a few close friends never doubted his illness, John's father openly accused him of faking it to get attention. One of John's classmates recalled several instances where his father would show up at the school and begin shouting at him and hitting him for no reason. John would never fight back; he just put up his hands to defend himself and waited until his father was finished.
When he turned eighteen, John started working as an assistant precinct captain for a Democratic Party candidate in his neighbourhood. His father wasn't impressed with the decision and accused him of being a "patsy." Despite disapproving of his involvement in politics, he bought John a car the same year, however, it didn't come without conditions. His father told him he had to make monthly payments for the vehicle and would confiscate the keys if John didn't do whatever he said. John decided to purchase an extra set of keys and in response, his father removed the distributor cap from the vehicle. John claimed this caused him to feel very sick and drained and eventually his father replaced the distributor cap. Shortly after, John left and drove to Las Vegas where he found work within the ambulance service. He was transferred to work as a mortuary attendant where he slept in a cot behind the embalming room. He would observe morticians embalming dead bodies and later confessed that he once climbed into the coffin of a deceased teenage boy, embracing and caressing the body before realizing what he was doing and freaked out.
The next day, still in a state of shock from he did the night before, he called his mother and asked if his father would allow him to come home. His father agreed and John drove back to Chicago the same day. Despite never graduating from high school, John was able to enroll in the Northwestern Business College and took up a management trainee position within the Nunn-Bush Shoe Company after graduating. In 1964, he was transferred to Springfield to work as a salesman and eventually became the manager of his department. He married his co-worker Marlynn Myers and the two then moved to Waterloo, Iowa so that he could manage three KFC restaurants that Marlynn's father had purchased. John also joined the Jaycees, also known as the United States Junior Chamber (a leadership training and civic organization for people between the ages of 18 and 40). This is where John had his second homosexual experience. One of his colleagues loaded him up on drinks and invited him to spend the evening at his place. He then performed oral sex on John while he was drunk.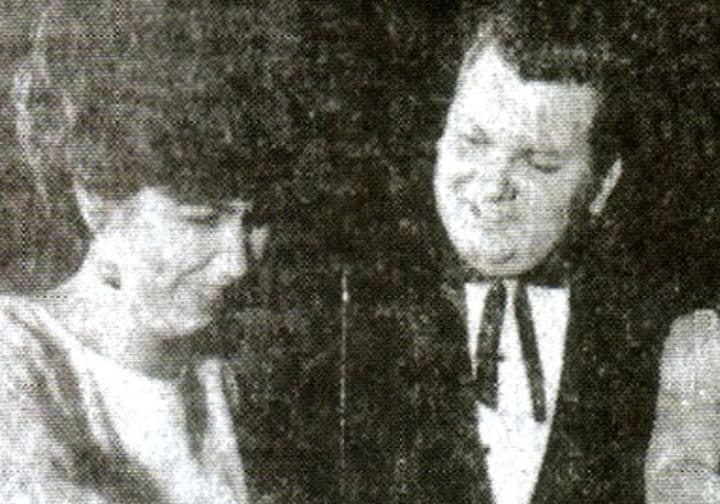 In 1966, Marlynn gave birth to their son Michael, followed by their daughter Christine in 1967. John finally felt that everything was working out for him and he described this period in his life as perfect, adding that he finally earned the approval of his father. His parents came to visit him and his family in the summer of 1966 and his father pulled him aside and apologized for the physical and mental abuse he had inflicted on him throughout his childhood. He finished off their conversation with: "Son, I was wrong about you."
Everything seemed to be going well for John, except for his secret life with the Jaycees. Wife swapping, prostitution, pornography, drug use—John was deeply involved in many of these activities. He regularly cheated on Marlynn with prostitutes and opened up a "club" in his basement where he allowed the employees to drink and play pool. John would also make sexual advances towards the male employees but if they refused he would claim that he was just joking or testing their morals.
In 1967, John sexually assaulted fifteen-year-old Donald Voorhees, the son of a fellow Jaycee. He brought him back to his house with the promise of showing him pornographic films and ended up getting Donald drunk and persuading him to perform oral sex on him. John continued to sexually assault several other boys over the following months. In 1968, Donald told his father about what happened and they immediately went to the police and John was arrested. He was charged with oral sodomy and the attempted assault of a sixteen-year-old named Edward Lynch.
In August, John persuaded one of his employees, Russell Schroeder, to physically assault Donald to discourage him from testifying against John in his upcoming trial. Unfortunately, the plan didn't go so well. Donald managed to escape the attack and went to the police. Russell was arrested and confessed to authorities that he had attacked Donald at John's request. John was then arrested and charged in relation to hiring Russell to assault and intimidate Donald. In September he was ordered to undergo a psychiatric evaluation and the doctors concluded that he has antisocial personality disorder and was unlikely to benefit from any therapy or medical treatment.
Over the next few months, John pled guilty and was sentenced to ten years at the Anamosa State Penitentiary. Marlynn divorced him and John never saw her or his children again. Oddly enough, John soon became a model prisoner at the penitentiary. He became the head cook, secured an increase in the inmates' daily pay, and supervised several projects designed to improve conditions for inmates at the prison, such as a miniature golf course in the recreation yard. In June 1969, he applied for an early release but his application was denied. Over the next few months, he also completed sixteen high school courses and finally obtained his diploma in November.
But on Christmas Day, tragedy struck John's world.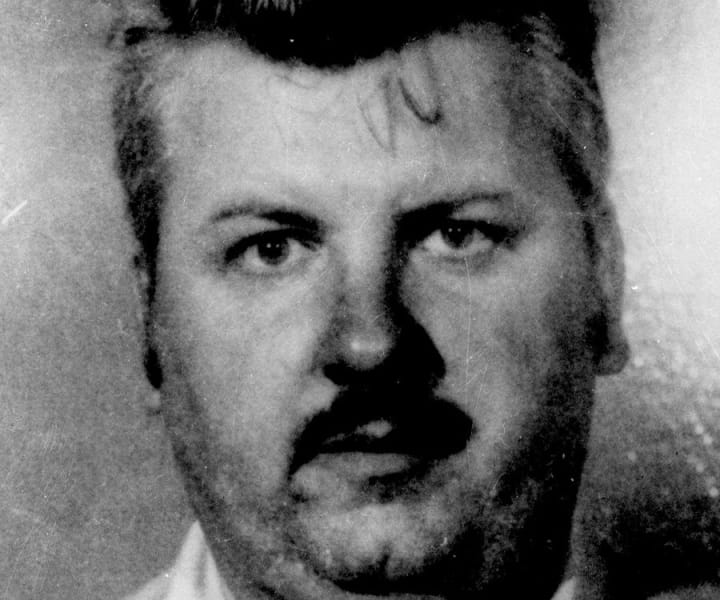 His father died from cirrhosis of the liver. John didn't find out about his father's death until two days later. When he heard the news, he collapsed on to the floor sobbing uncontrollably and had to be supported by prison staff. He requested a supervised leave to attend his father's funeral but his request was denied.
In 1970, John was granted parole with 12 months' probation under the condition that he would go live with his mother and have a 10pm curfew with the Iowa Board of Parole receiving regular updates on him. The next day, he arrived in Chicago and shortly obtained a job as a cook in a restaurant.
But unfortunately he didn't stay out of trouble for long. In February 1971, John was charged with sexually assaulting a teenage boy. He apparently lured the boy into his car at a Greyhound bus terminal and drove him to his house where he attempted to force the boy to have sex with him. The Iowa Board of Parole was unaware of this incident—which violated the conditions of his parole—and eight months later, John's parole ended. With the help of his mother, he bought a house in Norwood Park Township in Chicago. He became engaged to Carole Hoff but one week before their wedding, he was arrested and charged with aggravated battery and reckless conduct. A young boy named Jackie Dee told police that John had been impersonating a police officer and tried to lure him into his car and perform oral sex on him. These charges were later dropped after the complainant attempted to blackmail John into paying money in exchange for dropping the charges.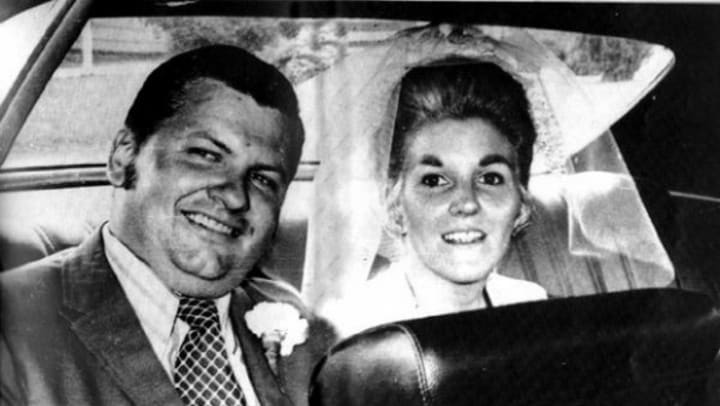 Following John and Carole's wedding, the couple moved into the new house. John started his own construction business called PDM Contractors. In 1973, John and an employee from the company travelled to Florida to look at a property that he had purchased and on the first night, John raped him in their hotel room. After returning back to Chicago, John was working in his yard one day when the employee drove up to his property, got out of the car, and began beating him. John's mother-in-law stopped the employee from further attacking John and he drove away. When asked what that was all about, John told her and Carole that it was just a disgruntled employee who attacked him because John refused to pay him for poor quality work.
Over the next few years, John became very popular in his neighbourhood. He hosted annual summer parties, became involved in local Democratic Party politics and offered the labour services of his construction company to his neighbours free of charge. He even was appointed director of Chicago's annual Polish Constitution Day Parade and met First Lady Rosalynn Carter. He was also a member in the local Moose Club, where he became aware of the "Jolly Joker" clown club. Members of this club would dress up as clowns and perform at fundraising events and parades, and entertain hospitalized children. John joined the Jolly Jokers in 1975 where he created his characters Pogo the Clown and Patches the Clown. He designed his own costumes, learned how to apply makeup and performed at numerous local parties, charitable events and at children's hospitals.
While he was busy putting smiles on people's faces, John wasn't very happy in his personal life. After having sex with Carole on Mother's Day that year, he informed her that he was bisexual and that this would be the last time they ever had sex. He began staying out all night and coming home early in the morning claiming that he had just been working late, but Carole knew better. She saw him bringing teenage boys into his garage and found gay pornography around the house. They divorced by mutual consent in 1976.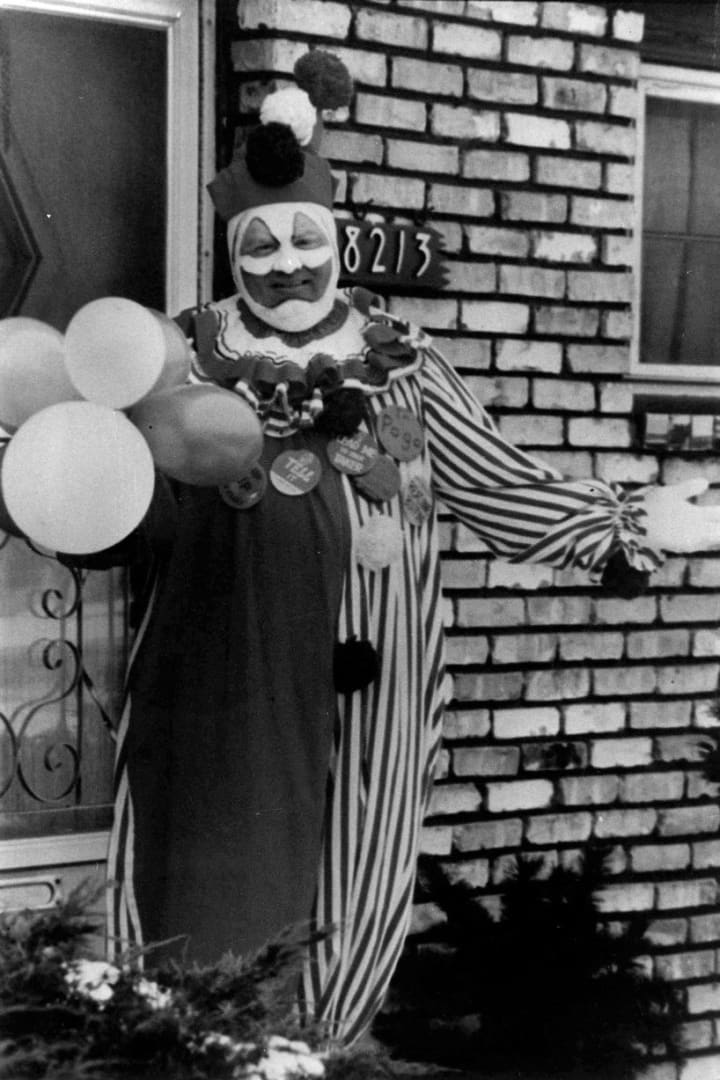 It's clear to see that John struggled with his sexuality throughout his life. During all of the years, there was also something very sinister going on in his life too.
On January 2nd 1972, John picked up sixteen-year-old Timothy Jack McCoy from Chicago's Greyhound bus terminal. He offered to take him on a sightseeing tour of Chicago since Timothy was already embarking on a trip from Michigan to Omaha. Timothy agreed and the two began driving around the city. John offered to let Timothy stay the night at his house and said he'd drive him back to the bus station in the morning. The following morning, John awoke to see Timothy standing in his bedroom doorway with a kitchen knife in hand. He immediately leapt from his bed and attacked Timothy in what he thought was self-defence. He grabbed the knife and stabbed Timothy repeatedly in the chest. He then went to the kitchen and saw an unopened carton of eggs and a slab of bacon on the table; Timothy had been preparing breakfast for the two of them and went to John's room to wake him, absentmindedly carrying the knife. John realized what he had done and quickly buried Timothy's body in his crawl space and later covered it with a layer of concrete. In a later interview, John admitted that immediately after killing Timothy he felt totally drained yet also experienced a mind-numbing orgasm.

His second victim was an unidentified teenage boy whom he strangled to death some time around January 1974. He originally kept the body in his closet but fluids began leaking out of the boy's mouth, staining the carpet. He then buried the body in his backyard.
In May 1975, John had hired a high school student named Anthony Antonucci to work for his construction company. A few months later, he showed up to the boy's house and plied him with alcohol, wrestled him to the floor, and handcuffed him. Anthony managed to free himself from the handcuffs after John briefly left the room. When John returned, Anthony—who was on the high school wrestling team—attacked him and managed to wrestle him to the ground and handcuff him. John threatened him but eventually calmed down and promised to leave if Anthony removed the handcuffs. Anthony agreed and John left the house.
One week after the attempted assault, another one of John's employees, seventeen-year-old John Butkovitch, disappeared. John had lured him back to his home, handcuffed him and strangled him to death before burying the body under the concrete floor of his garage. The "handcuff and rope trick" had become his modus operandi. Butkovitch was reported missing shortly after and John even offered to help look for him in order to not seem suspicious to authorities. Despite his friendly cover, Butkovitch's parents continuously called the police and urged them to investigate John further.
John referred to the period between 1976 and 1978 as his "cruising years." He had the house to himself and increased the frequency of excursions for sex with young males. During this time period, his total kill count rose to 33 victims. He would lure teenage boys and young men to his house, sometimes having sex first, then strangle or suffocate them to death. Most of the victims shared a common grave located beneath John's kitchen and laundry room. Like all grave sites, John started to run out of room. He considered stowing them in his attic but worried about bodily fluids leaking through the ceiling. He drove out to the I-55 bridge over Des Plaines River and threw five bodies off the bridge. Only four of the five bodies ended up being recovered by police.
In December 1978, John visited a Des Plaines pharmacy to discuss a remodelling deal with the store owner. A part-time employee, fifteen-year-old Robert Jerome Piest, overheard that John hired teenage boys at a starting wage of $5 per hour, which was more than he was earning at the pharmacy. Robert followed John out of the store to discuss the job, promising the owner he'd shortly return, but he never did. Robert's family reported him missing and police interviewed John who denied any involvement in his disappearance. A search conducted at John's house turned up several suspicious items including a class ring with the initials J.A.S., various drivers licenses, male clothing too small to fit John, and a photo receipt from the pharmacy where Robert had worked.
The next day, authorities received a phone call from Michael Rossi who informed them of a missing person named Gregory Godzik and the fact that another employee for John's company, Charles Hattula, had been found drowned in a river the previous year. Police managed to trace the class ring found in John's home to a John A. Szyc, who had been reported missing by his mother after he met up with John to sell his car to him. John then sold the car to Michael explaining that he bought the car from Szyc because the boy needed money to move to California. Investigators discovered a small cluster of fibers inside the trunk of the vehicle and later that evening, officers conducted a test using three trained search dogs. The dogs were examining each of John's vehicles when one of them approached John's black Oldsmobile and lay upon the passenger seat which according to the handler was a "death reaction," indicating Robert's body had been present in this vehicle.
Also that evening, John invited two of the investigators out to dinner and then breakfast the next day. Their conversation was casual, with John mentioning his business, his marriages and his activities as a clown, when he remarked to one of the men:

After being informed that police had found human remains in his crawl space, John knew that his arrest was inevitable. On December 22nd 1978, John confessed to police that since 1972 he had murdered approximately 25–30 young men. He told officers how he lured his victims back to his place where he then sexually assaulted and tortured them. Accompanied by police, John returned home and showed the officers where he had buried the bodies around his property.
John's trial took place on February 6th 1980 where he faced 33 murder charges. His lawyers opted for him to plead not guilty by reason of insanity, which lead to a psychiatric evaluation. Three psychiatric experts testified that John was a paranoid schizophrenic with a multiple personality disorder but prosecutors presented a case that indicated that John was sane and fully in control of his actions. The jury deliberated for two hours before returning with a decision to sentence him to death for twelve counts of murder.
On May 9th 1994, John would face his execution. That afternoon, he was allowed a private picnic on the prison grounds with his family. For his last meal, he ordered a bucket of Kentucky Fried Chicken, a dozen fried shrimp, french fries, fresh strawberries, and a Diet Coke. That night, John was executed by lethal injection. His final words were "kiss my ass."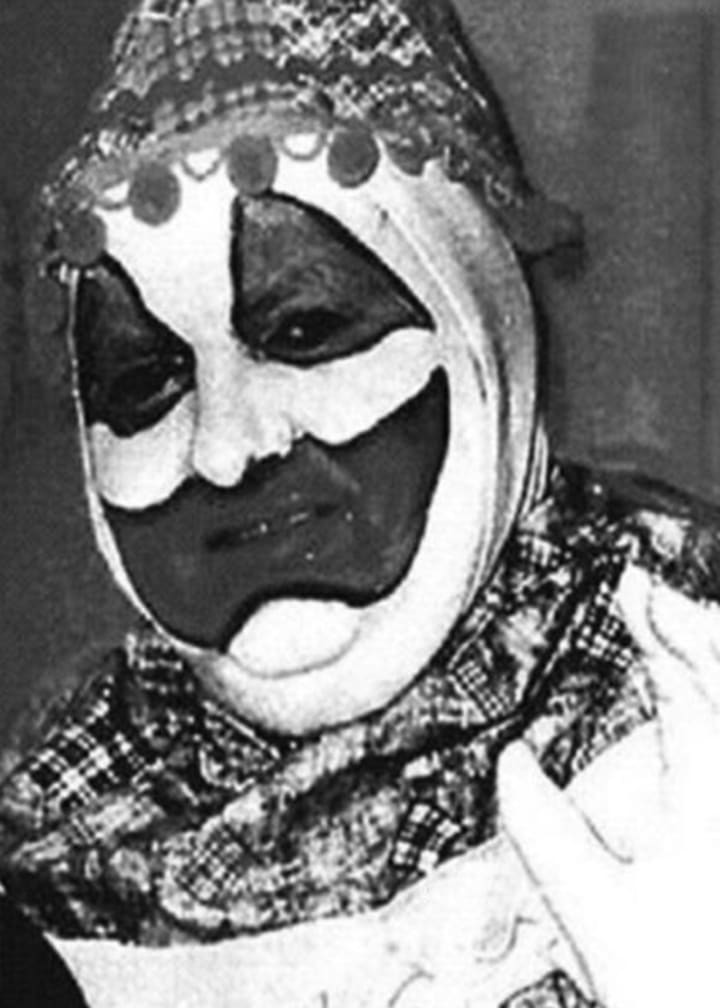 One of the most notable qualities of John Wayne Gacy was how well he blended into society. Many serial killers possess the stereotype of being outcasts or socially awkward, but John never really seemed to fit either of those categories. From his political involvement to providing construction services to his neighbours for free, it seemed that not a lot of red flags were raised about him. In a way, John was incredibly smart seeing as he was able to live this secret double life for several years without raising much suspicion. The fact that many serial killers are able to blend into society very effectively and for long periods of time is probably the most frightening thing to the general public. They don't meet the stereotypical views of what a monster would be like; many of them have regular lives. Unlike the previous serial killer deep dives, John wasn't like Aileen Wuornos or Robert Pickton. For the most part, he was able to properly function as a member of society.
Throughout his entire life, John struggled with his sexuality. Growing up in the household that he did, he was probably confused about what he was feeling and didn't know how to properly express those feelings. Typically people struggling with their sexuality wouldn't commit rape or murder, but perhaps the abuse John suffered from his father affected the way he dealt with things. Maybe he needed to feel in control for once. As for his first victim, he likely acted in self-defence. To be fair, if someone was standing in his doorway holding a knife it wouldn't be completely out of the question to go into defence mode.
Another interesting thing to question is did John feel any empathy? A common trait amongst serial killers is that they lack empathy, hence why they're able to kill their victims and not feel bad about it. When John killed Timothy, he immediately felt guilt but this was quickly overwritten by a feeling of pleasure. It's also clear that he felt empathy in other aspects of his life. But as the killings went on, did he lose empathy each time? He didn't seem too bothered about getting divorced to his second wife so maybe overtime his ability to feel anything faded. After all, when he was interviewed while in prison he stated that he firmly believed he did nothing wrong.
In conclusion, John Wayne Gacy was confused man from an abusive childhood who dealt with his confusion in a way that devastated 33 families. He showed society that serial killers can just be the "friendly guy-next-door." In person, killers like John come across as average guys, even charming, not like predatory monsters. Perhaps this is why some people are so very afraid of clowns.
Source Material
Criminal Minds Wiki John Wayne Gacy
John Wayne Gacy: The Diabolical "Killer Clown"
The Clown That Killed: The Horrifying Legacy of John Wayne Gacy & The Supernatural Elements of His Crimes
guilty
Twenty-something based in Toronto. Lover of horror, true crime & pugs.