Review of 'Bosch: Legacy'
Even Better than Bosch!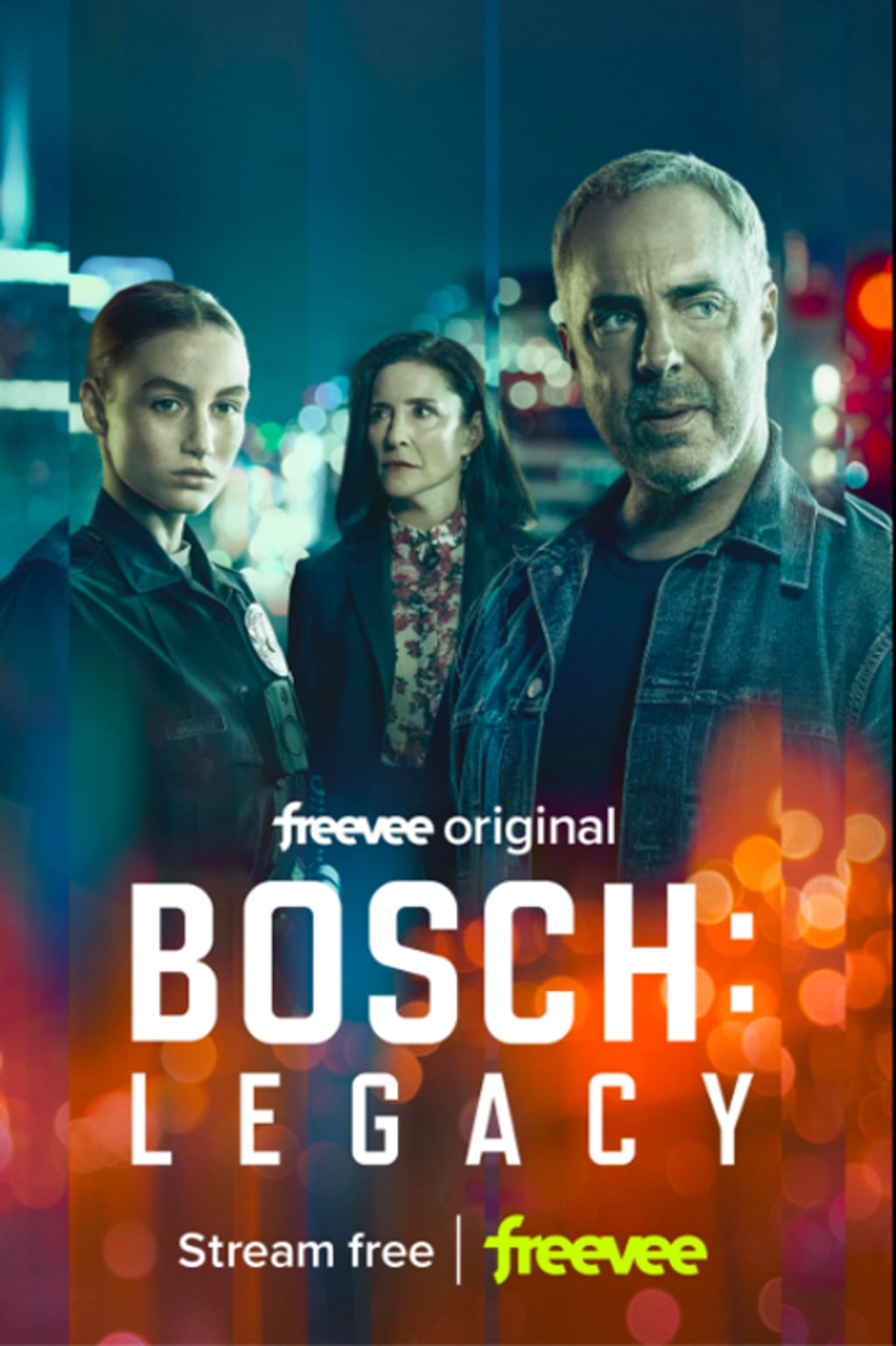 As you readers of my reviews may well recall, I said Bosch was the best cop show currently on television. I was therefore not too happy that it concluded, and I expected to be at least somewhat disappointed by its sequel Bosch: Legacy, which I just got around to watching on Amazon's new Freevee service (see a few paragraphs below for more of my thoughts about Freevee). But as to the new series itself: I was just the opposite from being disappointed. I thought the first season of Bosch: Legacy, which continues the story of Bosch, now a private detective, and his beloved daughter Maddie, now a rookie LA cop, was better even than Bosch. It was non-stop superb, with none of the dips and slowdowns that even the great original series occasionally fell victim to.
First and foremost, the acting in Bosch: Legacy was better than ever, connecting and hitting the mark in every scene, with Titus Welliver as Bosch, Madison Lintz as his daughter Maddie, and Mimi Rogers as the third central character, defense attorney Honey Chandler. And the stories were both more plentiful -- and, as always interweaving -- and by and large even better than what we saw in previous Bosch seasons.
Not only that, there were more surprises. In fact, there were nothing but unexpected twists and turns in the last few episodes.
[And, of course, spoilers follow, but here's a warning about them, anyway. ]
My favorite was the revelation that Ida (played by Kate Burton -- yes, Richard Burton's daughter) killed Whitney Vance (good to see William Devane back on the screen, if not in much action, in this role). The Russian assassin was handled well, and the Russians as bad guys rang especially true with what that monster Putin has been doing in Ukraine (which played no part in Bosch: Legacy, but I'm just saying). It used to be almost trite to see Russian villains on any TV or streaming screen. Now it has a grim realism and relevance, because we see those villains nightly in the news.
About the only thing I didn't like as much as in the original Bosch was the theme song. But, in all fairness, Caught a Ghost's "Can't Let Go" is a flat-out masterpiece and among the best theme songs ever sung at the beginning of a TV series. It's a fabulous, beautiful song, and it had a peerless arrangement in Bosch -- that high trumpet just tugged at your soul, and the vocal was haunting.
And I guess I would have liked to have seen a little more of Jerry Edgar, but Crate and Barrel did have a nice long cameo, spanning a good two episodes, rife with their inimitably lame mutual critiques and wisecracking.
But as long as I'm complaining, I will say that I consider Amazon Freevee a downgrade from Amazon Prime Video. Since I'm already paying for Prime Video, watching Bosch: Legacy on Prime would have cost me nothing. And I wouldn't have needed to waste any time on commercials. Freevee, which I had no choice but to watch if I wanted to see Bosch: Legacy, was indeed free, but it came packaged with lots of commercials. Here's my advice to Amazon: give your Prime Video people the option of watching anything that's on Freevee on Prime instead, with no commercials.
But ok, this offense is not big enough to warrant my calling in Harry Bosch to help remedy it. And I'm not really inclined to quibble, because what we did get is a Harry Bosch fully coming into his own as a human being and his daughter becoming a truly impressive adult.
Count me in for the next season.
tv review
About the author
Novels include The Silk Code & The Plot To Save Socrates; LPs Twice Upon A Rhyme & Welcome Up; nonfiction includes Fake News in Real Context, The Soft Edge, & Digital McLuhan translated into 15 languages. Details here. Prof, Fordham Univ.
Reader insights
Be the first to share your insights about this piece.
Add your insights