Lifetime Review: 'Am I a Serial Killer?'
A troubled teen's blood-soaked past comes back to haunt her in this tension-driven thriller.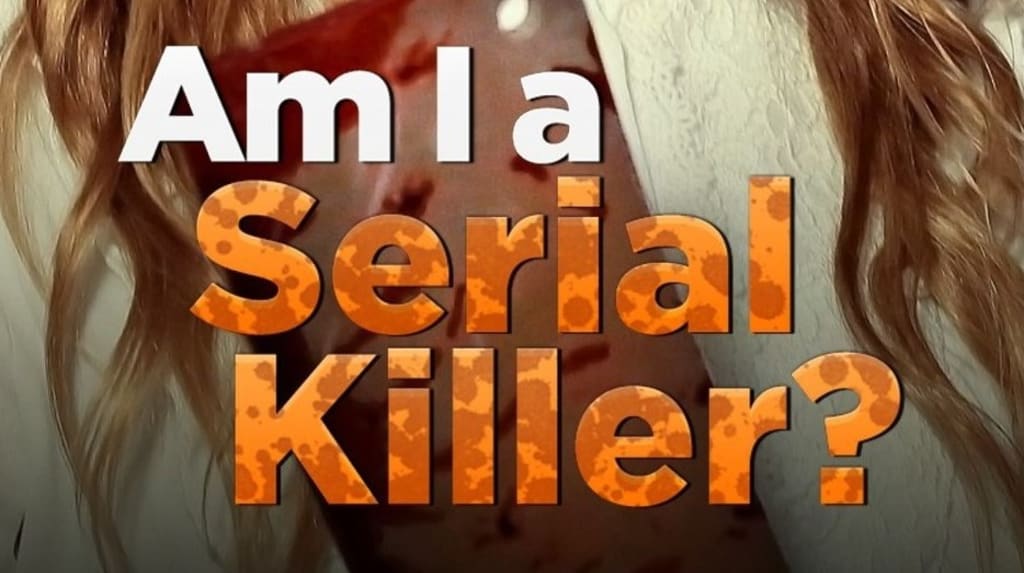 Even eight years after the fact, one night still haunts 18 year old Natalie Weaver (Monroe Cline): the night her mother Annie (Crystal Allen) was arrested for the savage murders of Lucy and Frank Miller, a couple who had been boarding with the Weavers—and was ultimately sentenced to death row after Natalie testified against her in court. Now as a teenager, Natalie not only deals with being harassed by her classmates for being the daughter of a convicted killer, but is suffering from nightmares and bouts of sleepwalking with her mother's execution quickly approaching.
Under the advice of her therapist Dr. Welk (Andrew Lauer), Natalie decides to get closure on her troubled past by visiting her mother in prison, where Annie's cryptic statements regarding the eight year old murders putting doubt in Natalie's mind as to whether or not her mother truly is guilty. Despite her aunt Caroline (Jhey Castles) insisting that Annie is not to be trusted, Natalie's doubts persist—and are intensified when murder once again strikes the town. What secrets will Natalie's search for the truth unveil?
In another bout of Reviewer's Synergy, I decided to prepare for Monroe Cline's second Lifetime premiere, Smuggling in Suburbia, by reviewing her first time starring in a Lifetime thriller. From her introductory scene of being found by her aunt after sleepwalking in the midst of having a nightmare about the fateful night that uprooted her life, Cline proves herself fully capable of headlining this film. As Natalie, Cline gives her all to portraying the teen's continued struggles to reconcile her mother's actions and impending execution, on top of her mental health struggles and the harassment she faces at school. As the film progresses and Natalie finds herself questioning her own sanity, Cline doubles down on her portrayal, bringing tearjerking realism to her portrayal of a scared and vulnerable young girl.
WARNING: Spoilers Below
Regarding her mother, however, I can easily see some people having trouble sympathizing with Natalie for disbelieving Caroline's well-informed warnings not to trust Annie--especially given how Annie's true nature is revealed early in the third act before the climax shows just how sick she is. But thanks to Cline's performance, Natalie never loses sympathy due to trusting Annie against all reason. As we see Natalie's warped memory lead her into believing she was the true killer from eight years prior, you can see Natalie harboring guilt over believing she was a psychotic killer who had sent her mother to prison for something she hadn't done. Compound that with what a capable manipulator Annie is and how in desperate need of a mother's love Natalie is, and it becomes tragically understandable how the vulnerable girls falls victim to her mother's evil scheme.
Crystal Allen, meanwhile, brings her all to the ultra-manipulative sociopath that is Annie Weaver. After playing a somewhat routine villainess in The Stalker Club, Am I a Serial Killer? gives Allen a significantly darker role to take on. Every scene of Annie in prison, particular the ones in which she is with Natalie, has Allen delivering so strongly in Annie's false sincerity that even the viewer might be tempted to believe her. Allen truly shines, however, when Annie's true colors are revealed, taking on her vengeful and psychotic nature with ease. The reveal might not be a surprise to well-versed viewers (or people who have seen the spoilery IMDB description), but Allen and Cline play well off each other to where it creates a different kind of tension as the viewer waits to see when the truth will come out.
Spoilers Over
In side performances, Jhey Castles is strong as Natalie's aunt Caroline, bringing a fierceness to her attempts to protect her troubled niece and playing well off Cline in their complicated dynamic. Brady Richards is charming as Natalie's adorkable friend Geoff, and James C. Burns brings vigor to his brief role as retired police captain John Matthews, who joins Caroline in trying to warn Natalie not to trust Annie. McKinley Blehm also appears as the 10 year old Natalie, with Blehm giving a poignant performance as the traumatized girl, with one scene of hers involving drawings becoming particularly sad and unsettling once the big reveal is made. The side cast also helps to bolster Am I a Serial Killer's mystery aspect, allowing for a good handful of suspects to emerge that allows for a bit of speculation on the part of the viewer (though as mentioned in the Spoilered section, the truth becomes mostly clear by the beginning of the third act).
There are a few minor flaws to be found in the film, though. Personally, I wish John Matthews' implied past with Annie was elaborated on more. SPOILER ALERT On a less nitpicky part, while Andrew Lauer does well as Dr. Welk throughout most of the film, his performance following his reveal as Annie's lover and the true killer came across as a wooden—though whether this is a result of Lauer's performance or the stale villain dialogue (the most egregious example being along the lines of, "She made the plan....and I executed it!") is up for debate. Spoilers Over
As a whole, however, Am I a Serial Killer? is a strong Lifetime thriller, with a dark mystery and strong casting allowing for tension to develop for even those who see the twists coming ahead of time. And now, having seen Monroe Cline's acting prowess on display, I have high hopes for seeing what she brings to the table for Smuggling in Suburbia.
Score: 9 out of 10 cleavers.