Hidden First Date Part II
The hunt become the hunted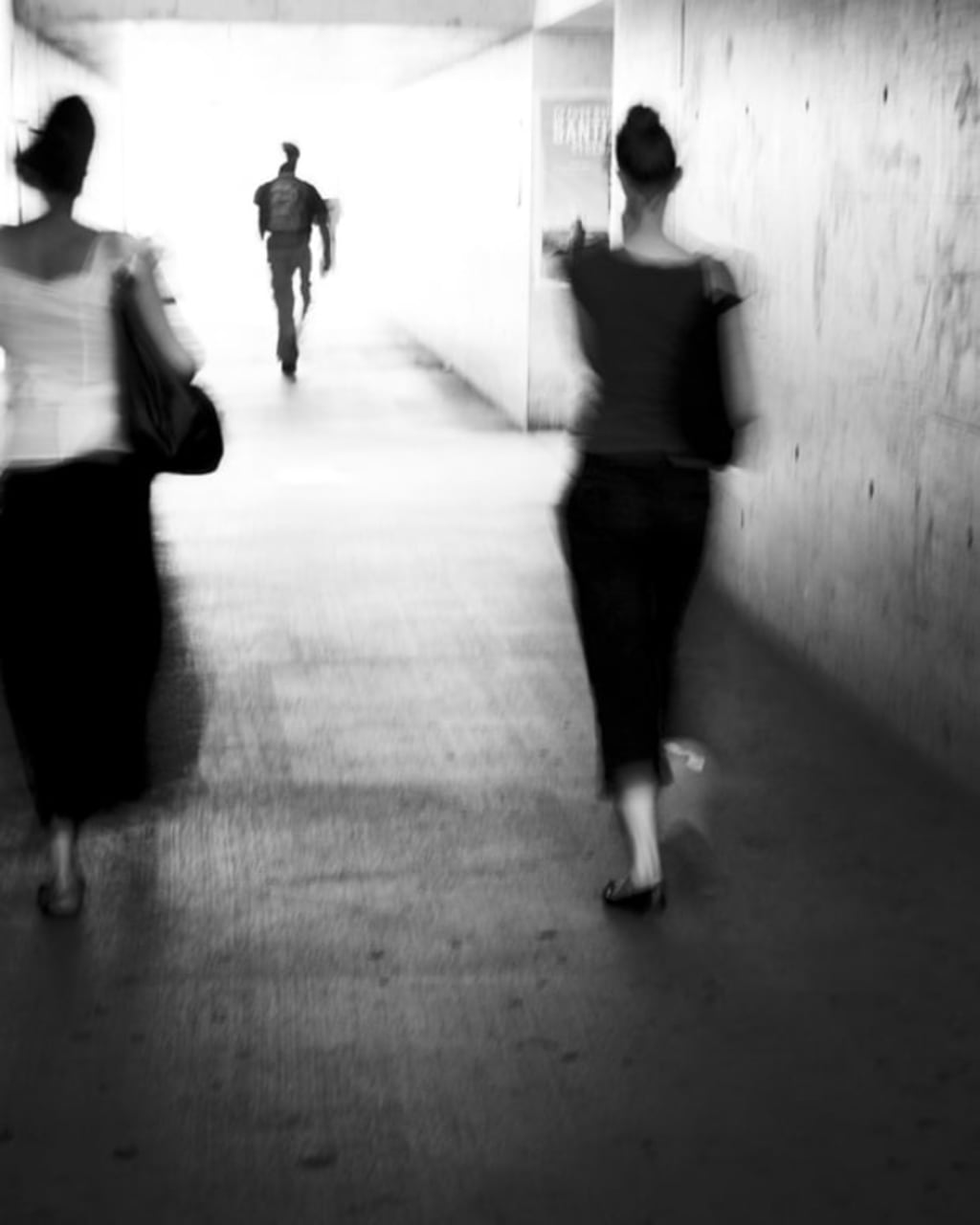 https://images.app.goo.gl/MdQ3oWQu4SE5cbnv7
Elizabeth Taylor; No not the world-famous star and renowned actress, the over 30's, best legs this side of the Thames, Merlot loving queen that happens to be a private investigator and the best one in town.
After a night of watching Mr Grant get slightly tipsy and very flirty, my colleague and friend between the sheets Miss Felicia Gold decides to come in and take over with her pearly blues and a mini dress.
"Right, time to get the intel Miss Gold, and this time, do you think you could let me swoop in like we originally planned?"
"Well, he's already flirted with me now Liz, he's not going to flirt with you too."
"Do you want a bet?"
I hitch up my skirt another inch and make my way back into the bar. Our handsome friend Mr Grant is still laughing at the bar. He's unbuttoned his shirt a little more and ordered a bottle of Duckhorn. It seems the man is after my heart and he is yet to know it.
Approaching quickly, I leave Felicia in the ladies room, she'll no doubt join soon so I have to work fast. We always have a little bet between us when we are gathering intel on the rich and handsome men. Which one of us can bed him first and which one will soon follow?
Of course, it's not a professional move, but, when you work for yourself you have no boss to flag you or send you to HR when shit hits the fan. Lucky us.
I approach the bar and quickly reach across, moneymakers out and a flash of the lady's leg and I see his eyes instantly fall on me.
"Like what you see?" I ask him with a smirk.
He coughs uncomfortably and slightly embarrassed, but, he musters enough confidence to nervously reply.
"Who wouldn't?"
A simple response but I ask myself the same question every time I check my winners in the mirror. I laugh and give him a wink.
"I'll have a glass of that Merlot then as I have now gotten your attention."
He doesn't hesitate and pours me a tall glass, the biggest glass.
Our glasses clink and I watch him undress me with his eyes. This job is going to be far too easy.
After a couple of minutes of basic chit chat and mellow humour, I see Felicia leave the ladies. She takes her seat at the bar where I sat checking out my earlier prey. She begins to watch and taps her watch. I know that move.
I down my Merlot and waste no time in asking Mr Grant a question I already know the answer to.
"So, do you live close?"
"Yes" He responds, "I live not far from here, well I say live, I'm in the middle of designing my forever home so I'm renting the Royal Penthouse Suite at the Corinthia Hotel. Do you know it?"
I smirk and act unaware but know it? Of course, I know it. The Corinthia Hotel is a beautiful and lavish hotel near Londons Westminster. The penthouse is designed over two stories and measures a little shy of 700-sq-ft, with views over the London skyline.
You can probably tell I have done my research. Well, that's the job and I am very thorough. Never the less, I give an unknowing reply.
"I've heard of it but I've never seen it. Show me?"
He pauses for a second. I can see him working every part of me out but his sense of judgement of a good figure is not as good as his sense of judgement with the number kind it seems.
"Of course. Shall we leave now?"
I answer by picking up my bag and gesturing towards the door.
As Mr Grant begins to leave, I give a quick turn and nod to Felicia. She tuts with a smile. She'll be joining us soon.
We flag a taxi and make our way to The Corinthia. The journey only takes around 20 minutes and my hand is firmly on his crotch the majority of the way.
We pull up and it looks a little bit more magical at night. I need to keep my head in the game of course. I exit the taxi, straighten my skirt and allow Mr Grant to escort me to the lift.
It feels like the journey up is taking forever but as the elevator 'dings' I feel a sense of anxiety. No anxiety may be going too far. Nervous maybe. But why? I blame the Duckhorn, I've done a thousand of these jobs and then some. This one is easy.
Entering the room I am firmly swept off my feet. Sparkling chandeliers hang from every room. A golden glow fills the room with beautiful dim lighting and the rich gold and marble decor fills every inch of the suite. No wonder it's called The Royal Penthouse. I felt like a queen tonight.
Two minutes in and I'm already being handed a glass of Merlot.
"Duckhorn Miss Taylor"
"Why thank you Mr Grant You seem to know what I li..."
Hang on. At any point tonight I do not remember giving him my name? I mean, I've had a few to drink but I'm switched on enough to know at least that much.
"What? You think you're the only one who knows how to research?"
"Elizabeth Grace Louise Taylor, former model and travelling connoisseur with an eye for Couture and a taste for fine wine. Favourite destination Monaco and lover of both sexes. Am I close?"
My jaw slightly drops. Am I being double played? How does he know who I am? Feeling a little anxious I take a sip of my Merlot and simply listen. I am speechless.
"35 in the spring, parents both deceased, never married and no love for children. Legs that are enough to kill any man and the cherry on top...A private investigator."
I look at him still unable to speak. I muscle up just enough strength to clear my throat and ask him,
"How?"
"Who do you think hired you?"
Well, that was a question I didn't even think over, I never ask the information of my clients, only the 'victim' for the hunt.
Usually, my clients stay anonymous for several reasons but never usually because the hunt is for them.
"Why on earth would you hire me to gather intel on yourself?"
"Well, just like you Miss Taylor, I like the hunt but I also like being the prey."
"So this is a game?"
It's a very expensive game. It seems Eli Grant has more money than he knows what to do with.
Just as I go to respond, my phone rings.
"Right on time." He smugly sighs.
"Excuse me?"
"Answer it, I'm sure she's waiting to join us."
Join us? Has he got Felicia figured out too? How long has he been watching us? I suppose if he knows about me then he might know about her too. After all, we often hunt together but we keep business separate and simply split our cases 50/50. After all, we're expensive, we can afford to.
"How do you know it's a her?" I play dumb and stupidly ask.
"Miss Gold?"
My mouth noticeably drops. What is going on?
"Who do you think hired me?" He asks.
With that, the suite door opens and Felicia walks in and begins to talk,
"It's about time Liz, we've been waiting for this for a long time."
Is this a double or a triple play? I cannot understand the events that have led to this moment but as I begin to ask, I start to feel a little uneasy.
"What, what have you done to my drink?"
"Shh, shh Miss Taylor, just relax."
The last words I hear from Eli before I fall onto the golden furniture and spark out with the image of Felicia laughing menacingly over me.
Thank you for reading Hidden First Date Part II. Part III will be added shortly but in the meantime, if you liked this one, I would appreciate the love and maybe even a tip if you're feeling extra generous.
Your engagement is what keeps me going and I appreciate every view I get. Thank you for all of your support and for helping me grow as a writer and as a person.

Kayleigh Taylor
Kayleigh Taylor is an award winning poet and published author with a love for writing the raw reality of topics including sex, parenthood and politics.
Kayleigh enjoys literature, music and creating items which she sells on her Etsy store.
See all posts by Kayleigh Taylor →