Andrew Cunanan
The Guy Who Killed Versace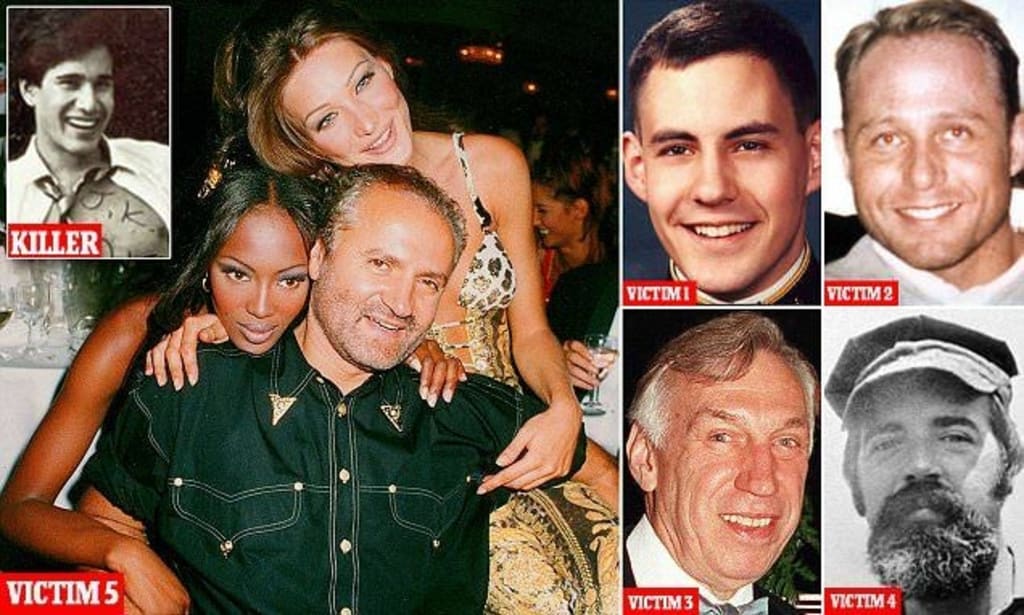 So this story is so creepy and crazy. If you haven't heard this story or you haven't heard of Andrew buckle up it gets weird fast.
Andrew Phillip Cunanan was born in August 31, 1969 in California. His dad deserted his family and moved to the Philippines to evade arrest for embezzlement in 1981. When Andrew was a teenager he was known as a prolific liar, which continued when he was an adult. He made his money mainly befriending older gay men and being an escort. He also showed an interest in making violent porn; it was never stated if he made any money off making porn though.
In 1996—a year before the murders—a wealthy man Andrew was involved with named Norm ended things. Since Andrew was now on his own he maxed out his credit cards, sold drugs, and started using drugs.
When Andrew made the trip from San Diego to Minneapolis on April 25th to visit his friend and former lover David Madson and their mutual friend Jeff Trail the relationship between Jeff and Andrew was very strained. Jeff and David both saw that Andrew was lying and that there was something wrong. They decided to put up with him because they thought maybe the visit would be short.
Two days after Andrew arrived to Minneapolis he killed Jeff by beating him with a claw hammer, and he rolled Jeff up in a rug. He left Jeff in David's apartment. Some reports or depictions of what happened said that the attacked stemmed from a fight, others say it was a blitz attack. After the murder Andrew fled with David, but on May 3rd David's body was found in the shore of Rush Lake with a gunshot wound to his back and head. The police believe Andrew got the gun from Jeff's apartment or home.
Andrew drove to Chicago and killed Lee Miglin on May 4th. Andrew bound Lee's hands and feet, covered Lee's face with duct tape, stabbed him 20 times with a screwdriver then cut his throat open with a hacksaw. After this murder Andrew became 449th on the FBI most wanted list. Andrew had stolen Lee's car, but then five days later he killed William Reese to steal his car. The man hunt was so focused on the red truck Andrew could hide in plain sight in Miami for two months, he even used his own name while pawning items.
On July 15, Andrew shot Gianni Versace twice on the steps of Gianni's mansion. There was a witness who chased Andrew, but was unsuccessful in catching up with him. Police found the stolen truck Andrew was using in a nearby parking garage. In the truck they found Andrew's clothes, his passport and clippings from newspapers of the other murders Andrew committed.
On July 23, Andrew was found in a upstairs bedroom of a houseboat dead from a self inflicted gunshot wound. The police don't know why he did all of this. There was a theory about Andrew being HIV positive, but that was later debunked. We know he killed William for his car, but the rest are a mystery.
My theory is that he felt he was wronged by whoever he killed. With the murder of Lee I think he wanted to out him as being gay or bisexual. Maybe it was a form of self hatred. It is also believed that he was jealous of people or mad that he didn't have what others have. It could be just as simple as he just wanted to be famous.
I hope these posts interest you. I know they are twisted, but I think that's why people like or find this type of stuff fascinating.