Small Time Charlies
How we raked in cash as kids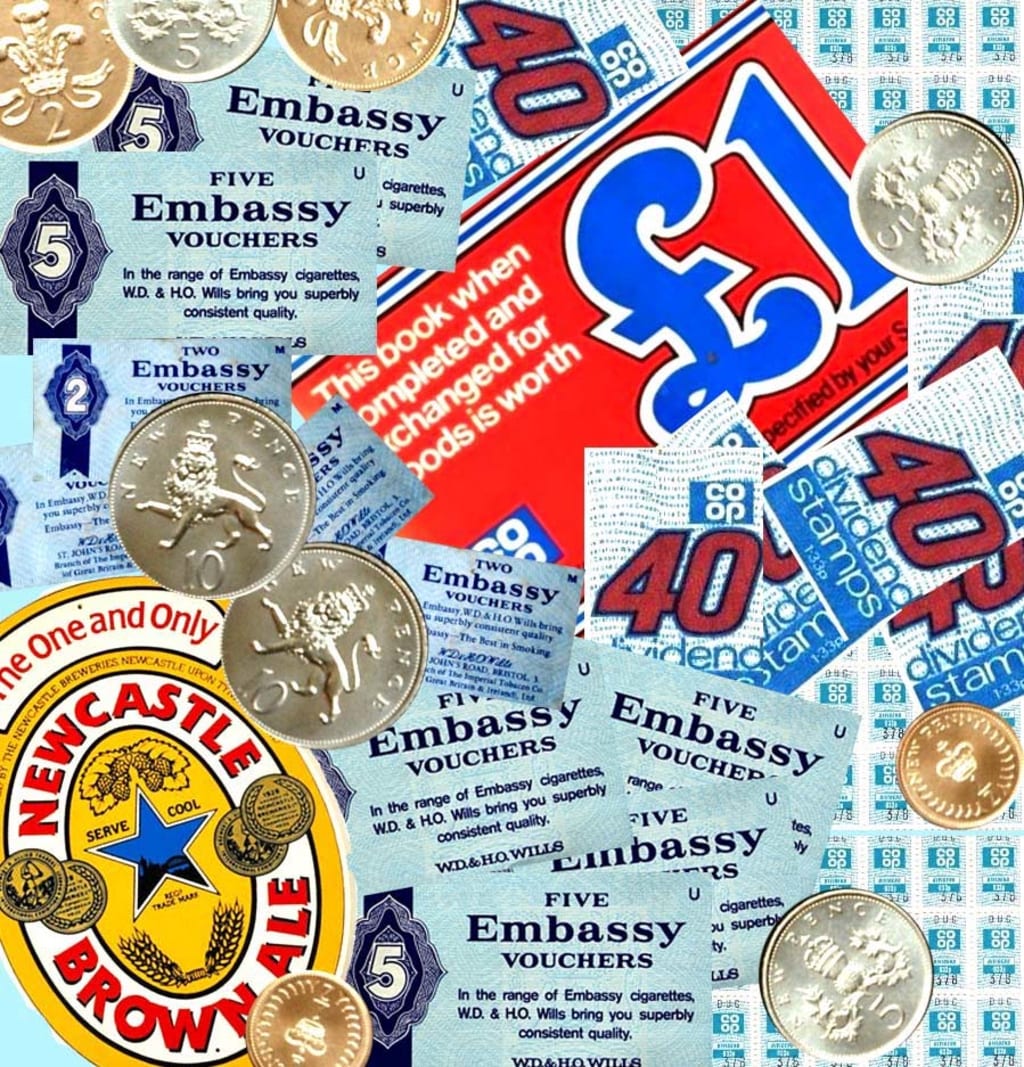 Money, money, money (My own image)
When I reached my teens, and I began to live a more independent life, the need for money would crop up more often than it had in my pre-teen days. While I could usually turn to my parents for everyday expenses, such as youth club subscriptions or money for the cinema, the odd cash injection was sometimes called for, particularly when I took up smoking.
Times were quite hard back then, but there were various ways my enterprising confederates and I could rustle up small amounts of hard cash when needed. Here are some of the ways we produced doh-ray-me, as easy as ABC.
Embassy Coupons
Both of my parents were smokers. In our kitchen there was a drawer that was packed with that strange blue currency, Embassy coupons (they were officially called vouchers). One coupon was to be found inside each packet of Embassy cigarettes, and in my time they came in two denominations: a two coupon in packets of ten, and a five coupon in twenties. There was also a six coupon at some point, but this must have come along after I had ceased trading in this commodity.
The idea was that smokers would collect these vouchers and redeem them for goods that were available via a glossy catalogue. 1,950 coupons would get you an aliminium roof rack for your car, a new washing machine would set you back 49,000 coupons, but the jewel in the nicotine-dulled crown was that icon of the swinging sixties, an Austin Mini Moke, which could be had for 195,000 coupons.
You could actually smoke your way to a brand new car with a mere 78,000 cigarettes. Indeed, I remember an excellent Giles cartoon from my childhood, in which the entire family, including children and pets, were puffing their way through packs of cigarettes, determined to claim a Mini Moke before the vouchers were discontinued.
My parents weren't saving these coupons for anything, so when I heard that there were people around who actually paid hard cash for them, I started a rummage that would drastically deplete their stock.
There was a couple across the road from my friend, Mark, who paid 15 pence per hundred. This wasn't a bad rate when you consider that ten cigarettes back then cost about 10 pence. There was a back-up buyer in the form of Charlie, owner of a shop that bore his name, but he paid a comparatively paltry 12 ½ pence per 100, and so he was only used as a last resort.
One day, when I was fourteen or so, a small gang of us were going to the Spanish City funfair in Whitley Bay (as mentioned in the Dire Straits song, Tunnel of Love). I had enough money to get by, but I counted out two hundred coupons just to give me a cash boost in case I fancied an extra shot on the pinball or a bag of chips, or whatever.
I first went to the highest bidder across the road from my friend, but my knocking went unanswered; they were both at work. I was somewhat dejected at having to take my haul to the less well paying Charlie, but twenty-five pence back then would get me a hot dog to eat, and a go on the waltzer to throw it back up.
This mini bureau de change was a godsend on several occasions.
Co-op Dividend Stamps
Again, there was a drawer in the kitchen full of these light blue lickable lovelies. Co-op dividend stamps were issued at the checkout at the rate of one stamp for every 5p spent I believe. A completed book, which consisted of 20 pages, was worth £1.00 in goods, and the purchase of tobacco products was allowed.
There was a Co-op close to our house, and so we built up a fair old stockpile of dividend stamps, but I couldn't go to this particular well, as my mother cashed these in herself. However, in need of some cigarettes one day, I picked up a stamp book from the Co-op, and went about the unpleasant task of filling it.
Licking the backs of the damn things was a chore, but relief came in the form of large stamps with a value of 40 — only one stamp per page. There were quite a few of those in the drawer, but I didn't dare take more than a few in case they were missed. With 40 individual stamps per page, it took a lot of licking to fill the book.
It was early on a Friday evening when I nervously handed over my full book at the Co-op. I came out of the store with a twenty pack of Embassy Regal in my jeans pocket, and a carrier bag full of crisps and chocolate bars. I also bought an ice lolly, so that I could use the stick to pry my glued tongue from the roof of my mouth.
Empties
Before the coming of plastic containers that can withstand the pressure of fizzy liquid, a deposit was charged on glass bottles of pop and beer to encourage customers to return them.
This source of cash came in handy one day when I was a fresh-faced youth working on a sun-baked building site. During the lunch break, my fellow parched labourer, Den, and I rummaged in the back of the van and the workmens' cabins for empty pop bottles.
We pulled out a good few, and took our haul to the local shop where we exchanged our empties for a full bottle. We even had enough left over for a packet of crisps each. This extravagance proved costly, however, as Den had first drink of the pop, and when he handed it to me there was a mouthful of crisps floating on the surface. As parched as I was, I passed.
I experienced a happier outcome at a pub near me that was run by a particularly surly landlord. The front of the building housed a small off-sales section, where all manner of sweets were on display behind a glass counter. As kids, we would 'return' empty brown ale bottles that we found lying about — whether they had originally been bought at that establishment or not.
Of course, such robbery was soon detected by the miserable mein host, and so he started stamping the name of the pub onto the labels. We got round this particular problem by hopping over a wall into the back yard of the pub, taking empty bottles from their crates, and handing them straight back, via the off-sales, all stamped up and legit. I swear that confectionary bought in this manner, at the grouchy landlord's expense, tasted sweeter than usual.
Petty acts such as these were hardly the ingredients required to forge an upright citizen, but nor were they going to turn me into Tony Soprano. And while I was gluing up my tongue licking Co-op stamps, other youths on the estate were planning burglaries and stealing cars for kicks. My own money-making schemes may have appeared small time in comparison, but looking back, I'm glad they were.