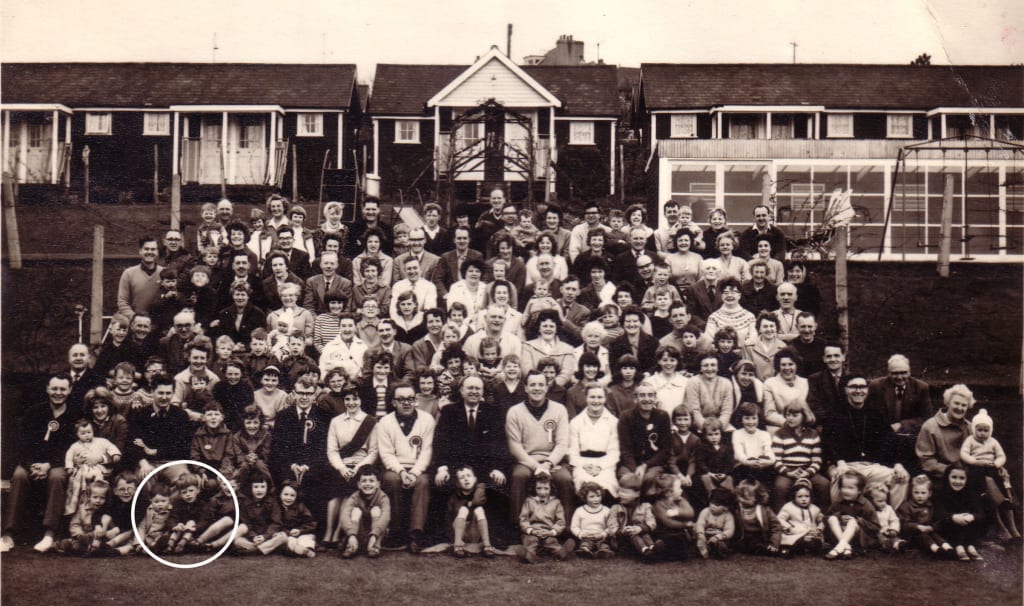 The gang's all here — me circled (My own photo)
For three summers, my family and I took our annual holiday in a camp at Cayton Bay, near Scarborough in North Yorkshire. This was a proper Hi De Hi place, from its bing-bong tannoy announcement that breakfast was being served in the dining hall, to the chorus of Goodnight Campers at the end of the night.
As a seven-year-old, I loved the holiday camp experience, not least because I was allowed to go out exploring on my own, providing I didn't stray too far from our chalet. You could find me splashing about in the bright blue paddling pool, bouncing on the trampoline, or watching older boys play snooker, taking shots with cigarettes hanging from their lips.
I befriended a boy of a similar age, called Keith, and we went around together, squirting all and sundry with our plastic water pistols. I thought I was the coolest kid on the block when I squirted water into my own mouth to quench my thirst, despite the water being warm, and tainted with the unpleasant taste of plastic.
Fancy Dress Competition
One day, my dad got his eye on a poster that announced a grand fancy dress competition for children, and he immediately made plans for my participation - whether I liked it or not.
On the day of the competition, a Saturday as I recall, I was to be got-up in the manner of an Arabian sheik, a sort of pre-pubescent Rudolph Valentino. I liked the idea, but when I saw my costume laid out on the bed, I recoiled and went into a full-on, arms folded, lips pouting strop, because there were women's clothing items there. It took a lot of cajoling and sweet talking to bring me round, but, with the competition about to start, I got into my get-up.
Of course, these days ready made fancy dress costumes are widely available, and you can dress up as pretty much anything, from a Silent Hill nurse, to Boris Johnson. In my early years, fancy dress costumes were more hands-on affairs, as can be seen from my own effort.
Fry's Turkish Delight
I wore my usual black plimsolls, and a pair of loose-fitting ladies' trousers with a high waistband. Then a light coloured, no other word will do, blouse, with frills around the collar and cuffs. I had long strings of beads around my neck, and a turban-like headdress (a disguised hat) on my head. A chain was wrapped around the headdress, and from this there hung a large plastic gemstone, which dangled in the vicinity of my forehead.
My dad decided on the finishing touch, which was a sheet of card, perhaps one side of a cereal box, which bore the legend, in large elaborate letters, Fry's Turkish Delight. This was a reference to a popular brand of chocolate bar, the TV ads for which were in the style of the aforementioned Rudolph Valentino's classic film, The Sheik. I was all set.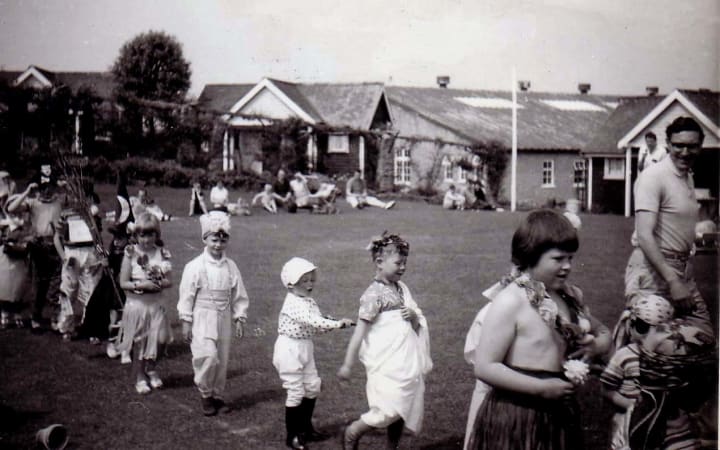 According to photographic evidence in my possession (see above), the entrants comprised two pirates, two Hawaiians in grass skirts (one male, one female), a jockey, a witch, a Roman emperor, and an assortment of others whose costumes are obscured. I can't help but think that the Roman emperor's parents had come unprepared for the competition, but their son insisted he would like to participate. And so, with a toga fashioned from a bed sheet, and a laurel wreath made of clippings from a privet hedge, Nero took his place in the procession.
After parading around, I waited with my family until the results were announced. I was pleasantly surprised to learn that I had taken first prize, which was a five shilling (25p) voucher to be spent in the camp store.
My Misstep at the Presentation
Back on the field, the contestants' names were called out and they went to collect their prizes. I noticed that they all gave a bow before turning and walking away. Finally, my own name was announced, and I marched up to the small table where my prize awaited. It was handed to me by the camp entertainment manager, who was known as Sporty (he's the guy on the right in the photo). He handed me my voucher, and shook my hand. Then, of all the horrors, I curtseyed. Yes, curtseyed. I blamed it on the women's clothing I was wearing.
In a state of utter aghastness, I hurried back to my parents, aware of the giggling of some who were watching. When I got back, my older brother showed his sympathetic side by laughing at my faux pas. Of course, at that young age, embarrassing incidents appear greatly magnified, so I was quite upset.
But, I got over it, and I went to the camp store, where I took ownership of a plastic, friction-motor London black cab. They wouldn't let me have ten Woodbines.
Reader insights
Be the first to share your insights about this piece.
Add your insights