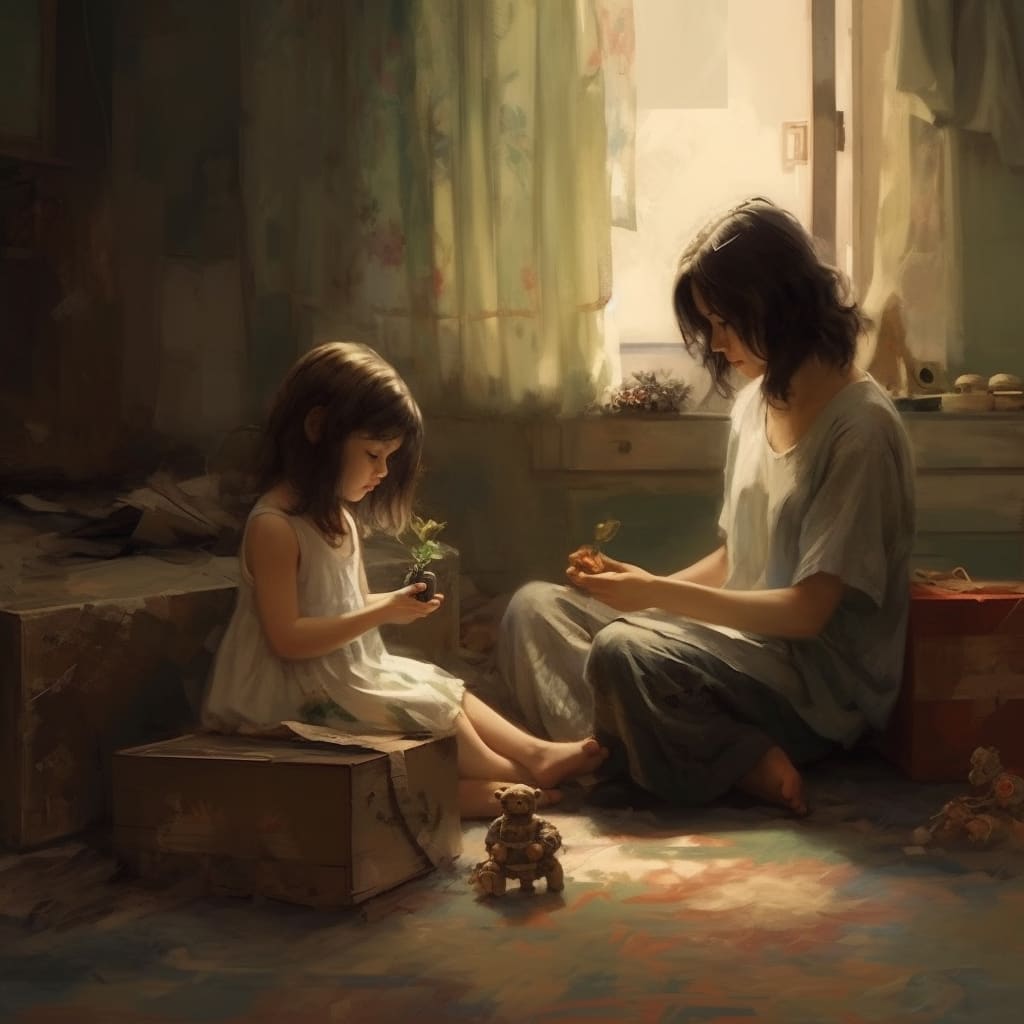 Courtesy of Midjourney.
Written in 2019.
I feel guilty I do not remember as much about my little sister Itzel's childhood as I do our other sister, Chelsey. Maybe it is because her childhood is still ongoing or because I was lumped with Chelsey all the time, despite her only being five years older. All three of us are closer than a lot of sisters. I talk more about Chelsey; I share more with Chelsey. Of course, she is nearly sixteen and Itzel is eleven, while I am twenty-five. Chelsey and I remember the harsher moments of our childhoods, working hard to protect Itzel from such gruesome matters. It made us good sisters, it made us close, but it also tore me apart from Itzel.
I moved into the dorms when Itzel was four, which accounts for a lot of things; I was in school all week, only going back home for the occasional weekend, until I had the type of roommate that made me want to go home on weekends. I could not drive, so I never visited unless my parents could pick me up first. I had fifteen hours in class on average (though sometimes that went up to eighteen) and worked fifteen hours a week. Then I had to study, attend therapy, and join a school sanctioned club as part of the healing process. We lost out on valuable bonding time, especially since back then I did not understand the importance of the family in my life, needing my own space to work things out, to fix my mental state. There was also the fact that I did not want to fight with my parents anymore.
There is one memory I have of Itzel that was just her and me. That was always an issue; it always had to be the three of us and as her second mother, she craved attention from me, wanted to spend time by herself with me. She was my second child; I understood that as I had wanted attention from our parents when they came along, as I sometimes wanted it from them as well. Unfortunately, because we were sisters, we were expected to share everything: clothes, books, food. My dad once yelled at me to share a personal pizza from my job at the movie theater, though I was hungry and had not eaten all day. We shared everything. We had to. Still, we wanted something of our own.
It was a weekday. Chelsey was in school and I had the morning off. I worked at the movie theater and it was the last week the Lorax was going to play in the cinema. It would be gone by the weekend. It was down to one showing at ten a.m. in the morning, catering to toddlers and grandmothers. Chelsey was in school, but Itzel was still too young to be there. So, I took her to watch the Lorax. I sat with her in the nearly empty theater, let her pick where we sat, even gave her a booster chair, which made her feel tall.
I kept her from squirming for most of the movie. She enjoyed it, as did I. Chelsey never did get to see the movie while in theaters, Itzel and I discussed it at home, by ourselves. Whenever I see the Lorax, I think of that day. It was one of the many movies I watched while working that job, but that movie with Itzel has stayed a special memory. It was not the movie itself, though it was good. It was the fact that for a moment, we both had a moment to spend together, a moment that was just ours.
Reader insights
Be the first to share your insights about this piece.
Add your insights