I am cringe
But I am free?
Disclaimer: I slapped a CW on here just in case, but I don't think it's too intense, just a lot of talk about general anxiety/embarrassment. But just a heads up if that's something you struggle with to a point you don't want to read about it.
I heard the saying from a meme. No I don't know who made it first. I try to adhere to a little etiquette surrounding memes but seriously how does one track down the OG source of a meme? I promise I tried, but this one is being sold on merch on Etsy, Redbubble, etc. and being used without credit in publications. They've made this a dozen ways with other animals, and people on it, I think the goat one is the best.
I digress before I even begin.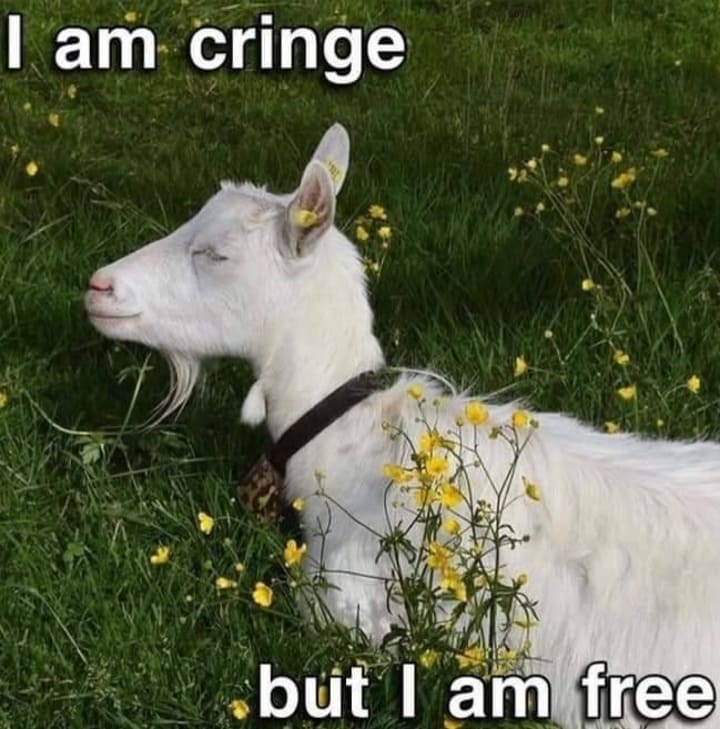 This is a meme I like. So much so that I printed it and slapped it on my corkboard above my desk. That's right, I printed a meme. I took a meme out of its natural habitat so I could look at it every day.
Why?
Because I am cringe.
Of all the words finding more regular use in the last decade I think I like cringe the most. It's the most accurate word for how I feel day-to-day.
I hate embarrassing myself. And yet I find that most of what I do that involves other people makes me feel embarrassed. I don't know why. Because I have anxiety? Don't we all?
Maybe because I'm an introvert who forces myself into extroverted situations? I don't know, but sometimes it feels like every damn thing I do is so embarrassing and probably everyone is judging me.
I make a mistake. Everyone probably hates me.
I say something weird. Everyone probably hates me.
I write something self exposing. Everyone probably hates me.
I'm writing this now. Everyone probably hates me.
And then my favorite intrusive thought when I am being self deprecating; everyone probably hates me for assuming that everyone hates me.
Even I read that back to myself and think girl, wtf.
But it's hard to run away from the intrusive thoughts and the constant self doubt when they've been your companion for so many years. I fight it everyday, but still find myself having an awkward moment, or reliving one from the past and cringing at my own cringe.
And then one day my friend sent me a meme. I am cringe, but I am free. With a cute little goat, who seems so unconcerned about being cringe.
It's a goat, I assume they are probably unconcerned with anything aside from being absolute terrors.
Sidebar: I love goats, but they are more aggressive than people give them credit for. I had a standoff with a goat who escaped his pen at an airbnb my husband and I stayed at a few years ago. He tried to charge me. I had to literally grab him by the horns and let him know I am not so easily intimidated by goats as I am by social interactions with humans. After that we were cool, and we vibed while I drank my coffee.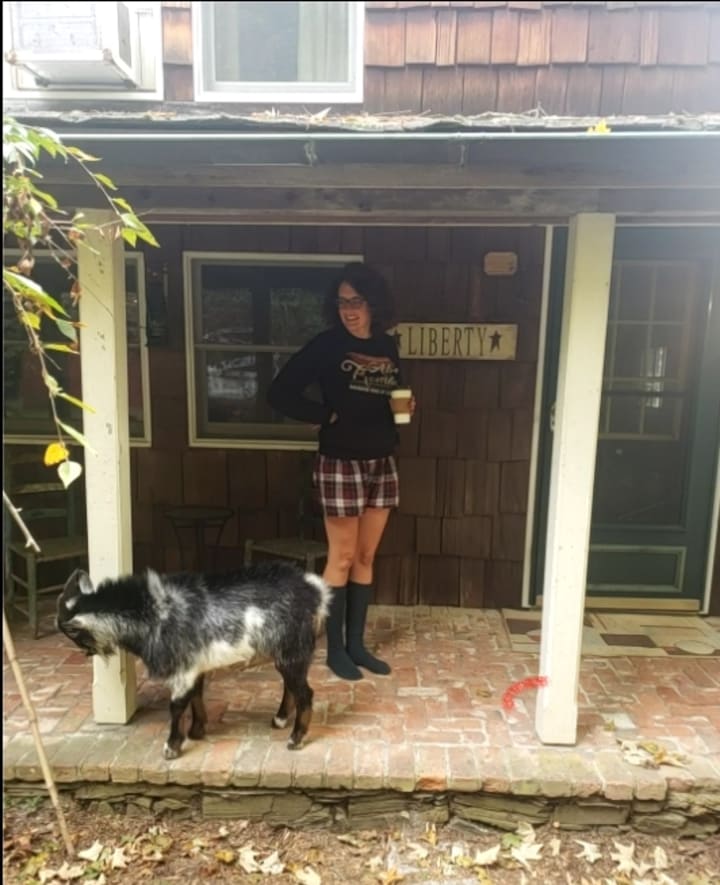 But back to the cringe thing. Do you feel cringe all the time too? I genuinely want to know. Or are you team "hell no! I am not resonating with any of this"?
Or did you at one point also feel cringe, and then got over it? If so, how?
Or do you just have an occasional cringe moment but otherwise you're fine?
Some days are better than others for me, but the fact remains that when I finally get the courage to do something publicly I still then have to fight the urge to hide under a rock.
I like to take random courses online as often as possible. I took one on marketing on Skillshare when I had a free trial. The course is literally called "Do things, tell people."
And it was like yeah, if you are trying to market something you must do the thing, and tell the people, but I was so stunned by how simple it really can be, and how difficult at the same time.
Do the thing. Sometimes that in and of itself is hard. But once you've pushed past that, well for me, that's when the cringe really starts to settle, because well now I am supposed to tell the people.
And I don't want to tell the people because as discussed above, what if they judge me?
I'm in this phase of life right now where I realize how much hiding has not been to my benefit so I'm trying to correct that by just doing all the things even if it's really cringy, but it's difficult, because to me, it really is cringy.
And day after day I'm doing more, I'm speaking up more, I'm meeting more people, so inevitably, I'm finding more and more situations in which to find myself embarrassed, and I'm trying to figure out how to deal with that.
I was in Trader Joe's the other day and the cashier just casually asked me how my weekend was.
Okay Ariel, be normal. "It was fine, how about yours?"
"Good. You didn't do anything interesting?"
So I open my mouth and out comes, "Well I had to get blood drawn and passed out, so not so much interesting, but probably entertaining for everyone else. You?"
Why the hell did I say that? The second it came out, wtf, why? Great job, now you are going to think about this all day.
Trader Joe's, home of the friendliest cashiers ever, he was nice about it, just laughed and said, "No I got to keep all my blood and I was conscious the whole time."
Nodding my head, "that's good."
Inside my head 👇🏼
Does this happen to anyone else? Do just regular interactions make you want to go home and never leave again?
Or in the digital space, get off the internet and become like your 94 year old grandmother who has never answered her cell phone in your entire life? (okay, that's probably specific to my grandmother)
I don't really even know where I'm going with this. I think I just wanted to put it out there. Fight the cringe by making myself be cringe once again.
See if anyone goes, "oh yeah, been there."
Or, you know, deal with the inevitable awkwardness if no one does. (No pressure)
I just need an occasional reminder that being cringe is okay. Maybe not to my sensitive little brain, but to the world in general.
I always say I have a thick skin which is kind of contradictory to this little rant, but when I say I have a thick skin what I mean to say is, other people aren't likely to offend me. But it's probably because I'm already so preoccupied with being afraid of being the one offending or making things awkward for them.
But I am free, despite being cringe, and that's why this little goat is there anytime I go near my computer desk.
Just a gentle reminder that if I can't resist the feeling of cringe, I can just know that my life and existence can go on despite the cringe. I am free, whilst also being cringe.
I can be cringe and still write this cringe little piece anyways. I can cringe about it later, but it doesn't have to stop me from living my life and saying the things I want to say, and telling the Trader Joe's employees about fainting over the weekend!
Okay, but not that last one. I just hate small talk and panic because I literally never have anything interesting to say that's appropriate, so I end up saying something inappropriate if even slightly pushed for information.
But maybe being cringe is being free. Maybe that is what the goat is trying to tell me. That feeling free enough to expose myself and my embarrassing moments, or even just living through a moment I found embarrassing is freedom. The freedom to just do the damn thing, and worry about the worry later.
So in a sense the goat is my spiritual leader of sorts on this quest to embrace my cringe and stop being so damn hard on myself anytime I'm kind of awkward.
He stands proud from his corner of my corkboard and reminds me that, YES ARIEL, YOU ARE EMBARRASSING YOURSELF.
And yet, you are free.
Or maybe it's just a meme 🤷🏻‍♀️
Reader insights
Outstanding
Excellent work. Looking forward to reading more!
Add your insights