Scary Halloween Makeup Ideas that will Ignite Your Spirit!
Unleash Your Inner Demons by Refashioning yourself on Halloween Eve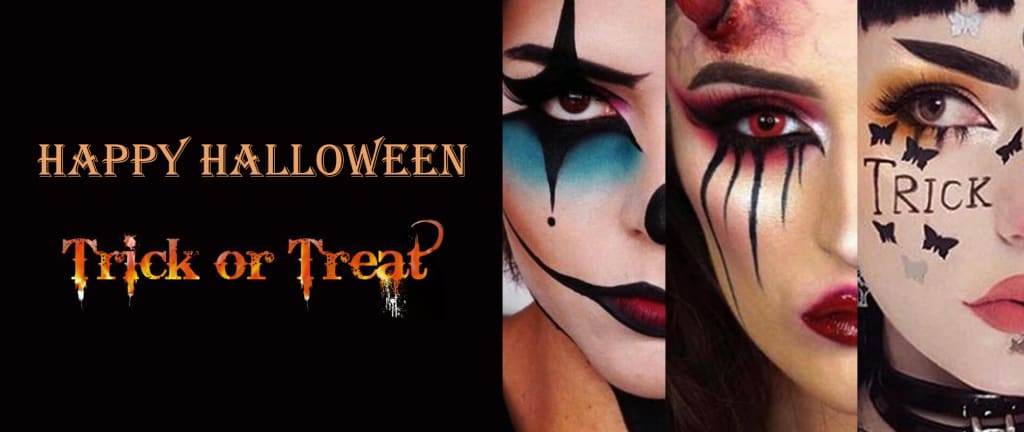 Halloween makeup is your expression, Halloween is on point when your getup is truly spooky! because terrifying makeup is made them look complete like spirits as the requirement of the day! You must join the special party on this day and browse for inspiring Halloween looks but you don't need to spend evey penny on your look shop wisely with Docolor Coupons and keep reading about new Halloween makeup, here I'm gonna share some amazing make look for this day! Let's get started with women's make looks.
Inspiring Makeup Looks for Women
Vampire Lady Makeup Look
If you really want to create a unique blood-thirsty vampire look for the party, then sclera lenses can give you a scary look, you are gonna look like a Vampire. To create this look you will have to need the following products:
• Sclera lenses
• Black eyeliner
• White based make
• Black and grey eye shadow
• Artificial blood
• Piercings is your choice not necessary
Harlequin Doll Look:
The transformation of the Harlequin doll is like the Halloween example. Your appearance will be simple and that will be helpful for your effective impression, now to create this look all you need is:
• Gold eyeliner
• Makeup fixing spray (for long-lasting makeup)
• Red Lipstick
• Lipstick makeup brush for eyes and lips
• Black lipstick
Sugar Skull Halloween Makeup Look:
The sugar skull makeup is kind of decent makeup that looks stunning and scary at the same time, this makeup doesn't need any costume to carry. This super amazing makeover with shadowy effects and your face will be your costume.
Required makeup products:
• Eye shadow (color of choice)
• Liquid eyeliner
• White lipstick
Scary Lady Spirit Look: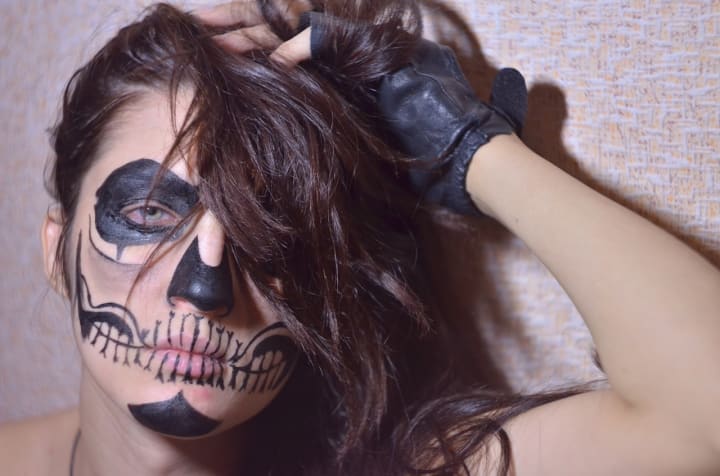 This makeover gives you a classic ghostly look, even timeless, and makes the people terrify, to create the look you don't need lots of makeup products. In fact, all needed products are available in your bathroom. In addition to you can add an effect of sclera lenses.
Products you need to create this look
Black lipstick
Black eye shadow
White based makeup
Brown eye shadow
Black eye shadow
Let's Talk about Men's Makeover Look:
Inspiring Scary Makeups Look for Men: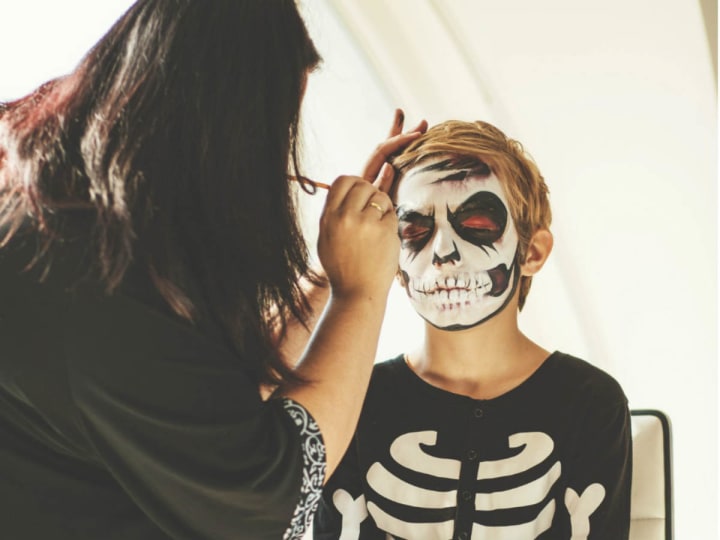 You can say it's a show time, where you can wear fancy clothing, and most importantly you need a cool makeover to complete your Halloween look. This makeover look is not only for men but also for kids. It is very rare men dislike makeup because in the market there're lots of looks & costumes available in the market to recreate a look without using makeup and if you're here find your Halloween part then, let's get started.
Skull Makeup Look:
• Firstly, apply white cream to the entire face, as well as on the lips.
• Put dark black around the areas of eye sockets & nose, make sure to lid the eyebrows.
• Starting the forehead with a spider's web from the center line, adding lines to the temples, and then pulling the arch in the middle to finish the web.
• Sketch the line across the lips to generate the skeletal teeth.
• Design fun designs and jewelry on the cheeks, chin, and jaw, including the scalloped edges around the eye sockets.
• Put the festive colors to give a finishing look (I suggest you fill with yellow and red colors) and fixed it with setting spray.
• Don't forget to wear Sclera lenses that play an important role to make you look terrified.
Sugar Skull Make Over:
• Let me tell you the right way to put this makeover on men's faces.
• To combat smoke, paint the waterline black before starting base make-up.
• Apply cream or base on the face including lips, entire eye area cover will be cover with black.
• Even to finish things off, stain with a natural marine sponge dipped in white. This will help to cover and merge the lines from the previous layers.
• Tip: Water-based makeup dries mats but can break down over time. Cream makeup requires more powdering and smokes more easily.
• Using a black liner, draw the line and give circle shape near to eye and sketch the diamond shape on the nose and fill up the space with black color.
• Use a flat brush to fill the shape, to keep the edges crisp make sure your hands were slow.
• Sketch a backline cheekbone sideburn through the corners of the mouth.
• To highlight the cupid's bow put black make in the lip.
• Paint the mustache.
• Use a thin brush, to define the outline of teeth.
• With a flat medium brush, paint the black cream make-up with the cheekbones & mix to create shadows from the hairline to the corners of the face.
• Detail the face with a tiny brush.
• Use a makeup cream eyeliner to highlight/prominent the eyes. Use red color to create a scalloped edge.
• Make web design spider started from the eyebrows & across to the hairline. And in the end-use fluffy brush and put shadow to the temples under the jawline.
Trendy Joker Makeup look:
• Normally this look can be created for both men and women. This look becomes more popular after accruing in movies. In every movie, the look transforms
• You will need several things to create this look.
• Firstly, you have white face paint then apply it all over the face even on lips.
• Lipstick in red and black shades to create black or red-eye holes
• Glue
• Make false Scars, or scares
• Tacky tape
• purple suit/ or whatever you want to carry/wear.
Choose your fav scary makeup and go for your desired look for Halloween night, these are some of the top makeup looks that make you look cool & modish according to the need of night.
Happy Halloween!