Most Expensive Makeup Palettes
Just how expensive can a makeup palette be? Well, take a look at these expensive makeup palettes to completely stun you.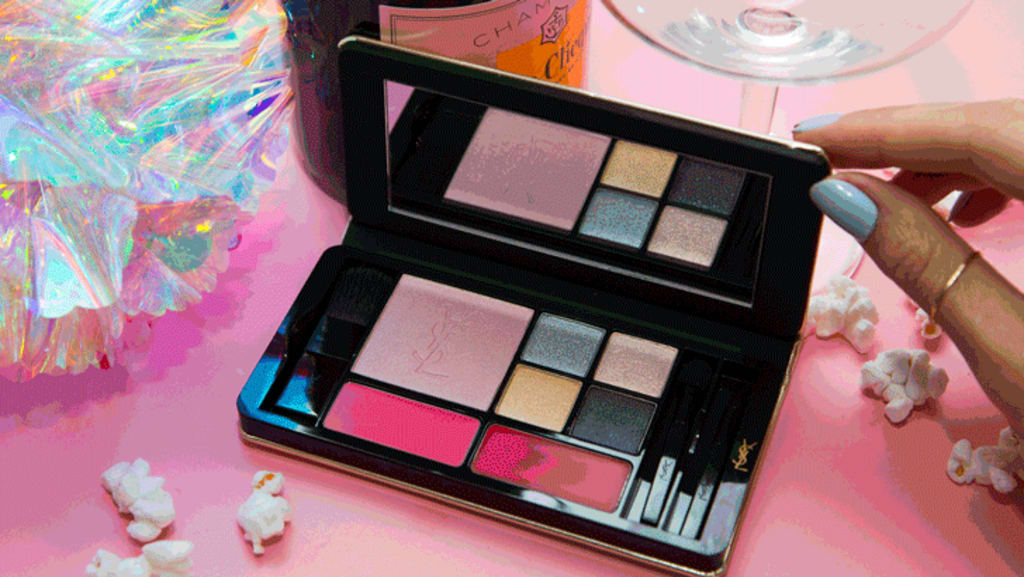 Us makeup lovers can appreciate a good palette, because they include a great variety of products. Whether it's an eyeshadow palette, contour palette, or a highlighter palette, palettes always feature more than three colors to play around with. And you can mix and match the colors on an eyeshadow palette to come up with tons of unique eye looks. For a contour palette, everything we need to contour comes in that one palette, which is so nifty! Even if we do get our hands on one highlighting palette... we need another one. Yes, there are different shades in the palette, but every palette sets a different color scheme. Which means we need all of the different color schemes.
Usually, makeup palettes are pretty pricy. But it's expected, because of how much they provide us within one product. And some of them come with fairly great deals considering they're offering us 50 eyeshadow shades for less than $50. However, if you thought $50 for a makeup palette was expensive... then you haven't seen these really expensive makeup palettes. While the majority of them feature a good amount of product to be considered a palette, they're pricy for a few reasons.
As for this $85 eye palette, it comes with just four stunning shades, but are in pretty large pans. All inspired by the lush and natural beauty of Virunga National Park in Africa, each shade is printed with the same look—a gorilla! But if you ask me, the pink shade looks more like a highlighter than an eyeshadow. Maybe add a dash of metallic pink to your cheeks?
The luxurious brand behind this interesting palette, Chantecaille, is a proud supporter of the Rainforest Alliance and this palette definitely sends awareness about what's going on to the endangered gorillas in Africa. All of their products contain pure, natural botanicals that are designed to nourish and revive the skin. So $85 for this palette? For what it stands for and the look of these shades, seems like a great price.
We all know how pricy Saint Laurent's products can be. Not only are you buying the name of the amazing designer, but their products are rich in formula and high in pigmentation. And as for their eyeshadow palette, you can say $95 for this is up there for prices. Think about it, 10 shade for $95—is it worth it to you? It's still definitely considered one of the expensive makeup palettes to other people.
Many people still buy Saint Laurent's products not more so for the name, but the quality and packaging. You've got to admit, Saint Laurent creates stunning packaging for the majority of their cosmetic products. But wait, it looks like that this palette gives off a beautiful scent within each shade called the Floral Shock. The fragrance comes with notes of coffee, gardenia, and bergamot, and whenever you open the palette, the delicious scent hit you right in the nose. For the shades, you can easily pull off gorgeous smoky eyes. From metallic to matte, you can play around with the shades, and they're very easy to blend out, too.
Just a dollar more for a 10 shade eyeshadow palette, By Terry is certainly giving makeup lovers more of a variety when it comes to experimenting with colors on the eyes. Among the expensive makeup palettes, would you think $96 for the Eye Designer Palette is expensive? You're getting 10 shades, and the pan sizes aren't small either. And look at those colors! You can blend, mix, and smoke out so many different eye looks.
The eyeshadow palette features buildable shades to suit your mood. If you're feeling bold, cover the lids with purple and smoke out with black. Or if you want to go softer for brunch, throw on the more floral shades. In addition, By Terry creates exquisite products with high-quality formulas and intense pigmentation. Express your feelings with this extraordinary palette!
Giorgio Armani is really killing it in the makeup game these days, and that's usually unlikely for luxury designer brands. So many people can pitch in about how fantastic the brand's formulas are. While their foundations are rich, creamy, and ideal for applying, their other products are no different in performance. As for this specific product, Giorgio Armani's Iconic Makeup Palette, for $100... you're getting a lot.
From the more expensive makeup palettes out there, we know Armani is pricy in general. Because of how big the name is, some of their products reach higher in prices. Yet, this palette, I can tell you this right now, is certainly worth the price. Look at what you're getting here! You're getting a contour and an eyeshadow palette in one product. You can literally use this one makeup palette to fulfill your looks. While you smoke out your eye look, you can use the bottom layer of the palette for contouring and chiseling out your facial structure. Not to mention that this is the perfect go-to makeup palette for traveling.
Now this is a palette that's worth every single cent. Ofra Cosmetics is a genius behind creating breathtaking, individual face highlighters. But combining all of those highlighters into one sick-ass palette, $110 doesn't sound like a ripoff at all. Plus, the size of the pans are big for a highlighter palette. They'll basically last you a life time, depending if you want your glow to show from outer space.
From shades like California Dream Triangle to Rodeo Drive, Blissful, and Beverly Hills, all of the shades give off an intense glow with just one swipe. Also, it doesn't matter what skin tone you have, since the palette suits just about anyone. They apply on smoothly and blend out effortlessly. And Ofra only uses top-quality grade pearls to provide that rich texture.
While Clé de Peau Beaute is the premier skincare and makeup brand from Shiseido Cosmetics, it's certainly up there in luxury. However, as for their Eye and Cheek Palette Set, would you think $120 is a fair price? Yes, without a doubt, this palette is among the expensive makeup palettes, but you're buying the name, the hefty packaging, and everything inside. Luxury brands love to use heavy packaging to show that their products are expensive. And this palette's packaging is sleek, smooth, and sturdy.
But let's really look into this palette. You're provided with four eyeshadow shades, two blushes, and three applicators. With smoky, golden eyeshadows and two rosy cheek colors, you can achieve the best, softest, and most natural eye makeup looks ever. Their formulas are rich, blend-able, and buildable to fit your liking.
Ever heard of Claudio Riaz? The high-end cosmetics brand is well-known for their contouring palettes, including this one. From the expensive makeup palettes ever, the Instant Contour Palette #3 goes for $150. When purchasing, you're getting five contour shades that's ideal for defying your facial structure and giving you a more sculpted look. You can instantly shape your face with the darker colors and highlight the high points on your face with the lighter shades.
If you're into cream contouring, this palette is ideal because of how amazing the formula is. It blends effortlessly and doesn't look sheer on the skin. Two of the shades are designed for brightening, the darkest shade is for sculpting, the red is for blush, and the brightest one is for highlighting.
Just like Giorgio Armani, Tom Ford is fabulous in the world of cosmetics. The high-end brand creates stunning products to fulfill your best looks, and this palette can certainly provide you with the style you've been wanting to pull off. For a palette that's $155, you're getting four eyeshadow shades, blush, and a highlighter. Plus, you're buying the name, too.
Since it's seen mostly as a luxurious palette, the packaging says it all when it comes to pricing. It's heavy, sleek, and grand for a palette. As for what makes up the palette, you can achieve metallic and glittery eye looks with the stunning shades and the highlighter can easily make your high points glow astonishingly!
Here's another contouring palette that definitely a bit pricer than the majority, Serge Lutens Beauté's Une Bonne Correction Concealer Palette. While it's one of the expensive makeup palettes, for a mere $170, you're getting four shades for contouring, concealing, and highlighting. With the darker shades are designed for sculpting, the lighter shades are known to conceal any dark spots and even highlight the face for a brightening effect.
For a really high-end cosmetics brand, Serge Lutens Beauté's palette can certainly conceal all of your redness, dark spots, and even hide dark circles under your eyes. They blend amazingly and a little goes a long way for these shades. In addition, the translucent fixing powder is perfect to give you a long-lasting finish!
Finally, among the expensive makeup palettes, probably the most expensive palette right now is the Natasha Denona Eyeshadow Palette 28. And this palette runs for $239! Ladies and gents, $239! While her products are beyond fantastic... that's a lot of money. But check out the beautiful 28 shades on this palette. Would you say it's worth the money? Many people think it is.
Sure, Natasha Denona's palette is pretty pricey, but it's not considered a ripoff to so many makeup lovers out there. The formula of these shades is remarkable, because of how smooth, creamy, and blend-able they are. Plus, these shades are certainly out of the ordinary; you won't find shades like these in any palette. You can create stunning eye looks with any of the 28 shades. Mix, blend, and smoke out looks that will not only wow your surroundings, but yourself.
makeup
About the author
Reading good literature plays a huge role in my life — and so does online shopping and wine.
Reader insights
Be the first to share your insights about this piece.
Add your insights