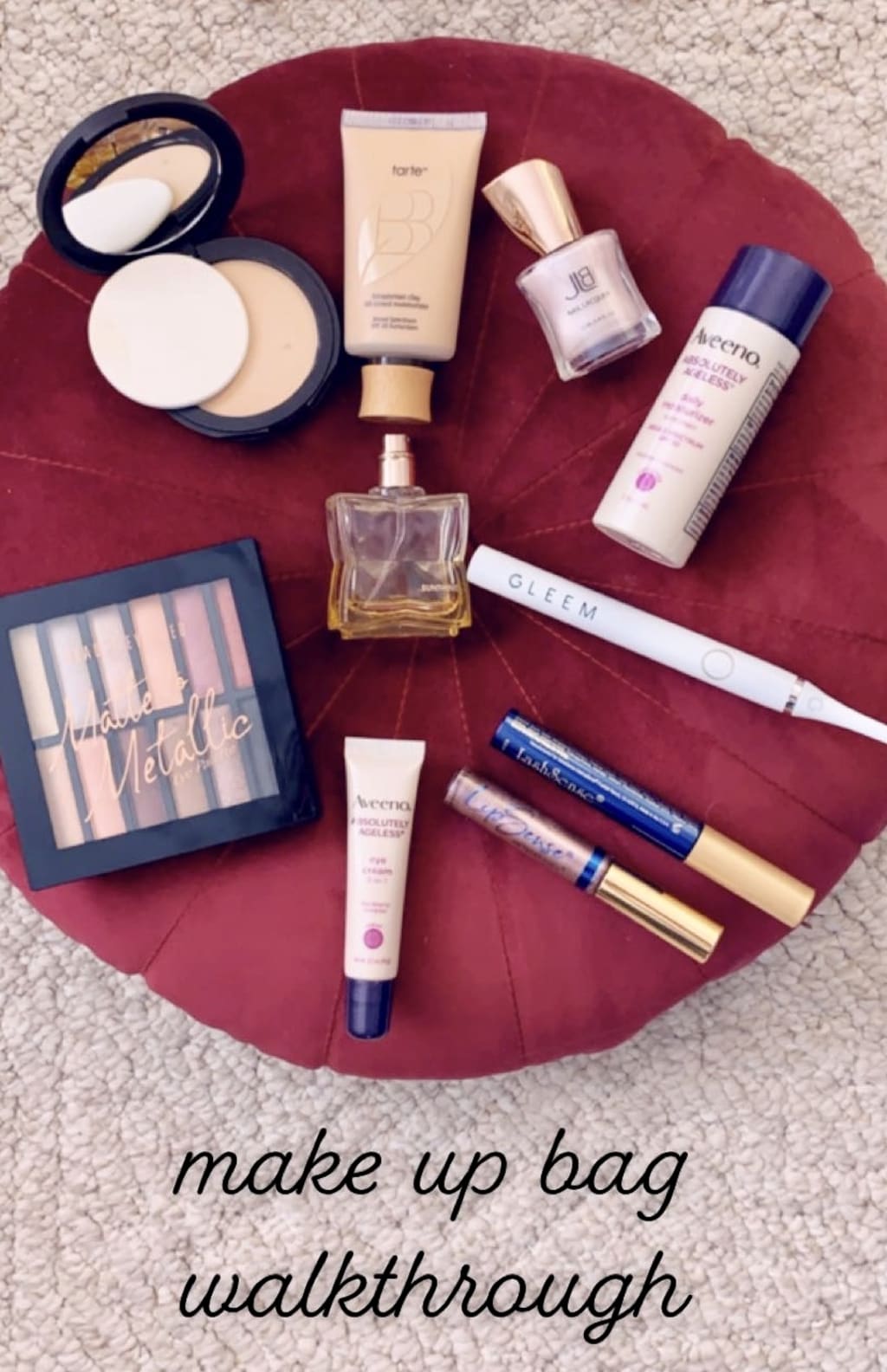 I am a mom first for the vast majority of moments in each day.
At any moment, the school could call and I need to go pick up the teenage, two-legged version of the flu. The youngest could walk up and wipe snot on whatever outfit I managed to drape myself with that morning. The middle one could have a meltdown and need a hug and wipe those tears on my cheek. My husband could come home and smooch the lipstick right off my lips.
So, when it comes to makeup, I take a very no-nonsense, it-better-last approach. I want to look natural, I want to look classic, I want to honor my trends, and I do NOT want it to be high maintenance.
After plenty of times sitting through parent teacher conferences with undiscovered lipstick on my teeth or raccoon eyes from smeared eyeliner or mascara, I've decided that its either au naturel or tried and true.
Here's my tried and true products that I always keep near by:
Aveeno Absolutely Ageless 'daily moisturizer' and 'eye cream' - excellent, reasonably priced moisturizer with spf and eye cream is a must after the age of, well, like twelve
tarte amazonian clay bb tinted moisturizer and tinted pressed finishing powder - spendier but for my base layers I want to be sure my skin wont be soaking in a bunch of harsh chemicals. these both have great staying powder, are excellent for all skin types, and are good sized containers so i'm not having to frequently repurchase
BEAUTY EVOLVED Matte to Metalic eye palette - fun colors and neutrals all in one, this palette is all i need, spreads smoothly and stays well
Lipsense and Lashsense - let me start by saying i am anti-pyramid scheme sales so you won't hear any pitches from me unless i'm helping my kids practice baseball in the yard, but these two products are ones i've landed on after years of scoping the aisles of target and avoiding getting hooked on expensive clinique or aveda products. reasonable prices tag, great color options, last FORever
Nail polish - this one is JLB cosmetics, there are bunches of great ones, but find yourself an easy to layer, quick dry neutral color that you don't get sick of. i have zero time for sitting around painting nails and letting them dry and cure for what feels like days so i typically find something and wear it on repeat
GLEEM - newer brand of toothbrush, and odd to include with makeup but our faces can't look cute if we smile with yellow teeth. this brush vibrates instead of the classic fuller movement of electric toothbrushes and i love that. battery life is great and it does a double buzz four times to section your time in your mouth mindfully. love this product
Sunshine perfume - again so many good ones on the market, drew barrymore does this one and since i have a girl crush on her (and scarlett johansson- but who doesn't), i love this one. it's a soft smell that lasts for the day but doesn't overpower and most importantly doesn't offend the senses of my sensitive kiddos
The only other item I didn't picture here were some good makeup wipes. This just isn't an all-for-one product and you need to find something that suits your skin type well, but I recommend the "Yes to...(tomatoes, cucumbers, etc)" brand that Target carries!
So, there you have it, nothing groundbreaking, but definitely no-nonsense and easy to follow tips for mommas or anyone sick of high maintenance routines!
Much love, readers!