Ethnic Makeup Brands You Need to Know About
Say "goodbye" to ashy highlighters and "hello" to ethnic makeup brands that care about you.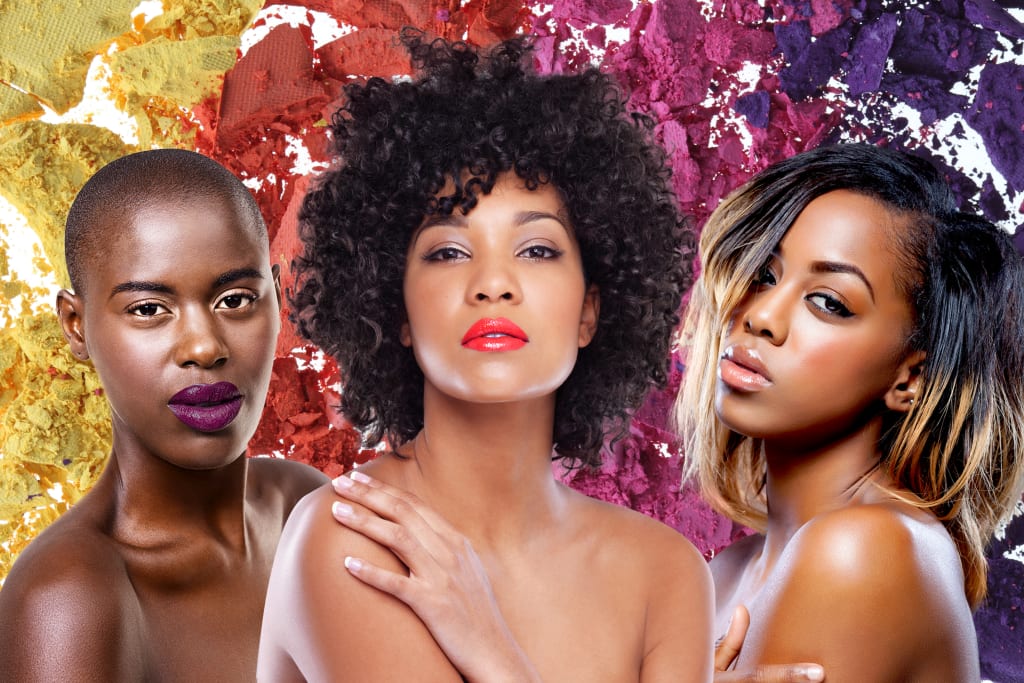 Image from Essence
If people didn't want to feel beautiful, the beauty industry wouldn't be worth some $445 billion. Still, most of the beauty products sold by mainstream makeup brands are designed for people of white European descent and overlook a considerable chunk of the population with darker skin tones.
Nude makeup is supposed to match the wearer's skin tone, so why are all the nude lipsticks I see in CVS all beigy-pink?
It's evident that there's a massive gap in the beauty industry and that mainstream makeup brands tend to exclude products for women of color.
If you're frustrated with how difficult it is to find inclusive makeup brands, you're not the only one—millions of women feel the same way, and some of them have channeled their frustration and created products for every skin tone.
Whether you want to express yourself with a bright pink lipstick that suits your skin tone or foster a neutral palette with nude colors that match your skin tone—no matter who you are or how you dress, there are plenty of makeup brands with products that will make you feel sexy and confident.
Each brand has a story to tell. Many of the ethnic makeup brands in this article were founded by women of color who risked their jobs to create inclusion in the beauty industry.
It's time to support the makeup brands that want the best for you.
No matter your age, race, gender, or income, Black Opal has a beauty product for you.
Black Opal has been at the forefront of makeup inclusion since 1994 when most beauty brands still catered almost exclusively to light skin tones.
Black Opal was the first technologically-advanced, doctor-recommended cosmetic product for women of color to hit the mass market. In other words, before 1994, you couldn't hop over to Walmart to get any safe, high quality beauty products to match your skin tone unless you were white.
Black Opal's pioneering beauty products are not limited to makeup; they also sell fantastic acne and blemish treatments, Anti-Bump Shave Gel, moisturizers, and more, all at an affordable price.
Black Opal is cruelty free, and many of their products are vegan friendly. You can buy their products in more than 30 countries around the world.
Everyone loves the Somali-American supermodel Iman. Iman's cosmetic company isn't just beautiful and affordable; it's also philanthropic. Money from her organization goes to important causes such as Save the Children, UNICEF Go-2-School initiative, the Dr. Hawa Abdi Foundation, and Hope for Congo.
There are also plenty of other reasons why you should know about IMAN Cosmetics.
Launched in 1994, IMAN Cosmetics was one of the pioneering makeup brands that started catering to people with African, Asian, Latin, and mixed skin tones.
IMAN Cosmetics is affordable, and you can buy it in mass-market retailers like Target, Walmart, Walgreens, and Duane Reade, as well as a variety of other stores all around the world.
When it comes to anything aesthetic (and culinary), you can always count on the French to deliver the best-of-the-best.
Black|Up (A.K.A Blackup) is exactly what you would expect from a French beauty brand: minimalist, chic, and powerful.
Blackup is different from other mainstream French makeup brands though, in that their products are made especially for women of color.
Blackup's products are innovative and modern, delivered at an excellent level of quality that is hard to find.
Their products, which are all cruelty free, include a range of the best primers for every skin tone, concealers, foundations, eyeshadows, eyeliners, false lashes, blushes, highlighters, and makeup tools that nurture and complement your natural skin tone.
If you love hip-hop, beauty, glamor, and bright colors, and if your style is stuck in the 90s, but you appreciate modern science, you need to know about MDM Flow.
Founded by Florence Adepoju, MDM Flow is a London-based cosmetics company that offers vibrant hand-made lipsticks, and sends a strong message that science is not just for boys.
Adepaju just started her first year of college studying pharmaceutical sciences when she made the last-minute decision to study Cosmetic Science at London College of Fashion instead. She noticed that many women of color didn't feel comfortable or confident wearing bright makeup, and she wanted to change that.
So, after she graduated from LCF at the age of 22, Adepaju immediately launched MDM Flow where she now formulates bright, vivid colors using pure pigments that look great on all skin tones.
If you love to express yourself with colorful palettes (especially if you have an affinity for the color gold), you need to check out MDM Flow's handmade and cruelty free beauty products.
If you've been searching for a cosmetic company that makes pastel-colored products for men and women of color, but you've had no luck, then you've probably never heard of Beauty Bakerie.
Beauty Bakerie was founded in 2011 by Cashmere Nicole, and the company's motto, "Be better, not bitter," is pretty profound when you know Cashmere's backstory.
Her journey started as a single mother living in poverty with breast cancer. Cashmere had a double mastectomy while also relying on donations from other people to put food on the table and stay warm in the winter.
Cashmere had a slew reasons to be bitter, but instead, she worked extremely hard to make a better life for her daughter and herself.
The result? A fantastic, inclusive cosmetic company called Beauty Bakerie.
Cashmere wants you to know that, no matter what, you too can overcome hardships, even when it seems impossible.
Beauty Bakerie is cruelty free, paraben free, smudge proof, and vegan friendly. It doesn't matter who you are; your age, gender, and race are all social constructions, and none of that can stop you from feeling your best.
Beauty Bakerie is also endorsed by Beyoncé, Refinery29, Forbes, PopSugar, InStyle, and more! Check out Beauty Bakerie's shade finder, and I guarantee you'll find the perfect match for your skin tone.
It's a good thing Loraine R. Dowdy decided to leap out of her office chair and ditch her lucrative job in the financial industry to start her own cosmetic company.
Otherwise, we wouldn't have Coloured Raine!
Starting a makeup brand was quite a departure from her former job, where self-expression is barely even a second thought. Perhaps that's what motivated Dowdy to start such a fabulous brand that embraces diversity.
Dowdy and Coloured Raine have a message for you: "Stay fierce, and keep on serving that black girl magic!"
I have to say though, it's hard not to when you see the vivid shades of lipsticks and eyeshadows Coloured Raine has to offer.
Coloured Raine is cruelty free and mostly vegan friendly, and the beauty products that are not vegan friendly are clearly labeled, so there's no need to worry when checking out their products.
Courtney Coates knew she needed to make a contour product for dark skin tones when she saw a video of a woman using purple eyeshadow as a contour. Hence she launched KoyVoca, which aims to fill the void created by makeup brands that don't cater to women of color in the beauty industry.
She launched the first two KoyVoca contour shades, Aphotic and Rich in 2016, and they were instant hits. Since then, her line has expanded to include dozens of additional contour shades as well as bronzers, concealers, eyeshadows, foundations, lipsticks, and more for women of color.
KoyVoca products are cruelty free and handmade from scratch. Coates came up with the name "KoyVoca" by combining the words "coy" and "vocal."
According to Coates, KoyVoca's mission is to "Provide showstopping shades along with products that can complete a natural look."
"Wild and unpredictable, bold and impractical, feminine and luxurious, sexy and severe..."
If that sounds like you, then you're the right match for Reina Rebelde.
Reina Rebelde was founded by Mexican-born and always-makeup-obsessed Regina Merson, who created her cosmetic company for women who relate to her cultural identity as a Hispanic woman living in the United States regardless.
The Reina Rebelde line includes brightly hued and neutral eyeshadows, lipsticks, and blushes as well as cosmetic accessories for every woman with any skin tone. All Reina Rebelde products are cruelty free; most are vegan friendly, and they are all available at Target and the Reina Rebelde website.
Are you interested in buying some beauty products from the most influential makeup artist in the world?
If so, you need to check out Pat McGrath Labs' luxury cosmetics.
You've probably heard of her. After all, she travels around the world and does the makeup for around 80 high-end fashion shows each year. Everyone wants Pat McGrath to do their makeup.
The fashion and beauty world spent decades trying to convince Pat McGrath to start her own cosmetics company. Georgio Armani even commissioned McGrath to launch her line back in 1999. It wasn't until 2015, though, that she introduced her first product, Gold 001, a gold eyeshadow.
Do you agree with me that makeup artists know a lot about beauty and cosmetics?
If so, Omolewa Cosmetics is one of the makeup brands you need to know about.
If you're one of the 30-or-so million people familiar with the West African language, Yoruba, then I probably don't need to tell you that Omolewa is a cosmetics company dedicated to inclusion. (If you're not familiar with Yoruba, FYI: "Omolewa" means "Beautiful Child.")
The company was founded in 2012 by Irene Dele-Adejumo, a makeup artist who wanted to turn her passion for beauty into something she could share with other women of color.
Omolewa is good for your skin, and, of course, it's delivered in a high-quality you would expect from a makeup artist. Whether you like to go for a natural look or enjoy splashing on some bright colors, you'll find an Omolewa product that suits your style on their website.
It's common for two best friends to share a bottle of wine and passionately decide to work together to make the world a better place, but it's rare that anyone follows through with those plans once the next morning rolls around.
You know what else is rare? Nude lipstick for women of color.
When KJ Miller and Amanda E. Johnson popped open a bottle of pinot, they spent hours talking about that lack of ethnic makeup brands and how difficult it is to find neutral lipstick shades that women of color can wear to work. Unlike most passionate wine-fueled conversations, this one actually resulted in change.
Before long, Miller and Johnson launched Mented Cosmetics because, according to the duo, "When it comes to beauty, no one deserves to be an afterthought."
Mented Cosmetics lipsticks are all vegan friendly, paraben free, non-toxic, and cruelty free. They sell lip, eye, and nail cosmetics that will help you achieve a workplace-friendly look regardless of your skin tone.
Mented Cosmetics is manufactured in the USA.
Brightly colored makeup looks good in the box, but, too often, it doesn't look like anything at all when you apply it to a dark skin tone, highlighting the necessity for more makeup tutorials for dark skin you need to know.
If that's your experience, then you need to try the products at Juvia's Place.
Juvia's Place is an affordable cosmetics company that creates bright, vibrant makeup with pure pigment, especially for women of color.
Juvia's place sells eyeshadows, highlighters, blushes, lip products, and makeup accessories such as brushes. Their cosmetics are mostly vegan, and all of them are cruelty free.
It doesn't matter where you live; Juvia's Place ships their products internationally!
If you are tired of seeing women being put in boxes, and if you're tired of ethnic makeup brands valuing aesthetics over healthy skin, then Ayele & Co (formerly Bahi Cosmetics) is a brand you need to know.
Ayele & Co sells natural, organic beauty products that are kind to your skin. Everyone's skin is different, so Ayele & Co strive to make products that work well on everyone's skin. Meticulous research and testing is just scratching the surface with this cosmetics company!
Ayele & Co products are all cruelty free and very affordable considering how high-quality they are. Go to their website now and check out their liquid lipsticks, which are all waterproof!
Melissa Butler launched The Lip Bar in 2012, thanks to society's toxic beauty standards and Butler's anger with it.
Before launching her cosmetics company, Butler knew that she loved lipstick far more than she loved her life working on Wall Street. Butler dreamed of creating a beauty line to challenge and tackle the problems presented by mainstream makeup brands and beauty standards. Lipstick made her feel confident, and she wanted to share that experience with other women of color.
She quit her job in New York, moved back home to Detroit, and started experimenting with lipstick pigments and recipes in her kitchen. Before long, Butler started selling her products locally by setting up a popup makeup shop in Detroit called "The Lip Bar Truck."
Her business started organically with no investors, and her products are also natural, cruelty free, and vegan friendly.
You don't need to go to Detroit and find her popup shop to buy her goods—The Lip Bar's success was so phenomenal that you can now buy it at Target. The average price of her products is $13. Alternatively, you can go to her website, and you'll undoubtedly find some products you'll love!
If your style takes inspiration from the streets of New York City and hip-hop, and if you love lipgloss, you need to check out Lipmatic.
Lipmatic was founded in 2014 by Destiny Jones who says her product is "For girls who wear heels or Timbs."
The young entrepreneur is the daughter of acclaimed rapper, Nas, who, according to Destiny Jones, inspired her to create a makeup brand that embraces all women of color, especially if they resonate with urban hip-hop culture.
Lipmatic offers lipsticks, lip liners, lip sets, and liquid matte lipsticks. Basically, if you need anything for your lips, you need to check out the Lipmatic cosmetic company.
Too often, our health is an afterthought when we spend time trying to look our best—especially for women of color, who have only a limited array of safe beauty products to choose from.
The story of Laws of Nature started in 2007 when founder Jasmine Rose found out that her mother had been diagnosed with metastatic breast cancer. The news sent Jasmine down a research rabbit hole, and she spent eight years dedicated to learning about the links between certain makeup components and breast cancer—and she was not happy with what she learned.
Jasmine learned that finding safe makeup, especially safe ethnic beauty brands, was nearly impossible. She experimented with safe makeup recipes in her kitchen and finally created one that she loved. Jasmine decided to share her creation with other women of color, so, in 2015, she launched Laws of Nature Cosmetics.
Laws of Nature Cosmetics created the first non-toxic mineral foundation that not only makes the skin appear radiant but also makes it look and feel healthy.
Visit the Laws of Nature website to shop their products and use their "Find My Shade" tool to find the perfect color for your skin tone.
If you're looking for natural ethnic makeup brands that also sell fragrances, Hi Wildflower could be the right one for you.
Hi Wildflower was founded by Tanwi Nandini Islam (A.K.A Tanaïs), a New York-based award-winning author and intersectional feminist who is passionate about fragrance and social progress.
When you use Hi Wildflower's fragrance and beauty products, you feel like you grew out of a botanical garden.
According to Tanaïs, "The trees and flowers of Brooklyn, my home, and Bangladesh, my motherland, are continual poetic, visual, sensual and botanical inspirations for my creations."
Hi Wildflower offers high quality lipsticks and nail polishes that complement darker skin tones, as well as a variety of botanical and Ayurvedic perfumes and home fragrances.
makeup
About the author
Mother of two, educator of many. Teaches middle-school biology and chemistry. Always interested in exploring the unknown.