10 Eye Makeup Palettes That Are Perfect for Your New Year's Celebration
Look for eye makeup palettes that will last through the champagne, the fireworks, the photos, the morning after, and the new year.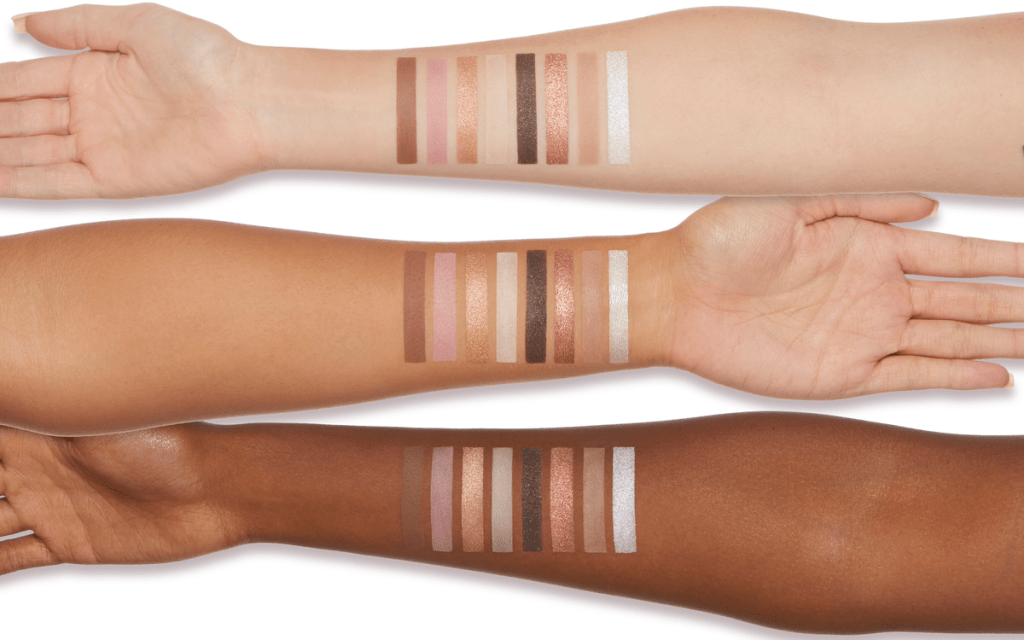 What's your plan for New Year's Eve? Are you going to dance through the countdown? Drink champagne and play board games? Go on a date with your significant other? Maybe you're someone who doesn't make plans for New Year's Eve until five minutes to midnight.
Everyone celebrates the turn of the year in different ways, but your eye makeup probably plays a big part, no matter how you spend the evening.
New Year's Eve is a sparkly holiday with fireworks, champagne, and glitter being the most traditional motifs year-to-year.
The eye makeup palettes you can wear on New Year's Eve aren't just sparkly (though, there's no shortage of matte and shimmer palettes); they're also very versatile and durable so that you can feel free to make your plans at the last minute and feel confident throughout the night.
Here's to the new year! May 2019 bring you joy, prosperity, new beginnings, and bangin' eye makeup.
What do you want your eyes to say? Do you want them to express love? Power? Happiness? Confidence?
Your eyes can say it all with Stars In Your Eyes, a neutral and rich eye makeup palette with four element-inspired mini eyeshadow palettes inside: Love Eyes, Power Eyes, Happy Eyes, and Confident Eyes.
Love Eyes sets the mood for a romantic midnight kiss to pave the way for a promising new year. The three matte and shimmer shades enhance your natural beauty and are inspired by rose quartz, the stone of unconditional love.
Power Eyes will kick off the new year with a bang as powerful as the fireworks you'll be watching. The gold-inspired shades of this subpalette are deceptively striking.
Or, pave a path for a joyous year with the warm matte and shimmer shades of Happy Eyes, which is inspired by the fiery hues of amber.
Nothing can bring you happiness, power, and love like confidence can. Confident Eyes are deep and smoky, combining the warm ferocity of red with the calm, cool tones of blue.
Stars In Your Eyes is for all skin tones and all ages. It's fragrance-free, paraben-free, alcohol-free, gluten-free, nut-free, and it's vegetarian—Charlotte Tilbury is a cruelty-free beauty brand that dares to impress.
If you want to go for a glamorous look with deep, smoky eyes that glisten in the light of the fireworks, deviate from the other natural eyeshadow palettes that work with every skin tone available through Anastasia Beverly Hills and grab the Sultry Eyeshadow Palette.
This neutral and edgy 14-piece palette is very versatile, and totally appropriate for any New Year's Eve celebrations you decide to partake in. Seriously, the world is your oyster with the Sultry palette.
The palette includes high quality, super-pigmented, metallic, matte, and shimmer shades, which capture the New Year's Eve spirit and look stellar on all skin tones.
The application is smooth and long lasting, so it doesn't matter how sweaty you get as you celebrate the turning of the year. You will look great throughout the night.
Anastasia Beverly Hills is a cruelty-free beauty brand. Their eye makeup palettes do run on the expensive side, but with a selection of 14 sexy, interesting, and easy-to-blend shades, Sultry gives you more combinations and permutations than there are days in the year. If you ask me, that's money well spent.
Whether you're going to a sports bar, a board game night, or a glitzy countdown event, the Sugar Cookie Eyeshadow Palette by Too Faced will take you to the New Year with style.
The Sugar Cookie Eyeshadow Palette looks great on every skin tone and every skin type. You can go for any look with eight easy-to-blend shades in this palette—sexy, sweet, fun, edgy—you name it.
Each of the eight satin, matte, and shimmer shades in the Sugar Cookie Palette are rich and easy to blend for a flawless application.
My favorite combination is Nom Nom and Milk & Cookies, but you may want to try the matte Cookie Pusher and its shimmery partner, Burnt To A Crisp, this New Year's Eve.
Warning: This palette smells like fresh cookies. Make sure you have food in your stomach when you apply this eye shadow or you will get hungry. (I have used a lot of sweet-smelling eye makeup palettes, but this is the only one that actually smells good enough to eat).
The Classic Cutie Palette is perfect for any New Year's Eve celebration, whether you're spending it drinking casually with friends, watching fireworks with family, or dinner and drinks with a significant other.
Superstition manifests itself in many different ways on New Year's Eve, even among the skeptics. Some people wear lucky underwear, smash plates, or eat grapes. Others know that auspicious eyeshadow palettes have the power to start the year on a good note.
Some say purple signifies wealth, extravagance, peace, and creativity, which are things we all want the New Year to bring us.
The nine shades of pink and purple in the Classic Cutie Palette are highly pigmented, and look stunning on all skin types. You won't be disappointed when you look back at photo memories of your New Year's Eve; this palette is photo-friendly.
Encapsulate the tranquility of blue and the ferocity of red this New Year's Eve with MAC's Classic Cutie Palette. After the clock strikes midnight, this eye shadow palette will last you the entire year.
Modern Renaissance Eyeshadow Palette by Anastasia Beverly Hills is the perfect mix of hot and neutral.
Aside from 14 unique and fiery matte and shimmer shades, the kit includes a double-ended brush, but the makeup is lightweight enough that you can just as easily blend and apply it with your finger.
It's easy to see why this is one of Anastasia Beverly Hills' most popular eye makeup palettes: It's hot, luxurious, and festive, but neutral.
Fans of metallic finishes will not be disappointed; the golden shades Primavera and Vermeer have a duo chrome finish, a brand you can trust with duo chrome eyeshadows you're going to love. My personal favorite is Antique Bronze because I'm a sucker for satin effects.
With a mirror and brush included in the package, you can carry this palette in your bag with you throughout the night if you think you'll need to touch up your eye shadow, but it's unlikely that you'll need to—this stuff is very durable.
Modern Renaissance stands out on all skin tones, though olive skin makes the colors and 3D sparkles pop the most.
Too Faced didn't name this palette "The Chocolate Bar" just because it looks like a bar of chocolate; the selection of 16 brown matte and shimmer shades in this palette was made using real cocoa.
Aside from being one of the most important ingredients ever, cocoa is an antioxidant that is good for your skin. Chocolate facials exist for a reason. Some even say that cocoa helps improve your memory, and that is a power we all need on New Year's Eve.
The application is as easy as putting warm butter on toast, whether you blend them or apply one color only.
I love Too Faced not only because they're a cruelty-free beauty brand or because their eye makeup palettes always have the cutest, quirkiest designs, but because products are worth every penny I spend on them.
Whether your New Year's celebrations will involve board games, big parties, or dive bars, this eye shadow palette will give you the look you need while maintaining the New Year's Eve spirit.
With so many different neutral shades to choose from, the Chocolate Bar will be your friend for the entirety of the year after you're finished celebrating.
Tarte has a couple of glitter eyeshadows that actually stay put for such an occasion, but the In Bloom Clay palette contains 12 deep nudes that are easy to combine for a subtle or striking smoky look if you're looking for a more subtle look this year's end.
This matte and shimmer palette is dermatologist-tested and free of parabens, phthalates, mineral oil, triclosan, and gluten.
The Tartelette In Bloom Clay Eyeshadow Palette's main ingredient is Amazonian Clay, which makes the components easier to blend and smoother to apply. I was amazed at how rejuvenated my eyelids looked and felt after I put this on for the first time.
Thanks to the Amazonian clay, you can dance as much as you want this New Year's Eve; once The Tartelette In Bloom Clay Eyeshadow Palette is on your face, it's there to stay. Plus, it looks great in photos.
I have no doubt that you will love this eye shadow palette long after you finish your New Year's Eve celebrations.
If you hope to improve your money habits next year, there's no need to splurge it on expensive makeup palettes when you can buy an affordable palette that will last you all year, if not more.
With a matte and shimmer assortment of 35 neutral, warm, and cool tones, duo chromes, and countless ways to combine and blend them, Morphe's 35V Stunning Vibes Artistry Palette will carry you through the entire year with ease.
Don't let this palette's low price fool you; this eye shadow is highly pigmented and durable. Frankly, although I'm glad this palette is so inexpensive, I would be willing to pay more money for its exceptional eye makeup palettes if they raised the price.
Morphe is a cruelty-free beauty brand. The formula blends flawlessly and the application is smooth, creamy, and flawless.
The 35V Stunning Vibes Artistry Palette is an especially good buy for New Year's Eve if you love doing your friends' makeup.
Whatever look you're going for, you can achieve it with this palette, so it doesn't matter what your plans are for New Year's celebrations—Morphe has you covered.
Huda Beauty's Obsessions Eyeshadow Palette Precious Stones Collection is phenomenal. You can buy it in five stylish amd timeless eyeshadow palettes: Topaz (orange), Amethyst (purple), Ruby (red), Saphire (blue), and Emerald (green).
The pigments are very concentrated, so you don't need much to get a lot out of it, even if your skin tone is dark. The formula is long lasting, but the palette is compact enough to make on-the-fly touch-ups easy as pie.
I love all of the eye makeup palettes in the Precious Stones Collection, but my favorite is the Amethyst palette because I'm a bit superstitious and I think that the combination of the cool tones of blue and the warmth of red is auspicious.
Whichever palette you buy, you'll be able to squeeze plenty of subtle and striking aesthetics out of it.
The Precious Stones Collection is paraben-free and good for your skin. The Huda Beauty brand is cruelty-free.
Maybelline's Nudes Wear Eyeshadow Palette is perfect for adding a smokier edge to your New Year's Eve look that other eye makeup palettes just aren't capable of. With a total of 12 blendable shades, you won't run out of eye-deas this year, either.
Whether your plans for New Year's Eve involve a glitzy night out in the city or a cozy get-together at home with friends, you don't have to worry about looking out of place whenThe Nudes Wear palette is on your dressing table.
You won't need to spend loads of money on various eyeshadow palettes for the rest of the year if you kick it off with The NudesWear palette. You can use any of the 12 unique colors in this palette alone or together to create subtle and dramatic looks and textured effects.
makeup