Glitter Eyeshadows That Actually Stay Put
Finding quality glitter eyeshadows to add to your makeup collection that will complete your bold look doesn't have to be tough.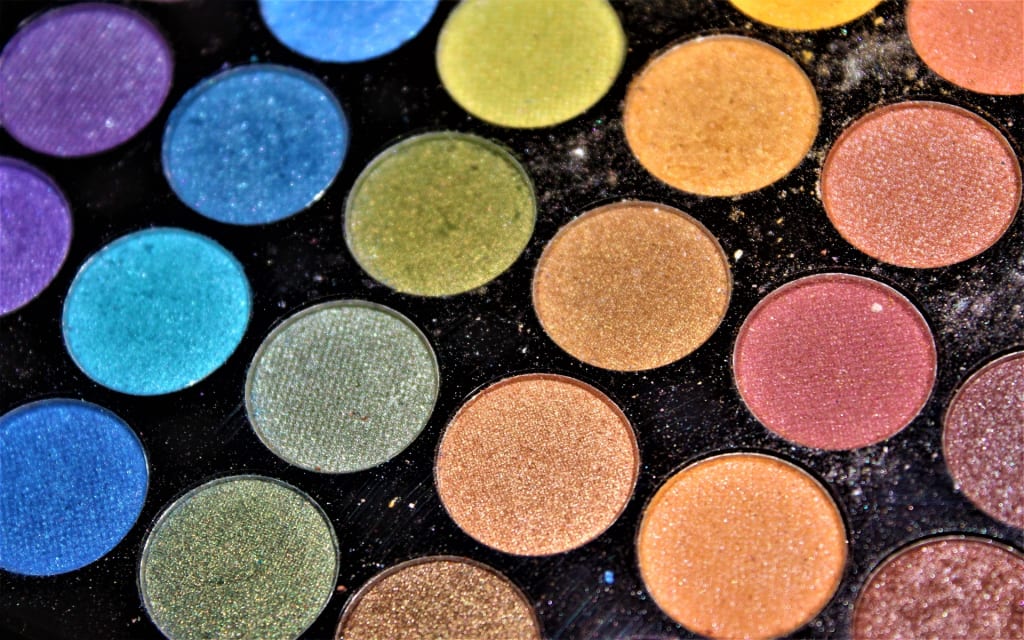 With the holiday season now here, adding extra glam to your closet and makeup collection makes complete sense. In fact, one of the things this season calls for is glitter eyeshadows to help bring out your inner holiday joy.
The downside is that finding quality makeup is not always an easy task. While women tend to shop in the higher-end makeup section presuming that the most expensive makeup palettes will all be of great quality, a more expensive price tag does not always equal a better product.
Whether you're on a slim budget or just want to find glitter eyeshadow that works for you, know that there are many great options that will stay put on your lids.
To achieve glitter eyes without going too vibrant, the newly-released Flashing Lights Glitter Eyeshadow Palette by ULTA Beauty features nine colorful, yet more muted, hues that go with a variety of skin tones, containing colors ranging from indigo-colored "Radical" to golden "Radiant."
The colors are certainly faint in this eyeshadow palette; however, the glitter isn't skimpy at the slightest. If you want a more vibrant look, apply these shadows while wet, or over top of eyeshadow primer before applying generously to the lids.
One downside regarding this eyeshadow palette though is that it offers a cardboard container, and thus will not be very sturdy in a makeup bag. However, for only $18 and offering easy-to-apply glitter shadows that stay glittery for a long time, it's hard to deny this palette.
If powder eye shadow isn't your jam or you don't feel like learning how to make a powdered eyeshadow stick from your leftovers, you might be interested in trying this liquid eye shadow from Stila. This shadow offers a smooth, consistent, long-lasting application which is sure to spice up your holiday season right, all without looking as cakey as many powder shadows do.
Unlike some glitter eyeshadows, the Stila Glitter & Glow Liquid Eyeshadow doesn't just offer a glittery-glow, but also creates a shiny, pearlized appearance. In turn, this would be great to wear at holiday gatherings, or better yet, can be ideal to use as a stocking stuffer due to its compact size.
Since this eye shadow is applied with an applicator, it is easy to apply to the eye creases for versatility. If you end up liking this liquid eye shadow, you're in luck; you can purchase this product in 16 different colors from metallic "Rose Gold Retro" (pictured) to peach "Enchantress."
Creating a bold look with the Tarte Chrome Paint Shadow Pot is far from difficult. Tarte currently offers a gorgeous, metalic sheen in eight different colors, including metallic steel navy "Steel the Show," metallic copper "Beach Bae," and metallic rose gold "Frosé" (pictured), to name a few.
While this product costs $22, it's all for a good cause. Not only are you getting quality makeup, but you're getting it without harmful parabens, phthalates, triclosan, sodium lauryl sulfate, gluten, or mineral oil. This product is also ophthalmologist- and dermatologist-tested for safety.
According to users, this Tarte eye shadow is incredibly pigmented, and goes on well, even when applied with your fingertip. As well as this, you won't have to worry about pesky fallout. With glitter staying put, you can get on with your day without fishing out specks of glitter from your eye.
Featuring 14 gorgeous glitter eyeshadows, this Fenty Beauty palette by Rihanna is suitable all year 'round, featuring a variety of colors such as amber, violet, pink, and more. Plus, who can resist the gorgeous, beveled-edged packaging featuring an oil spill design? Stunning!
According to Rihanna, she wanted this first holiday collection she debuted to feature "glitter on glitter on glitter." Well, that's exactly what this palette provides. Unfortunately, at a cost of $59, this may or may not be an eye shadow set out of your price range. Then again, one word: Rihanna!
On the bright side, this Fenty Beauty palette by Rihanna is 100% cruelty-free, another reason why this eye shadow set is completely drool-worthy. Being quite colorful, this might not be a great everyday palette, but it does offer an iridescent, sheer look, great for holidays or parties.
If you're wanting glittery eyeshadows that are a bit on the darker side of the spectrum, the Moondust Eyeshadow Palette might be your next makeup purchase. Each of the eight 3D glitter eyeshadows presented in this Urban Decay kit offer just enough shimmer not to overwhelm.
While it costs $49, you can ensure that this palette is free of parabens, phthalates, and sulfates. After all, it offers unique, metallic hues including "Lightyear" featuring a saturated green, "Granite" offering a blackish-gray base with multi-colored sparkles, and six other beautiful shadow hues.
According to reviewers, the eye shadows in this palette are easy to apply with your fingertip, are very easy to blend, and offer minimal fallout. Add it to your holiday wishlist.
You can always count on Urban Decay to provide quality makeup. This gorgeous, single eye shadow is offered in a whopping 66 different colors, from peach "Fireball" (pictured) to a shimmery, mermaid blue "Haight." With so many color options, surely you'll find the right color!
According to Urban Decay, this cruelty-free eye shadow ensures a richly-colored, velvety texture with great uniformity that's bound to last throughout the day. They also claim that this shadow is easy to blend and stays put.
Reading what reviewers have to say, it appears that the latter are true. Users also state that this eye shadow is highly-pigmented and very shiny, thus should be used sparingly, and is very easy to apply. For $20, this shadow is on the pricier end, but nevertheless presents great quality.
If you're looking for pink, red, and/or purple hues, your search is over with this Ciaté London Glitter Storm Eyeshadow Palette. While this entire palette doesn't merely provide glitter eyeshadows, it does offer quality glittery and shimmery hues to make for a great makeup palette.
With nine beautiful shades from pink champagne, to eggplant, to dusky rose, it's hard to not drop the $42 on this palette. Fortunately, the shadows in this set are cruelty-, gluten-, paraben-, sulfate-, and phthalate-free, to allow for optimal safety to you, as well as a clear conscience.
While new, this eye shadow palette has already captured the hearts of many. Many like that the glitter isn't too chunky and that each glitter shadow can be applied either subtly or boldly, making it versatile for many different looks.
If you're looking for an eye shadow kit with plenty of hues to pick from, this BH Cosmetics Supernova eye makeup palette features 18 glitter eyeshadows of deep, rich hues, with cosmic names out of this world such as the golden "Pegasus" to the silver-y, blue-green "Nova!"
There are plenty of lighter shadows and darker colors for a variety of skin tones and makeup looks. For a glittery smokey eye look, use the colors "Gemini," "Luna," and "Scorpio" from this palette. As a bonus, this set is vegan and was both was allergy- and clinically-tested.
Many compliment the BH Cosmetics Supernova Eyeshadow Palette's easy-to-apply, highly-pigmented shadows. With a beautiful range of colors and a smooth application, this BH Cosmetics palette is beyond dreamy, and absolutely worth the $18 price tag.
Just because one likes glitter, doesn't mean they believe the more the merrier. This quality makeup set ensures you can play around with the exact amount of glitter you want, as it features three colors with different glitter intensities (satin, glitter, metallic), along with a matte shade.
This is especially a great eyeshadow set if you want to obtain a monochromatic look. Don't worry if the featured color ("Ambition") isn't your color though; there are 11 other great colors offered for this palette, including clean, white "Unicorn" and baby pink "Here Goes Nothing."
All in all, reviews find that this hypoallergenic, ophthalmologist-tested eye shadow compact offers a nice, light application that stays on smoothly and doesn't flake. In fact, for its excellence, this palette earned Allure's Best of Beauty 2018 award.
ColourPop lives up to their name with their Super Shock Shadow. Only available for sale at Ulta Beauty, there are 22 gorgeous shades to pick from, including rosy "Sequin" (pictured), metallic chartreuse "Telepathy," eggplant "Bae," and so much more.
This creme-powder shadow is both vegan and cruelty-free, and not to mention, only costs $5! Just the incredible glitter and texture from first glance of this cute, little eye shadow compact should have you wanting to purchase this beauty without further thought.
While having such an affordable price tag, reviewers generally love this product. While it can be a bit tough to blend, the ColourPop Super Shock Shadow pops even on darker complexions and stays pigmented, smooth, and sparkly throughout the day.
Glitter eyes are all the rage this holiday season. While there are so many eye shadows to pick from, remember that not all shadows are created equal. After all, many glittery eyeshadows either don't stay put or offer a dry, scaley texture that make it hard to feel beautiful after application.
Fortunately, the perfect eyeshadows for your eye color are out there. Whether you want to go for a subtle and natural appearance, or a bold look, there are great glitter eyeshadows out there for you to pick from, offering the right color and amount of glitter for you personally no matter the occasion.
makeup

Evelyn Starr
Is a practicing Wiccan who applies her spiritualism to real life situations and advice, but also dabbles in dark fantasy. She lives in Oregon and spends most of her time casting spells in the woods.
See all posts by Evelyn Starr →