Natural Eyeshadow Palettes That Work with Every Skin Tone
Creating an all natural look has never been easier with natural eyeshadow palettes that complement all skin tones.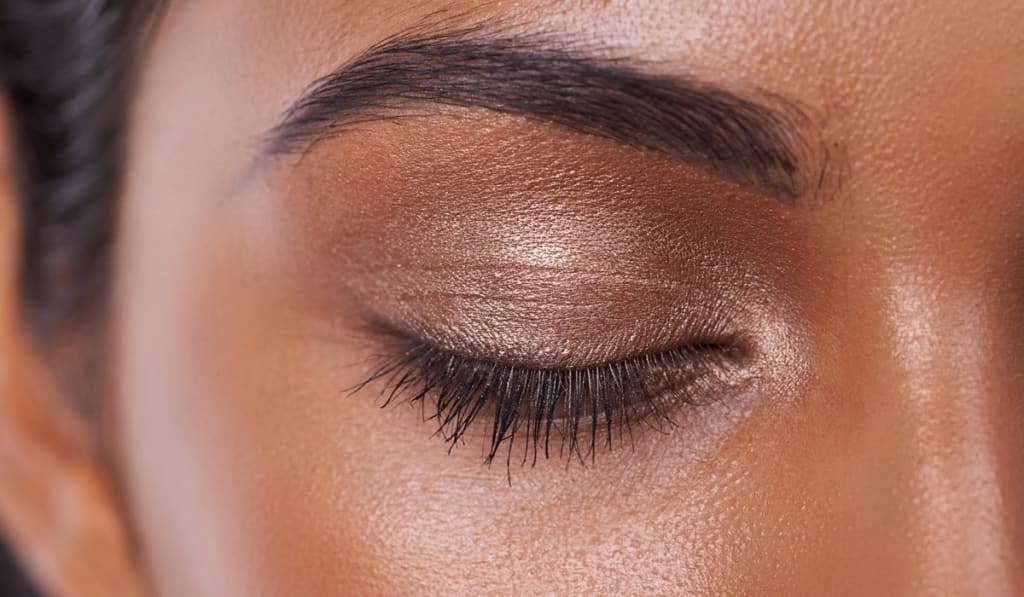 Most of the time, over-the-top eye makeup looks garner a lot more bad attention than they do good. Whether men are painfully aware of the amount of makeup you put on, or your girlfriends are looking at you with wide eyes and a practiced, forced smile, you don't want to be wondering if you should have gone for a nude look while you're being handed your fifth vodka cranberry. Then the next day when you have to go to work (or class), those glitter eyeshadows that actually stay put seem a little frivolous, don't they? Going with natural eyeshadow palettes is a safer bet in most instances, and less is almost definitely more when it comes to a natural look. With so many options, though, how do you choose which one will look best?
The Gen Nude Eyeshadow Palette by bareMinerals is a gorgeous palette with rose tones and both matte and shimmer shades. This is a small sized palette with six neutral shades that will suit all skin tones. With these six colors, you can create the perfect nude eye. It is also set at a reasonable price point for such a reputable brand.
The Sultry Eyeshadow Palette by Anastasia Beverly Hills is a great eyeshadow palette if you're looking for natural eyeshadow palettes with some diversity. This palette provides both neutral tones and a few sultry tones, so you can mix it up every now and then. There are 14 shades in this collection, and they are all shimmer shades. You can make both a natural eye and a smokey eye with this medium sized palette.
The Urban Decay Naked Palette collection has always been a favorite, and this version of the Naked Palette is great for anyone looking for natural eyeshadow palettes. The Naked Cherry Eyeshadow Palette features 12 shades that range from ivory to rose gold. These pink shades go perfectly with all skin tones and will make an excellent natural eye look.
The Tickled Peach Mini Eyeshadow Palette by Too Faced is a nice size palette for anyone looking for natural eyeshadow palettes that will fit in a handbag. This palette has eight shimmer shades in peach and rose gold tones. These neutral eyeshadows are perfect for all skin tones, and will help create the perfect nude eye. Pink and peach tones do well for a natural look on the skin, so this is a palette you can use daily.
The Modern Renaissance Eyeshadow Palette is another great eyeshadow palette being sold by Anastasia Beverly Hills. Along with neutral shades, this palette also provides some darker pink tones for those nights where you want to branch out a bit. With 14 shades to choose from, you'll have a variety of options that will keep you ready for any look at any moment. All of the shades in this palette are natural colors, and work well on all skin tones.
The Instant Look Eyeshadow and Face Palette by Charlotte Tilbury is a versatile palette because it provides neutral eyeshadows, face bronzer, highlighter, and blush. You can take this small palette with you in your purse and you won't need any other makeup to maintain a natural glow. This palette is a little bit pricey, but you're paying for both a popular brand name and an all-in-one item. Hopefully, if you spend that kind of money, you use this palette all the time!
The Master Class Knockout Neutrals Palette by Smashbox is actually four natural palettes in one. In this collection, you'll get everything you need to complete a neutral look for a fraction of the price of the actual value of the product, putting the most expensive makeup palettes to utter shame! The palettes include 10 neutral eyeshadows, six lipsticks, five blush powders, four highlighting powders, and two bronzing powders. With this kit, you won't need to shop for any other natural eyeshadow palettes because you'll have your entire look in one place. No matter what skin tone you have, this kit will cover you.
The Eyeshadow Palette by Viseart is a great option for those looking for a dark flare. This palette has 12 matte shades, and all of the tones are neutral. However, it goes into some deeper natural and earthy tones, which some other natural eyeshadow palettes don't do. With this palette, you can get creative with your coloring and go for a more bohemian or sultry look if you choose. Don't be afraid to mix it up!
The Highlighting Eyeshadow Palette by tarte comes back with its third edition, and brings a great natural eyeshadow palette option to the market. This miniature sized palette offers eight highlighting shades, which will look great on all skin tones. These shades are all ivory and cream tones, with a few light pink shades thrown in. This collection is called, "Rainforest of the Sea."
The BACKSTAGE Eyeshadow Palette by Dior is a small eyeshadow palette with nine shades that are perfect for any nude eye look. This is the perfect sized palette to fit in any purse and be taken on the go, so your eyeshadow will always look great. These shades are all matte and very neutral, which is perfect for any skin tone. Dior is an excellent brand for makeup, so you know this is a quality palette.
All of these natural eyeshadow palettes are excellent options for any neutral look you may be going for, especially when paired with natural makeup tutorials that will ensure you have a glowing, natural look all day long!
Reader insights
Be the first to share your insights about this piece.
Add your insights