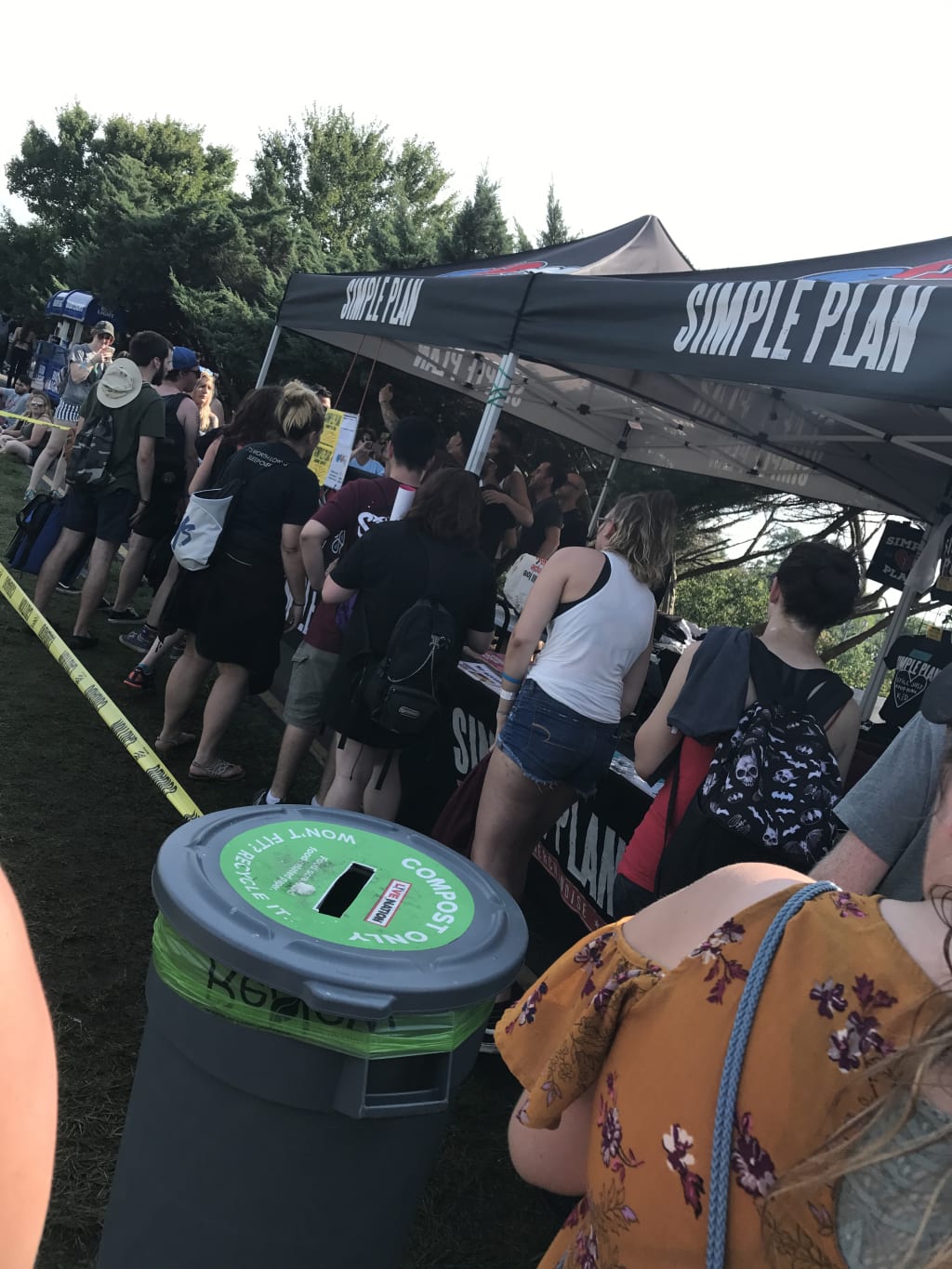 Meeting Simple Plan at Warped
I know it's not summer time. But it randomly occurred to me that when summer gets closer, we won't have Warped Tour around. We won't have a punk/rock/pop/alternative/Indy music festival to bring bands from all over the world and branch our fandoms. We won't get to see our favorite bands who've toured with Warped tour every summer since they hopped on it the first time. We won't get to randomly check out some newer faces we've never heard of or maybe we've heard one song by them. We won't get to make new friends and new memories. We won't get to spend the day burning in the heat and sweating just to have that summer tan. We won't get to meet our favorite bands for free. We won't get to do signings or photographs. We won't have access to lounges with a specific band member to learn from.
There's so much that happens at warped tour that will be missed. I didn't know about warped tour myself honestly until 2010-2011. And that's when I fell in love with the tour. So I've legit only had a few years to enjoy the tour. And last year, they limited their 25th anniversary tour to 3 selected cities. But I couldn't afford to go to anyone of them, which sucks. I'll never forget the memories I've made though and the opportunities I've had being at warped tour.
Like for example, running street teams for bands in select cities. I'll always be thankful for that because now I'm apart of multiple other street teams.
Obviously, there's so many other music festivals out there - you've got Epicenter (which used to be Carolina Rebellion), Firefly Festival, Sonic Temple, Coachella, Lollapalooza, Bonnaroo, Summerfest, Riot Fest, you name it really. There's definitely a lot more out there that people travel and afford to go to. So I'm not saying, festivals are dead, per say...
But Warped Tour, sadly is gone. And that was great for break out punk bands and punk fans to come together and create all these memories. Warped tour was aimed more for a younger crowd; you mostly see young preteens, teens, and young adults walking around. You saw groups of friends formed, separating for certain bands but reuniting for other bands. You had friends splitting the payment for the overpriced food and drinks at these venues. It was just one day a summer fun.
Reason why it crossed my mind though was the fact that it's a brand new year and I just wanted to be thankful for what Warped tour provided me during the times I went and hung out with friends and bands. Warped tour allowed me to have so many chances that I know new kids won't get to have unless we revamp the festival one day.
I met my favorite bands and members, became fans of bands I've never heard of until then. Like for example, the photo of the line meeting Simple Plan. I've followed them for years, I was only 9 years old when they formed. I was 12 when their very first album was released. This band saved me on my worst days (Fans will always tell the bands they support how they saved their lives from some sort of issue; whether it related to depression, anxiety, suicide, other sensitive topics. The members in the band most likely have heard those stories all over the world; and even though they don't understand how they were an impact. However, they do connect with their fans on that lever because they have seen the situations or they, themselves, have been apart of similar lifestyles. And that is why music brings people together as one; the bands and their fans sharing the same thing to keep them sane)....
Anyways, for myself, anxiety has always been a thing for me. I've always been the quiet girl who was sensitive, and technically, still am when it comes to being at home. When I'm not home with my family, I'm like a whole different person. You wouldn't even recognize me really unless I'm surrounded with family.
But, I thank Simple Plan for being a band that's always been around there for me. Anytime I had a day I wasn't feeling well, all I had to do was put on their music, my favorite song being "Welcome To My Life", and it would switch my mood instantly.
That photo, was from the previous warped tour year; you know, the year before it announced it was ending for good and before the 25th anniversary. So, they've always been a band I've followed and gotten lucky enough to meet from 2011-2017. And then they've done their headline tours obviously, so I've been able to see and meet them there as well.
It's amazing how much you think a band can influence you as a person. The lyrics they have shared that you can relate to so well. The energy at their concerts, the friends you make in line or the friends you go with because you met through concerts.
That's what Warped tour did for many of us. Warped tour brought fans and bands together, as a community for a scene that isn't very popular. You don't see the mainstream radio famous people there; you see those who are different, those with much smaller backgrounds, trying to break it and make it. Some don't get as far as one would hope, others make it to where they sell out small 750-1500 capacity venues. You never know what's out there if you don't try and follow your dreams....Right?
So what happens this summer? When you don't get to attend a festival? When you don't get to hangout with your friends at a place you've grown to love? What happens when bands can't have the opportunity to break out from their small town homes and expose their music to new people and new faces?
Will there be a new version of Warped tour one day? Or will Warped tour return under a new name or owner?
All these questions, and all I can think about it; how will music go on when the industry keeps changing and altering their artists and fans perceptions?
I'm not a fan of the radio music honestly - I love my Jonas Brothers and Panic! At The Disco, but there are so many other names I could skip over listening to in a heartbeat. Makes you wonder, what about all these unknown bands? Ones who aren't exposed to radio and television? Ones who work hard and work jobs outside of their passion to make their dreams be a reality? Ones who have regular jobs outside of writing music and creating videos?
What happens to the bands who once toured on Warped tour? Where would they tour next? What festival would they join? Or would they headline or open for a band?
Where do us fans go next? What bands will we see next? How will we find our new favorite bands?
Will Warped tour be revived? Or will it always remain a memory?
About the Creator
Just a girl who enjoys concerts, reading, writing, and all things mythical & magical
Ignore the small errors please, typing on an iPhone late night without realizing the corrections will do that lol!
Reader insights
Be the first to share your insights about this piece.
Add your insights