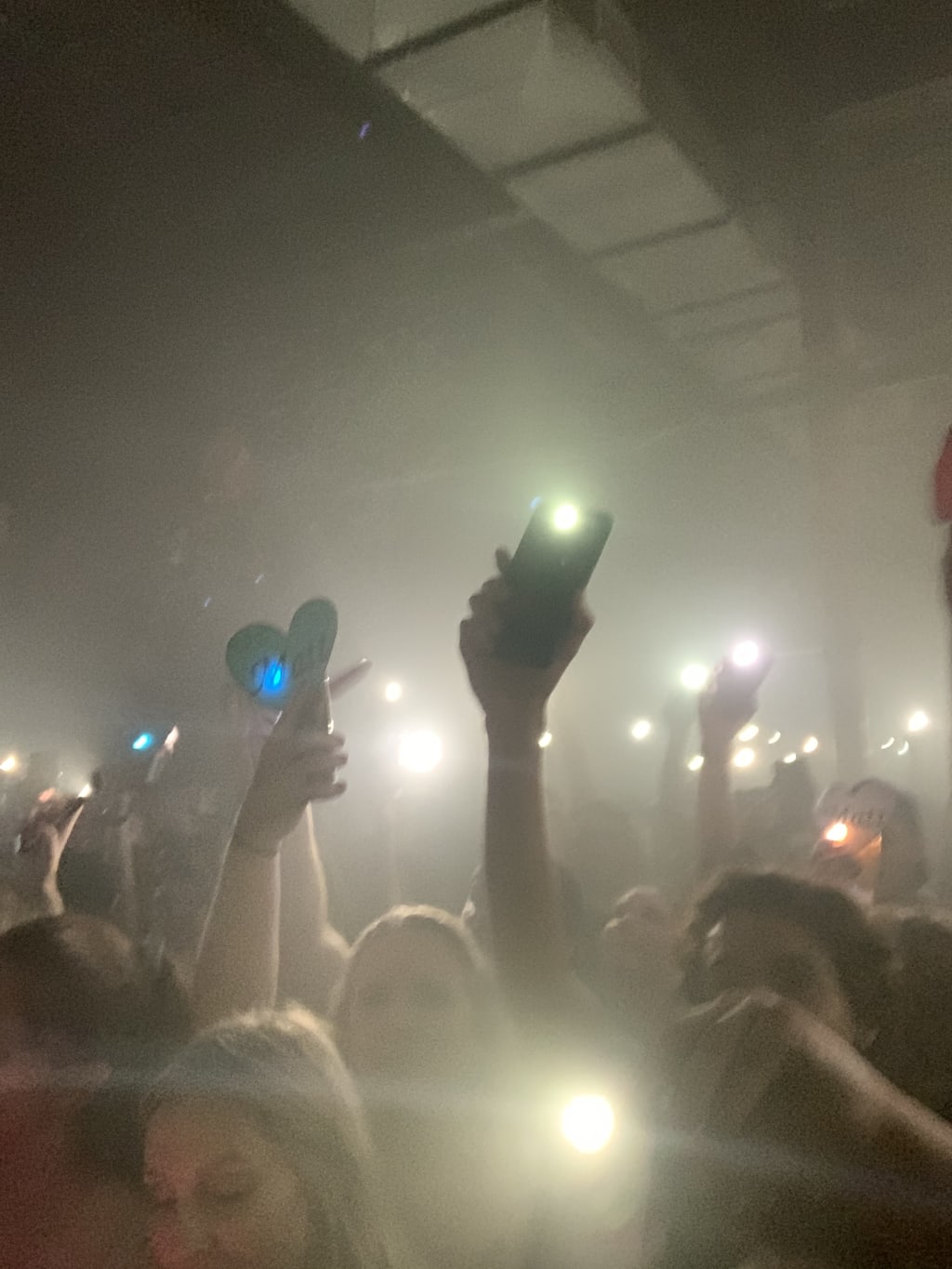 FanMade Hearts For A Band
You may have started to witness fans making projects for their favorite bands. Now they're becoming trends across shows all over the world.
For example, Panic! At The Disco concerts in stadiums. Fans get to their seat to find a small heart on their chairs saying "hold up during Girls/Girls/Boys" and flash your light through it. It then creates a rainbow during that song and Brendon Urie holding the flag up.
2019; the Jonas brothers came back. And fans, once again, tried to make the heart project happen. While it didn't come across as well as Panic fans. The effort they put in to cut out over 7500 hearts and make sure everyone has one to hold up is work. It's sweet. You started to notice other shows doing other signs like thanking the Jonas brothers for coming back. Or when the boys birthdays happened while on tour, fans made sure to give the guys the attention and sing "happy birthday" to each of them on their show date.
This photo, which I took, was for a band I saw and I created. The band, Our Last Night, are way underground and not mainstream. They're known for their covers on YouTube. They're great with their fans and everything you would expect from a band. So in return, I figured, why not start the heart project for their show?
So I did. I Designed, Printed, CUT out almost 500 hearts for that night. I wasn't sure what to expect from it. I wasn't sure how fans would react to it. I just wanted to bring everyone together because we were all there for the same reason - the band and music that we love. So I did what I did. I had a few friends help me pass them out. We told everyone to hide them since it was a general admission show - and during the last song, "Sunrise", we held them up. It wasn't a huge turnout. I'll admit, I expected it to be bigger than that. But, people took the hearts and got them signed by the guys at the end of the night and asked me if I had more with each of the names on it. People wanted those hearts. More than just to hold up to the band. But to remember that night and have something that stood out different than other shows. Something that impacted the band and the fans. It was worth it in the end.
So we may have not hit the Panic! At the disco level, but one step at a time, it'll build up and more fans will join in on the fun of supporting their favorite artist. Who knows, maybe more hearts will be held up at their next show? And then the next one?
The main point, support your bands the way they support you. Without you, they'd still be a band playing in a garage or local venues. Be there for them, the way they want to be there for you. Every band has a different way of showing their fans how they're appreciated. Every fan does also; that's the great thing about music and live shows. It's a family. A community. One that grows strong together as a whole, and if anything happens, everyone is in it together to make it through.
So let's keep going guys and girls. Whenever you have a concert, if it's possible, find a way to show the band you love them as much as you say you do.
Actions always speak louder than Words.
About the Creator
Just a girl who enjoys concerts, reading, writing, and all things mythical & magical
Ignore the small errors please, typing on an iPhone late night without realizing the corrections will do that lol!
Reader insights
Be the first to share your insights about this piece.
Add your insights